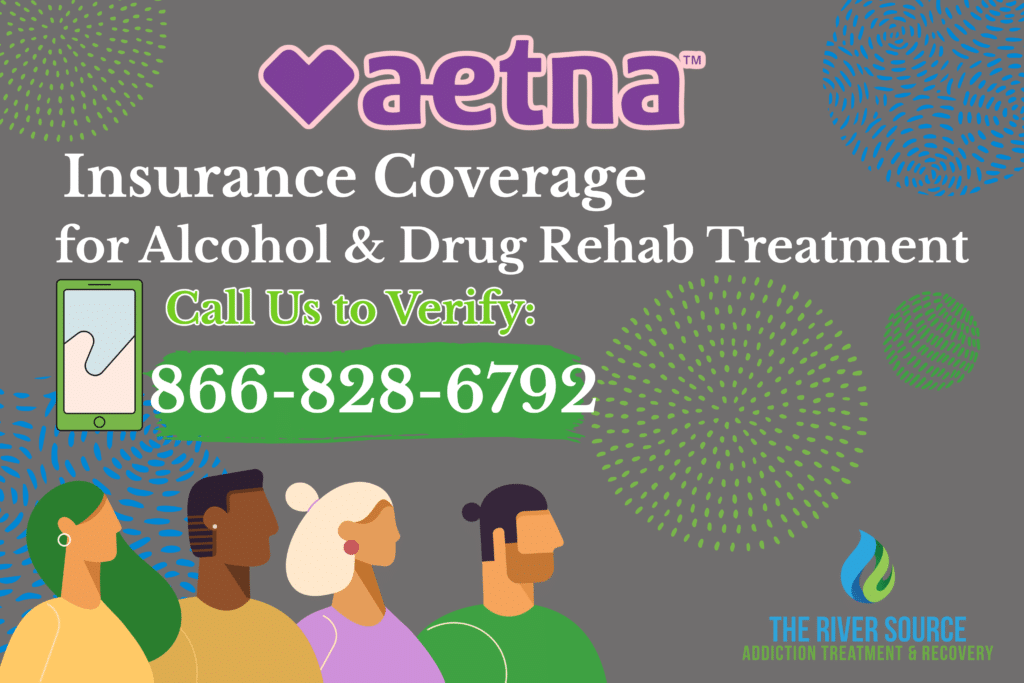 What Is Aetna Insurance & How Does It Work for Drug Rehab?
Aetna is an American health insurance company that offers coverage for a wide variety of health and wellness related costs, including medical treatments and mental health care. It is often provided to employees as part of an insurance benefit package at their job. With over 46 million members across the US, Aetna is a widely accepted type of insurance.
YOU'RE NOT ALONE – WE CAN HELP
TAKE THE FIRST STEP AND APPLY FOR TREATMENT TODAY
What are Aetna's Types of Insurance Plans?
Aetna has several types of insurance plans, including:
Plans offered through your employer

Medicare plans

Medicaid plans

Individual and family plans

Dental plans

Vision plans

Student health plans
Find Alcohol & Drug Rehab Facilities Near Me That May Accept Aetna
Aetna is a popular insurance company, and there are many drug rehab centers in Arizona that will accept your insurance, including The River Source Addiction Treatment and Recovery Center. The River Source provides a wide range of treatments that incorporate a mix of evidence-based scientific care and naturopathic healing. Each patient's program is customized to their unique needs, and our caring team of professional caregivers, doctors, and therapists will work hard to help you heal, take control back over your life, and gain the necessary tools to achieve long-term sobriety.
Does Aetna Insurance Cover Alcohol & Drug Rehab Treatment?
Yes, Aetna covers drug rehab and detox treatment in Arizona. The exact coverage depends on your particular health plan and the types of alcohol and drug addiction treatment you choose, as well as the state you are living in, and whether you choose a facility that is in-network with Aetna. Many clients will qualify for screening coverage, helping people be placed in the right level of care for their needs. Because of the Affordable Care Act (ACA), Aetna will cover some or all of the costs of addiction treatment.
How to Check Your Aetna Insurance Coverage for Drug & Alcohol Rehab
If you want to know whether your drug rehab and alcohol rehab in Phoenix, AZ is going to be covered by insurance, you can call Aetna or log in to their website. This will give you insight into the types of treatment you will be covered for, and will help you understand the amount that will be covered.
You may also wish to call us at The River Source to verify insurance coverage. We answer our phones 24/7, every day of the year, and we are happy to talk to the insurance company on your behalf to figure out what levels of care, medications, and therapies will be paid for, and which ones will need to be paid for out of pocket. Verifying your coverage with us is a good idea, because we can let you know what to expect before you start treatment, giving you time to make an informed decision.
What Does Aetna Insurance Cover?
Aetna insurance covers health-care related costs including medical costs, pharmaceutical prescription medications, behavioral health care, dental care, long-term care, and disability plans. To find a full summary of your benefits and coverage (SBC), you may either ask for a copy from your insurance company. This will not only explain all your benefits in easy-to-understand terms, but it will also give examples of what you may need to pay out-of-pocket.
Does Aetna Insurance Cover Mental Health & Substance Abuse Treatment?
Yes, Aetna offers dual diagnosis program coverage, as well as detox, inpatient drug rehab, outpatient rehab, and intensive outpatient treatment coverage. Through Aetna's 360 Behavioral Health program, patients are looked at from all angles, including physical health, mental health, housing, financial issues, family dynamics, and substance use disorders, providing comprehensive coverage to those who need it most.
Does Aetna Insurance Cover Therapy?
Yes, Aetna insurance does cover therapy, including behavioral health care, counseling, one-on-one therapy, and peer support options. Mental health care is considered part of essential health care, and is covered by Aetna insurance.
Does Aetna Insurance Cover Inpatient Drug & Alcohol Rehab?
Yes, Aetna insurance covers inpatient drug rehab and alcohol rehab. You can get comprehensive inpatient treatment that is fully or partially covered by your Aetna insurance, depending on your need, whether it is deemed essential by addiction experts, and whether the insurance plan regards the program as cost effective and necessary.
Inpatient rehab will usually last for 30 to 90 days, with integrated treatments that heal the body, mind, and spirit together, providing support, community, and therapy, while removing you from the triggers and temptations of everyday life. For many, especially those with co-occurring mental illness, those who need additional medical treatment, and those who have relapsed in the past or do not have a stable sober-friendly home, inpatient treatment can make all the difference in long-term recovery.
Does Aetna Insurance Cover Intensive Outpatient Alcohol & Drug Rehab?
Yes, Aetna insurance may cover intensive outpatient programs. These are outpatient treatment plans for those with milder addictions, who have a stable living situation and who are ready and willing to jump back into everyday life while attending drug rehab programs, groups, therapy, and appointments 3 to 5 days a week, for 3 hours or more per day.
Does Aetna Insurance Cover Partial Hospitalization for Drug & Alcohol Addiction Treatment?
Yes, Aetna may cover partial hospitalization programming, a highly immersive outpatient day program in which patients live at home, but attend the same rehab programs as a person in inpatient treatment would, spending 5 to 7 days a week, 6 to 8 hours a day, in the drug rehab center near you. This is an excellent option for those with a dual diagnosis, those who have a high probability of relapse, and those who require additional support to achieve long-term sobriety.
How Long Will Aetna Insurance Cover Rehab for Drug & Alcohol Addiction?
Most of the time, inpatient treatment will take somewhere between 30 and 90 days, and then outpatient care can last weeks or months, depending on what your medical team and therapists deem necessary. Because each patient is unique in their needs and their recovery goals, it is not possible to give a definitive answer to this question, but the length of your coverage will be determined by factors like:
The type of substance you are quitting and how long you were using it

What your medical doctor recommends for your health and safety

Whether the insurance company deems your treatments to be appropriate and cost effective

What state you are in

If you have a demonstrated need to stay in inpatient care due to social issues or legal issues

If you have a co-occurring mental health issue or need intensive medical treatment
Aetna Insurance May Offer Treatment Coverage for the Following Addictions:
What are the Options if Aetna Insurance Does Not Cover the Cost of Drug or Alcohol Rehab?
Having to worry about how to pay for drug rehab can be a big barrier that stops people from getting the addiction treatment they need. If Aetna does not cover the cost of your drug rehab, you may want to consider looking into alternative rehab programs. There are free and state-sponsored drug rehab clinics throughout the country available to those without insurance, or you can ask somebody at Aetna if they can recommend some local rehab facilities in your area that are covered. Some people are able to ask for a loan from trusted friends or family members, but if none of these options are feasible you could also ask the drug & alcohol rehab center if they have sliding scale fee options, financial aid, or other programs that can help you.
Verify Your Insurance for Drug Rehab Treatment with Us
If you want to verify your insurance coverage with The River Source, you have two options. You can either give us a call at 866-370-7806 and speak to a friendly, non-judgmental customer service rep, or you can use the fillable form on our website, providing us with the information we need to check the insurance for you. Both services are available 24 hours a day, day or night, and there is no pressure from our team. We only want to help you find the treatment you need. Verifying your insurance is a good idea, as it will help you start planning in case you will have out-of-pocket expenses, especially if you want certain treatments that will not be covered.
Next Steps with Insurance Coverage for Drug & Alcohol Rehab Treatment with The River Source Addiction Treatment & Recovery
When you come to The River Source Addiction Treatment and Recovery Center, our team of licensed, professional, and experienced doctors, therapists, psychiatrists, nurses, and other care professionals will help you overcome addiction through a combination of scientific, evidence-based treatments and naturopathic methods. Our programs are customized to each patient's needs, and we offer the full continuum of care, leading you through medical detox, into inpatient rehab, partial hospitalization programming, intensive outpatient programming, and aftercare. You will only be given the treatments you need, helping you get out of the old habits and routines of substance abuse and back in control of your own life. Call us now to get started 
QUICK, CONFIDENTIAL INSURANCE VERIFICATION
CLICK BELOW TO FIND OUT IF YOU HAVE COVERAGE