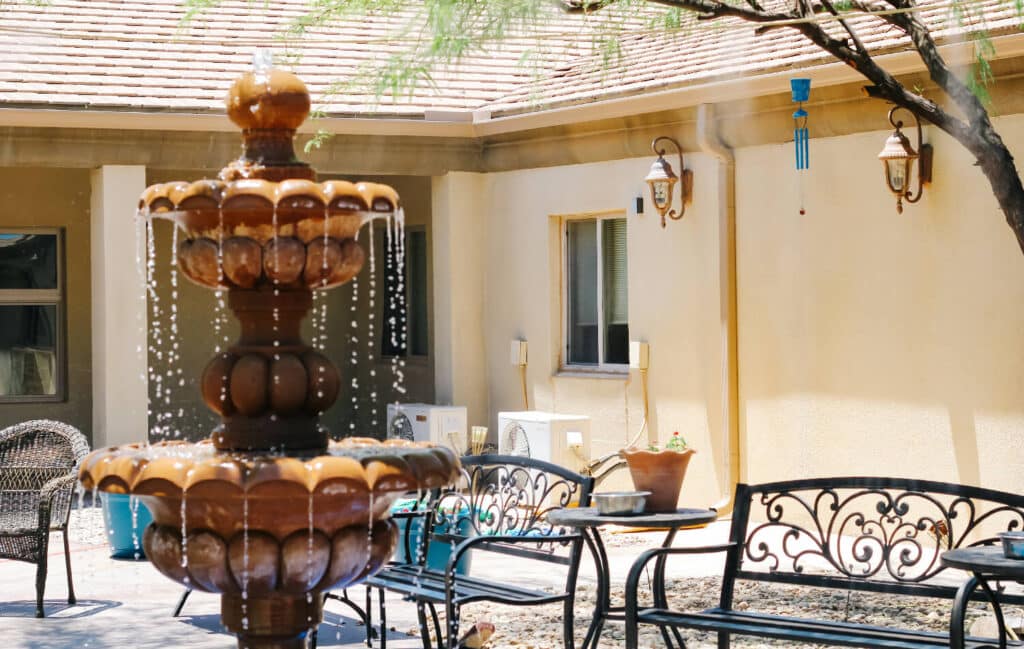 #1 Addiction Treatment Center in Arizona for Alcohol, Prescription Drugs & Drug Addiction
Addiction to alcohol, prescription drugs, and illicit drugs can affect all aspects of a person's life and health. Addiction recovery can be a difficult road to walk, but The River Source is available to walk that road alongside you. A lifetime of recovery from substance use disorder is possible through genuine, effective, and evidence-based treatment. Our full continuum of care can offer treatment options for any stage or severity of the addiction. Treatment programs include medical detox, inpatient treatment programs, and outpatient treatment programs.
YOU'RE NOT ALONE – WE CAN HELP
TAKE THE FIRST STEP AND APPLY FOR TREATMENT TODAY
Alcohol & Drug Detox & Rehab in Arizona
The River Source is a drug and alcohol rehab center with multiple locations in Arizona, including Arizona City, Gilbert, Phoenix, Tucson, and West Valley. We are a fully accredited, in-network treatment center with nearly 20 years of experience in helping clients achieve long-term sobriety through our integrative approach that uses standard treatment methods and holistic treatments.
Why Choose The River Source Arizona for Addiction Treatment
The River Source offers a full continuum of care from detox and inpatient rehab to several levels of outpatient treatment and a lifetime alumni program. We have created treatment programs that are clinically driven and outcomes based that have given us high success rates for our clients. We also offer a 100% recovery guarantee, meaning if you successfully complete our 120-day program, you can come back for treatment at no cost if you relapse within a year. Arizona drug rehab center provides individualized treatment with a holistic approach that helps clients heal mentally, physically, and spiritually from the damages of substance abuse.
Arizona Alcohol Detox
Alcohol withdrawal can sometimes be dangerous or even fatal, which may require medical detox. Our medical team for Arizona alcohol detox will monitor you through our medical detox and help you through the withdrawal process while your body cleanses itself of alcohol. Therapeutic drugs can help you safely and comfortably ease withdrawal symptoms in a non-hospital setting. However, we have found successful detox requires more than medical care. Naturopathic treatments, vitamins, supplements, and compassionate care help to keep the body strong and healthy during this time.
Arizona Alcohol Rehab
Depending on the severity of your alcohol addiction, there are several levels of care available. We recommend our 120 Days to Reclaim Your Life program, where you taper down the full continuum of inpatient and outpatient care. After alcohol detox, you can move on to inpatient residential treatment, followed by a partial hospitalization program, intensive outpatient program, outpatient program, aftercare, and finally, our lifetime alumni program. Alcohol rehab at The River Source incorporates traditional addiction treatments with naturopathic medicine, creating a full holistic treatment program.
Arizona Drug Detox
Our continuum of care starts with medical detox. We integrate conventional medical treatments, such as medication-assisted treatment, with naturopathic therapies to help your body rid itself of harmful substances. Our medical staff prioritizes your safety and comfort during detox with around-the-clock care, managing withdrawal symptoms, and ensuring you feel right at home.
Arizona Drug Rehab
The River Source's drug rehab programs are tailored to each client to meet clients where they are at. Our full continuum of care offers help for any level of addiction or to fit any personal needs. Our rehab programs are customized to fit each patient's drug rehab needs to help them reach sobriety.
Arizona Prescription Drug Detox
Anyone can easily become addicted to prescription medications, even when taken as directed by their doctor. Some medications, such as benzodiazepines, can be dangerous if attempted to quit using cold turkey. A medical detox program can ensure your safety and ease withdrawal symptoms under the supervision of physicians and nurses. Holistic treatments like our infrared sauna and massage therapy can also aid the body in getting rid of substances more quickly.
Arizona Prescription Drug Rehab
Addiction to prescription drugs can, at times, be no different from illicit drug addiction. Substance use disorder can affect a person physically, mentally, and spiritually, which requires a holistic approach like our treatment programs at The River Source. Through evidence-based treatments, our clinical staff helps address the core issues of your addiction to help you achieve long-term sobriety.
Arizona Top Rated Addiction Treatment
Our treatment center has a full continuum of care, including inpatient treatment, intensive outpatient treatment, partial hospitalization program, outpatient treatment, aftercare programs, and a lifetime of the alumni program. We are clinically driven and put more emphasis on evidence-based, outcome-supported treatment rather than filling our center with amenities. However, that does not mean you will not be comfortable during your stay with us. Our residential rooms and common areas are also built in mind to make you feel right at home so you can truly focus on your recovery.
Alcohol & Drug Detox-Rehab for Residents of Arizona
The River Source offers alcohol and drug detox and rehab for all residents of Arizona. We have multiple locations across the state, including Phoenix, AZ, Gilbert, AZ, Tucson, AZ, Arizona City, AZ, and West Valley, Arizona. We are accredited by the Joint Commission, which is the gold standard in care for rehab facilities, and are in network with several rehab insurance providers.
Our Treatment Specialties
We offer several treatment specialties at the River Source for our drug and alcohol rehab programs. We have gender-specific residential inpatient treatment programs which allow our clients to feel more comfortable as well as being in a group of individuals who share more similar experiences and understand unique struggles. We also have an integrative approach combining holistic therapies with conventional addiction treatment to allow us to treat all aspects of substance use disorders. The River Source also has a Lifetime Alumni Program that offers meetings, workshops, and other resources to our alumni clients so you can stay active in your recovery.
Telehealth IOP
The River Source offers Telehealth IOP, which allows anyone in the world to access our quality of care. You can participate in the same treatment offered on-site from the convenience of a home, such as a group therapy, 12-step programming, and individual counseling. We use HIPAA-compliant applications, so you have peace of mind about your privacy. Our Telehealth IOP programs can take away several barriers to getting addiction treatment, including those who are immunocompromised, individuals who cannot leave dependents for extended periods of time, business professionals who travel a lot for work, or even people with social anxieties or agoraphobia.
Naturopathic Therapies
At The River Source, we combine medical care with natural, self-healing treatments to help your body heal from the damage of substance abuse. We use naturopathic therapies through drug detox and drug rehab to address the person and addiction as a whole by treating the body, mind, and spirit simultaneously through various therapies. We incorporate several forms of holistic and naturopathic treatments into all treatment plans, including infrared sauna, acupuncture, massage, yoga, medication, vitamin IV therapy, and amino acid therapy. Naturopathic treatments are available during detox, inpatient treatment, and outpatient treatment.
IV & Oral Vitamin Therapy
Drug and alcohol addiction can cause severe nutritional deficiencies. The body relies on several vitamins to function properly and heal itself. At The River Source, we help your body restore function, improve immune support, and increase energy through vitamin therapy. We offer vitamin therapy through IV (intravenous) therapy to restore magnesium, calcium, Zinc, Vitamin B, and Vitamin C levels, B12 injections to reduce withdrawal symptoms, as well as daily oral vitamins.
Amino Acid Therapy
Substance abuse can affect how the brain relays information between neurons causing changes in the way we perceive, think, act, and feel. During addiction recovery, it is common to feel depressed or anxious while the brain gets used to regulating neurotransmitters on its own again. By replacing amino acids through IV treatment or orally, we can help your brain speed up this process to restore mental health and reduce feelings of fatigue.
Massage Therapy
The River Source employs certified massage therapies that offer multiple massage modalities, including deep tissue massage. A massage is an important tool used to help relieve many symptoms of drug and alcohol withdrawal, including fatigue, pain, and muscle soreness. It can also help release dopamine and serotonin naturally, that was depleted because of substance abuse. Massage is also beneficial for relieving stress and tension that builds up during drug rehab.
Yoga & Meditative Therapy
Meditative therapies, such as yoga can aid in drug detox and drug rehab. Yoga is a great way to exercise while also providing meditation practices. It can help relieve aches and pain associated with drug and alcohol withdrawal, improve circulation, increase muscle strength, and help detox the body. It is also a mental activity that can aid in stimulating neurotransmitters, calming the nervous system, reducing stress, and enhancing inner peace.
Dry Infrared Sauna Therapy
Long-term substance abuse can cause a buildup of toxins in the body. Drug and alcohol detox will help to flush out these toxins. However, with a combination of holistic rehab therapies, the dry sauna can effectively rapidly sweat out toxins. The River Source's infrared sauna is a client favorite as a way to detox through a warming and calming effect that also allows a way to peacefully meditate and relax.
Individual Counseling
Individual counseling is one of the cornerstones of addiction treatment. Clients can explore and address several emotional and behavioral aspects of their addiction through one-on-one treatments with a certified therapist. Through several forms of therapy, including cognitive behavioral therapy and dialectical behavior therapy, individuals can pinpoint negative behaviors, thoughts, and emotions connected to substance abuse and replace those with more positive ones in a safe and trusting environment.
Group Therapy
Addiction treatment may consist of several hours of group therapy a week. This is a great opportunity to learn from your peers who have gone through similar experiences as you and create lasting friendships and support. During group therapy, a skilled therapist will supervise and sometimes guide sessions where you can share experiences and emotions while helping one another navigate recovery and offer further insight into addiction issues.
Family Education
Substance abuse affects everyone in a family, and family members need to be involved in addiction recovery. Family education and therapy in addiction treatment are essential to help mend relationships that may have been strained due to addiction, educate about codependency and enabling behaviors, ways they can better support your recovery, and improve communication skills. Having a good support network at home is one of the key aspects of relapse prevention.
12 Step Program
A 12-step program can be a powerful support group that helps long-term recovery. It was first developed by Alcoholics Anonymous and was a plan to overcome addiction. The model's premise is that people can help one another achieve and maintain sobriety, but only after they surrender to high power. Though 12-step programs may not be for everyone, they help those struggling with substance abuse learn new coping skills, feel supported, be part of a loving community, transition into sobriety, and find accountability.
Co-Occurring Disorders / Dual Diagnosis
Co-occurring disorders such as mental health illness are often found in substance use disorders. Often, people use drugs and alcohol as a way to cope with symptoms of mental disorders like anxiety, depression, and posttraumatic stress disorder PTSD. Unfortunately, substance abuse only temporarily masks these symptoms and can worsen them. It is dire that addiction treatment includes dual diagnosis programs, which will treat co-occurring disorders simultaneously to get to the root of addiction and increase the chances of long-term recovery.
Addiction Treatment for Pregnant Women
The River Source provides specialized addiction treatment programs for pregnant women struggling with addiction. Because there are two lives at stake, traditional treatment methods cannot always be applied to pregnant women. If not addressed correctly, the baby can experience dangerous withdrawal symptoms or even develop a drug addiction. We incorporate prenatal care with addiction treatment for our pregnant clients and more use of homeopathic and holistic therapies, which are safer during pregnancy.
Trauma Informed Care
Trauma will often affect the brain, causing an increase in anxiety, fearfulness, and vulnerability. Some people, unfortunately, try to find relief from their symptoms through substance abuse. Trauma and addiction are often found together and need to be treated together. Through trauma-informed care, our clients have access to therapies and counseling that will address and heal their trauma, helping to get to the core of their addiction.
Addiction Rehab for Native Americans
At The River Source, we know how different populations may experience unique challenges that may have affected their development of a substance use disorder. Many Native Americans living on reservations experience poverty, poor healthcare services, and social isolation, which may put them at high risk for substance abuse. Our special recovery program for Native American clients provides more specific care to address and heal various cultural and race challenges that may contribute to addiction.
Clinically Driven Treatment
Every addiction case is unique and requires its own treatment approach. Our individualized treatment approach lets us create personalized treatment plans for each client. Through clinically driven treatment, we can adjust your treatment plans in accordance with how you progress and your strengths and weaknesses.
Outcome-Based Rehab Programs
We have created our treatment plans based on seeing successful outcomes in our clients. Our integrative approach incorporates conventional addiction treatment methods with holistic treatments that help heal the body as a whole. Each client is the expert in their own lives; they know what is important to them and gives them a sense of well-being. Our treatment programs are also based on the feedback we get from our clients on which therapies are most helpful and adjust their addiction programs accordingly.
We Use Evidence-Based Treatment with High Success Rates
Although there are many new, experimental treatment methods in addiction recovery, at The River Source, we center our treatment programs around evidence-based treatments that have been proven to come with high success rates. Evidence-based treatments include conventional addiction methods such as dialectical behavior therapy and holistic treatments such as naturopathic medicine. We also recommend longer treatment programs because they show that they have better outcomes. Our studies have shown that treatment programs lasting between 90 to 120 days are the most successful long-term recovery.
Our Integrative Approach Plus Our Cost Effective & In Network Programs Are the Best Value For Treatment
Our integrative approach to addiction treatment means we use both traditional substance abuse therapies such as cognitive behavioral therapy and holistic treatment approaches such as acupuncture and massage therapy to give every client the best value for treatment. Using an integrative approach means we can tackle the various aspects of addiction during your time in drug rehab to give you the best chance of addiction recovery. Healing the body, mind, and spirit can ensure that no part of your addiction is overlooked or goes untreated.
Best In Class Medically Trained Addiction Staff
The River Source offers a multidisciplinary team of professionals who provide group therapy, individual therapy, family education groups, and educational lectures through various techniques and modalities. Our medical team embodies a holistic approach to treatment through therapists, registered nurses, naturopathic doctors, licensed practical nurses, and medical assistants. Our Director of Medical Services, Dr. Andrea Palmer, is a naturopathic doctor who oversees our medical staff and takes a truly holistic approach to addiction treatment.
Premier In Network Facility Offering Naturopathic Treatment Types
The River Source has a truly holistic and integrative approach to addiction treatment. Naturopathic medicine is a key component of our treatment programs because of its singular focus on treating the whole person instead of the individual's disease. We work in a network with several health insurance companies which can cover part or all of your drug or alcohol rehab program depending on your insurance plan for rehab, including naturopathic therapies.
Our Treatment Guarantee
Drug and alcohol addiction is a chronic disorder, and just like any other chronic illness, relapse is common when appropriate treatment measures are not in place. Successful addiction recovery is anchored in drug rehab length, and the longer you stay in treatment, the better your chances of long-term recovery. If you commit to 120 days of addiction treatment through our continuum care, we guarantee your sobriety 100% or relapse within one year; you can return to treatment at no extra charge.
Recovery Friendly Attractions in Arizona
Arizona is a state filled with many recovery friendly attractions and activities. Some popular attractions include:
Grand Canyon National Park
South Rim Grand Canyon National Park
Grand Canyon Village, Arizona 86023
Phoenix Art Museum
1625 N Central Ave, Phoenix, AZ 85004
Meteor Crater Observatory
Meteor Crater Rd, Winslow, AZ 86047
Arizona Science Center
600 E Washington St, Phoenix, AZ 85004
Phoenix Zoo
455 N Galvin Pkwy, Phoenix, AZ 85008
Ghostfield Ghost Town and Mine Tours Inc.
4650 N Mammoth Mine Rd, Apache Junction, AZ 85119
Arizona Diamondbacks Baseball Team – Chase Field
401 E Jefferson St, Phoenix, AZ 85004
Phoenix Suns Basketball Team – Footprint Center
201 E Jefferson St, Phoenix, AZ 85004
The University of Arizona
Tucson, AZ 85721
Arizona State University
Tempe, AZ 85281
Castles N' Coasters
9445 N Metro Pkwy E, Phoenix, AZ 85051
Oasis Water Park
8000 Arizona Grand Pkwy, Phoenix, AZ 85044
Arizona is also home to famous actors, musicians, athletes, and more, including:
Alice Cooper, American Musician
Danica Patrick, NASCAR Car Driver
Rob Halford, American Musician and front man of Judas Priest
George Takei, LGBTQ activist and Star Trek actor
Ice T, Rapper and Actor
Michael Phelps, Olympic medalist in Swimming
Dan Quayle, former US Vice-President
Charles Barkley, retired NBA star
If you or a loved one is struggling with substance abuse, The River Source Addiction Treatment, and Recovery Center in Phoenix, Arizona can help you find long-term recovery through our treatment programs. Our multiple levels of care can fit any person's individual and substance abuse needs through holistic, evidence-based therapies. We also offer a 100% Recovery Guarantee, which lets you return for no additional charge if you relapse within one year of successfully completing our full continuum of care. Please give us a call today to talk to an addiction specialist and start your journey to recovery.
QUICK, CONFIDENTIAL INSURANCE VERIFICATION
CLICK BELOW TO FIND OUT IF YOU HAVE COVERAGE