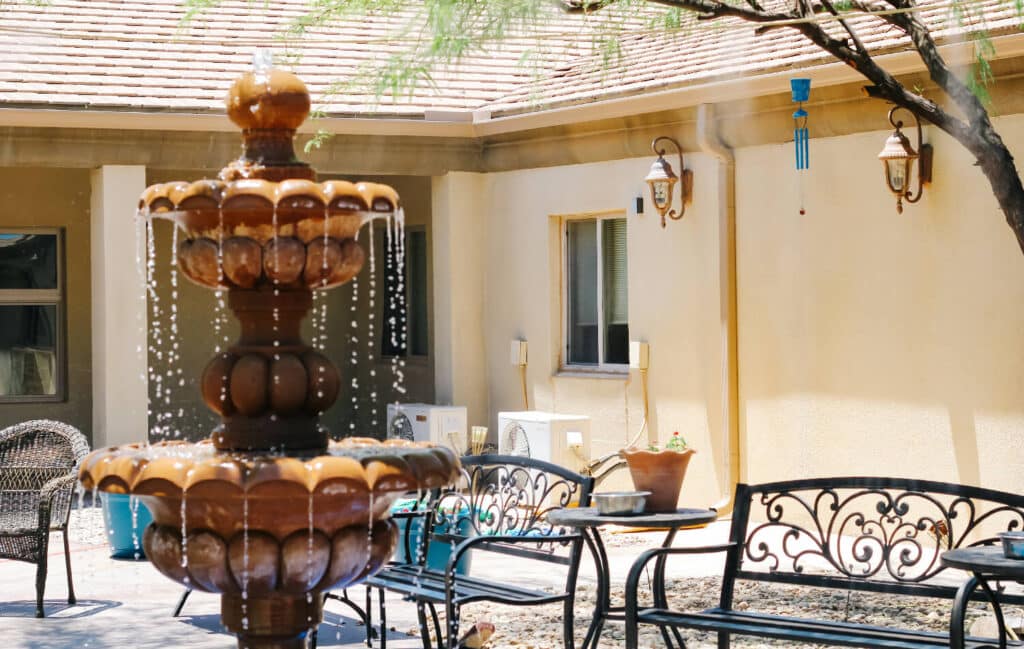 #1 Alcohol Detox Program in Arizona
Alcohol use disorder can greatly impact all aspects of your life. When you decide to get help, you want to get the best recovery center that will give you the best chance of achieving sobriety. At our Arizona inpatient alcohol rehab center, we offer multiple drug and alcohol rehab and detox locations across Arizona. Alcohol detox is the foundation for recovery from alcohol addiction, and choosing the best alcohol detox program is on top of anyone's list. Alcohol withdrawals can be intense and even dangerous, which should not be attempted on your own. You can safely and comfortably go through the withdrawal process through medication-assisted treatment at a recovery center. The River Source's integrative alcohol detox program not only offers conventional treatment methods for detoxing from alcohol, but we also offer holistic treatments that will treat all aspects of alcohol addiction while strengthening your body to purge toxins more efficiently.
YOU'RE NOT ALONE – WE CAN HELP
TAKE THE FIRST STEP AND APPLY FOR TREATMENT TODAY
Why Choose The River Source Arizona for Alcohol Detox?
When choosing The River Source for medical detox, you are choosing a treatment facility that is fully accredited and in-network with several health insurance companies. We have nearly 20 years of experience treating substance abuse disorders to help our clients achieve long-term recovery from alcohol addiction. Although we offer comfortable accommodations and a beautiful rehab in Arizona, our main focus is not luxury but effective, clinically-driven addiction and detox treatments that will show results for a lifetime. Our integrative approach not only includes conventional detox treatment methods such as medication-assisted treatment, but it also includes holistic treatments such as massage therapy, acupuncture, and infrared sauna, which are all treatments that will boost medically assisted treatments to help your body fully expel all traces of alcohol. We also offer a full continuum of care to allow for an easy transition from detox into inpatient treatment or outpatient treatment. With our 100% recovery guarantee at our Arizona outpatient alcohol rehab, you can feel confident you can leave substance abuse behind.
Alcohol Detox in Arizona for High Functioning Alcoholics
When you think of an alcoholic, you probably have in mind someone who is drinking all the time and whose life is in complete shambles. However, there are people who struggle with controlling their alcohol consumption and have seemingly perfect lives. These people are referred to as high-functioning alcoholics, and they are not immune to the negative health impacts of alcohol addiction. It is important to note that alcohol addiction is a progressive disease, and although high-functioning alcoholics have not seen many of the negative impacts of their drinking, their substance abuse will get worse, and the sooner you get alcohol abuse treatment, the better your chances are for long-term recovery. Although high-functioning alcoholics don't often need medical detox for their alcohol abuse disorder, alcohol detox can still offer an easier way to go through withdrawals, plus ensure they complete the detox process. Alcohol detox for high-functioning alcoholics can offer the best foundation for recovery.
Medically Supervised Alcohol Detox in Arizona
You may often hear the term "detox" used to describe cleansing the body of unhealthy food. However, medical detox refers to ridding the body of toxic, addictive substances with the help and supervision of medical professionals. After prolonged or heavy alcohol abuse, your body becomes dependent on alcohol and goes into withdrawal when you attempt to stop drinking. Some alcohol withdrawal symptoms such as delirium tremens and seizures can be dangerous, which is why medical detox is usually recommended when stopping drinking.
Our medically supervised alcohol detox at The River Source rehab in Arizona consists of a team of naturopathic medical doctors, registered nurses, medical assistants, and licensed nurse practitioners who will monitor you and your vitals 24/7. Having access to under-the-clock care can give you and your loved one peace of mind that you will go through alcohol withdrawals safely. Our medical team in Arizona prescription drug rehab center will administer prescription medications and over-the-counter medications to ease withdrawal symptoms. The River Source also offers an array of holistic therapies, including infrared sauna, IV vitamin therapy, acupuncture, and massage, which can also relieve withdrawal symptoms naturally. Holistic therapies also aim at treating the mind and spirit as well as the body in order to help the person heal completely and strengthen the body so they can tackle recovery head-on.
What Is Detox Like?
Alcohol detox at The River Source starts with a full intake of your history of addiction, your medical history, your blood panel, and who you are so we can gain a deeper understanding of your needs and goals to personalize the best treatment plan. Our medical team will carry out necessary tests and exams to ensure your detox from the alcohol goes as safely as possible. The clinical side of detox will include a medical team monitoring your vitals around the clock in a non-hospital setting to make sure your detox is safely going as planned and administering therapeutic drugs when necessary. As an integrative drug and alcohol rehab, we combine holistic detox along with standard clinical practices. Holistic therapies can maximize your detox outcomes and start repairing the body from substance abuse damage. Some holistic treatments you may receive in this stage of your program include:
Amino acid therapy

Massage

Acupuncture

Oral vitamins and supplements

Dry sauna

Yoga, meditation, and mindfulness

Nutritional IV therapy
How Long Does Detox Last?
Everyone's detox is different and how long alcohol detox takes will look different for each person. However, you can expect to spend from 5 to 10 days in this stage of your recovery program. The longer or more severe your alcohol addiction is, the longer your alcohol detox will be. You should expect to start feeling withdrawal symptoms within 6 to 12 hours after your last drink, which can include headache, mild anxiety, tremors, insomnia, and stomach upset. By 24 hours, some individuals begin to experience hallucinations, but the worse symptoms should peak at around 72 hours after your last drink. This is the time frame when seizures are at the highest risk. On occasion, some people experience mild, lingering withdrawals for months after.
What Happens After Detox?
Medical detox is just the first stage in addiction recovery and only treats the physical symptoms of addiction. After detox, you can easily transition into our alcohol detox program as The River Source, which includes inpatient residential treatment, intensive outpatient program (IOP), partial hospitalization program (PHP), and outpatient programming. We have found that people who complete a full 120 days of our continuum of care program have the best chance of recovery from alcohol addiction. This program is a step down in levels of care that takes you through a fully immersive experience to supportive treatments as you transition back into real life. Our alumni program also gives you access to a lifetime of recovery tools, support, and accountability to keep you working on your sobriety.
Top Rated Alcohol Detox Treatment in Arizona
As a top-rated alcohol detox treatment center in Arizona, The River Source offers access to the best evidence-based recovery therapies. Our integrative approach that incorporates cost-effective, in-network programs and holistic treatments is the best value for addiction treatment. We personalize every treatment plan to each client to offer the best recovery program for every specific need. Our holistic approach to addiction treatment takes each individual patient and looks beyond their substance abuse of today to take a deeper look at traumas and root issues from the past that contributed to their substance use disorder. Our full continuum of care heals addiction through a multi-level course of treatment that addresses all aspects of substance abuse while helping each client apply new coping skills and healthy habits to their everyday lives.
Arizona Alcohol Detox
When attempting to stop drinking, medical detox is the best option for almost anyone. The River Source offers alcohol detox and rehab at several locations across the state, including in Gilbert, AZ, Arizona City, AZ, Phoenix, AZ, Tucson, AZ, and West Valley, AZ. Our detox programs are individually designed to help each client fully and comfortably detox from alcohol use through medications that can keep the nervous system and heart muscles relaxed, lowering the potential risk of dangerous withdrawal symptoms. We boost medication-assisted treatment with our holistic detox program that can help the body eliminate toxic substances more easily and strengthen the body, mind, and spirit, preparing it for alcohol rehab.
Our Recovery Guarantee
At The River Source, we offer a 100% Recovery Guarantee as one of the top drug and alcohol treatment centers in Arizona. Not only are we confident in our program, but we are also confident in your ability to recover from alcohol addiction. Not only is taking the first steps toward recovery often the most challenging, but your choice in treatment centers can also ultimately be one of the most important decisions. We want you to also be confident in your ability to leave alcohol behind if you are willing to put the work in. With our guarantee, you can have peace of mind knowing you are making the right investment in yourself. If Relapse occurs within one year after successful completion of our full continuum of care, you can return to The River Source for no additional charge.
Please don't let one more day of not taking control back of your life. Give us a call today to start the next steps in the admission process.
QUICK, CONFIDENTIAL INSURANCE VERIFICATION
CLICK BELOW TO FIND OUT IF YOU HAVE COVERAGE