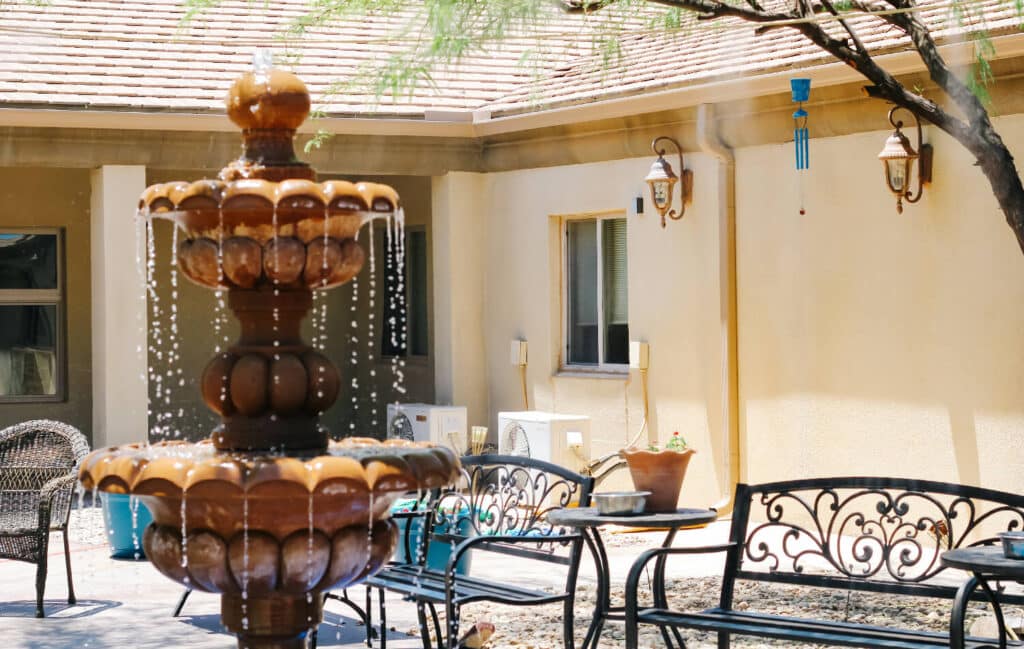 #1 Alcohol Rehab in Arizona
Alcohol addiction does not happen overnight. It is a slow process that starts with heavy alcohol use leading to alcohol abuse and alcohol addiction if intervention does not happen early on. If you feel you cannot control your drinking, it may be time to reach out for help from a treatment center. Searching for the best alcohol treatment program in Arizona will lead to The River Source Drug and Alcohol Rehab Center. Our comprehensive Arizona holistic rehab center can help anyone at any stage of their alcohol addiction find long-term recovery. We use an effective step-down program that will take you through our full continuum of care so we can address all facets of your addiction and help you transition back into your life with ease and support to reduce the risk of relapse early on.
YOU'RE NOT ALONE – WE CAN HELP
TAKE THE FIRST STEP AND APPLY FOR TREATMENT TODAY
Why Choose The River Source Arizona for Alcohol Rehab?
The River Source is a fully accredited, in-network drug and alcohol treatment center with facilities all over Arizona. We have nearly 20 years of experience helping clients achieve long-term sobriety through our integrative, evidence-based treatment programs. We tailor every treatment program to each client to offer personalized care through our holistic treatments that will heal the emotional, physical, mental, and physical parts of alcohol addiction. Our full continuum of care includes alcohol detox, inpatient treatment, partial hospitalization program, intensive outpatient program, and outpatient treatment. At The River Source, there is no one size fits all treatment plan. Our outcomes-based addiction center in Arizona is designed to fit into your needs and adjust to your progress. We can meet anyone no matter where they are in their recovery journey.
Alcohol Rehab in Arizona for High Functioning Alcoholics
Most people typically imagine an alcoholic as someone who constantly drinks alcohol and whose life is falling apart because of their drinking problem. However, there are some individuals who feel they are able to control their addiction and continue living a productive life. However, their habits will eventually catch up to them, and they are not immune to the health effects of heavy drinking. High-functioning alcoholics would greatly benefit from alcohol and drug rehab because alcoholism is a progressive disease. When a functioning alcoholic is ready to address their problem, they will benefit from starting at a lower level of care and can avoid alcohol detox. The River Source has highly trained addiction specialists who can help you find the right level of treatment. Most functioning alcoholics have found that intensive outpatient programs (IOP) can be the most effective, along with dual diagnosis programs to address co-occurring disorders such as anxiety and depression that may have led to their drinking.
Private Alcohol Treatment Program in Arizona
When struggling to stop drinking, there are several options available in alcohol addiction treatment centers. A private alcohol treatment program, also known as executive, exclusive, or celebrity rehab, is private rehabilitation in a remote and anonymous setting. Private alcohol rehab has effective, evidence-based treatments that will help you recover from alcohol addiction but have a more at-home and comfortable feel than sterile, hospital-setting rehabs. The River Source in Arizona offers private alcohol treatment that goes beyond conventional treatment methods with our integrative approach. Including holistic treatments and naturopathic medicine allows us to treat each client as a whole and not just their symptoms.
Inpatient Medically Supervised Alcohol Rehab in Arizona
The River Source includes 24/7 medical supervision from nurses and physicians, especially during alcohol detox. Some alcohol withdrawal symptoms are highly uncomfortable and, at times, even dangerous. However, many of these symptoms can be properly managed with proper medical care and medications. Participating in our inpatient alcohol detox program allows you and your loved ones to have peace of mind that you are carefully monitored and supported during the toughest part of addiction recovery. Access to holistic treatments such as infrared sauna, vitamin IV therapy, and massage therapy can greatly reduce withdrawal symptoms while helping your body detox more easily.
How Long Is the Program in Arizona?
Every alcohol addiction program at our treatment facility in Arizona is tailored to each client, and there is no exact timeline for how long rehab will be for every person. In general, the more chronic or severe substance abuse disorders are, the longer rehab will be. Usually, recovery from alcohol abuse starts with alcohol detox, especially if addiction is severe because of the dangerous withdrawal symptoms like delirium tremens and seizures associated with stopping alcohol use. This process can take from 3 to 10 days. The next step is to enter residential inpatient treatment if necessary, which can last about 1 to 3 months. We also offer a partial hospitalization program (PHP) and intensive outpatient program (IOP) for those with less severe addictions or who cannot leave their homes for an extended period of time. Each of these rehab stages can last from 1 to 3 months. Outpatient treatment and aftercare can go on for several months as you slowly transition back into the real world with enough support to avoid an early relapse. Alcohol use disorder is a chronic condition that requires ongoing management. Our Alumni Program at The River Source is designed to give you a lifetime of support that will ensure you stay active in your recovery.
30-Day Alcohol Rehab in Arizona
Short-term rehab or rehab that lasts 30 days or less can be beneficial when it is the right help. This might be the right program for you if you have caught your alcohol use disorder early on and your addiction is milder. 30 Day rehab offers a combination of addiction treatments found in longer rehab programs, including alcohol detox, medication-assisted treatment, behavioral health therapy, individual therapy, group therapy, family therapy, and 12-step programming. Although longer programs are ideal, 30-day rehab programs are a good starting point to clear the body and mind of alcohol. It is also a more affordable option and a good option for those who cannot commit to longer stays because of work or home obligations.
60-Day Alcohol Rehab in Arizona
As the name suggests, 60-day inpatient rehab programs are residential addiction treatment programs that last for 60 days. This treatment program is similar to a 30-day rehab but with more time in a sober environment. Longer-standing addictions may need more work to break certain behaviors. Also, as with other inpatient residential rehab, recovery needs to continue after treatment ends. Effective 60-day rehab should be part of a full continuum of care that is followed by an aftercare program.
90-Day Alcohol Rehab in Arizona
Research suggests that a 90-day rehab program is the minimum amount of time required to effectively recover from addiction treatment long-term. 90-day programs can be made up of multiple levels of care, starting with alcohol detox, followed by inpatient treatment, and then outpatient treatment. Again, your recovery treatment does not end when the 90-day program concludes. Careful steps to continue with aftercare and planning are crucial to ease back into the real world and actively learn to handle relapse triggers.
Men's Inpatient Alcohol Rehab
The River Source provides separate housing for men and women to allow our clients greater success through fewer distractions. Men and women require gender-specific substance abuse treatment to help them address unique social, psychological, biological, and familial aspects of addiction while also creating a more open environment to share with one other. Our men's inpatient rehab allows men to express their emotions and be more vulnerable with one another more freely. Being part of a men's only inpatient program can help you feel more relaxed with no judgment or expectation to be tough or strong. Our men's addiction groups find more common groups, grow together, and focus on their recovery together, building life-long support and friendships.
Women's Inpatient Alcohol Rehab
Our women's inpatient rehab at The River Source provides a safe and distraction-free environment where you can truly focus on your recovery. Women have specific addiction treatment needs as compared to men. For many women, substance abuse often comes with mental health issues brought on by sexual trauma and domestic abuse. Offering a women's inpatient rehab allows our clients to express their emotions and stories freely without feeling judgment because women understand their specific struggles with addiction better. Women's only addiction groups can allow for building stronger bonds and an easier way to communicate with one another.
Our Recovery Guarantee
At The River Source in Arizona, we are so confident about our treatment program that we offer a 100% recovery guarantee to anyone who successfully completes our 120-day program. Our "Reclaim Your Life" Program will give you the tools to be able to break the cycles of addiction as long as you put the work in. It is important to commit to recovery for as long a period as possible, and research shows it takes a 90 to a 120-day program to truly recover from drug and alcohol addiction. Our model for success will take you through the continuum of care throughout the 120 days required to break the addiction. Our guarantee invites clients to return to our treatment program at no additional charge if relapse occurs within one year after successfully completing our full continuum of care.
If you or someone you love is struggling with drug or alcohol addiction, the time to get help is now. Please give us a call today to get started on the road to recovery.
QUICK, CONFIDENTIAL INSURANCE VERIFICATION
CLICK BELOW TO FIND OUT IF YOU HAVE COVERAGE