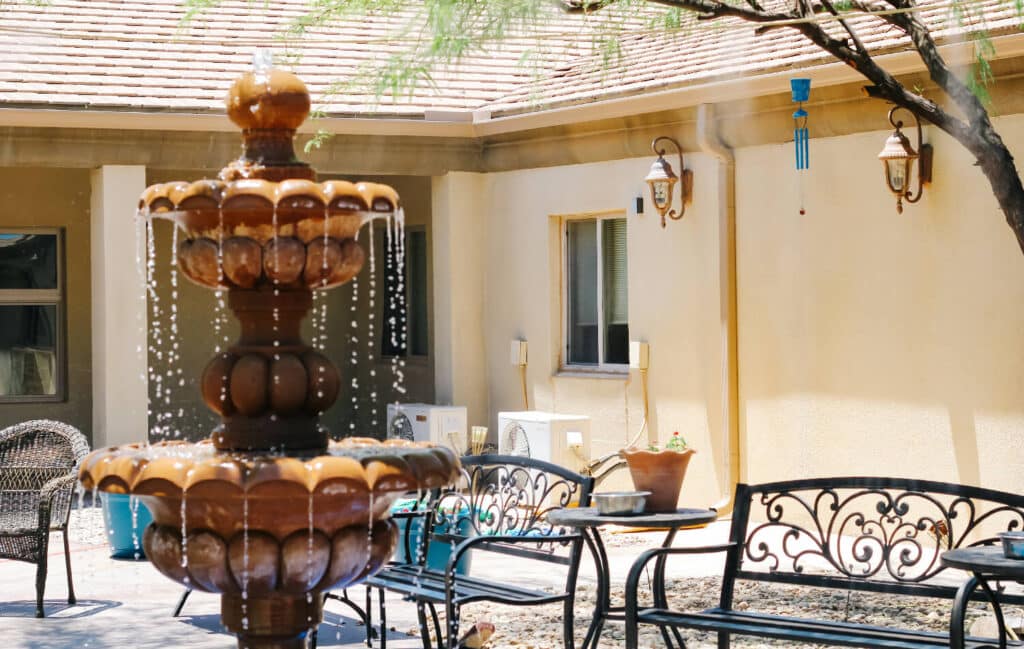 #1 Alcohol Detox Program in Arizona City
Alcohol addiction impacts the lives of thousands of Americans each day. While many express a desire to quit drinking, it can feel overwhelming to begin your healing process on your own. Some Arizona residents may have attempted to quit drinking on their own before and found that the onset of withdrawal symptoms was too difficult to manage on their own. Depending on the severity of your alcohol addiction, you will experience a range of withdrawal symptoms that can go from mild to severe. Alcohol withdrawal can have serious or sometimes life-threatening side effects that need to be monitored by healthcare professionals who can ensure your physical and mental health are maintained throughout your detox process. At The River Source, we value your need for personalized care as you take the courageous leap toward a new life in addiction recovery. Alcohol detox is often the first step in your recovery journey, and our team will work hard to provide you with a comfortable and welcoming experience that will support you through the initial process of your recovery journey. As you move through your recovery journey, our team strives to empower you to feel confident in your ability to achieve your goals for addiction recovery. Arizona residents will have a personalized treatment plan centered around their unique needs and access to our full continuum of care that will support them in every phase of their addiction recovery process.
YOU'RE NOT ALONE – WE CAN HELP
TAKE THE FIRST STEP AND APPLY FOR TREATMENT TODAY
Why Choose The River Source Arizona City for Alcohol Detox?
Detoxing from alcohol is a critical step in your recovery process, but it is known to have significant side effects and withdrawal symptoms. Choosing to overcome your alcohol addiction through an alcohol detox program within our recovery center will provide you with a comfortable and safe environment to release your history of substance abuse and enter into a life of sober living. Arizona residents that participate in an alcohol detox within our recovery center will be provided with top-tier addiction treatment methods along with naturopathic and holistic therapies that will help them safely and successfully overcome their alcohol addiction and dependence. When you detox within our recovery center, you will be monitored by nurses and physicians that will offer medical treatments and interventions that will help to minimize the severity of your alcohol withdrawal symptoms and foster healing within your body, mind, and spirit from the depths of alcohol addiction. Along with receiving evidence-based therapy methods, your detox treatment plan will include holistic detox practices that will promote relaxation, mindfulness, and emotional regulation. The combination of traditional addiction treatment methods and holistic treatments in our Arizona city inpatient alcohol rehab center will support patients in having a whole-person integrated approach to healing that is known to have high success rates among patients.
Alcohol Detox in Arizona City for High-Functioning Alcoholics
Alcohol addiction can happen to anyone. While there is often a misconception of what an alcoholic will look like such as someone that has lost their employment or has struggles maintaining housing or relationships, this is a misguided stereotype of an alcoholic. The truth is that alcohol addiction will impact the lives of individuals from any demographic and socio-economic class. While some individuals may experience great loss in their life including loss of employment, declining health conditions, or fractured relationships, some individuals can maintain their daily life and responsibilities while still engaging in alcohol abuse. These Individuals are considered to be high-functioning alcoholics, and although there are fewer visible or distinctive changes within your life from alcohol abuse, there is still potential for damaging side effects to occur from long-term alcohol abuse. Our team will support you in understanding the impacts of alcohol abuse and help you to safely overcome your alcohol addiction without experiencing harsh or severe side effects. Your comfort, health, and well-being are our top priority when you are healing within our treatment facility.
Medically Supervised Alcohol Detox in Arizona City
Patients that are ready to detox from alcohol within our recovery center will be offered the support of our medically supervised detox programs. During your alcohol detox, your body will begin the process of flushing your body of the harmful toxins of alcohol while working to restore your body's functioning to a normal, healthy capacity. During this process, your body and mind will experience side effects known as withdrawal symptoms ranging from mild to severe. A medically supervised detox program will provide the ongoing supervision and guidance of medical professionals specializing in safe detox practices. Patents will be provided with certain evidence-based and holistic treatments that will reduce the severity of your symptoms and help minimize any strong cravings for alcohol. During your alcohol detox, you may be presented with the option of participating in a medication-assisted treatment program that will provide you with FDA-approved medications that work to ease the onset of severe withdrawal symptoms and reduce any presenting withdrawal symptoms to help keep you safe and comfortable.
What Is Alcohol Detox Like?
During inpatient detox at The River Source, you will live in a semi-private room with another person. You will have a walk-in closet, a full bathroom, and a TV. The facility offers spacious outdoor areas, a cozy interior space, laundry facilities, and healthy meals are provided. You will have holistic treatments like massage, infrared dry sauna time, stretching, and yoga to help keep you comfortable and strengthen the body, along with mental health treatments and support, naturopathic treatments and vitamin infusions, and peer support with group therapy. After day eight of treatment, you will have cell phone access between the hours of 4:30 p.m. and 6:00 p.m., and smoking is allowed in designated areas.
Activities and social things to do in your spare time as you stay in our inpatient treatment center include basketball, yoga, fitness classes, sand volleyball, games, running on the ¼ mile track, frisbee golf, watching TV, and art therapy classes.
How Long Does Detox Last?
Each person living with an alcohol addiction has their own unique history of alcohol abuse. Your time in alcohol detox will depend on the severity of your alcohol addiction and the time you require to safely overcome the physical dependence developed on alcohol. Patients will often be in alcohol detox for a period of 7 to 10 days. The onset of withdrawal symptoms will typically occur within 8 to 10 hours since you last drank alcohol and the peak of withdrawal symptoms will occur within 72 hours.
What Happens After Detox?
Once you have safely overcome the physical alcohol dependence and moved through your withdrawal symptoms, you will be ready to begin diving into the underlying emotions and traumas that have contributed to your addictive behaviors. Many Arizona patients will transition from alcohol detox into an alcohol rehab program that will support them in healing from the root causes of their addiction while gaining the necessary coping skills and tools for relapse prevention to ensure they have long-lasting success in addiction recovery. Patients that complete an alcohol rehab program have a higher success rate in addiction recovery as they create a new lifestyle and routine that fosters sober living.
Top Rated Alcohol Detox Treatment in Arizona City
The River Source is the leading choice for Arizona residents for alcohol detox and treatment. Patents are supported through clinically driven approaches centered around physical, emotional, mental, and spiritual healing from addiction. Your time in alcohol detox will include evidence-based therapy methods that will help to treat any psychological withdrawal symptoms, leading medical treatments including medication-assisted treatment, and holistic treatment methods that will promote health, wellness, and mindfulness. Our combination of traditional addiction treatment methods, naturopathic treatments, and holistic therapies in our Arizona city outpatient rehab will ensure that you succeed in long-term sobriety.
Arizona City Alcohol Detox
Alcohol detox is the first step in your recovery journey, and our team is committed to making your experience comfortable and safe. We will provide you with a treatment center that meets all your necessary needs and creature comforts that will ensure that your time in detox does not feel like a punishment but is a relaxing and comfortable experience. Patients are provided with the respect and dignity they deserve as they embark on the life-changing addiction treatment journey. Our team will be by your side as you heal from your alcohol addiction and begin to embrace your new lifestyle of sober living and health.
Our Recovery Guarantee
Your success in addiction recovery is our top priority. That is why our team at The River Source offers each patient a recovery guarantee to ensure you maintain your addiction recovery success. If you have completed your treatment plan and include our full continuum of care and experience a relapse within a year of your program completion, you will be invited to resume addiction treatment within our recovery center to help you get back on your road to recovery and maintain your life of sober living.
QUICK, CONFIDENTIAL INSURANCE VERIFICATION
CLICK BELOW TO FIND OUT IF YOU HAVE COVERAGE