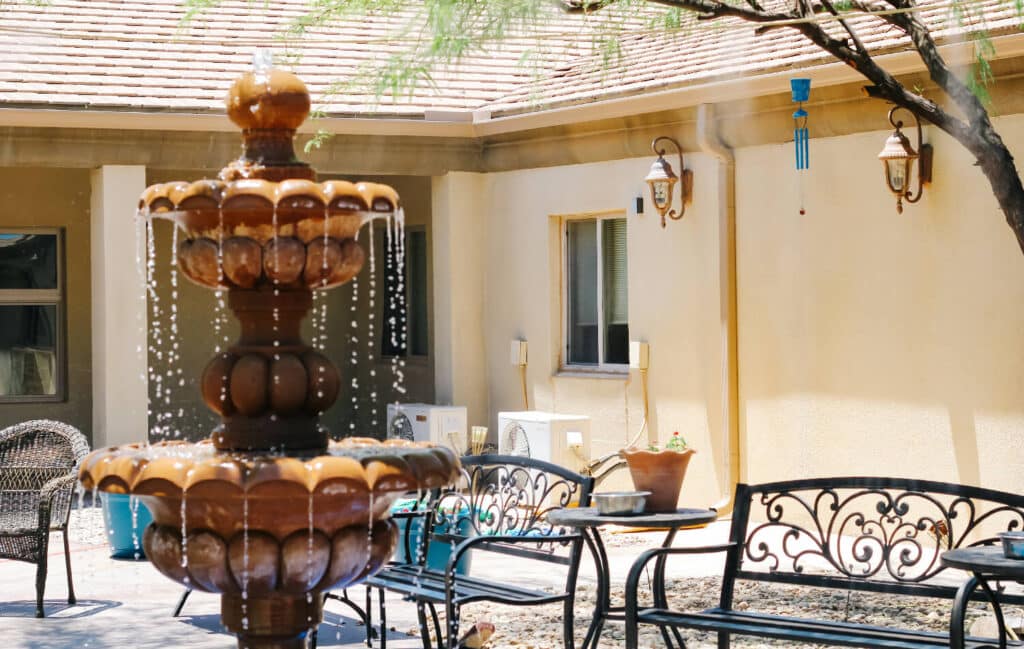 #1 Alcohol Rehab in Arizona City
The River Source is the leading choice for Arizona City residents ready to begin the life-changing addiction treatment journey. Your alcohol addiction began for personal reasons and is often due to underlying emotions and traumas that have influenced your ability to manage triggers or stressors within your day-to-day life. Most individuals did not set out with the intention of becoming addicted to alcohol, but over a prolonged period of time abusing alcohol, you eventually went down a path of substance abuse that was challenging to overcome. When you attend our treatment center, you will receive support from our compassionate team that understands the true nature of substance abuse and addiction. We see you as more than just another number that is coming into your recovery center. We believe every patient has the innate worth and right to heal within a treatment facility that honors your individuality and unique circumstances by providing you with a treatment plan centered around your specific needs and goals for addiction recovery. Through our comprehensive treatment programs, patients are offered an opportunity to heal from their root causes of addiction while developing the tools and confidence in their ability to manage any future triggers without returning to alcohol abuse. Through our clinically driven treatment programs, patients are supported in creating a new way of life in addiction recovery where they are equipped with the tools to maintain long-term success in sobriety.
YOU'RE NOT ALONE – WE CAN HELP
TAKE THE FIRST STEP AND APPLY FOR TREATMENT TODAY
Why Choose The River Source Arizona City for Alcohol Rehab?
Arizona residents choose to heal within The River Source treatment centers for the high levels of care that are provided to each of our patients. Patients will be invited to participate in our treatment center's full continuum of care. Your addiction did not occur overnight, and your healing process will not happen overnight either. It takes time and careful consideration to fully engage in a recovery process. We offer our patients a long-term, robust treatment plan that will support them every step of the way to facilitate healing and long-lasting success in sobriety. Your treatment plan can include a medical detox program, inpatient rehab, outpatient treatment programs of either a partial hospitalization program or intensive outpatient program, and aftercare planning as well as lifetime alumni support. Throughout each phase of your addiction treatment in Arizona city, you will continue to heal and gain the knowledge and skills to foster long-term success in addiction recovery.
Alcohol Rehab in Arizona City for High-Functioning Alcoholics
Alcohol addiction is a disease that does not discriminate against others. It can happen to anyone and will impact each individual person differently. While some people may experience significant changes and losses in their life due to their alcohol abuse, this is not always the case for everyone. Some individuals can maintain their lifestyle and responsibilities of work, school, and relationships with loved ones while still engaging in alcohol abuse also known as a high-functioning alcoholic. While high-functioning alcoholics may not experience significant consequences or loss from their drinking patterns, there is still an increased risk to their physical and psychological health. When you attend our recovery center, you will be provided with an integrative approach to healing that will help you heal from the physical dependence on alcohol while establishing new coping strategies that will help move you away from alcohol abuse as a form of self-medicating. Your rehab program will support you in identifying the core reasons why you have turned to alcohol as a means of coping and working to restore your body to stable health and well-being.
Private Alcohol Treatment Program in Arizona City
We believe that healing from your alcohol addiction requires a personalized treatment plan that maintains your dignity and treats you with the respect you deserve throughout your recovery journey. When you heal within our treatment center, you will be able to receive the individualized care you require while honoring your need for privacy. Alcohol rehab will allow you to reside with other individuals who are undergoing addiction treatment and understand the emotions and personal growth that go along with addiction treatment. Patients within our recovery center will be able to feel secure and safe as they heal within our private treatment center which is free of any outside distractions or triggers.
Inpatient Medically Supervised Alcohol Rehab in Arizona City
Alcohol addiction can create a strong physical dependency within the alcohol abuser that will often need the support of a medical detox and rehab program to monitor your progress with withdrawal symptoms and overcome the physical dependence on alcohol. Our team of medical professionals will provide you with appropriate and effective medical treatments and holistic therapies that will support you in safely ridding your body of the harmful toxins of alcohol while providing opportunities for you to replenish your body with the vitamins and minerals you need for healthy functioning.
How Long Is the Program in Arizona City?
Each patient that comes into our recovery center has their own unique history with alcohol addiction that requires an individualized treatment approach. There is no set time for all patients to heal from alcohol addiction. Your time in alcohol rehab will depend on your specific needs from addiction treatment. Patients will have the option of participating in alcohol rehab for a period of 30, 60, or 90 days. Deciding to participate in a short-term rehab will support patients in beginning the recovery process and engaging in evidence-based therapy methods that will help them to heal from the deep-rooted emotions and traumas that have contributed to their addictive behaviors. As you move through your recovery program, you may recognize that you need longer to participate in your treatment program to continue healing and find yourself again in sobriety, you will have the option of extending your stay to a long-term rehab program. Our team is dedicated to your success and wants to ensure you get the most out of your addiction treatment program which is why you have the flexibility to stay as long as you wish to solidify your new path in a life of sober living.
30-Day Alcohol Rehab in Arizona City
A 30-day rehab stay is a minimum time that patients will be invited to participate. A short-term rehab program allows Arizona residents to take a break from their home life and environment that was fuelling their alcohol addiction and reside within an environment that fosters healing and sober living. During a short-term rehab program, patients can begin participating in a comprehensive treatment plan that will incorporate evidence-based therapy methods that will support them in gaining perspective on the root causes of alcohol addiction and developing the coping strategies they need to successfully overcome alcohol addiction and any presenting triggers that may arise.
60-Day Alcohol Rehab in Arizona City
A 60-day rehab program provides Arizona residents with an in-between option of a short-term rehab and a long-term alcohol rehab program. Patients in a 60-day rehab will be able to engage in evidence-based therapy methods of behavioral therapy, dual diagnosis treatment, 12-step programs, and holistic therapies that will help them heal from the emotions, thoughts, and actions that have contributed to their alcohol addiction while developing the life skills and tools for relapse prevention that will ensure you have long-lasting success in sober living
90-Day Alcohol Rehab in Arizona City
A long-term rehab program of 90 days is the optimal amount of time for Arizona residents who can commit to the long-term process away from their home life and commitments. During this time, patients can engage in a comprehensive and robust treatment plan that will support them in diving into their inner emotions and traumas that have contributed to their addictive behaviors. Long-term rehab will allow you the time you need to engage in specialized treatment options including trauma therapy and dual-diagnosis treatment programs. Patients who complete a long-term rehab program can effectively address their history of substance abuse while solidifying a new way of life and daily routine that fosters health, wellness, and sobriety.
Men's Inpatient Alcohol Rehab
At The River Source, we strive to provide a treatment option that fosters the safety and comfort of our patients. In some cases, there are great benefits for patients to be able to participate in group therapy processes with other individuals that understand the struggles that they have experienced while in active addiction. An inpatient rehab program that brings males together to undergo the healing process together has shown high success rates in addiction recovery. Men that can share in the healing process together while sharing the emotions and struggles that they have faced during their alcohol addiction provide opportunities to connect with other males who understand what they have been through and begin to develop strong connections that will support each other to stay on track to maintain your life of sober living.
Women's Inpatient Alcohol Rehab
Similar to men, women find healing with other women in addiction recovery to help further their healing and progress in addiction recovery. Women can connect and relate to one another on previous experiences and traumas that have occurred while learning how to have healthy friendships and support with other women. Women find that they can share coping skills that they have established and provide peer support to help each other develop the tools for living a healthy life in sober living.
Our Recovery Guarantee
We are committed to you having a successful treatment program that fosters long-term sobriety which is why we offer Arizona City residents our recovery guarantee. If you complete your treatment plan in our Arizona city holistic rehab center, including our continuum of care but experience a relapse within the first year after your rehab completion, you will be invited to continue addiction treatment within our treatment center to allow you to continue to strengthen your ability to maintain a life free of substance abuse.
QUICK, CONFIDENTIAL INSURANCE VERIFICATION
CLICK BELOW TO FIND OUT IF YOU HAVE COVERAGE