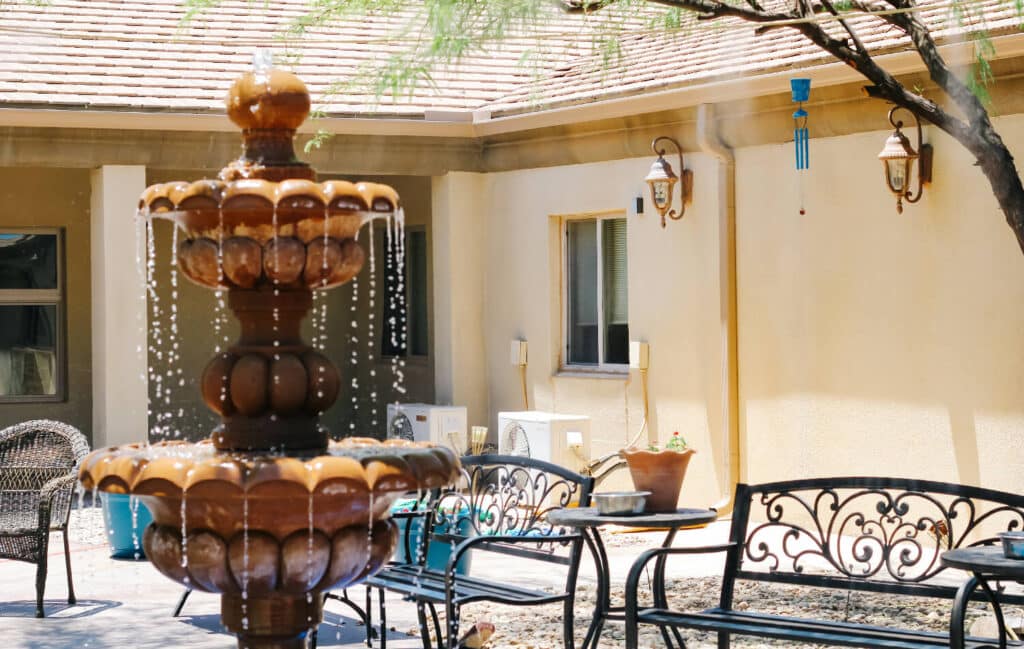 #1 Drug Rehab in Arizona City
The River Source is the top choice for Arizona City residents that are seeking support in overcoming drug addiction through an addiction treatment program. The team within our recovery center is highly trained in effective treatment approaches that will support patients in overcoming an illicit drug or prescription drug addiction. No matter what your drug of choice is, we provide patients with a comprehensive treatment plan that is specifically tailored to meet their individual needs to safely put their life for substance abuse behind them and gain the ability to live a healthy, balanced lifestyle in addiction recovery. We understand the nature of addiction and that becoming addicted to drugs was not your intention. Your use of drugs typically began due to underlying emotions, thoughts, and traumas that have influenced how you can function throughout your day-to day life. When you engage in addiction treatment within our recovery center, you will be provided with emotional support and therapy methods that reduce any feelings of shame or guilt around your substance use and empower you to believe in your capacity to live a life free of drug and alcohol abuse. Healing is possible, and our team strives to provide you with an opportunity to see your full potential in living a life of sobriety.
YOU'RE NOT ALONE – WE CAN HELP
TAKE THE FIRST STEP AND APPLY FOR TREATMENT TODAY
Types of Drug Addictions We Treat
Drug addiction comes in many forms whether it be illicit street drugs or prescription drugs. Regardless of your substance of choice, patients will experience a range of withdrawal symptoms and emotions that will need the support of compassionate addiction therapists and medical professionals that will monitor their progress and provide appropriate treatments throughout their recovery program. The team within our recovery center is well-versed in how drug addiction impacts a person's life and how each substance will have different effects on a person's body and mind. That is why we offer a personalized treatment plan to treat your drug of choice and your specific needs and desires for addiction treatment and recovery. The River Source can treat the following drug addictions for Arizona residents: 
 Cocaine 

Heroin

Meth 

Marijuana 

Prescription stimulants including Dexedrine or Adderall 

Opioid addiction such as Fentanyl, Oxycodone, or Morphine 

Sleeping medications such as Lunesta or Ambien

Benzodiazepines including Xanax or Valium 

Alcohol
Heroin Rehab in Arizona City
Heroin is a highly addictive drug that typically requires a slow tapering-off period that will incorporate a medication-assisted treatment program. Detoxing from heroin has the potential to create serious or severe withdrawal symptoms that will need the support of medical intervention to reduce the severity of your symptoms. Patients will be able to take FDA-approved medication that will minimize their withdrawal symptoms and reduce any presenting cravings for opioids, allowing you to be able to remain focused on their healing process of drug rehab. Once you stabilize from your initial withdrawal symptoms, you will be able to begin the process of delving into the root causes of your heroin addiction and establish effective coping skills and tools for managing triggers and relapse prevention techniques that will ensure you can maintain long-term sobriety.
Cocaine Rehab in Arizona City
Cocaine addiction primarily impacts a person's psychological health more than physical health compared to other illicit drugs. For this reason, cocaine rehab will focus on supporting patients in treating the emotional and mental addiction and dependency that have developed throughout their substance use disorders. Your treatment program will incorporate various forms of evidence-based therapy methods such as behavioral therapy, dual diagnosis treatment, 12-step recovery programs, naturopathic treatments, and holistic therapies that will help you identify the emotions, thoughts, and behaviors that have contributed to your addictive behaviors while supporting you in developing strategies to shift negative perceptions and responses to healthy, positive responses that foster addiction recovery.
Oxy Rehab in Arizona City
Oxycodone addiction is a powerful prescription opioid that produces similar effects as heroin addiction. Attempting to quit your use of oxycodone can present certain challenges including facing severe withdrawal symptoms similar to heroin withdrawal. An oxy rehab will allow patients to safely heal and overcome their physical addiction to oxy while beginning to explore the root causes of their oxy addiction. In some cases, individuals' oxy addiction began as a way to manage a chronic pain disorder or severe pain due to surgery or a medical condition. Throughout your oxy rehab, you will be provided with the opportunity to learn natural and holistic methods of managing pain that will successfully move you away from substance abuse as a means of coping.
Meth Rehab in Arizona City
Meth addiction requires a comprehensive treatment plan that will help patients address the physical and psychological impacts that their drug addiction has had. During your drug rehab program, you will have access to medical and naturopathic treatments that will work to replenish and restore your body from any nutritional deficiencies and physical health implications such as heart complications or dehydration. As you heal your body from the impacts of meth addiction, you will be provided with leading addiction treatment methods that will treat the symptoms of mental health symptoms and help stabilize your mood and mental health functioning. Meth rehab will focus on healing patients physically, emotionally, mentally, and spiritually from the influences of drug addiction.
Benzo Rehab in Arizona City
Benzodiazepines are prescription drugs that are provided to individuals that are experiencing symptoms of anxiety disorder, panic disorder, or seizures. While benzos can be effective for treating symptoms from these disorders when used as prescribed, there is an increased risk of developing an addiction to benzos if they are misused. These highly addictive drugs can be difficult to quit taking cold turkey as they can produce severe side effects. That is why you should quit using benzos within a drug detox and rehab program. This will provide you with ongoing supervision and treatment as you undergo a slow tapering-off period that will help you safely overcome your addiction to benzos without experiencing serious side effects or symptoms.
Prescription Drug Rehab in Arizona City
Prescription drug use often begins as a way to treat any ongoing physical health condition, mental health, or behavioral health disorder. However, prescription drugs can be highly addictive, and when they are abused, it can be easy for someone to end up in a cycle of addiction. A prescription drug rehab will support patients in slowing tapering off prescription drugs and, in some cases, support patients with a medication-assisted treatment program that will help them safely end their use of prescription drugs. During your rehab program, you will be provided with clinically driven treatment programs including a dual diagnosis treatment method that will work to treat your underlying causes of addiction while working to treat your co-occurring disorder through naturopathic and holistic treatments.
Top Rated Addiction Treatment in Arizona City
The River Source is Arizona City's premier in-network facility that provides patients with a personalized treatment program geared toward their individual goals for addiction recovery. Our outcomes-based therapy methods will offer you specific addiction treatment methods that will enhance and foster your healing experience and personal growth.
Arizona City Drug Rehab Success Rates
We understand that seeking help for your drug addiction is a courageous choice, and you want to know that you are putting your faith into a recovery center that understands your need for individual treatment with options for varying levels of care. The River Source has high success rates with our patients with an average success rate of 82%. This is due to the continuum of care that is available for all patients. Our team is committed to being with you every step of the way as you overcome your drug addiction and embrace your newfound lifestyle in addiction recovery.
Why Choose The River Source Arizona City for Addiction Treatment?
Addiction is a comprehensive disorder that requires the support of an integrative approach to healing. That is why we pride ourselves on providing patients with a treatment plan that covers all their areas of need and personal growth and healing goals. Healing from addiction requires more than just a one size fits all approach through a traditional therapeutic model. Treatment should include methods of restoring your physical health while treating and restoring your psychological health through clinically driven therapeutic methods. By treating your addiction through your body, mind, and spirit, you have a higher success rate in having a lifetime of addiction recovery.
Healing from drug addiction is a complex process as your addiction impacts your physical, emotional, mental, and spiritual health. To effectively heal from your drug addiction, your treatment program should offer a robust treatment plan that will provide a whole-person integrated approach to treatment and addiction recovery. Our Arizona city inpatient drug center provides patients with a unique treatment plan that integrates traditional evidence-based therapy methods and naturopathic healing from our expert naturopathic doctors specializing in safe treatment processes that rejuvenate and restore your body, mind, and spirit throughout your healing process. The clinically driven treatment processes provided to our patients are designed to have high success rates as each patient will have a treatment plan that is tailored to their unique circumstances and goals for addiction recovery.
Our Recovery Guarantee
Finding success in sober living and recovery is the foundation of our treatment programs. We are committed to providing patients with a long-term, robust treatment program to ensure their addiction recovery success. That is why each patient who completes your treatment program and the full continuum of care within our recovery center is offered a recovery guarantee who completes your treatment plan and a full continuum of care. If you complete your treatment program and experience a relapse within a year of completion, you will be invited to return to our treatment center to resume addiction treatment to ensure you can have long-lasting success in addiction recovery while continuing to develop and strengthen your skills for relapse prevention.
QUICK, CONFIDENTIAL INSURANCE VERIFICATION
CLICK BELOW TO FIND OUT IF YOU HAVE COVERAGE