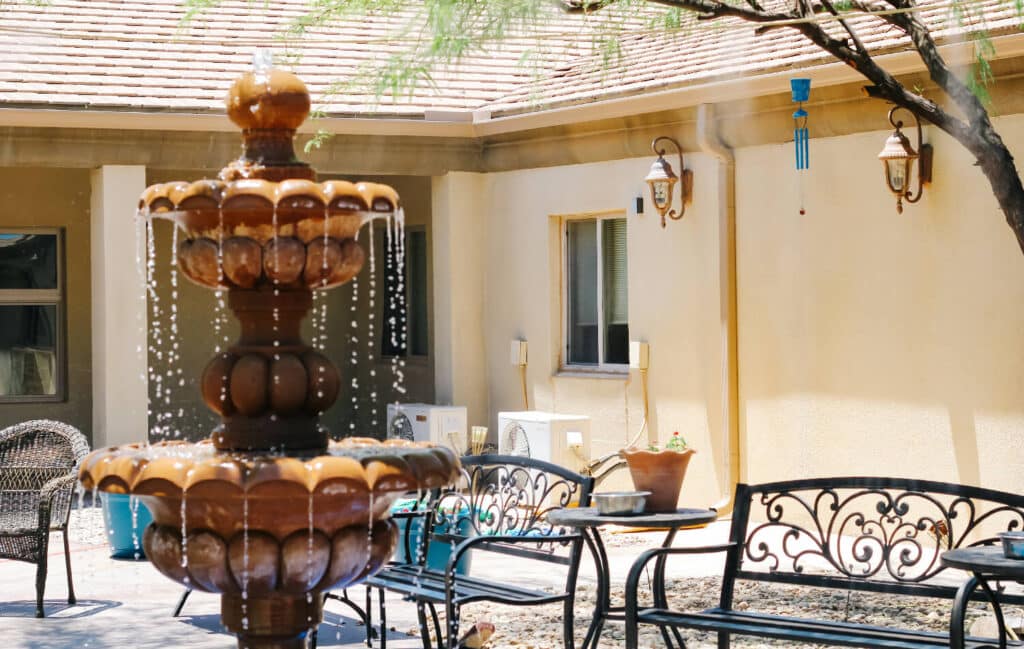 #1 Inpatient-Residential Alcohol Rehab in Arizona City
Addiction is a complex disease that can impact the lives of anyone and Arizona City residents are not immune to the devastating effects of alcohol abuse. The use of alcohol has become predominant in American culture with many individuals turning to alcohol as a form of coping after a difficult day, a form of socializing with others, and a way of self-medicating when presented with life challenges or hardships. Although there may be times when alcohol consumption can feel as though you are able to momentarily manage triggers or hardships, the more you engage in alcohol consumption for an extended period of time, there is increased risk of developing an addiction to alcohol that can be challenging to overcome on your own. If you have noticed that your alcohol consumption has become a negative habit within your life and is having significant impacts on your day-to-day living, there is hope to overcome your alcohol addiction with the support of an addiction treatment program.
YOU'RE NOT ALONE – WE CAN HELP
TAKE THE FIRST STEP AND APPLY FOR TREATMENT TODAY
Why Choose The River Source Arizona City for Residential Alcohol Rehab?
The River Source offers Arizona City residents an addiction treatment program that is centered around healing from your addiction within your body, mind, and spirit. Our team utilizes a whole-person integrated approach to healing that incorporates a variety of evidence-based therapy methods, holistic healing approaches, and naturopathic treatments. Addiction is a disease that impacts your physical and psychological health and each person living with an alcohol addiction will experience a range of side effects and implications that will need to be addressed through a personalized treatment plan. No patient has the same needs within an addiction treatment program which is why we offer patients a treatment program that is based on their unique circumstances and goals for healing and recovery. Our team of licensed medical professionals and accredited addiction counselors will develop a healing plan that will assist you to heal from the physical dependency and damage caused by alcohol addiction while supplying you with the knowledge and tools to maintain a life of long-term sobriety.
Arizona City residents choose The River Source for our unique, comprehensive approaches to addiction treatment. We believe that each patient has the right to heal from addiction through a treatment plan that speaks to their emotional, cognitive, and intellectual needs. Our recovery center works with patients to empower them to discover their ability to overcome addiction and explore the person they want to be and the happiness and health they deserve while living in addiction recovery. Our full continuum of care has high success rates in supporting patients to have long-term success in sober living, health, and wellness. Recovery is possible and our team will be with you every step of the way to help you achieve your overarching goals for addiction recovery.
How Long Is Rehab?
Each person living with an alcohol addiction has their own individual circumstances that have contributed to their addictive behaviors. There is no set cause for addiction nor is there a one size fits all approach to healing. Each person in addiction treatment will need to engage in addiction treatment for a period of time that allows them to safely and effectively address the root causes of addiction. The length of time that you will need to engage in alcohol rehab will depend on your specific healing needs and the types of addiction therapy methods that you will be engaging in. Patients are encouraged to take as long as they need within our recovery center which is why you have the option of a short-term rehab program of 30 days or a long-term rehab option of 60 or 90 days.
30-Day Inpatient Alcohol Rehab in Arizona City
A 30-day rehab program is the minimum amount of time that Arizona residents can engage in an alcohol addiction treatment program. Having a short-term break from your home environment to reside within a safe, supportive environment that is centered around healing from addiction often provides individuals with a clean slate and a fresh start to begin their newfound way of life in sober living. Arizona residents will be removed from any outside distractions or triggers and surround themselves with supportive addiction therapists and other patients that are sharing in the same experiences of overcoming addiction and healing from the root causes of their addictive behaviors. 30 days provides patients with the opportunity to learn the skills needed to begin building a new foundation in life to achieve and maintain addiction recovery.
60-Day Inpatient Alcohol Rehab in Arizona City
A 60-day alcohol rehab program is ideal for Arizona City residents that are searching for a treatment option that is in between a short-term and long-term rehab option. Patients will have ample time to begin learning and practicing their newfound coping skills and tools for overcoming triggers and maintaining a life in addiction recovery. During your time in alcohol rehab, you will be able to participate in a number of evidence-based therapy methods that will foster healing, personal growth, and establishing a new way of life that fosters sobriety, health, and wellness.
90-Day Inpatient Alcohol Rehab in Arizona City
90 days is the maximum amount of time that you are able to participate in alcohol rehab and addiction treatment. Having a long-term rehab program provides Arizona residents with enough time to engage in a personalized treatment plan where they will be able to heal from their underlying emotions, behaviors, and traumas that have been influencing their alcohol addiction. Patients are able to explore various methods of coping and tools for relapse prevention and establish the tools that will work best for them to successfully manage triggers or challenges without returning back to alcohol abuse. 90 days provides patients with the ability to strengthen their skills to maintain long-term success on their road to recovery.
Alcohol Rehab for High-Functioning Alcoholics in Arizona City
While there is often a misconception about what the image of an alcoholic is with many believing that an alcoholic is someone that has experienced significant losses or consequences due to alcohol consumption. There are some individuals that will face these types of challenges, there are others that will be able to maintain their lifestyle and uphold their responsibilities of work, school, or family commitments while engaging in regular, heavy alcohol abuse. Although there may not be immediate consequences, long-term or heavy alcohol abuse can have serious side effects and implications that pose a threat to your psychological and physical health. High-functioning alcoholics benefit from an alcohol rehab program as they will be able to understand the impacts that their alcohol abuse can have on their health, wellness, and lifestyle while providing you with a treatment program that helps to restore their health and continue to maintain their functioning lifestyle.
Alcohol Rehab in Arizona City
Arizona City residents will be provided with a customizable treatment plan that will be catered to their unique needs and circumstances. Our team believes that addiction is a personal disease and to have a sufficient and effective healing process, it is important that your treatment program supports you in healing from the impacts of addiction from the inside out. Through our clinically driven treatment methods, patients are able to receive medical, naturopathic, holistic, and therapeutic methods that will enable them to safely and effectively overcome alcohol addiction and embrace a new lifestyle in addiction recovery. Patients that engage in our outcomes-based treatment programs will be able to lead their recovery process by establishing their personal goals for treatment and recovery and allowing our team to offer them the appropriate levels of care to reach and achieve their self-identified goals for addiction recovery.
Top-Rated Inpatient Alcohol Addiction Treatment Program in Arizona City
The River Source treatment center takes pride in providing our patients with an addiction treatment program that incorporates leading evidence-based therapy methods with alternative and holistic treatment methods. Our comprehensive treatment methods invite patients to address and heal from the root causes of alcohol addiction while establishing the coping skills and tools for relapse prevention that will foster long-term success in addiction recovery. Your personalized treatment program will incorporate some or all of the following clinically driven addiction treatment methods:
Cognitive behavioral therapy 

Dialectical behavioral therapy 

Dual diagnosis treatment 

12-step recovery programs

Psychoeducational group processes 

Neurofeedback 

Naturopathic treatments such as IV therapy or vitamin therapy 

Holistic treatments which can include acupuncture or massage therapy
Alcoholism Treatment in Arizona City
In order to effectively treat your alcoholism, it is important that you are provided a continuum of care that provides appropriate treatments and support at each phase of your recovery process. The River Source offers patients a treatment plan that includes varying levels of care to support them in overcoming their physical and psychological addiction to alcohol. Arizona City residents will have the option of participating in our continuum of care that offers the following levels of care: 
Medical alcohol detox 

Inpatient alcohol rehab programs

Outpatient rehab programs of a partial hospitalization program, intensive outpatient program, or general outpatient program 

Aftercare planning and support through lifetime alumni services
Our Recovery Guarantee
Our patient's journey to addiction recovery is our top priority and we want to ensure that you have long-term success in sobriety. Each patient that completes your full treatment plan in our Arizona city prescription drug rehab center including the full continuum of care and experiences a relapse within a year of your treatment completion, is welcome to return back to our recovery center to resume addiction treatment. Patients are able to explore what happened prior to their relapse and support them in continuing to develop the tools and coping skills needed to maintain long-term sobriety.
QUICK, CONFIDENTIAL INSURANCE VERIFICATION
CLICK BELOW TO FIND OUT IF YOU HAVE COVERAGE