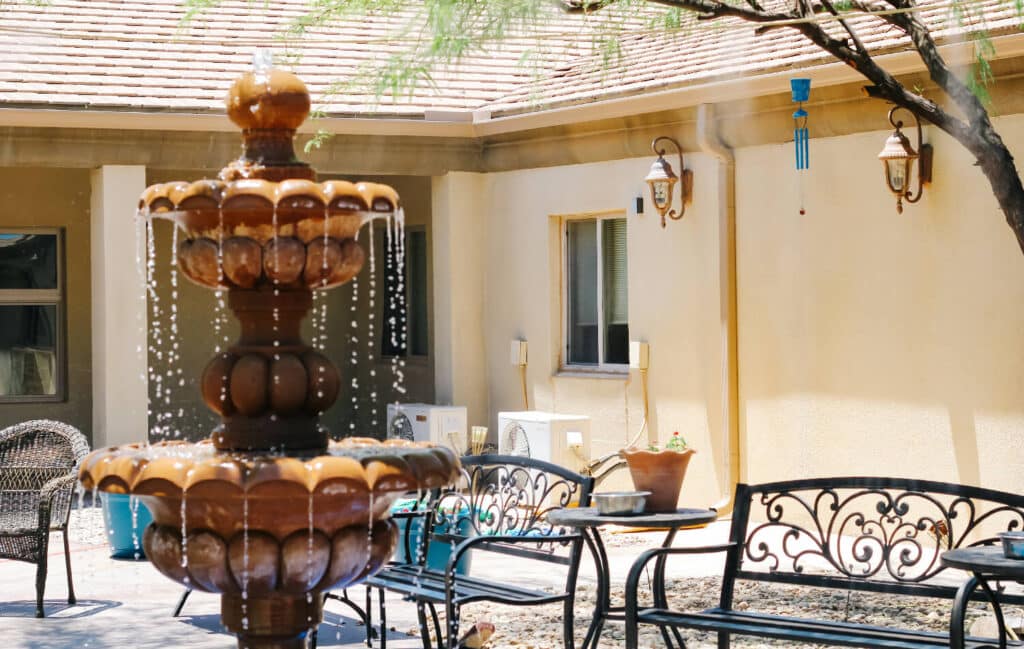 Arizona City residents turn to The River Source for addiction treatment for the high levels of care and robust treatment programs that are offered to patients. We believe that addiction is a personality disorder that begins from underlying causes that are unique to each person. That is why we create individualized treatment plans that are centered around each patient's individual circumstances and goals for addiction recovery. We see each patient as the unique person that you are rather than just a number. This is why we are dedicated to supporting you in every phase of your addiction recovery process through our continuum of care to ensure that you feel supported throughout your journey and ensure that you have long-term success in addiction recovery.
YOU'RE NOT ALONE – WE CAN HELP
TAKE THE FIRST STEP AND APPLY FOR TREATMENT TODAY
Why Choose The River Source Arizona City for Residential Drug Rehab?
The River Source offers Arizona City residents a unique treatment program that focuses on healing patients from the impacts of addiction through a comprehensive treatment plan and approach. Your drug addiction impacts your life in a variety of facets often impacting your physical, emotional, mental, and spiritual health. In order to effectively heal from your drug addiction and gain a stable lifestyle in addiction recovery, your treatment program should incorporate a variety of treatment methods that will heal your body, mind, and spirit from the impacts of substance abuse. Each treatment program will include a combination of evidence-based therapy methods, medical supervision and treatments, naturopathic healing methods, and holistic therapies. As you move through your robust treatment program, you will be able to restore your body and mind from the impacts of addiction, heal from your underlying emotions and traumas that have influenced your addictive behaviors, and develop a strong foundation in your new life centered on addiction recovery. 
Arizona City residents that are living with an active alcohol addiction choose The River Source for the effective, evidence-based therapy methods that are provided to each and every patient that enters our recovery center. Patients are offered the full continuum of care that will help them heal from the physical, emotional, and mental addiction to alcohol through a medical alcohol detox program, inpatient rehab, outpatient alcohol rehab, and lifetime alumni support program. You will be provided with long-lasting levels of care that will ensure that you have a high success rate in achieving and maintaining sober living.
How Long Is Rehab?
Each patient will have their own individual needs and process within drug rehab. There are no set guidelines for how long each patient will need to stay in drug rehab. It will depend on your preference and goals for addiction treatment in Arizona city. Patients are able to choose from a 30, 60, or 90-drug rehab program. The length of time you stay in drug rehab will also depend on the length of time that you have been engaging in drug abuse, how much you consume at one time, and how often you engage in substance abuse. These factors can impact the severity of your drug addiction and result in patients needing more time to engage in addiction treatment programs that will allow them to effectively treat and heal from their substance use disorder.
30-Day Inpatient Drug Rehab in Arizona City
Arizona City residents can choose to engage in a short-term rehab program of 30 days. This is the minimum amount of time that patients can reside within our inpatient rehab program. 30 days provides patients with an opportunity to begin their treatment program and start to explore the root causes of their drug addiction with the support of evidence-based therapy methods. As you reside within our recovery center, you will be with other patients that are in early addiction recovery and support one another as you make this courageous life change. You will be able to focus on your recovery journey without having to worry about any external triggers or distractions as you will be healing within the safe, supportive environment of drug rehab. 30 days allows you to begin to implement this new life change and develop new coping skills and strategies to maintain a life in addiction recovery.
60-Day Inpatient Drug Rehab in Arizona City
Arizona City residents who are seeking a treatment program that offers a longer period of time than a 30-day rehab program while still inviting patients to take a brief break from their home environment will often choose a 60-day rehab. During this time, patients are able to engage in the individualized treatment plan that is created for them while having time to explore tools and coping skills that will support them in having long-term success in addiction recovery.
90-Day Inpatient Drug Rehab in Arizona City
A long-term rehab program of 90 days invites Arizona to move through your treatment process at a rate that is comfortable for you. Allowing yourself an extended period of time in drug rehab will ensure that you are able to engage in evidence-based therapy methods along with specialized treatment methods of dual diagnosis treatment, trauma therapy, and life skills development. Patients that engage in long-term rehab will have ample time to create a strong foundation for a life in addiction recovery.
Types of Drug Addictions We Treat
Drug addiction comes in many forms whether it be illicit substances or prescription drugs. The impacts of your drug addiction will vary depending on your substance of choice which is why the team at The River Source is specifically trained and certified in addiction treatment for various substances to ensure that your safety, health, and well-being are maintained throughout your healing process. The River Source is able to treat the following drug addictions: 
Cocaine 

Heroin

Fentanyl

Meth

Alcohol 

Marijuana 

Benzodiazepines 

Opiates 

Other prescription drug addictions
Inpatient Heroin Rehab in Arizona City
Heroin addiction can cause strong physical dependency within substance abusers that will need to be treated with the support of an opioid detox program. Patients in an opioid detox will typically be provided with the support of a medication-assisted treatment program that will provide them with medications that will reduce the onset of withdrawal symptoms and reduce severe drug cravings. Patients will continue a medication-assisted treatment program throughout their drug detox and rehab program to help slowly release the toxins of heroin and allow them to stabilize in their new lifestyle of addiction recovery. As you restore your physical health, you will be able to explore the underlying causes of your heroin addiction and develop the tools for relapse prevention that will ensure you have long-term success in sober living.
Inpatient Cocaine Rehab in Arizona City
Cocaine addiction tends to impact substance abusers more within your mental and emotional health rather than physical side effects. That is why cocaine rehab is focused on supporting individuals to heal from the psychological impacts of cocaine abuse. Cocaine rehab will support patients to heal from the underlying emotions and traumas that have contributed to their addictive behaviors while gaining the life skills and coping strategies to maintain a life in addiction recovery. Patients will be invited to participate in evidence-based therapy methods including behavioral therapy, dual diagnosis treatment, holistic treatment, and naturopathic treatments and methods.
Inpatient Oxy Rehab in Arizona City
Oxycodone is a powerful prescription opiate drug that can have severe impacts on your physical and psychological health. During an oxy rehab program, patients will often go through a slow tapering-off process that will help them safely overcome their physical addiction to oxycodone. As you stabilize your physical health, you will be ready to begin exploring what factors have contributed to your oxy addiction. For any deep seeded emotions or traumas that have influenced your addiction, you will be provided with leading addiction therapy methods that are clinically driven to ensure you effectively heal from your root causes of addiction. For those Arizona residents that began using oxy as a method of pain management, you will be provided with holistic and naturopathic treatments that will support you in mitigating your pain through natural, healthy approaches.
Inpatient Meth Rehab in Arizona City
Meth addiction can have significant implications and impacts on a person's mental health and physical health. In order to provide you with an effective treatment program, it is important that you are provided with a whole-person integrated approach to healing that will target healing and stabilization within your body, mind, and spirit. Our medical team will complete physical assessments to help gauge the impacts on your physical health from meth abuse and be able to create a specific treatment plan that will restore your physical health and well-being along with effectively treating any presenting mental health concerns.
Inpatient Benzo Rehab in Arizona City
Benzodiazepines are commonly prescribed to individuals that are experiencing severe symptoms from a mental health disorder including depression or anxiety along with treating symptoms of seizures. When you begin abusing benzos, there is a significantly increased risk of experiencing worsening symptoms of your preexisting conditions. That is why a benzo rehab will need to include a drug detox process that will help you safely taper off of benzos with the ongoing supervision and guidance of medical professionals. As you release the physical dependency, you will be able to explore your deep-rooted emotions and behaviors that have been contributing to your addictive behaviors in order for you to establish a new way of life in addiction recovery.
Inpatient Prescription Drug Rehab in Arizona City
The River Source provides Arizona City residents with a comprehensive treatment program that will support them in overcoming prescription drug abuse whether it be stimulants, prescription opioids, benzodiazepines, or sleeping medications. During your prescription drug rehab program, you will be supported to safely end your use of prescription drugs through a detox and slow tapering-off process. As most individuals will begin to abuse prescription drugs as a way to treat a co-occurring disorder, it is important that patients are supported in treating their substance use disorder along with having alternative treatment methods for their co-occurring disorder including holistic and naturopathic approaches. Arizona residents will be provided with the tools and skills needed to manage their symptoms from a co-occurring disorder and remain on the road to recovery.
Men's Inpatient Drug Rehab
A men's drug rehab program offers Arizona City men the opportunity to heal from their addiction within a group of individuals that have shared similar experiences and journeys in life. By healing within a group of men, it helps to build trust and safety as the group is able to relate to one another about the impacts of addiction along with any explore how social stigmas and societal expectations and norms may have impacted your overall health and wellbeing. As a group of men moves through the healing process, you are able to break down societal barriers and connect with one another about the personal growth and healing you are undergoing creating long-lasting success in addiction recovery.
Women's Inpatient Drug Rehab
A women's inpatient drug rehab provides women with a safe, supportive environment to heal from drug addiction. For some women, there has been a history of abuse or emotional turmoil at the hands of a man. Women are able to remove themselves from any triggers and begin the healing process. Women are able to connect through group therapy processes where they can address their underlying emotions and traumas while developing the coping skills and tools for relapse prevention to ensure they have long-lasting success in sober living.
Top-Rated Inpatient Drug Rehab Program With Results
Alcohol is a widely abused substance across the United States and can be highly addictive when abused. Alcohol addiction, similar to drug addiction, can create severe physical dependence and psychological impacts that will need to be treated within an addiction treatment program. Arizona residents that identify that they need help for alcohol addiction will be invited to participate in an individualized treatment program that is outcomes-based and clinically driven to support them in overcoming their alcohol addiction and reaching their overarching goals for sober living.
Our Recovery Guarantee
The River Source is dedicated to your success in addiction treatment and wants to ensure our patients get the level of therapeutic support they need to achieve sober living. Patients are offered a recovery guarantee if they complete your full treatment program including the full continuum of care. If you complete your program and experience a relapse within a year of completion of your treatment program, you will be invited to return to our recovery center to resume your individualized treatment program.
QUICK, CONFIDENTIAL INSURANCE VERIFICATION
CLICK BELOW TO FIND OUT IF YOU HAVE COVERAGE