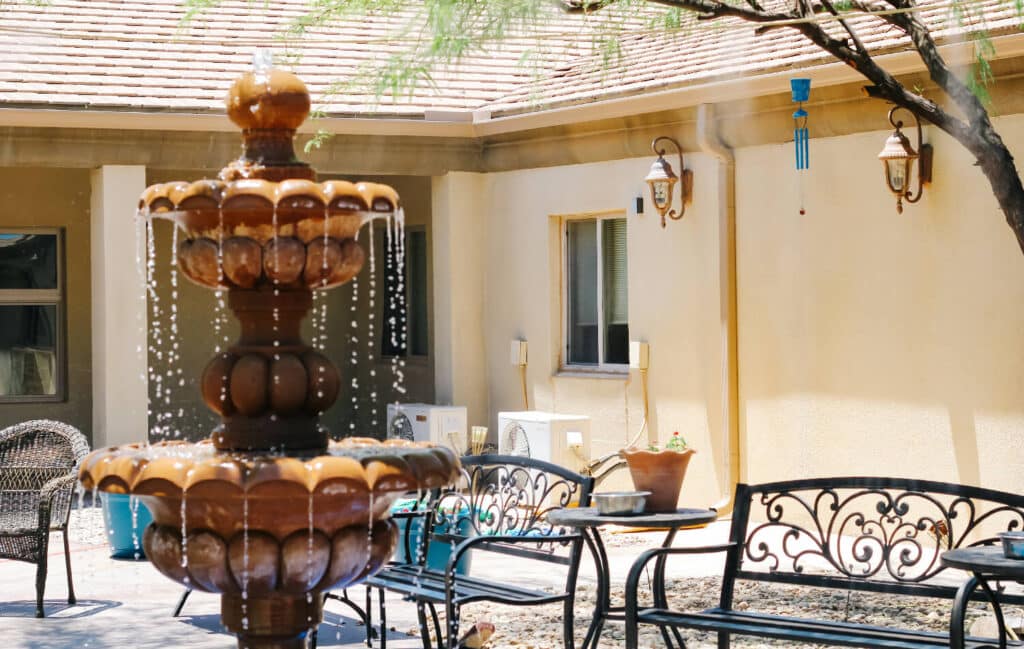 #1 Meth Detox in Arizona City
Meth addiction significantly impacts a person's physical and psychological health. This highly addictive substance is becoming a growing concern for thousands of Americans each day due to the easy accessibility and affordability of this drug. The cycle of meth addiction can feel challenging to overcome on your own and oftentimes individuals will seek the support of an addiction treatment program to help break the cycle of addiction. Our best rehab in Arizona city offers residents a treatment program that will support them in safely overcoming their meth addiction with the support of a comprehensive treatment plan that incorporates leading evidence-based therapy methods along with naturopathic and holistic treatments that will support you in healing from your substance use disorder within your body, mind, and spirit. Our whole-person integrated approach to addiction treatment will support you in healing from your underlying causes of addiction while establishing a new way of life that will enable you to live a healthy, balanced life in addiction recovery.
YOU'RE NOT ALONE – WE CAN HELP
TAKE THE FIRST STEP AND APPLY FOR TREATMENT TODAY
Why Choose The River Source Arizona City for Meth Rehab?
The River Source offers Arizona City residents a meth rehab program that has high success rates for patients. To make your healing journey successful, you must be provided with a personalized treatment plan centered around your individual needs and goals for addiction recovery. Each patient entering our recovery center has unique circumstances that have led to their addictive behaviors. That is why there cannot be a generic approach to addiction treatment for all patients. Your treatment plan must meet your cognitive, intellectual, and emotional intelligence and capacity. Every patient will respond to different treatment approaches differ, and an individualized treatment plan will allow you to engage in addiction therapy methods that suit your healing and personal growth needs. 
Your meth addiction took time to develop and often progressed over an extended period of time for several reasons such as deep-rooted traumas or emotions that have influenced how you manage day-to-day life stressors or triggers. To safely and effectively heal from your meth addiction, you must have a long-term treatment plan to support you in every phase of your addiction recovery journey. That is why Arizona residents are offered a full continuum of care that will support them in overcoming their meth addiction physically, emotionally, mentally, and spiritually. Our recovery center will offer you support through the following levels of care: 
Medical detox 

Inpatient drug rehab 

Outpatient treatment programs including partial hospitalization programs, intensive outpatient programs, and general outpatient program

Aftercare planning 

Lifetime alumni support and community
First Class Amenities
Healing from your drug addiction should not feel like a punishment. At The River Source, we believe that your comfort is a top priority as you heal from your substance use disorders. Patients that are participating in our inpatient drug rehab program will be invited to reside within our treatment facility that brings the comforts of home to you. Patients will have access to creature comforts that will help them feel relaxed and at ease throughout their detox and rehab process. Patients that are participating in a detox program will have TVs within their detox rooms that will allow them to put their minds at ease and relax to their favorite show as they heal from their physical addiction to drugs. Within inpatient rehab, patients will have access to private TV rooms, fitness equipment for communal use, and recreational activities or games they can enjoy with other patients. Our treatment center offers patients a welcoming, safe space to heal from their drug addiction and begin a new lifestyle in addiction recovery.
Meth Withdrawal
Meth abuse can create strong physical and psychological dependencies within its users. To safely overcome your drug addiction, Arizona residents will be invited to participate in a drug detox program to ensure that you safely move through any presenting withdrawal symptoms safely and with ease. Withdrawal symptoms from meth addiction will range in severity depending on your specific history of meth abuse. Common meth withdrawal symptoms include: 
Fatigue 

Insomnia 

Depression 

Chills 

Dysphoria 

Dehydration 

Weight gain or loss 

Lack of energy 

Anhedonia 

Drug-induced psychosis 

Severe drug cravings 

Mood swings

Suicidal ideations
What Is Meth Detox Like?
When you participate in a meth detox, you will be provided with a personalized treatment program to support your addiction while maintaining your health, wellness, and safety. Our team will develop your treatment program based on your unique needs and self-identified goals for addiction recovery. Once a treatment plan is developed, patients will be invited to reside within our recovery center to begin their recovery process. As you release the toxins and influences of meth from your system, you will be monitored by our onsite health care professionals that will provide you with medical and naturopathic treatments that will reduce the severity of your withdrawal symptoms while working to restore your body functioning and optimal health and wellness. As you overcome your withdrawal symptoms and begin regaining your physical health, you will be ready to begin your rehab process to explore the root causes of your drug addiction to create a new way of life in addiction recovery.
How Long Does Detox Last?
Each patient undergoing drug detox will have a unique experience that will vary in the length of time they are participating. Your time in drug detox will vary depending on your history of drug abuse, including how long you have been engaging in meth abuse, how often you use meth, and the amount you use each time. Patients will often be in a detox program for up to 10 days. However, your time in detox will be completed once you have safely and effectively overcome any drug withdrawal symptoms.
What Happens After Detox?
Detox is typically the first step in a person's recovery journey. Once you have completed detox, it is recommended that patients begin healing from their root causes of addiction and establish the coping skills and tools for relapse prevention that will support them in maintaining life in addiction recovery. This process can be done within an inpatient drug rehab or outpatient treatment program. During your time in drug rehab, you will be invited to engage in evidence-based therapy methods that will support you in understanding how your emotions, behaviors, and thoughts have contributed to your drug addiction while gaining perspective on your triggers and how to effectively overcome them with holistic methods and coping skills.
30-Day Meth Rehab in Arizona City
A 30-day drug rehab program is the minimum stay for Arizona residents looking for an inpatient treatment program. Participating in a 30-day rehab will provide you with an opportunity to remove yourself from any temptations or triggers to reside within our safe and secure treatment facility where you can fully engage in your individualized treatment program. A short-term rehab program will provide ample time to begin developing coping skills and tools for relapse prevention while beginning your healing process of diving into the root causes of your addiction through evidence-based therapy methods.
60-Day Meth Rehab in Arizona City
For Arizona City residents that are looking for a rehab program that provides more time then a short-term rehab program and less time then a long-term rehab program, you can opt to participate in a 60-day rehab program. During this time, patients can explore the underlying causes of addiction and begin the healing process of addressing those emotions and traumas while developing the tools to avoid negative responses or reactions from these trauma responses to ensure they have long-term success in addiction recovery.
90-Day Meth Rehab in Arizona City
The longest amount of time that you can generally participate in an inpatient drug rehab program is 90 days. It is recommended that patients take the time they need to engage in their comprehensive treatment plan that incorporates evidence-based therapy, holistic therapies, and naturopathic treatments. A long-term rehab program is ideal for Arizona City residents with a history of relapse behaviors and for individuals participating in trauma therapy and dual diagnosis treatment methods. Having longer periods of time to engage in these specialized treatment methods will allow you to take your time and develop the tools to overcome the painful and debilitating responses or triggers rooted in those emotions and traumas.
Meth Detox & Rehab Success Rates
The RIver Source is proud to offer Arizona City residents a comprehensive treatment program that is centered around their individual needs and circumstances. We believe that a treatment program catered to each patient helps increase your success with addiction treatment. Patients participating in our full continuum of care have experienced an 82% success rate. Your meth rehab will support you in overcoming the physical and mental addiction to meth while supporting you in establishing and solidifying your capacity and tools for relapse prevention.
Meth Detox in Arizona City
The River Source offers a supportive and safe environment for Arizona City residents to rid their bodies and minds of their addiction to meth. Your detox program will include a combination of traditional medical addiction treatments and behavioral therapy that will help you explore the root causes of your addiction along with our clinically driven naturopathic treatments that will work to restore your physical and mental health. Our team of medical professionals and addiction therapists will be alongside you every step of the way as you rid yourself of the addiction to meth and begin to find your new path in life that is centered around sobriety, health, and wellness.
QUICK, CONFIDENTIAL INSURANCE VERIFICATION
CLICK BELOW TO FIND OUT IF YOU HAVE COVERAGE