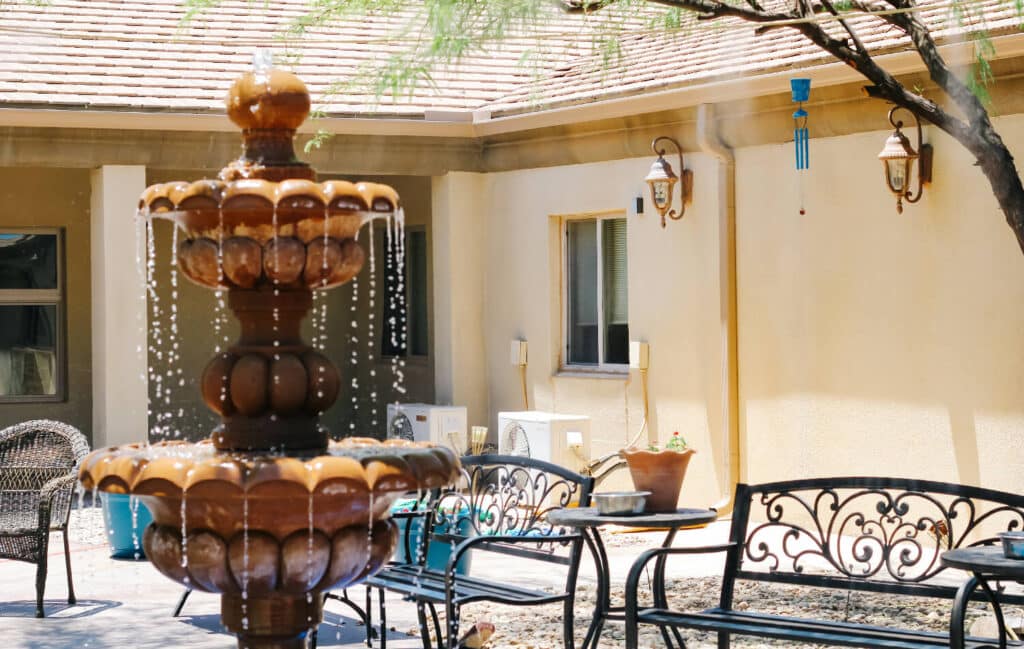 #1 Addiction Treatment Center for Chandler AZ Residents for Alcohol, Prescription Drugs, & Drug Addiction
Addiction is a disease that impacts the lives of millions of Americans each day. It is rare to find someone that has set out or had intentions of becoming addicted to drugs and alcohol, but the unfortunate truth is that individuals will turn to substance abuse in an attempt to manage and cope with the ups and downs of life. At The River Source, we understand the nature of addiction and that individuals living with a substance use disorder have their own unique circumstances that have led to their addictive behaviors. That is why we provide our patients with an individualized treatment program to meet their needs and addiction recovery goals. Through our whole-person integrated approach to healing, patients will be able to heal from the depths of addiction within their bodies, mind, and spirit.
YOU'RE NOT ALONE – WE CAN HELP
TAKE THE FIRST STEP AND APPLY FOR TREATMENT TODAY
Alcohol & Drug Detox & Rehab Chandler
Drug and alcohol addiction can profoundly affect a person's physical and mental health. These highly addictive substances will create strong physical dependencies within the substance abuser that must be treated before you can begin your alcohol or drug rehab program. At The River Source, we offer Arizona residents with a full continuum of care that will support them in each phase of their addiction treatment program. Throughout our detox and rehab programs, patients will be provided with clinically driven approaches to healing and treatment that will help them safely and successfully overcome their alcohol and drug addiction while developing the tools and coping skills to maintain a life in addiction recovery.
Why Choose the River Source for Addiction Treatment?
Arizona residents choose The River Source for addiction treatment of the unique and exclusive methods of addiction therapy and healing processes. Our treatment programs are based on the belief that drug or alcohol addiction is unique to each person that experiences it. Due to the individualized nature of addiction, we strongly believe that there is no one size fits all approach to healing. To have a meaningful, effective experience in addiction treatment, it should be centered around your individual circumstances and goals for addiction recovery. Patients will be provided with a treatment plan incorporating evidence-based therapy methods that have proven to have high success rates, medical care, and naturopathic treatments that will provide them with a comprehensive healing experience that will foster long-term success in addiction recovery.
Chandler Alcohol Detox
Alcohol abuse can lead to severe physical dependence the longer that you engage in alcohol consumption. As you attempt to quit your use of alcohol, there is potential for individuals to experience severe withdrawal symptoms that have the potential of becoming painful and, in some cases, life-threatening. To ensure your health and well-being throughout your healing journey of addiction treatment, patients are recommended to engage in an alcohol detox program that will support them in safely relieving their bodies of the harmful toxins of alcohol abuse. During this process, your body will be eliminating the influences of alcohol from your body which can create side effects of alcohol withdrawal symptoms that will need to be monitored by medical professionals. Chandler, Arizona residents will have the ongoing supervision of medical professionals within our medical detox setting that will support them in minimizing their symptoms from severe to mild or moderate levels. You will be provided with evidence-based therapy methods and medical treatments including medication-assisted treatment that will help reduce any cravings for alcohol and decrease the severity of your symptoms so that your physical and mental health remains safe and stable throughout your detox program.
Chandler Alcohol Rehab
Once you have cleansed your body of the harmful influences of alcohol, you will be in a good state physically to begin addressing your root causes of alcohol addiction through a comprehensive alcohol rehab program. Patients in alcohol rehab will work through an individualized treatment program that will utilize a variety of evidence-based therapy methods that will support them in exploring the underlying emotions and traumas that have influenced their addictive behaviors. Due to the predominant presence of alcohol within American culture, a key component of your alcohol rehab program will be supporting you in developing a relapse prevention plan that will help you overcome any presenting triggers that you may encounter such as passing by a liquor store or being at an event with alcohol present. Your rehab program will support you in establishing healthy boundaries and relapse prevention techniques that will help you stay on the road to recovery no matter what triggers you are presented with.
Chandler Drug Detox
Drug detox is a necessary option for individuals that are living with an active addiction to illicit drugs or prescription drugs. Depending on your drug of choice, you will experience a series of withdrawal symptoms specific to the substance you are using. The River Source offers patients a comprehensive detox program that will support them in successfully healing from the physical and mental health symptoms that arise from their drug withdrawal. In Chandler drug detox center, patients will be offered clinically driven detox treatment methods including medication-assisted treatment that will help to minimize the severity of their withdrawal symptoms and reduce the onset of strong drug cravings. No matter what substance you are abusing such as heroin, cocaine, meth, or other drugs, the medical team and addiction therapists within our recovery center is highly trained in leading treatment methods that are outcomes based to ensure you can safely and comfortably overcome your drug addiction with ease.
Chandler Drug Rehab
Similar to alcohol rehab, drug rehab is an opportunity for Arizona residents to gain perspective on what has been fuelling their addictive behaviors all along. With the support of evidence-based therapy methods, patients will be able to understand how their emotions, thoughts, and behaviors have influenced their addictive behaviors. As you explore further into the contributing factors to your drug addiction, you will be able to develop an awareness of your triggers and establish effective coping skills and relapse prevention techniques that will keep you on the right track to remaining clean and sober.
Chandler Prescription Drug Detox
Prescription drugs are provided to individuals to treat a variety of symptoms for different mental health, behavioral health, or physical conditions. While these prescription drugs can be highly effective in treating symptoms, they also have the potential to become highly addictive if they are abused. When individuals abuse prescription drugs, there can be serious side effects should they attempt to quit their use of prescription drugs cold turkey or without the support of a medical professional. A medical detox program will support you in safely tapering off your use of prescription drugs to avoid serious withdrawal symptoms that can pose a threat to your overall health and well-being. Medical detox will provide you with the supervision of medical professionals that will monitor your progress through detox and provide you with appropriate medical treatments and naturopathic treatments to ensure you remain comfortable and relaxed throughout your detox process.
Chandler Prescription Drug Rehab
Once you have eliminated the physical dependency on prescription drugs through a detox program, you will be invited to engage in a drug rehab program that will allow you to heal from your deep-rooted causes for addiction. For many prescription drug abusers, your addiction began innocently as they tried to treat an ongoing cooccurring disorder, but as their use progressed to drug abuse, they developed an addiction to these substances. A prescription drug rehab program will incorporate a dual diagnosis treatment program that will allow you to heal from your underlying causes of addiction while exploring different methods to manage your cooccurring disorder through natural, holistic approaches. Patients will gain stability in their mental and physical health as they move away from a life of substance abuse.
Chandler Top Rated Addiction Treatment
The River Source is the leading choice for Chandler, Arizona residents that are ready to undergo the healing process of addiction treatment. While other treatment centers are available in Chandler, Arizona, The River Source goes above and beyond for patients to have a whole-person integrated approach to healing. Treatment plans that are developed for our patients utilize evidence-based therapy methods, holistic treatments, naturopathic treatments, and clinically driven approaches that will foster optimal healing, personal growth, and healing within your body, mind, and spirit.
Alcohol & Drug Detox-Rehab for Residents of Chandler
Healing from addiction requires a comprehensive approach that is cognizant of your unique circumstances and where you are within your healing journey. Patients will have the option of participating in our full continuum of care that will support them through each phase of their recovery journey. Arizona residents will have the option of participating in the following levels of care from Chandler alcohol detox: 
Medical detox programs

Inpatient residential treatment programs 

Outpatient rehab programs including partial hospitalization, intensive outpatient program, and general outpatient program 

Lifetime alumni services
Our Treatment Specialties
Each patient participating in our addiction treatment program will be offered a comprehensive treatment plan centered around your specific needs and goals for addiction treatment. To effectively heal from your addiction, each patient will need different treatment plans that utilize various evidence-based therapy methods that will speak to your cognitive and emotional healing needs. Patients will be invited to participate in the following treatment methods: 
Cognitive behavioral therapy 

Dialectical behavioral therapy 

Dual diagnosis treatment 

12-step recovery programs 

Psychoeducational therapy

Neurofeedback 

Naturopathic treatments including a Comprehensive blood panel, IV therapy, or vitamin therapy 

Holistic treatments such as acupuncture therapy or massage therapy
Telehealth IOP
Addiction recovery is a lifelong commitment and requires continuous work to maintain your life of sober living. Staying connected to your recovery journey and goals for living in sobriety is crucial for you to maintain the life you have worked so hard for. At The River Source, we want to make accessing support easier than ever by offering a telehealth intensive outpatient program that will invite you to access addiction support remotely from wherever you are. Patients can connect with individual counseling and group therapy processes that will allow them to work through any triggers they have and continue to participate in therapeutic processes that will help them continue to grow and strengthen their confidence to continue in a lifestyle of addiction recovery.
Naturopathic Therapies
The River Source offers patients a unique opportunity to engage in healing through naturopathic treatments that will foster healing within their body, mind, and spirit. Our team sees the success rates in patients participating in naturopathic treatments and the effects it can have in restoring your physical and mental health. Arizona residents will be invited to engage in various naturopathic treatments to help replenish their bodies with essential nutrients and vitamins while restoring their physical health and abilities.
IV & Oral Vitamin Therapy
During your addiction to drugs and alcohol, your body will experience significant impacts on your overall functioning. As you become entrenched in substance abuse, many individuals will experience severe deficiencies in essential vitamins and minerals that are essential for optimal physical functioning. To help your body regain normal functioning, you will be offered IV and oral vitamin therapy to help replenish your body with the depleted vitamins and minerals to restore your physical health and functioning.
Amino Acid Therapy
Active addiction is known to impact your brain functioning resulting in a decrease in neurotransmitter functioning. As your substance abuse progresses, the connection and signals from your neurotransmitters become significantly impacted. Amino acid therapy will supply patients with an increase in essential neurotransmitters such as serotonin, dopamine, and norepinephrine that will help to treat symptoms or feelings of anxiety and depression and increase energy levels. Patients participating in amino acid therapy will notice improved mental health functioning.
Massage Therapy
Massage therapy is offered to patients within our recovery center to help foster healthy physical and mental health functioning. Massage therapy provides patients with improvements in physical health by relieving muscle pain or soreness, chronic pain, or fatigue. As your body can release stress and tension, you will notice an increase in energy levels, feelings of calmness and relaxation, and improve your sleep quality.
Yoga & Meditative Therapy
Yoga is a form of physical fitness that promotes optimal physical health by increasing flexibility, muscle strength, and endurance. As your physical health improves, patients will also notice improvements in mental health by providing opportunities to engage in self-actualization and a meditative state, promoting relaxation, calmness, and a form of emotional regulation. Yoga and meditation will help to improve your brain functioning, reduce stress, and increase spiritual connection.
Dry Infrared Sauna Therapy
During your substance abuse, your body is exposed to harmful chemicals and toxins that can impact your overall health and well-being. As you heal from the underlying causes of your addiction, your body must be able to release the harmful toxins of substance abuse. Our recovery center offers patients the opportunity to engage in dry infrared sauna therapy that will help them safely release the toxins of substance abuse from their bodies while improving their cardiovascular health and well-being.
Individual Counseling
Each patient will have the opportunity to meet with an addiction therapist throughout your treatment program for individual counseling sessions. Patients will have scheduled counseling sessions each week, and you will have the ability to meet with your counselor for additional sessions as needed throughout each week. Your individual counseling sessions will focus on healing from the root causes of your addiction while participating in evidence-based therapy approaches that will promote emotional and personal growth.
Group Therapy
Your addiction treatment program will incorporate group therapy sessions. During group therapy, patients will be able to connect with other individuals that are in early addiction recovery. Sessions will be facilitated by addiction therapists who will provide the group with guided topics surrounding addiction recovery that will help the group share their experiences with addiction, emotions they have felt, and hopes for their recovery process. Patients can provide emotional support to one another along with their unique perspectives and ideas for solutions from someone who understands the nature of addiction.
Family Education
For family members that are witnessing a loved one experience the challenges of addiction, it can be difficult to understand if you have never had your own experiences of living with addiction. Oftentimes, you hear family members express their frustration that their loved ones do not simply quit their use of drugs and alcohol if they no longer want to live with an addiction. At The River Source, we provide opportunities for families to learn about the nature of addiction to better understand why their loved ones are experiencing addiction and how best to support them in their recovery process.
12-Step Program
Our treatment program utilizes various forms of evidence-based therapy methods and addiction resources that will help to foster optimal healing and personal growth. One of the most effective methods of addiction support is a 12-step program. These recovery programs provide patients with a guided set of steps to help improve their healing process as they find support in a higher power and connect with other individuals in addiction recovery through 12-step meetings. Once patients transition out of rehab and back home, they will still be able to continue with 12-step programs as there are 12-step meetings available in all cities and in virtual meetings. 12-step programs allow you to remain connected to your recovery journey and connect with others who understand the ups and downs associated with overcoming addiction.
Co-Occurring Disorders/Dual Diagnosis
Many individuals living with an active drug or alcohol addiction will also be living with a co-occurring disorder of either a mental health disorder, behavioral health condition, or physical health condition. As symptoms of your co-occurring disorder occur, individuals will often turn to substance abuse as a method of self-medication to help reduce the onset of symptoms or numb any troubling emotions. Arizona residents living with co-occurring disorders will be invited to participate in a dual-diagnosis treatment program that will work to treat the root causes of addiction while supporting them in developing healthy coping skills to manage the symptoms of their co-occurring disorder without turning to substance abuse as a means to cope.
Addiction Treatment for Pregnant Women
As a pregnant woman living with an active addiction, you have many concerns and fears about the health and well-being of your baby and yourself. At The River Source, we have specialized treatment programs that will help you successfully overcome your addiction without posing a threat to your unborn baby. While some treatment methods will need to be avoided as they may impact your and your baby's health, there are specific treatment approaches our team is trained in to help you safely address your addiction and move into a life of addiction recovery. Your treatment program will include specific addiction therapy methods while also emphasizing top-tier prenatal care methods to ensure your baby remains healthy and stable throughout your recovery process.
Trauma Informed Care
Individuals living with an addiction to drugs and alcohol will often have a history of trauma that has influenced their daily life and ability to remain sober. Our therapeutic team understands the delicate nature of trauma therapy and the impacts that you have experienced due to your history of trauma. Each patient living with trauma has a unique story that has contributed to trauma, which means that you deserve to have specific trauma therapy focused on your individual needs. Patients will be offered participation in different variations of trauma therapy to help them process and heal their traumatic memories while avoiding re-traumatization. Your ability to heal from substance abuse will increase as you address your trauma.
Addiction Rehab for Native Americans
Our recovery center values the unique diversity of all of our patients. Your cultural identity is something that should be honored and respected throughout your addiction treatment program. Our team recognizes that Native American patients are at an increased rate of substance abuse due to the societal stigmas, bias, and racism that is placed upon Native Americans. Our treatment programs will support you in healing from the negative interactions and social isolation that you have experienced while providing you with opportunities to engage in cultural practices and traditions to regain your sense of self and pride in your culture within a safe and secure healing environment.
Clinically Driven Treatment
Our approach to addiction treatment is based on a clinically driven method. Our main focus is to provide patients with quality addiction treatment methods that will help them understand their addiction including identifying and understanding their triggers and how to safely and successfully overcome them. Your success in recovery is our top priority. We are committed to being alongside you every step as you develop and strengthen your relapse-prevention skills and engage in healing processes to ensure you have long-term success in addiction recovery.
Outcome-Based Rehab Programs
Upon your admission into our rehab programs, you will meet with our addiction therapists to help identify your personal goals for addiction treatment and recovery. We want to know where you want to see yourself living in sobriety and what is important for you in your healing journey. From there, we will be able to create a personalized treatment plan that will support you in reaching your tangible goals and ensure you become the person you have always wanted living free and clear of substance abuse.
We Use Evidence-Based Treatment With High Success Rates
Your addiction is unique and personal to you. It has progressed over a period of time for reasons that are individual to you and your lifestyle. That is why we believe there is no one-size-fits-all approach to healing. Your treatment program will need to incorporate various treatment methods to help you understand how your emotions, thoughts, and behaviors have contributed to your addictive behaviors and establish effective coping skills to maintain sobriety. Our recovery center uses the leading evidence-based treatment methods that provide a whole-person integrated approach to healing that will ensure our patients have high success rates in healing and overcoming their substance use disorders.
Our Integrative Approach Plus Our Cost Effective & In Network Programs Are the Best Value For Treatment
Chandler, Arizona residents healing within our recovery center will be provided with an addiction treatment program that offers long-term support and guidance as you move through your recovery journey. Our full continuum of care offers patients a comprehensive treatment plan that incorporates traditional addiction therapy methods and holistic, naturopathic, and alternative therapy methods that promote healing within your physical, emotional, spiritual, and mental health. Unlike other treatment centers, we believe that healing from your addiction should be readily accessible for those that are ready and willing to begin your treatment process. That is why we offer a cost-effective treatment plan that will break down any barriers to your success allowing you to take the steps you need to engage in a treatment program that will free you of substance abuse and allow you to heal from the root causes of your addiction.
Best In Class Medically Trained Addiction Staff
Your safety is our top priority for your healing journey. Our highly trained and credentialed medical team is specifically trained in effective addiction treatment methods to help you safely and effectively overcome your drug and alcohol addiction. Our medical team will work to restore your physical functioning through naturopathic treatments while also helping to ease your detox process through specific medical interventions that will keep you feeling calm and comfortable.
Premier In-Network Facility Offering Naturopathic Treatment Types
Drug and alcohol addiction can change your body's ability to function normally as it depletes your body of essential nutrients and vitamins and reduces your physical and psychological functioning. Our team will provide you with naturopathic treatments that will work to replenish your body with essential vitamins and minerals while restoring your brain chemistry and functioning. These treatments help to relieve stress and improve your overall health and well-being. These treatment methods can be utilized within our recovery center and can be maintained even after you complete your treatment program and return home.
Our Treatment Guarantee
Your success in achieving and maintaining a life in addiction recovery is our primary focus and goal. We want to ensure you receive the support you need to ensure you remain on the road to recovery. That is why we offer our patients a treatment guarantee to ensure they can maintain a life of sober living. If you complete your treatment program including our full continuum of care and experience a relapse within a year of your completion, you will be invited to return to our recovery center to resume addiction treatment methods.
Recovery-Friendly Attractions in Chandler, Arizona
Chandler AZ offers a variety of recovery-friendly attractions that will provide you with fun, engaging activities in sobriety. Our favorites include:
KOLI Equestrian Center
Engage with majestic horses that are known to be healing and tranquil animals to interact with. Individuals can enjoy horseback riding through trail rides and get to ride through the beautiful scenery of Arizona
6940 W BROKEN EAR RD, Chandler, AZ 85226
Mesquite Aquatics Center
Cool off on a hot day at the Mesquite Aquatics Center. You and your family can enjoy the water park and swimming pools for a fun-filled day in the sun. 
100 W Mesquite St, Gilbert, AZ 85233
Veterans Oasis Park
Enjoy the stunning scenery in Arizona at Veterans Oasis Park where you can go walking through various walking trails, see waterfalls, and see local wildlife 
Chandler Neighborhoods We Serve
The River Source serves the residents of Chandler, Arizona, and its surrounding areas, including:
Sun Lakes 

Sun Groves 

Cooper Commons 

Provinces 

Twelve Oaks 

Galveston 

Ocotillo 

Oakwood hills 

Vasaro 

Creekwood Ranch 

Sunwest Trails 

Paseo Trails 

Silverton Ranch 

Tremaine Park 

San Marcos County 

Woodglen 

Knoll East
QUICK, CONFIDENTIAL INSURANCE VERIFICATION
CLICK BELOW TO FIND OUT IF YOU HAVE COVERAGE