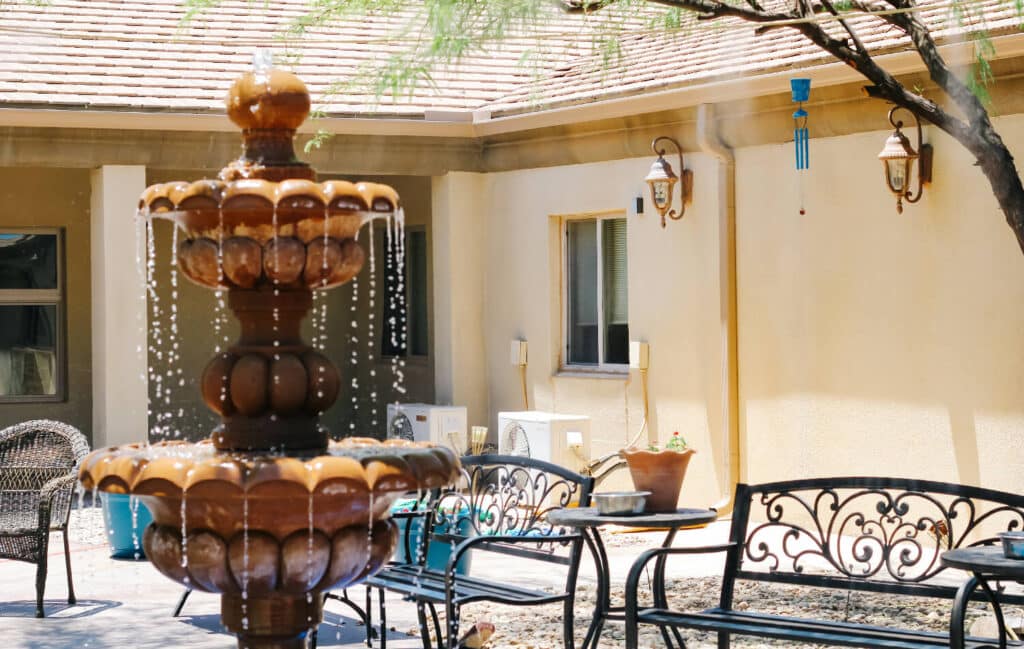 #1 Alcohol Detox Program in Chandler
Alcohol is a common substance that is abused throughout the nation, and as it is legal to buy and drink and is found nearly everywhere, it can be shocking to know that withdrawal from alcohol can be deadly. It is one of the most difficult substances to quit due to its withdrawal symptoms, and long-term drinking can cause serious illnesses, organ damage, and brain issues. At The River Source, we can help you quit drinking in a safe program that provides a combination of medications, naturopathic treatments, medical care, and therapy, as we do not believe that a person should have to suffer to get healthy and overcome addiction. We are a results-oriented rehab facility with one inpatient treatment center (where detox takes place) and two outpatient treatment centers in the state of Arizona, near the community of Chandler. We are accredited by the Joint Commission and take each patient's health, emotional well-being, mental wellness, and spiritual health into account during every step of their treatment. Our comprehensive and cost-effective treatments provide the care you need to get through this difficult part of your life, heal your body, mind, and spirit, and become the sober person you want to be.
YOU'RE NOT ALONE – WE CAN HELP
TAKE THE FIRST STEP AND APPLY FOR TREATMENT TODAY
Why Choose The River Source Chandler for Alcohol Detox?
The River Source offers a holistic approach to healing, treating you as a unique individual with personalized care programs for alcohol detox that may include:
24-hour inpatient care

Counseling and therapy

Holistic care, exercise, and stretching

Medications

Amino acid therapy

Vitamin IV therapy

Oral vitamin therapy

Dry infrared sauna

Acupuncture

Deep tissue massage

Yoga and meditation
We have non-mandatory off-site activities and groups like 12-step and alumni fellowships and church visits that you are welcome to attend, depending on how you feel. You may purchase our naturopathic treatments at any time, with options like:
Nutrient and vitamin supplement packages

Massage treatments

Acupuncture treatments

A comprehensive blood panel to test for deficiencies and health issues
Alcohol Detox in Chandler for High-Functioning Alcoholics
A "high functioning alcoholic" is a person who seems to have their whole life together, hiding their substance abuse from coworkers, friends, and even family members, drinking in secret as they struggle to balance a career, home, family life, and other daily responsibilities. This juggling act may work for a while, but eventually, the addiction takes over. You may experience health problems, fall behind in work or school, avoid loved ones, or drink too much at social events. When alcoholism takes over, the house of cards crumbles, and you may wonder where to turn.
The River Detox treatment center can help you pick up the pieces and rebuild your health and your life one step at a time. The first step will be an alcohol detox program, with 24-hour medical services and prescription medications provided in our Chandler inpatient alcohol rehab center, so you can clear your system and your mind and start fresh. Our rehab programs are customizable, and we even offer an online version of our intensive outpatient treatment plan for residents of Arizona, so you can return to your career and your family faster while still receiving the treatment you need.
Medically Supervised Alcohol Detox in Chandler
Alcohol detox is different for everybody and can range from mild symptoms to severe issues that require medical intervention, so we have all our patients stay inside our medically supervised detox residence as they detox, under full medical supervision, for safety reasons. You will have medical care, prescription doses of FDA-approved medications, evidence-based therapy, psychiatric care, and dual diagnosis treatments, and more. We know that your comfort will determine your ability to take in rehabilitation treatments, so we will do all we can to ensure you feel safe and comfortable as your body removes the toxins from your system.
What Is Alcohol Detox Like?
In inpatient detox at The River Source, you will live in a semi-private room with another person. You will have a walk-in closet, a full bathroom, and a TV. The facility offers spacious outdoor areas, a cozy interior space, laundry facilities, and healthy meals are provided. You will have holistic treatments like massage, infrared dry sauna time, stretching, and yoga to help keep you comfortable and strengthen the body, along with mental health treatments and support, naturopathic treatments and vitamin infusions, and peer support with group therapy. After day 8 of treatment, you will have cell phone access between the hours of 4:30 p.m. and 6:00 p.m., and smoking is allowed in designated areas.
Activities and social things to do in your spare time as you stay in our inpatient treatment center include basketball, yoga, fitness classes, sand volleyball, games, running on the ¼ mile track, frisbee golf, watching TV, and art therapy classes.
How Long Does Detox Last?
Detox is tailored to each patient, and your program will depend on variables like how long and how much you have been drinking, your mental health, your age, whether you have co-occurring physical ailments, etc. For alcohol detox, it usually takes 5 to 10 days, and we will give you the care you need for as long as you need it to ensure you are never in pain or danger as your body recovers from alcohol addiction.
What Happens After Detox?
After you complete your alcohol detox program, usually within 10 days of admission into the program, you will move along the continuum of treatments into inpatient rehab for 30 to 90 days, followed by a partial hospitalization program for 1 month, then an intensive outpatient program for 2 months, and finally a general outpatient program for 6 months. These programs are all unique in scope and intensity and will be individualized to best serve you and your needs. Therapy and treatments include:
Group counseling with lectures, process groups, 12-step assignments, therapy, and mentoring groups

Continued medical care and medication management services for those in a medically-assisted treatment program and those taking psychiatric medications

Cognitive behavioral therapy and dialectical behavioral therapy

Individual therapy with counseling sessions, life coaching, and continuing care planning

Family involvement like family education, counseling, and visitation or Zoom calls

Dual diagnosis treatment plans for co-occurring disorders like mental health issues or PTSD

Naturopathic and holistic treatment programming like massage, infrared sauna, and acupuncture

Exercise and physical strengthening programs, including fitness, yoga, and stretching
Inpatient Rehab
In the inpatient treatment program, you will have fully scheduled and structured days filled with treatments, with plenty of time after working hard to hang out and enjoy the cozy and welcoming atmosphere with your peers or on your own.
Partial Hospitalization Program 
The partial hospitalization program (PHP) is an outpatient program, so you will live at home or in a sober living home, coming in Monday through Friday for full days for one month. This is a highly structured program with plenty of therapy, life skills programming, and groups, and it demands accountability and consistent attendance at treatment, making it a good transition from inpatient to outpatient treatment.
Intensive Outpatient Program 
The intensive outpatient program (IOP) is a more flexible outpatient treatment plan lasting 2 months, on Mondays, Wednesdays, and Thursdays in the mornings or in the afternoons. This program is like the PHP but focuses more on aftercare planning and relapse prevention strategies, getting you ready for life outside of treatment. The IOP is also available as an online telehealth version for those who cannot come to our outpatient treatment centers or who do not live nearby.
General Outpatient Program 
The general Chandler outpatient rehab program is a convenient and flexible treatment plan for people who have undergone the full continuum of care. This program is six months long, with one weekly 90-minute process group and 1 individual counseling session, with longer-term coping skills and lifestyle guidance, with connections to lifelong continuing care and alumni services.
Alumni Services 
Alumni services at The River Source include 12-step programming, group meetings, fun gatherings with food and educational services, an alumni hotline that runs 24 hours a day, fellowship outings, recovery resources, sponsorship opportunities, weekly and monthly H&I opportunities, and an invitation to our private Facebook group and newsletter, helping you build your sober community and stay connected.
Top Rated Alcohol Detox Treatment in Chandler
The River Source is the top-rated detox facility for residents of Chandler, Arizona because along with providing an effective treatment program with all levels of care, we are also in-network with almost all major insurance companies, we are accredited by the Joint Commission, and we offer several specialty track programs including:
A women's-only program with a pregnancy track

An online intensive outpatient program (IOP)

A Native American cultural track that uses Wellbriety program materials
Chandler Alcohol Detox
At The River Source, we incorporate exercise, massage, nutrition, naturopathic care, mental health services, strength-building, family therapy, social interactions, group therapy, behavioral therapy, spirituality and/or religion, and many other methodologies into one integrated program. We aim to foster individual growth and help you find your own path to healing through a path based on integrity, honesty, and kindness.
Detoxing from alcohol does not need to be a traumatic or painful ordeal, and we can ensure you are safe and comfortable as you work to heal your mind, body, and spirit, using trauma-informed care at all levels. You will work to address underlying issues, regain control over your life, and regain your overall health and wellness as we do all we can to ensure your detox is efficient and effective.
Our Recovery Guarantee
Our recovery guarantee is that if you commit to completing our full continuum of care, it can take as little as 150 days to overcome your addiction. If you wholeheartedly do your best in every level of care we offer and relapse within one year, you may return to our treatment center at no cost. Your investment in your own future is worth it with The River Source, we guarantee it. Please call us today at 866-294-9331 to learn more about our alcohol detox program or how we can help you or your loved one with a substance use issue. We are accepting patients today.
QUICK, CONFIDENTIAL INSURANCE VERIFICATION
CLICK BELOW TO FIND OUT IF YOU HAVE COVERAGE