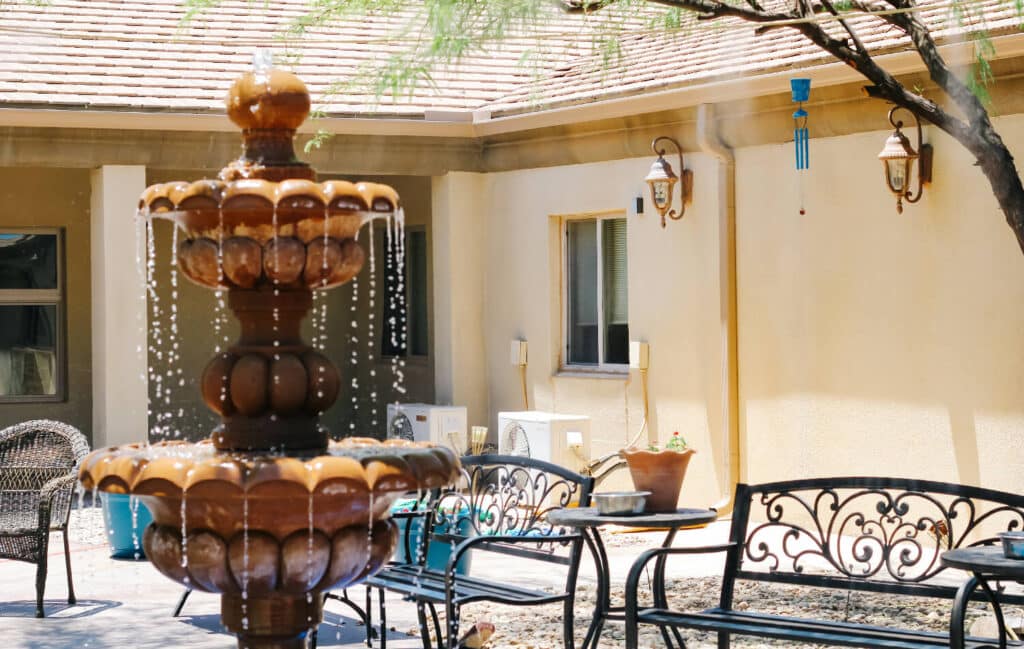 #1 Alcohol Rehab in Chandler
The River Source's detox and rehabilitation center is the top alcohol rehab for residents of Chandler, Arizona. We are accredited by the Joint Commission, offering a clinically driven, professional, comfortable, and safe place to come for medical detox programs, inpatient and outpatient rehab, with partial hospitalization programs and intensive outpatient programs tailored to your individual needs. We also have a strong lifelong alumni community who will be there for you as long for as long as you want them to be, helping you build a sober community, avoid relapse, and provide long-term support. The River Source is an institution that values integrity, kindness, and honesty. We provide results-based care, combining top-tier scientific treatments with holistic care and evidence-based behavioral therapies into a whole-patient approach to rehab designed to heal your body, mind, and spirit.
YOU'RE NOT ALONE – WE CAN HELP
TAKE THE FIRST STEP AND APPLY FOR TREATMENT TODAY
Why Choose The River Source Chandler for Alcohol Rehab?
When you choose The River Source for your alcohol rehab, you will have access to the full continuum of care, as we have a network of treatment facilities in Arizona that offer inpatient and outpatient programs, so you do not need to find your own medical care, aftercare programs, support groups, and therapy after your program is over. We have affordable rates and offer financing options for those who qualify, and our treatment centers are in-network with all major insurance companies.
We utilize a holistic approach for alcohol rehab that combines scientific and naturopathic treatments that are integrated into one individualized treatment plan, with family involvement encouraged, as for many people, family support is crucial for recovery. We have options including a pregnancy track, an online intensive outpatient program, a Native American cultural track, and intensive naturopathic services, providing tailored experiences designed to suit each of our patient's unique needs as individuals.
Alcohol Rehab in Chandler for High-Functioning Alcoholics
Many people with alcohol use disorders may not appear as the stereotypical "alcoholic" you may think of when you think of alcohol addiction. Addiction can happen to anybody at any stage of their life, and many people with an alcohol use disorder still live "normal" lives with a family, a good job, a nice home, and plenty of good friends. They may be able to hide their drinking for a while, and some people can do it for years, but things are falling apart under the surface. Alcohol addiction eventually takes over, becoming detrimental to their health, spiritual and emotional well-being, relationships, and ability to function in society.
If you or a loved one is a high-functioning alcoholic, coming to The River Source is the best option, as we can help you overcome your addiction so you no longer need to work so hard at life. You can stop drinking instead of constantly working to hide it, and you can regain your control over your life, becoming the sober version of yourself who is happier, healthier, and more productive than ever. If you wish, you can utilize our online intensive outpatient treatment plan, a virtual version of the IOP that is available to anybody living in the state of Arizona, so you can get back to your family, your career, and your life as quickly as possible.
Private Alcohol Treatment Program in Chandler
The River Source offers a safe, discreet, and private alcohol treatment program in Arizona, with guaranteed results if you go through the entire continuum of care: medical detox, inpatient rehab, partial hospitalization, intensive outpatient treatment, and outpatient care. Our customized programs will help you stop drinking for good by healing the underlying causes of addiction, working on creating new habits, and stopping unhealthy behaviors, as you restore your body, mind, and spirit through evidence-based and Chandler holistic rehab center programs. In inpatient rehab your treatments include:
Safe and effective medical detox

Medication-assisted treatment programs with medication management services

Behavioral health treatments like cognitive behavioral therapy and dialectical behavior therapy

Individual counseling, therapy, and psychiatric services

Family therapy, education, and counseling services

Group therapy including psychoeducational groups, process groups, art therapy, book studies, mentoring groups, and lectures

12-step programs and principles

Dual diagnosis programs for those with a co-occurring disorder like PTSD or a mental illness

Neurofeedback

Life Coaching

Naturopathic services

Holistic treatment options

Long-term addiction treatment and continuing care coordination
We offer several levels of outpatient rehab for those transitioning from inpatient treatment to everyday life. In outpatient care, you live at home or in a sober living home and come in for therapy and treatments at predetermined times a set number of hours per week. These programs are:
Partial Hospitalization Program (PHP)

– this is a month-long program that provides 20 full days of treatment, with all-day programs that include individual therapy and group counseling, relapse prevention training, life skills programs, and plenty of family involvement. Sessions run Monday to Friday from 9:00 AM to 3:30 PM and include a sober living home option for those who want a structured, 100% sober place to return to at night.

Intensive Outpatient Program (IOP)

– this is a flexible treatment program, lasting for 24 sessions over two months, with care provided in the morning or evenings on Mondays, Wednesdays, and Thursdays. You will have life skills sessions, aftercare planning, family involvement, relapse prevention, and continued therapy. An online version of the IOP is also available for Arizona residents.

General Outpatient Program (GOP)

– This is one weekly process group and one individual counseling session per week, along with aftercare planning and long-term follow-up care with the same treatment team you have been working with. This program is for our clients who have completed their full spectrum of care and are working on maintaining sobriety independently.

Alumni services/aftercare program – this is a lifelong connection to recovery resources, peer support, groups, long-term sobriety planning, fellowship, regular meetings, and an alumni services hotline. Our alumni group often holds fun events with food and educational materials. To join our alumni group, all you have to do is attend a meeting or event within 90 days of completing your rehab program at The River Source, and you will get access to our private Facebook group and email newsletter, so you can keep in touch and stay up to date on what is happening in your area.
Inpatient Medically Supervised Alcohol Rehab in Chandler
Medically supervised detox and rehab will keep you safe and comfortable as your body cleanses itself of the toxins left behind by alcohol, and your brain chemistry rebalances once the alcohol has left your system. Without medical care, symptoms of alcohol detox can become dangerous, resulting in serious side effects like delirium tremens, and seizures. At The River Source, we provide the following:
Prescription medications to keep you safe and comfortable

24/7 medical care, with a full medical team onsite day and night

Naturopathic treatments

Supplements and vitamins, with a nutritional IV, oral vitamin therapy, and amino acid therapy

Holistic treatments including acupuncture, infrared sauna, yoga, meditation, art therapy, and deep tissue massage therapy

Group counseling and individual therapy
How Long Is the Program in Chandler?
The full treatment program for alcohol addiction is 150 days of treatment in total. This includes:
Medical detox – 1 to 10 days

Residential rehab – 1 to 3 months

PHP – 1 month

IOP – 2 months

OP and Aftercare – 6 months

Alumni Program – lifetime membership
30-Day Alcohol Rehab in Chandler
Our inpatient programs after detox are usually a minimum of 30 days long because it takes at least four weeks to relearn new healthy habits, change everyday routines, and begin to heal the roots of addiction through therapy and rehab. Your body needs time to adjust as well, and in one month's time, you will be able to begin behavioral and thought changes that will help you see life from a new perspective as you learn relapse prevention strategies and recovery skills in a safe and sober supportive environment.
60-Day Alcohol Rehab in Chandler
60 days in inpatient rehab will remove you from old habits, hangouts, and temptations to use drugs and alcohol as you work on your mental health, spiritual well-being, and new healthy habits. You will learn recovery strategies that will last you a lifetime. People with co-occurring mental health disorders will benefit from a long time in inpatient rehab, especially if starting a new medication.
90-Day Alcohol Rehab in Chandler
Long-term inpatient rehab will allow people who are resistant to treatment or prone to relapsing the extra time they need to ingrain new routines into their lives, including healthy sleeping and eating schedules, exercise routines, self-care, and new ways of thinking. 90 days is a good amount of time to truly take in the lessons and techniques provided in rehab, and it also gives extra time for those who need to recover from difficult withdrawal symptoms, mental health disorders, and life experiences through therapy, medical care, naturopathic treatments, and peer support groups.
Men's Inpatient Alcohol Rehab
A men's inpatient rehab will allow male patients the opportunity to work through the gender-specific issues surrounding addiction, like toxic masculinity, violence, gender-based stigmas and stereotypes, and other harmful behaviors and issues from a male perspective. Addressing these problems in male-specific groups while living without the opposite sex around will allow men to relax and take in treatment without distraction.
Women's Inpatient Alcohol Rehab
Women's inpatient rehab provides the same treatments and programs as a standard treatment program, with an additional focus on addressing gender-based issues that affect women like abuse, safety, social stigmas, silencing, stereotypes, living independently, family and childcare issues, women's health, and more. We also have a specialized pregnancy track for detox and rehab at The River Source for those who are expecting and also need help with a substance use disorder.
Our Recovery Guarantee
At The River Source, we are extremely confident in the effectiveness of our addiction treatment in Chandler so if you complete our full 150-day continuum of care, including medical detox, inpatient rehab, outpatient rehab, and aftercare, and you relapse within one year, you can come back for free for additional treatment. That is our recovery guarantee.
Please call The River Source today at 888-687-7332 if you or your loved one needs help to quit drinking for good. We are here for you, and we are accepting patients now.
QUICK, CONFIDENTIAL INSURANCE VERIFICATION
CLICK BELOW TO FIND OUT IF YOU HAVE COVERAGE