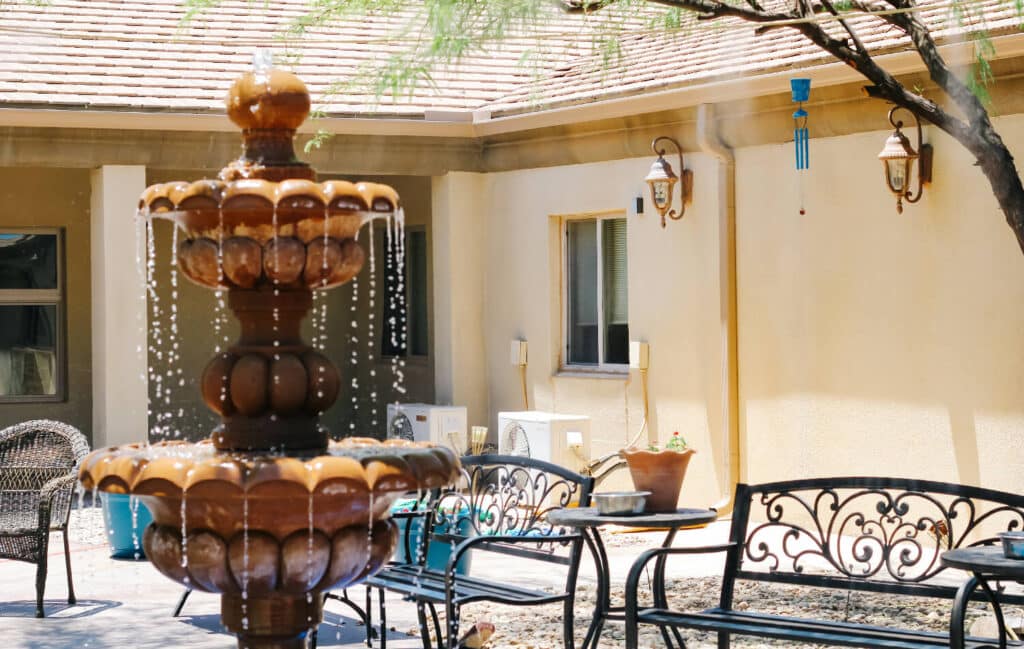 #1 Cocaine Detox-Rehab in Chandler
The River Source is known throughout Chandler, Arizona for its comprehensive addiction treatment programs and strong clinical and naturopathic focus. As the best cocaine detox and rehab center in Chandler, AZ, we offer multiple levels of care to ensure that clients get the individualized support they need wherever they happen to be in their recovery process. Cocaine is a powerful stimulant drug that's associated with high relapse rates. Clients can learn how to manage their cocaine addiction through drug detox and residential treatment. Our drug rehab center has more than 20 years of experience treating substance use disorders. We also offer dual diagnosis treatment for clients with cooccurring mental health conditions such as depression or post-traumatic stress disorder. If you're a Chandler, AZ resident living with a cocaine addiction, you can rely on our top addiction treatment center in Chandler for help.
YOU'RE NOT ALONE – WE CAN HELP
TAKE THE FIRST STEP AND APPLY FOR TREATMENT TODAY
Why Choose The River Source in Chandler for Cocaine Detox & Drug Rehab?
The River Source features cocaine addiction treatment and detox programs. We offer residential treatment as well as outpatient treatment programs. We also feature an alumni program to support clients after they complete their addiction treatment program and special program tracks such as women's drug rehab programming. 
We've become the best detox and rehab center in Chandler, AZ, because of our commitment to offering evidence-based therapies like cognitive behavioral therapy. We also offer 12-step programming, family therapy, and a wide range of naturopathic therapies that support the healing process. Each treatment program includes both individual counseling and group therapy. Additionally, we've designed a telehealth intensive outpatient treatment program for clients who find it difficult to visit rehab in person.
At our drug treatment center, you'll find caring clinicians who have devoted their careers to helping people end their dependence on drugs and alcohol. Let our team help you manage your cocaine abuse problem so you can begin to rebuild your life and health in the context of sobriety.
First-Class Amenities
Our addiction rehab center doesn't like to bill itself as a luxury treatment center because we believe that our clinically driven substance abuse treatment programs deserve top billing. But the truth is, we do offer first-class amenities that complement the treatment process. We want clients to feel as comfortable as possible through the medical detox process and inpatient treatment program. 
All detox and rehab rooms feature televisions and comfortable furnishings. Our creature comforts like fitness equipment, games, and recreational activities can help clients de-stress and begin to enjoy normal activities of daily living once again. However, our goal is not to create a luxury getaway but to provide the life-changing and life-affirming treatment mix that supports clients on their journey to lasting recovery.
What Is Detox Like?
Medical detox is frequently step one in the cocaine addiction treatment process. The body must get rid of the cocaine toxins that underscore physical dependence. People do experience withdrawal symptoms when detoxing from cocaine. Generally, withdrawal symptoms will peak between 24 and 72 hours after the last use of the drug. Cocaine withdrawal symptoms can be unpleasant and involve symptoms such as chills, anxiety, depression, fatigue, irritability, muscle aches, and cravings for the drug. Our clinicians provide medications to reduce or even eliminate these unpleasant symptoms. 
We also offer naturopathic therapies that support the body, helping it to heal from months or even years of drug abuse. Our naturopathic therapies include massage and IV therapy that enhance clients' comfort and promote recovery. Once clients complete their cocaine detox program, they can move on to the next phase of their treatment plan that addresses their psychological and behavioral dependencies on cocaine.
How Long Does Detox Last?
Medically assisted detox at The River Source may last anywhere from five to 10 days. Some people, particularly those who haven't been dependent on the drug for very long, might complete the process in three or four days. Essentially, detox allows clients to overcome their physical dependence. It isn't a cure for addiction, which is a multifaceted disease that involves not only physical dependence but powerful emotional and behavioral aspects too. In fact, it's typically the psychological and behavioral aspects of addiction that are associated with relapse.
At The River Source, we're able to provide individualized treatment. Once clients are stable and able to transition from detox to rehab treatment, they can begin the second phase of their treatment program. Even when detox is complete, clients may experience lingering effects like headaches, irritability, or even cravings, but these often dissipate in time and with treatment.
What Happens After Detox?
Once medical detox is complete, clients can move to the next phase of their treatment plan. With their bodies and minds beginning to heal, clients can focus more easily on the therapies that are designed to help them manage their triggers to abuse drugs or alcohol. Our treatment center offers a wide range of treatment approaches that include evidence-based therapies and holistic/naturopathic therapies. 
During inpatient treatment, we're able to provide clients with 24/7 support. Gradually, as clients become more stable and learn how to manage their triggers to use, they can move from the residential to the outpatient program. Our addiction treatments include one-on-one therapy as well as group therapies. Clients can expect to participate in treatments such as cognitive behavioral therapy, 12-step programming, trauma-informed care, family therapy (if preferred), and more. Our naturopathic offerings include infrared sauna treatment, yoga, and amino acid therapy.
How Long Does Cocaine Rehab Last?
The River Source features a 120-day treatment program that provides the comprehensive addiction treatment clients need to form a strong recovery foundation. However, some clients prefer less time in rehab and others may need ongoing support. That's why we offer an alumni program to support clients as they maintain their recovery progress. The first year after treatment can be challenging as people put the strategies they learned in rehab into practice. It takes time to develop new healthy lifestyle patterns–and new ways of coping with stress that is healthy and positive. Ongoing support can make a big difference to people in long-term recovery.
Our rehab believes in personalizing care for each client. Some people may need more time in rehab, especially if they cope with a dual diagnosis. Learning to manage addiction and a mental health condition necessarily involves more treatment. At The River Source, clients can expect flexible options. We work closely with each client to ensure they get the support they need to successfully manage their addiction.
30-Day Cocaine Rehab in Chandler
A 30-day treatment program is generally the minimum amount of time needed to learn to manage a substance use disorder such as cocaine addiction. As clients learn, a lifetime's worth of unhealthy emotional coping can underpin addiction. Changing one's thoughts and learning to cope with stress and negative emotions in healthy ways takes time. It's too easy to revert to bad old habits after leaving rehab. That's why we recommend our 120-day treatment plan and its guaranteed effectiveness. 
Many people will spend 30 days in residential drug rehab and then transition to a less intensive outpatient program. Continued outpatient support can nurture the transition process as clients begin to rebuild their lives.
60-Day Cocaine Rehab in Chandler
Spending two months in treatment can provide clients with a strong recovery foundation. In fact, research has demonstrated that the longer a person spends in rehab, the less likely they are to relapse. Longer-term cocaine addiction treatments can provide a robust level of support. Clients with powerful drug addiction or poly-drug addictions can benefit from a longer rehab stay. 
Therapists will help clients identify their triggers to abuse drugs and alcohol so they can find effective ways to manage them. Triggers don't suddenly disappear after rehab. They can exist indefinitely. Work stress, relationship stress, past trauma, toxic friends, negative emotions, mental health disorders, insecurity–all of these elements can be triggers to abuse drugs and alcohol. Learning how to manage them successfully is the key to preventing relapse.
90-Day Cocaine Rehab in Chandler
Many clients benefit from a long-term treatment program. Clients with a long history of drug and alcohol abuse or with a dual diagnosis may opt for a long-term treatment program. As the best cocaine detox and rehab in Chandler, AZ, we offer long-term addiction treatment plans. Recovery is a gradual process; some people simply need more time to learn how to manage their condition and practice managing their condition with the support of trained therapists. 
The River Source can help clients who are ready to end their cocaine abuse problem. Whether you opt for a shorter or longer-term treatment plan depends on your individual treatment needs. Contact us to learn more about our cocaine detox programs and rehab programs. Don't put off getting the help you need to end your dependence on drugs.
If you would like to learn more about our rehab programs or our 100% recovery guarantee which allows you to come back to the treatment at no extra charge the first year after completing the full continuum of care, please call us today. Our representatives are ready to answer any questions you may have.
QUICK, CONFIDENTIAL INSURANCE VERIFICATION
CLICK BELOW TO FIND OUT IF YOU HAVE COVERAGE