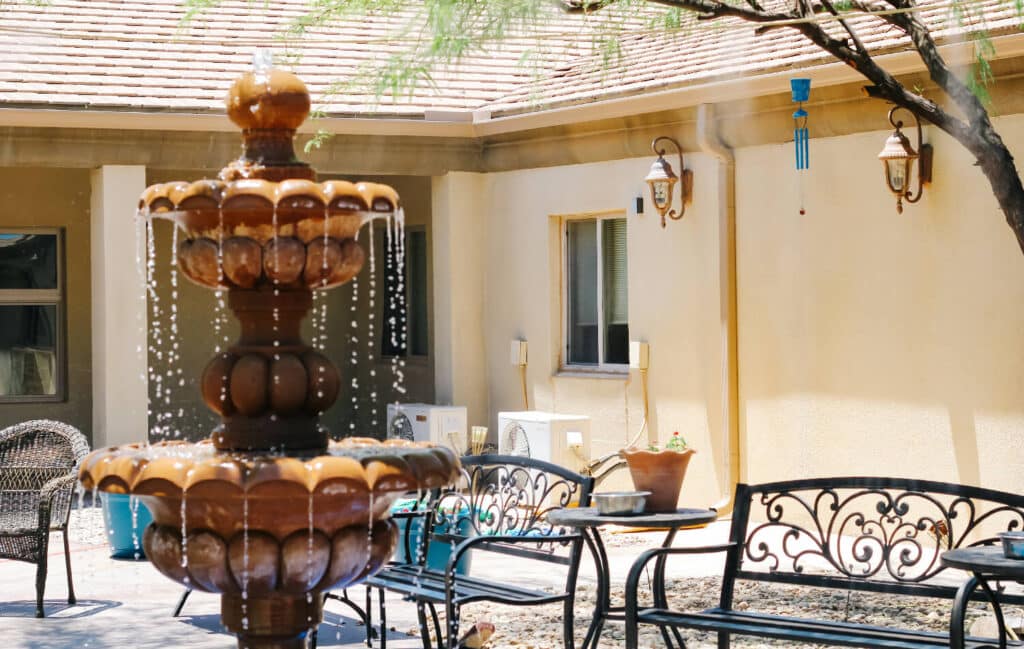 # 1 Drug Detox in Chandler
The River Source is the best drug detox center for residents of Chandler, Arizona, because, along with being accredited by the Joint Commission, we are best known for our effective treatment methodologies and our high success rates. We provide an integrative approach to healing that incorporates evidence-based therapies and treatments with naturopathic and holistic treatments, giving our patients the best of both worlds. We offer top-tier medical care, dual diagnosis treatments for mental health, and spiritual wellness treatments for a well-rounded whole-patient approach to healing in a care plan tailored to each patient's individual needs. We have three treatment facilities in Arizona, with our inpatient treatment center in Arizona City and two outpatient treatment centers in Phoenix and Gilbert. Detox services and medical treatments are provided in inpatient care as you live inside the treatment center, with a full medical team available day and night to ensure you are not only physically safe but also comfortable and feel taken care of emotionally as well by our team.
YOU'RE NOT ALONE – WE CAN HELP
TAKE THE FIRST STEP AND APPLY FOR TREATMENT TODAY
Why Choose The River Source Chandler for Drug Detox?
The River Source provides integrated detox services in our inpatient treatment center that includes:
An experienced team of caring, credentialed, and educated staff, therapists, medical professionals, and holistic treatment providers, overseen by a naturopathic doctor

24/7 medical care with evidence-based treatments and FDA-approved prescription medications provided as needed as your body detoxes and rebalances itself, ensuring you do not suffer from withdrawal symptoms

Holistic treatments to help strengthen the body and keep you comfortable

Therapy and counseling throughout detox to help deal with difficult thoughts and emotions

Peer support and group therapy

Mental health treatments and support, including dual diagnosis treatments for co-occurring disorders
From day one, you will be in a highly effective and interesting program, with a guarantee of success for up to one year after treatment. Our treatment programs are comprehensive and cost-effective, and we provide affordable pay rates with financial help for those who qualify. You will have individual therapy with life coaching, counseling, and long-term continuing care planning, helping you prepare for life after rehab.
What Is Detox Like?
When you move into The River Source for your detox program, you will stay in a comfortable semi-private room, shared with one other person, with a walk-in closet and a full bathroom. This is where you will live until your detox is complete. You will have the following:
Medical care and services are available day and night

Medically assisted treatments (MAT) and medications are provided to help overcome the physical aspects of withdrawal

Group TV rooms

Onsite laundry facilities

Cell phone use (after day 8 of treatment) from 4:30 PM to 6:00 PM

Smoking and vaping in designated areas

Holistic and naturopathic treatments like vitamin therapy, deep tissue massage, yoga classes, meditation sessions, and infrared sauna time
At The River Source, we know that the more comfortable you are during detox, the more focused you will be when it comes to therapy and other treatments, so we aim to help you avoid pain, restlessness, discomfort, anxiety, and other withdrawal symptoms as it will improve your recovery rate.
Types of Drugs We Treat
The River Source is a treatment center that helps patients overcome substance use disorders of all kinds. Each type of drug and/or alcohol comes with its own unique set of symptoms and issues, and each patient is an individual with their own history and health issues, so we customize each patient's treatment plan according to the substances that were being abused, and to the person's unique needs. Keep reading to learn some of the most commonly seen drugs that we treat at the River Source.
Meth Detox in Chandler
Meth withdrawal often comes with uncomfortable and painful symptoms, with very strong cravings to use more meth. These symptoms may include feeling fatigued, weak, and jittery, with a dry mouth, dehydration, muscle pain, and psychological symptoms like depression, apathy, paranoia, hallucinations, and delusions. A medical detox, followed by inpatient rehab will provide the medical care, mental health treatments, and therapy needed to overcome this addiction.
Cocaine Detox in Chandler
Cocaine detox often comes with strong psychological symptoms like hallucinations, paranoia, insomnia, psychosis, malaise, lethargy, and strong drug cravings, with some people experiencing muscle pain and tremors. No medications will help you quit cocaine, but medications can be provided to relieve pain and help you rest. Therapy and mental health care in rehab, followed by strong aftercare support, will help you quit cocaine for good.
Benzo Detox in Chandler
Benzodiazepine drugs are addictive prescription medications often given to treat anxiety disorders, and quitting them cold turkey can result in dangerous withdrawal including seizures and brain damage. Benzo withdrawal symptoms also include increased heart rate, shaking, panic, difficulty sleeping, and light/sound sensitivity. A longer tapering-off program in a doctor-supervised medically-assisted treatment plan is the best way to slowly stop your benzo use, followed by dual diagnosis treatments for underlying anxiety and panic disorders, and therapy and other treatments to help you address the causes of your addiction and gain new healthy habits and coping mechanisms.
Oxy Detox in Chandler
Oxycodone is an opioid pain medication in the same family as heroin, fentanyl, and morphine. It is highly addictive, even when used as prescribed and often requires a long-term medication-assisted treatment plan to help you quit safely and effectively, as the withdrawal symptoms and drug cravings can be severe and can last for several months after your last use. Common oxy withdrawal symptoms are high blood pressure, rapid heartbeat, flu-like symptoms, digestive issues and nausea, muscle and bone pain, insomnia, and restlessness. A long-term rehabilitation program with strong aftercare support will help you stay on track in your recovery after oxy use.
Heroin Detox in Chandler
Just like oxy, heroin is an opioid drug that causes severe addiction and can take months of medication-assisted treatment (MAT) to quit safely. At The River Source, we will provide you with an acute inpatient detox program to help you get through the initial detox, followed by long-term rehab, outpatient treatments, aftercare, and a prescription FDA-approved medical detox plan overseen by a doctor, so you do not suffer long-term flu-like symptoms, pain, restlessness, and drug cravings.
How Long Does Detox Last?
Each person's detox experience is different, as we utilize a customized whole-patient approach to healing that is specifically formulated to your individual needs. Some people with mild addictions to a drug like cocaine may complete detox in 1 to 3 days, whereas others take up to 10 days in acute detox followed by months of medically assisted treatment (MAT).
What Happens After Detox?
The River Source's full continuum of care takes approximately 150 days to complete. This includes:
Detox (1 to 10 days)

Inpatient rehab (30 to 90 days living inside the treatment center)

Partial hospitalization program (1 month, from 8:00 AM to 3:30 PM, Monday to Friday)

Intensive outpatient program (2 months, mornings or afternoons on Monday, Wednesday, and Thursday)

General outpatient program (6 months)

Aftercare and alumni support that lasts a lifetime
Each of these levels of care is unique in the delivery of treatments and the amount of time you spend with care providers, with therapy and another programming that treat the body, the mind, and the spirit including:
Detoxification

Stretching and yoga

Strength building

Acupuncture

Nutritional programs

Individual therapy, education, and counseling

Family therapy, education, and counseling

Group therapy, 12-step programs, process groups, and educational programs

Behavioral therapy like cognitive behavioral therapy and dialectical behavior therapy

Trauma-informed care

Evidence-based medical treatments

Naturopathic services

Psychiatric services and dual diagnosis treatment plans

Meditation

Sober living home connections for those who need it

Continuing long-term addiction treatment and continuing care coordination
Why Detox at The River Source?
At our drug rehab in Chandler, we help you to pursue your own individual path to recovery, supporting you in discovering your life's purpose, creating and achieving goals and reconnecting with your spirit as you work hard at healing the body, the mind, and the spirit, learning new recovery skills and sobriety tools while forging sober connections that will last you a lifetime.
We also encourage the involvement of family and loved ones at The River Source through visitation days, video calls, family therapy, and family education programs. This will help you reconnect to the people you love most in the world, make amends, and help you rebuild your support network as you regain control over your own well-being. Through evidence-based and naturopathic practices, our team can help you heal in a comfortable and safe rehab program.
Our Recovery Guarantee
The recovery guarantee at The River Source is as follows: if you complete the entire continuum of care, going through detox, inpatient rehab, outpatient rehab, and 6 months of outpatient treatment, and then relapse within one year, you can come back at no additional cost for more treatment. We can offer this guarantee with confidence because our programs work. Call us now for insurance verification or to learn more about our addiction treatments, detox programs, and guaranteed recovery. We are accepting patients now.
QUICK, CONFIDENTIAL INSURANCE VERIFICATION
CLICK BELOW TO FIND OUT IF YOU HAVE COVERAGE