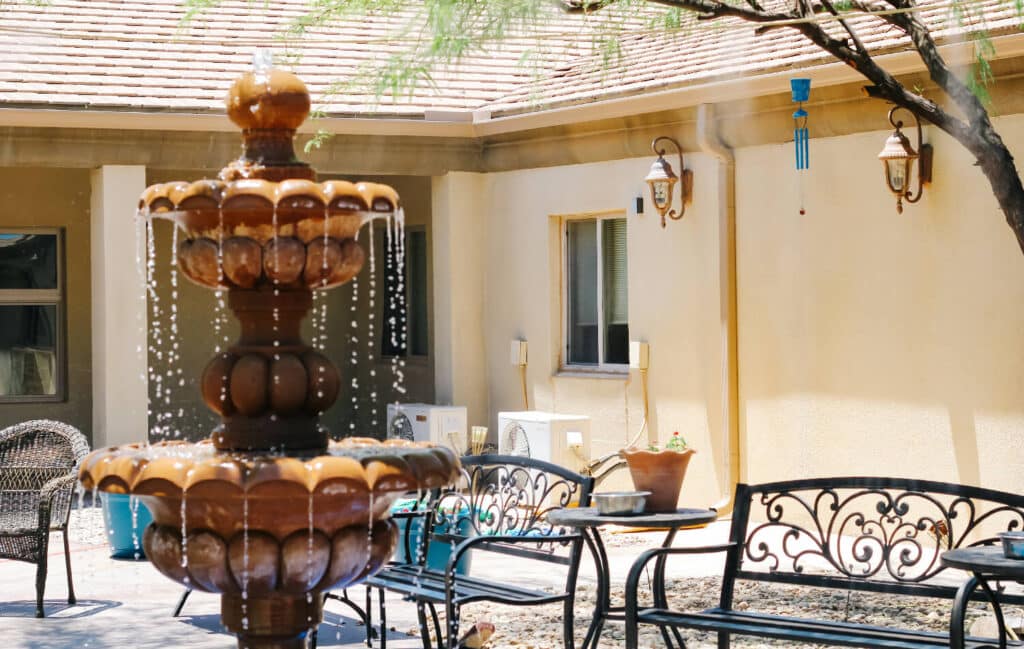 #1 Drug Rehab in Chandler
The River Source is the best clinically driven drug rehab center for residents of Chandler, AZ because with our Chandler inpatient drug center in Arizona City and two outpatient rehabilitation centers in Phoenix and Gilbert, we provide the full continuum of care with a high success rate of helping our patients to overcome addiction through our integrated treatment programs. We see each patient as the individual person they are, meaning we will not treat you like a "drug addict" but will instead collaborate with you on your own health and wellness, creating a rehab program that works for you. You deserve to be treated with respect and care, and our non-judgmental team of addiction specialists will see to it that you are safe, comfortable, and supported at every step.
YOU'RE NOT ALONE – WE CAN HELP
TAKE THE FIRST STEP AND APPLY FOR TREATMENT TODAY
Types of Drug Addictions We Treat
At The River Source, we serve adults with substance use disorders, people with co-occurring mental health conditions, those who have relapsed several times, and those who have never been to rehab. If you are committed to achieving long-term recovery and are ready to complete the entire continuum of care, we can help you stop using drugs and alcohol and offer lifelong support so you and your family will never be alone in your recovery. We treat addictions to illicit (illegal) drugs, street drugs, and prescription drugs, as well as alcohol addiction and mental health disorders.
Heroin Rehab in Chandler
Heroin rehab can be a serious undertaking because heroin is a highly addictive opioid drug that is known to cause severe drug cravings and withdrawal symptoms. If you are quitting heroin with us, you may require a medication-assisted treatment (MAT) program along with your medical detox so that medications can be provided to you on a regular schedule as you slowly taper off your opioid use safely and methodically. At The River Source, we will provide you with the therapy, holistic care, groups, and other treatments you need, with long-term support and outpatient care so you can recover.
Cocaine Rehab in Chandler
Cocaine rehab is filled with plenty of therapy, along with medical care, psychiatric treatments, and medications to help you overcome the initial withdrawal symptoms without suffering from restlessness, irritability, depression, or psychosis. In a cocaine rehab program, relapse prevention strategies and a strong supportive community are key, as this psychologically addictive drug makes changes in the brain that elicit cravings long after the detox is complete.
Oxy Rehab in Chandler
Like heroin, Oxycodone is a highly addictive opioid drug, and even though it is a prescription from a doctor, it is easy to become addicted to this substance. A medication-assisted treatment plan is often utilized, along with longer inpatient rehab with these types of drugs, because flu-like symptoms, cravings, and other signs of withdrawal often come back weeks or even months after the initial detox. The full continuum of care with outpatient treatments and aftercare will help you stay on track with your sobriety when things are difficult.
Meth Rehab in Chandler
Methamphetamine (meth) rehab often requires serious psychological and physical health support, as this drug affects the mind and causes damage to teeth and the heart, and dehydrates the body. Meth also affects mental health, often causing psychosis, depression, paranoia, and delusions. These issues can be harsh, especially in older patients, but with our team of medical professionals and holistic healers, you will be well taken care of as you move through our continuum of care.
Benzo Rehab in Chandler
Benzodiazepine medications are central nervous system depressant drugs that are often prescribed for seizures and for anxiety disorders but are highly addictive with a chance of severe withdrawal symptoms if you quit them too quickly. A medication-assisted tapering schedule, in combination with a full rehabilitation program that includes dual diagnosis treatment for co-occurring mental health disorders, can help you overcome the addiction and take back control over your mental illness at the same time.
Prescription Drug Rehab in Chandler
Several types of prescription drugs can be addictive, including benzodiazepines prescribed for anxiety, opiates prescribed as painkillers, stimulants prescribed for ADHD, antidepressants, sleep aids, and sedatives. An individualized program with medical care and therapy can be provided to help you detox and rehabilitate from these habit-forming medications at The River Source, keeping you safe and healthy.
Top Rated Addiction Treatment in Chandler
At The River Source, we are top-rated because we have the full spectrum of rehabilitation care, with each patient's program including the option for:
Detox (medical detox and/or medication-assisted treatment programs)

Inpatient (residential) rehab

Partial hospitalization program (PHP)

Intensive outpatient program (IOP)

General outpatient program (GOP)

Lifetime alumni services
With so many levels of care to utilize, overseen by a naturopathic doctor, you will never be alone in your recovery if you choose The River Source. Our drug and alcohol rehab programs are structured so we can help you regain your strength, heal the underlying causes of addiction, build a supportive community around yourself, and avoid relapsing. We are accredited by the Joint Commission and work with kindness, honesty, and integrity at the forefront of all we do.
Chandler Drug Rehab Success Rates
Detoxing and rehabilitating from drugs is not easy, especially if you are trying to go through withdrawal, symptoms of relapse, stressful times, or dealing with triggers on your own. At The River Source, our comprehensive treatment plan will provide you with the support, care, knowledge, tools, and community you will need to be able to get through the difficult times and live your life feeling healthier and happier. Our success rates are high enough that we guarantee that if you stay in your treatment program for the full 150 days, working hard and doing your best, you will be able to avoid relapsing. We are so confident in our methods that we offer a guarantee, allowing you to return if you slip up and use it again within one year of treatment without any additional charges.
Why Choose The River Source Chandler for Addiction Treatment?
The River Source was established in 2003 and provides a highly effective, comprehensive, cost-effective drug and alcohol rehab program focusing on treatment outcomes over flashy amenities. We believe that if you are coming to rehab, the most important part of your program should be treatments that work. We have affordable private pay rates, offer financing options for families and patients who qualify, and are in-network with nearly all private insurance companies.
We provide the full continuum of care so you will not need to change providers or find new doctors and caregivers as you move from detox to inpatient care to outpatient treatment. Our integrated programs utilize naturopathic and scientific treatments together, so you can get the best of both worlds, and we support family involvement when appropriate, with family therapy and visitation available, as encouragement from loved ones can be crucial to those in recovery.
Our facility offers specialty tracks for pregnant women and a Native American cultural track. We also offer an online intensive outpatient program via a secure telehealth system throughout the state of Arizona and have dual diagnosis programs for those with co-occurring mental health disorders. At The River Source, we will work with you to create a program to help you regain control of your life as you heal the body, mind, and spirit.
We work to heal the body, the mind, and the spirit by integrating mental health programming and holistic treatment options into scientific, medical, and evidence-based programming. This well-rounded approach allows our patients to reconnect their minds and body, repair the damage of long-term substance abuse, gain stability and energy, build positive habits, increase emotional wellness, and find their own individual path toward healing by finding a purpose in life. We are compassionate and committed to helping you achieve results through clear communication. Our treatment center is comfortable with the following:
Semi-private bedrooms and full bathrooms

Nutritious food

On-site laundry

TV rooms, basketball courts, volleyball courts, and other spaces to hang out

Fitness equipment and a ¼ mile track

Yoga and exercise classes

Art therapy

Outside group meetings like 12-step meetings

Smoking and vaping areas

Cell phone use is allowed after day 8 of treatment
Holistic packages are available for purchase throughout your stay in our rehab centers in Arizona, including:
Massage therapy

Acupuncture treatments

Blood panel analysis

IV nutrient therapy

B-vitamin boosters

Enhanced supplement package
Our Recovery Guarantee
At The River Source's rehab center, we guarantee that if you complete all levels of care offered, including medical detox, inpatient rehab, outpatient rehab, and aftercare, and you relapse within one year, we welcome you to come back for further treatment at no additional cost to you. We are confident our treatments will work and proud of our success rates. To learn more about The River Source, please contact us at 866-294-9331; we can help you begin your recovery journey now.
QUICK, CONFIDENTIAL INSURANCE VERIFICATION
CLICK BELOW TO FIND OUT IF YOU HAVE COVERAGE