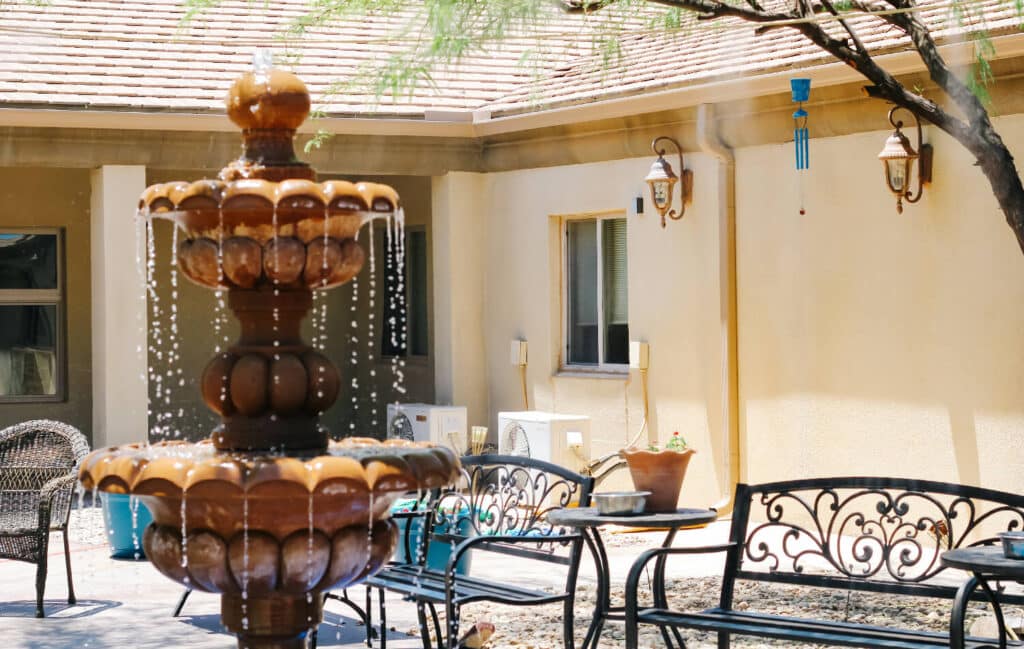 #1 Inpatient-Residential Alcohol Rehab in Chandler
Alcohol addiction is one of the most commonly experienced addictions among Americans today. The consumption of alcohol has become widely normalized in American culture. Alcohol is often present at social events, used as a way to connect with others or let loose after a long day of work, and becomes a method of de-stressing after a long day of work or navigating challenging emotions or situations. The high level of normalcy placed on drinking alcohol has created difficulties for individuals to identify or recognize when their use of alcohol has progressed into alcohol addiction. Chandler, Arizona residents who have begun to recognize that your alcohol consumption has begun to negatively impact your day-to-day life including your physical, emotional, and mental health, it is probably time for you to begin to address your alcohol abuse within an addiction treatment program. The River Source is the leading choice for Chandler, Arizona residents for addiction treatment programs. Our clinically driven program focuses on treating your addiction while restoring your overall health and wellness through evidence-based therapy methods. Each patient that enters our addiction treatment center is seen as a unique person that you are rather than just another number. Our team is committed to getting to know each of our patients and your unique drug or alcohol addiction circumstances to develop an addiction treatment program that will effectively treat your root causes of addiction, allowing you to succeed in addiction recovery.
YOU'RE NOT ALONE – WE CAN HELP
TAKE THE FIRST STEP AND APPLY FOR TREATMENT TODAY
Why Choose The River Source Chandler for Residential Alcohol Rehab?
Alcohol rehab within The River Source offers Chandler, Arizona residents a whole-person integrated approach to addiction treatment and recovery. Just as your addiction is unique to you, your treatment plan must reflect the same. There is no one size fits all method of addiction treatment as each person will have their own unique set of needs and goals for addiction recovery. That is why our team of licensed healthcare professionals and addiction therapists will develop a treatment plan incorporating evidence-based therapy methods and holistic and naturopathic treatment methods that will enable you to heal from your alcohol addiction within your body, mind, and spirit.
The River Source is a truly unique addiction treatment center compared to other industry-standard recovery centers. We have based our approaches on the genuine belief and understanding that effective treatment programs are based on an outcomes-driven approach. Our team will work with you to develop a set of goals for addiction recovery that are specific to you and your recovery journey. Your treatment plan will be centered around your goals for addiction recovery and provide you with the tools you need to maintain long-term sobriety.
How Long Is Rehab?
Your alcohol addiction developed over a period of time. It is rare to find a person who intends to become addicted to alcohol. As you experience the ups and downs of life including emotional distress or traumatic incidents occur, it can become increasingly harder to manage the emotions and thoughts that arise. Many will turn to alcohol as a means of coping with these challenging feelings, thoughts, and actions in an attempt to numb emotions and escape from troubling thoughts. As you continue to self-medicate with alcohol, you are more likely to develop an addiction to alcohol. Due to each patient's personalized reasons for alcohol addiction, your rehab program will be designed to meet your specific needs and goals for addiction recovery. That is why patients will have the option of participating in a short-term or long-term rehab program for a period of 30, 60, or 90 days.
30-Day Inpatient Alcohol Rehab in Chandler
Participating in a 30-day rehab program will provide Chandler, Arizona residents with an opportunity to have a break from their home environment that once fuelled their alcohol addictions. Patients will be invited to reside within a safe, secure treatment facility free of any distractions or triggers. As you engage in your alcohol rehab program, you will begin to engage in various evidence-based therapy methods that will support you in healing from your past traumas or emotions that have contributed to your alcohol use disorder. Part of your alcohol treatment program will include developing tools for relapse prevention and life skills that will foster long-term success in sober living.
60-Day Inpatient Alcohol Rehab in Chandler
There may be some Chandler, Arizona residents that are searching for an alcohol rehab program that is longer than a short-term rehab program but does not require you to commit to a full 90 days in alcohol rehab. A 60-day rehab program will provide patients with the right amount of time to engage in various therapy sessions where they can address and heal from your deep seeded traumas while also encouraging positive life skills development to foster life in addiction recovery.
90-Day Inpatient Alcohol Rehab in Chandler
A long-term rehab stay of 90 days is recommended for patients who can commit to this time and for individuals with a history of relapse. A long-term rehab program provides ample time to thoroughly explore and address your underlying causes for addiction and develop and strengthen your coping skills and tools for addiction recovery including emotional regulation, conflict resolution, and relapse prevention planning. The more time you have to dedicate to your recovery journey, the more you will be able to establish the confidence you need for a new way of life to handle any triggers or curveballs that may be thrown your way to remain on the road to recovery.
Alcohol Rehab for High-Functioning Alcoholics in Chandler
Alcoholism looks different for each person that is impacted by this addiction. Although addiction is often characterized by experiencing serious consequences and impacts from alcohol abuse, some individuals can maintain their work or school commitments and uphold family responsibilities. While individuals can still keep up with their daily responsibilities, there are still increased risks to their physical and mental health from continued alcohol abuse. High-functioning alcoholics will be able to participate in an alcohol rehab program that will allow them to heal from their addiction while beginning to restore their health and well-being from the impacts of alcohol addiction.
Alcohol Rehab in Chandler
At The River Source, we understand that each patient who attends our treatment center has a unique set of needs and circumstances that have led to their alcohol abuse. Each patient will require an individualized treatment plan that is centered around your unique goals for addiction recovery. Our recovery center offers Arizona residents a full continuum of care that will meet them where they are in their recovery journey to allow them to safely and successfully heal from alcohol addiction and have long-lasting success in addiction recovery. Patients within our treatment center will be provided with the option of participating in the following levels of care: 
Medical detox 

Inpatient rehab 

Outpatient treatment programs including intensive outpatient programs, partial hospitalization programs, or general outpatient program 

Aftercare programs including participation in the lifetime alumni services
Top-Rated Inpatient Alcohol Addiction Treatment Program in Chandler
Addiction is a complex disorder to navigate on your own. Seeking treatment within a treatment center will provide you with an extensive treatment plan incorporating a combination of comprehensive, evidence-based therapy methods. These therapy methods will allow you to address your root causes of addiction while gaining the tools for relapse prevention to support you in achieving long-term sobriety. The River Source offers the following approaches to addiction treatment that can be incorporated into your clinically driven, personalized treatment plan: 
Cognitive behavioral therapy 

Dialectical behavioral therapy 

Dual diagnosis treatment 

12-step programs such as alcoholics anonymous or smart recovery 

Psychoeducational groups 

Neurofeedback 

Naturopathic treatments including IV therapy or vitamin therapy 

Holistic treatments such as acupuncture or massage therapy
Alcoholism Treatment in Chandler
Your alcohol abuse did not happen overnight. It progressed over a period of time, and you must give yourself the time you need to fully engage in your addiction treatment program. Our customized treatment plan will incorporate a whole-person integrated approach to healing that will allow you to uncover the impacts that your alcohol abuse has had on your physical, emotional, mental, and spiritual health at a pace that is comfortable and appropriate for your healing needs. Our team will support you with our clinically driven treatment methods that have been proven to have high success rates among our patients by being by your side every step of the way in your recovery journey.
Our Recovery Guarantee
Your success in addiction recovery is important to us. That is why we provide our patients with our recovery guarantee with our Chandler prescription rehab center. If you complete our full continuum of care and follow your treatment program but find that you encounter a relapse within a year of the completion of your treatment program, you will be welcome to return to our treatment center to engage in addiction treatment to ensure you can achieve long term success in sober living.
QUICK, CONFIDENTIAL INSURANCE VERIFICATION
CLICK BELOW TO FIND OUT IF YOU HAVE COVERAGE