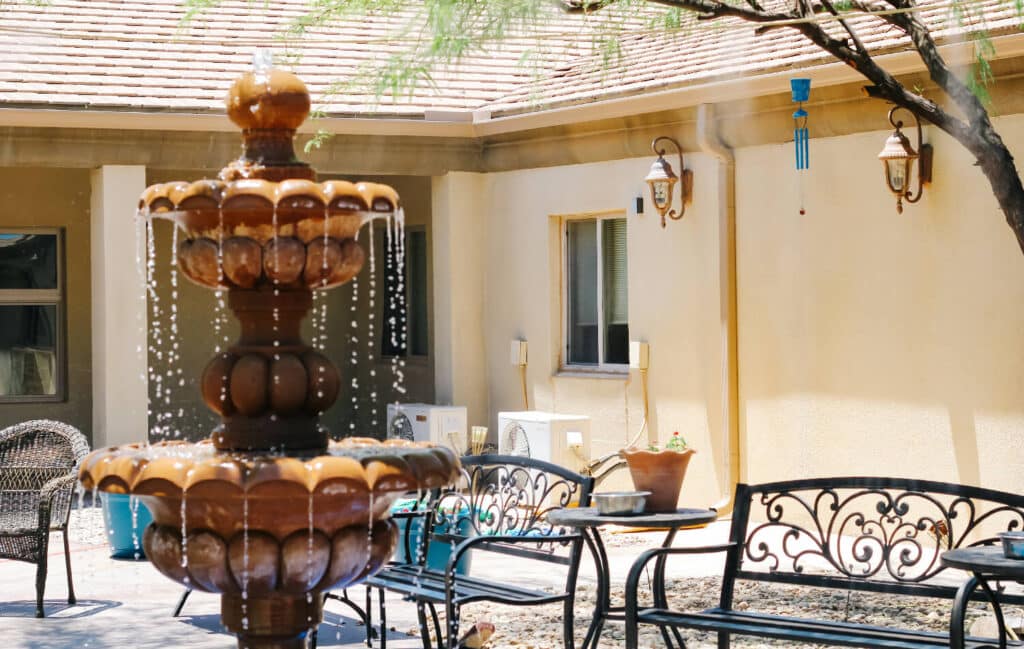 #1 Inpatient-Residential Drug Rehab in Chandler
Drug addiction comes in many forms whether it be illicit substances or prescription drug abuse. It is rare to find someone who intended to become addicted to drugs, but the unfortunate truth is that millions of Americans face substance use disorders each day. Experiencing drug addiction does not reflect who you are as a person, it can happen to anyone, and the team at The River Source understands the nature of addiction and sees you as the person you are rather than just a number. When you choose to heal within our recovery center, you will receive a clinically driven treatment program that utilizes an integrative approach to foster healing within your body, mind, and spirit.
YOU'RE NOT ALONE – WE CAN HELP
TAKE THE FIRST STEP AND APPLY FOR TREATMENT TODAY
Why Choose The River Source Chandler for Residential Drug Rehab?
The River Source is a unique treatment program that recognizes the varying impacts of drug addiction that require specific treatment methods to effectively heal and overcome your drug addiction. Our team will meet with you to understand your unique history of drug abuse and your personal goals for addiction recovery. We believe there is no one size fits all model for addiction treatment as each patient has their own circumstances that need to be considered. Unlike other industry-standard treatment centers, our recovery center emphasizes healing from addiction through traditional evidence-based psychotherapy methods along with naturopathic and holistic treatments that will support healing physically, emotionally, mentally, and spiritually.
Our addiction treatment in Chandler offers all levels of care and various treatment methods to address every unique aspect of addiction. We are passionate about each patient's journey through recovery and do everything in our power to help you achieve long-term sobriety. Our commitment to your sobriety does not end the day you graduate, we continue to help you actively maintain recovery and will be there for you in the event of a relapse to help you back up. We are the leading choice for Chandler, Arizona residents seeking help for alcohol addiction. Patients are offered a full continuum of care that will support them in every phase of their addiction recovery journey including medical detox, inpatient rehab, outpatient treatment, and a lifetime alumni program. Our team will work alongside you every step of the way to ensure that you feel confident and comfortable in your ability to overcome triggers and maintain a life of sober living.
How Long Is Rehab?
Drug rehab is a personalized process to meet you where you are in your recovery journey. Your time in drug rehab will depend on a few mitigating factors. The length of time you have engaged in drug abuse, the amount you consume, and the frequency of your substance abuse will impact the length of time you will require to effectively heal from your substance use disorder. Additional factors such as living with any co-occurring disorders, a family history of addiction, or a history of trauma will impact how long you will need to engage in addiction treatment. Arizona residents will have the option of participating in a drug rehab program for a period of 30, 60, or 90 days.
30-Day Inpatient Drug Rehab in Chandler
A 30-day rehab program is the minimum amount of time you can spend in an inpatient rehab program. This allows patients to press pause on their life and remove themselves from their home environment that was presented with stressors and triggers that impacted their ability to avoid drug abuse. As you enter our treatment center, you will be able to reside with other patients that are going through the same journey of finding a new path in life that fosters sober living. Patients can begin the crucial work of addiction therapy with the support of our personalized treatment plans that incorporate evidence-based therapy methods. As you complete your time in inpatient rehab, you will have developed coping skills and tools for relapse prevention that will support you in maintaining long-term sobriety.
60-Day Inpatient Drug Rehab in Chandler
If you are looking for an addiction treatment program that is an in-between option of short-term rehab and long-term rehab, choosing a 60-day rehab program will provide you with ample time to participate in drug addiction treatment. Patients will have the opportunity to fully engage in addiction therapy methods including specialized treatment methods such as dual diagnosis treatment. While in your 60-day rehab program, you can establish a new daily routine and coping skills that foster addiction recovery.
90-Day Inpatient Drug Rehab in Chandler
90 days is the maximum amount of time that patients can attend an inpatient rehab program. This length of time is ideal for patients to gain the skills and confidence to utilize the coping skills and tools for relapse prevention even after completing their addiction treatment program. As you progress through your customized treatment plan, you will be able to explore the root causes of your drug addiction to address and heal from those underlying emotions and trauma to ensure that you can maintain a life of long-term sobriety.
Types of Drug Addictions We Treat
The team at The River Source is highly trained and credentialed to support patients from all walks of life and various substance use disorders. Whether it be illicit street drugs or prescription drugs, our team has the evidence-based knowledge to safely detox from these substances and obtain long-term healing from drug addiction. Within our recovery center, we can treat the following addictions:
Cocaine 

Meth

Heroin 

Fentanyl 

Alcohol 

Marijuana 

Benzodiazepines 

Opiates 

Other prescription drug addictions
Inpatient Heroin Rehab in Chandler
Heroin rehab will often incorporate methods of opioid detox throughout your treatment program as patients will go through a slow tapering-off period supported by a medication-assisted treatment program. This process helps to mitigate the severity of any presenting withdrawal symptoms while reducing the onset of strong drug cravings. As your body releases the harmful toxins of heroin, you can work through clinically driven treatment programs that will support you in healing from the deep seeded emotions or traumas that have influenced your addictive behaviors. As you heal from the root causes of your drug addiction, you will begin to establish healthy coping skills such as anger management, emotional regulation, and effective stress management tools.
Inpatient Cocaine Rehab in Chandler
A cocaine rehab program will support Chandler, Arizona residents in moving through the emotional and mental addiction that has developed to cocaine. This drug will typically have little effect on a person's physical functioning but is known to significantly impact a person's psychological health. To effectively heal from your cocaine addiction, your treatment program will incorporate addiction therapy methods including behavioral therapy, dual diagnosis treatment, holistic treatments, and naturopathic approaches.
Inpatient Oxy Rehab in Chandler
Similar to heroin addiction, this powerful prescription opioid is known to significantly impact a person's physical and emotional health as they attempt to quit their oxy addiction. Oxy rehab will allow patients to safely detox from this drug while exploring the root causes of drug addiction. Many will begin using oxy as a form of pain management, and their oxy use develops into an oxy addiction. Your drug rehab program will support you in developing holistic and naturopathic ways to manage chronic pain without turning to drugs as a way to cope.
Inpatient Meth Rehab in Chandler
Chandler, Arizona residents that are living with an active meth addiction will require a comprehensive treatment program that includes treatment of mental health symptoms, effective physical health care, and holistic treatment methods. Meth abuse is known to significantly impact your physical health and wellbeing, including heart function, nutritional deficiencies, and dehydration. At the same time, meth abusers are at higher risk of experiencing depression, anxiety, and drug-induced psychosis. An effective treatment program will address these presenting concerns while supporting you in healing from the root causes of your addictive behavior.
Inpatient Benzo Rehab in Chandler
Benzodiazepines are highly addictive prescription drugs commonly prescribed to treat mental health disorders such as anxiety disorder or panic disorder and treat individuals that experience seizures. When you attempt to quit your use of benzos, the symptoms of these disorders can worsen if not monitored and treated by medical professionals. Benzo rehab will often include a slow tapering-off program that will allow you to safely stop your use of benzos without experiencing serious side effects and act as a method of relapse prevention.
Inpatient Prescription Drug Rehab in Chandler
Prescription drugs come in many forms from stimulants, prescription painkillers or opioids, benzodiazepines, and sleeping aid medications. Depending on your substance of choice, you may require the support of a medication-assisted treatment program or a medically supervised detox process where you can slowly taper off prescription drugs without experiencing serious or life-threatening symptoms. As you overcome the physical addiction to prescription drugs, you will be provided with evidence-based therapy methods including dual diagnosis treatment that will support you in healing from your root causes of addiction while developing the tools to manage any symptoms from your co-occurring disorder.
Men's Inpatient Drug Rehab
At The River Source, we believe that there can be great benefits to healing from your addiction within a group of individuals that share similar life journeys and struggles that you face. Having a safe space for men to come together and undergo addiction treatment provides opportunities for male patients to connect with one another about the stigmas and societal pressures that are placed upon the male gender. As you heal together as a group, you will be able to build strong relationships with other men, leading to long-term friendships that will continue to support you throughout your recovery journey.
Women's Inpatient Drug Rehab
Like men, women will benefit from healing together within an addiction treatment program. Oftentimes, women have experienced a history of trauma or emotional distress that, in some cases, is at the hands of a man. Healing as a cohesive unit sharing similar emotional journeys will allow you to release any negative impacts of your trauma and heal together as a group.
Top-Rated Inpatient Drug Rehab Program With Results
Alcohol is just as addictive as any other substance and can create severe physical dependency within its users. Patents attending our recovery center for alcohol addiction will be provided with the same effective, evidence-based therapy methods that will support you safely and successfully overcome your alcohol addiction. Chandler, Arizona residents have had high success rates in alcohol treatment due to the comprehensive, personalized treatment plan that is centered around your specific goals and needs for healing and recovery.
Our Recovery Guarantee
Your success in addiction recovery is our top priority. That is why we offer a recovery guarantee to our patients to ensure they can maintain their success in sober living. If you complete our full continuum of care in addiction treatment and follow your treatment plan but find that you encounter a relapse within a year after completing your treatment program, you are welcome to return to our center to continue addiction treatment programs.
QUICK, CONFIDENTIAL INSURANCE VERIFICATION
CLICK BELOW TO FIND OUT IF YOU HAVE COVERAGE