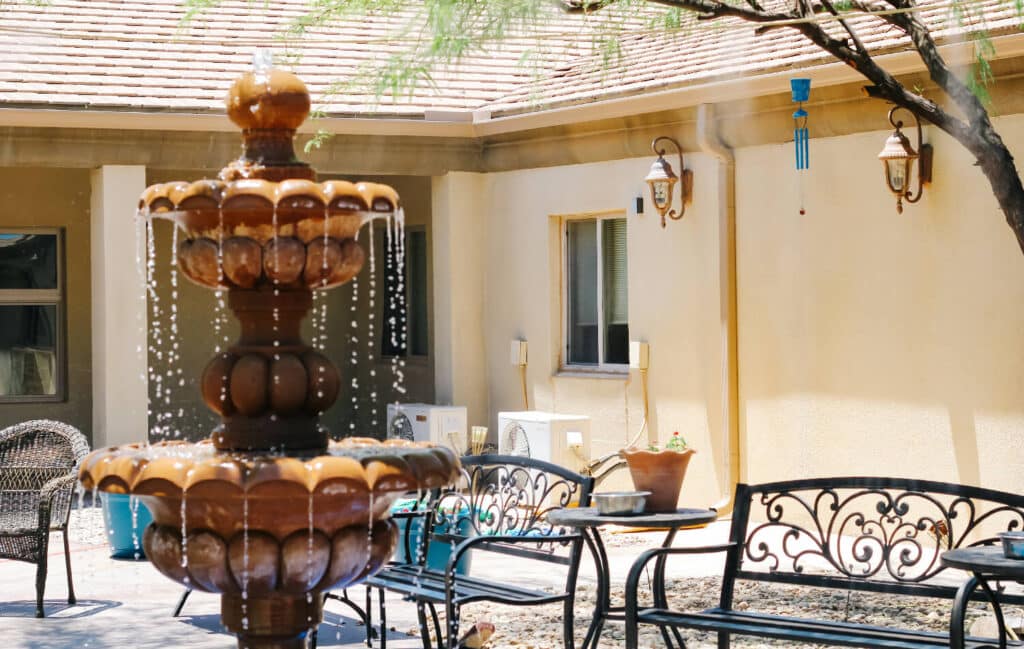 Top-Rated Outpatient Alcohol & Drug Rehab Center in Chandler | Telehealth
The River Source is a leading drug and alcohol rehab center serving Chandler, AZ, and surrounding areas. In fact, because we offer a telehealth intensive outpatient treatment IOP program, we can help clients from all across Arizona. Unlike many rehab centers in Arizona, The River Source offers multiple levels of care that address clients during each stage of their recovery process. We offer inpatient rehab and various outpatient programs designed to support lasting recovery. What also sets our substance abuse treatment programs apart is our commitment to providing both medically sanctioned (evidence-based) addiction treatments and naturopathic and holistic therapies that enhance recovery and life after addiction. We provide each client with the individualized and well-rounded support they need to end their dependence on drugs and alcohol and achieve the recovery they crave. Many clients can benefit from outpatient treatment either with in-person addiction treatments at our recovery center or virtual addiction treatment. The sooner you enroll in an outpatient addiction treatment program, the sooner you can learn how to manage your addiction and dual diagnosis if one is present. Our rehab center offers dual diagnosis treatments for clients who are also struggling with mental health conditions like anxiety or depression. Let The River Source help you get your life and health back on track.
YOU'RE NOT ALONE – WE CAN HELP
TAKE THE FIRST STEP AND APPLY FOR TREATMENT TODAY
Alcohol & Drug Rehab That Allows You to Still Go to Work & School
For some people, the round-the-clock support of inpatient treatment is ideal when they're just beginning their addiction recovery journey. It's not uncommon for people addicted to drugs and alcohol to feel unstable and require residential care. However, not all clients require or prefer the inpatient rehab model. For some, leaving work or school would simply add to their stress. Many people are stable enough to maintain their sobriety and attend outpatient treatment sessions. For them, traditional outpatient programs or virtual IOP are ideal for meeting their treatment needs and lifestyle demands.
With outpatient behavioral therapy complemented by our various treatment approaches, clients can learn how to manage their substance use disorders successfully. Our Chandler alcohol rehab center and drug rehab support clients across the Chandler, AZ region, including communities like Mesa, AZ, and Scottsdale, AZ. Outpatient drug rehab gives clients the flexibility they need to maintain their responsibilities and obligations while obtaining the drug and alcohol treatment they need to put substance abuse behind them for good.
What to Expect During Outpatient Rehab
Clients can expect to participate in individual counseling and group therapy sessions during their outpatient rehab program. These sessions are associated with many different treatment approaches that target different aspects of the addiction recovery and relapse prevention process. People with alcohol and drug addictions can benefit from a dynamic approach to recovery that targets each element of the addiction. 
Our patients can expect a positive and welcoming treatment center when they visit us for outpatient treatment. This positivity exists in the virtual outpatient rehab platform as well. Our addiction specialists are caring and empathetic as well as knowledgeable. We provide clients with the support they need to heal and repair their lives from the fallout of alcohol and drug addictions. An outpatient treatment program allows clients to come and go from our rehab facility after each treatment session. This allows them to transition back to their lives while still getting the support they need in the early weeks and months of their recovery journey.
Benefits of Outpatient Drug & Alcohol Rebab
Substance abuse disorder is a chronic condition. Without addiction treatments, most people will remain dependent on drugs and alcohol until they inevitably erode a person's physical health, mental health, and the important aspects of their lives. Drugs and alcohol destroy families by taking a toll on loved ones. They ruin careers. Substance use disorders don't simply go away on their own. They must be managed. The best place to learn how to manage a drug or alcohol abuse problem is at a high-quality drug and alcohol rehab like The River Source.
Our drug and alcohol rehab features drug and alcohol detox and treatment programs encompassing multiple levels of care. Clients with a co-occurring disorder like bipolar disorder can also get help at our treatment facility. During residential or outpatient treatment programs, clients learn many strategies and techniques for managing their addiction and maintaining their recovery progress.
What Does a Day in Outpatient Addiction Treatment Look Like?
A day in outpatient treatment varies. One day may include both individual counseling and group counseling sessions. One day might involve evidence-based therapies like cognitive behavioral therapy. Another day might include a family therapy session or holistic outpatient treatments. Each day, however, will target some aspect of substance abuse treatment and recovery. Our outpatient programs are designed to provide robust support while still ensuring clients the flexibility they need to maintain their everyday lives.
How Long Does Outpatient Rehab in Chandler Last With The River Source?
The addiction treatment process varies depending on each person's recovery program. The River Source features a 120-day plan that includes a full continuum of care. However, not all clients will enroll in medical detox. Some clients may not want to enroll in inpatient drug rehab, preferring an intensive outpatient program or partial hospitalization program. The amount of time a person spends in each type of program depends on their needs. We recommend a full continuum of care because of its benefits throughout the recovery process, but many clients require a more flexible approach.
Telehealth IOP Serving Chandler
The River Source has developed virtual outpatient programming to support clients who can't physically attend our treatment facility. The program allows clients from all over the state to access treatment via their connective devices. Currently, few Arizona rehab centers offer virtual IOP intensive outpatient programs. Yet, these alcohol and drug abuse treatment programs offer the same level of support for clients who attend rehab physically. 
Some clients live too far from our treatment center to commute for treatment. Others have commitments that make it difficult or impossible to attend rehab in person. It's not uncommon for some people to feel anxiety about attending in person. We understand. We also know how important it is to get help managing a substance abuse problem. That's why we've designed our telehealth outpatient program.
Why Choose The River Source for Outpatient Alcohol & Drug Rehab?
The River Source is unique among treatment centers in Arizona. We combine evidence-based and naturopathic therapies to provide a comprehensive approach to recovery. Our treatment programs include residential, medical detox, and outpatient treatment programs. It's not uncommon for some people to enroll in inpatient treatment and then transition to outpatient programs or to choose one or the other. Our treatment center also features an alumni program that provides ongoing support. 
Patients enrolled in our inpatient and outpatient treatment plans can expect to participate in conventional and naturopathic therapies. We provide a whole-person focus that's customized for each client. Did you know that our rehab center also offers special treatment programs? If you're looking for treatment with a strong Native American focus or women's focus, you'll find special treatment tracks at The River Source.
Clients from Chandler, Arizona, and other Arizona communities choose our drug and alcohol rehab because we have more than two decades of treatment success to our name. We help each client build a strong recovery foundation based on our clinically driven and holistic approaches to wellness. Plus, we actually guarantee our comprehensive treatment plan. Our addiction treatments work, and we're willing to stake our name on it.
Our Recovery Guarantee
The River Source is utterly committed to our clients' long-term recovery. We believe so wholeheartedly in our addiction treatments and recovery plans that we guarantee them. We offer a treatment guarantee. Any client that relapses within the first year of completing our continuum of care can return free of charge for addiction substance abuse treatments. You'll be hard-pressed to find other rehab centers in Arizona that stand by their substance abuse program to such an extent. We know that our clinically driven program complemented by naturopathic therapies supports long-term relapse prevention. We've helped thousands of people recover from alcohol and drug addiction, and we can help you. 
Contact The River Source to learn more about our medical detox programs,  drug and alcohol treatment programs, and even cocaine rehab in Chandler. Whether you live in Chandler, AZ, or Gilbert, AZ, you can rely on our alcohol and drug rehab to support you through every stage of your recovery journey. Remember, we also offer telehealth virtual addiction treatment programs for clients who live in the state. As a top rehab in Arizona, we have the expertise and experience to help you achieve a sober lifestyle. Call us to discuss our enrollment process today.
QUICK, CONFIDENTIAL INSURANCE VERIFICATION
CLICK BELOW TO FIND OUT IF YOU HAVE COVERAGE