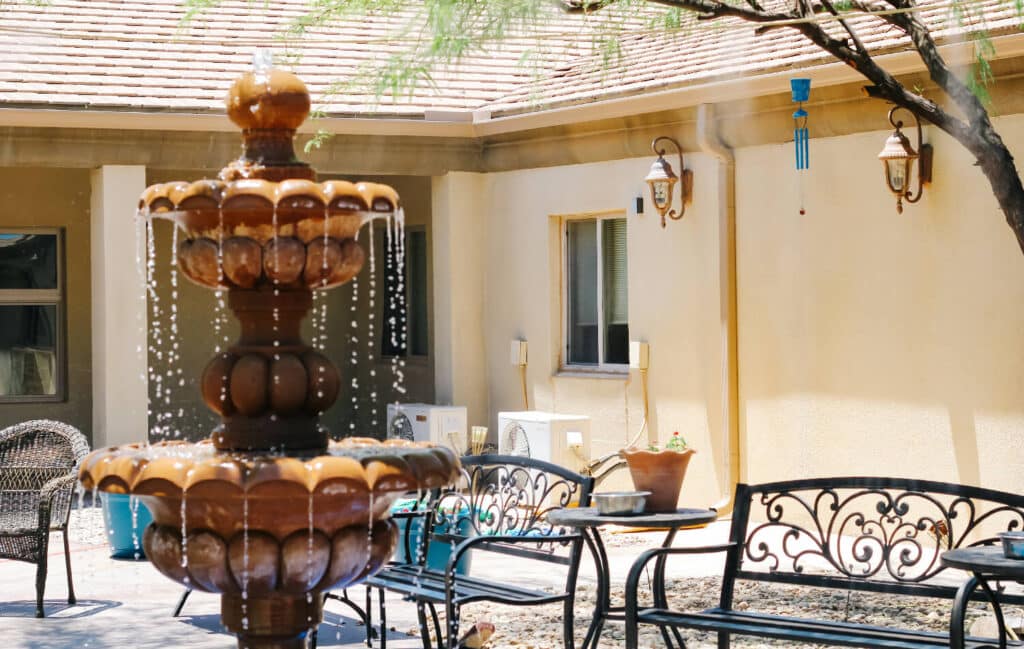 #1 Prescription Drug Rehab & Detox in Chandler
Prescription drug abuse is one of the leading substance use disorders among Americans. While many assume that these medications are safe as they are originally prescribed by doctors, there is a high potential for addiction to occur that can have devastating impacts on a person's overall health and well-being. The River Source offers a safe, effective treatment program for Arizona residents that are living with an active prescription drug addiction. We understand that prescription drug abuse often begins after you are prescribed medications to treat an ongoing physical, mental, or behavioral health condition, but your addiction progresses for underlying causes typically rooted in deep-seated emotions or traumas. Within our recovery center, patients will be provided opportunities to address their root causes of addiction while gaining appropriate treatments for their co-occurring disorders.
YOU'RE NOT ALONE – WE CAN HELP
TAKE THE FIRST STEP AND APPLY FOR TREATMENT TODAY
Why Choose The River Source Chandler for RX Drug Rehab?
Addiction is a personal disorder that impacts each substance abuser in a unique way and begins for reasons unique to you. Unlike other medical conditions, there is no set reason that addiction occurs and there isn't a one-size-fits-all approach to healing. Your addiction treatment program needs to be centered around your individual circumstances and personal goals for addiction recovery. At The River Source, we strive to provide our patients with individualized treatment programs that are outcomes driven through evidence-based therapy methods. Our team is dedicated to supporting you in exploring the root causes of addiction so you to heal from those underlying emotions and traumas that can have long-term success in addiction recovery. Our integrative approach incorporates traditional evidence-based therapy methods along with naturopathic treatment methods to allow you to heal from your prescription drug addiction within your body, mind, and spirit.
Inpatient Residential RX Addiction Program in Chandler
Prescription drugs can be highly addictive when misused or abused. While you may want to quit using prescription drugs, strong physical and emotional dependence can prove to be challenging to overcome on your own. An inpatient drug rehab program will allow you to safely address your physical and psychological addiction to prescription drugs within our recovery center's safe and secure environment. Patients will have the ability to detox within our detox center in Chandler and continue with addiction treatment programs afterward. Arizona residents will be free from any outside distractions or triggers allowing them to remain focused on their recovery journey.
Types of RX Drug Addictions We Treat
Prescription drugs come in many formats designed to treat various disorders and symptoms. At The River Source, our team is equipped to treat various forms of prescription drug addiction with varying levels of care and treatment approaches. Our recovery center works to support patients in treating the following prescription drug addictions: 
Benzodiazepine addiction 

Opioid or opiate addiction including fentanyl or oxycodone 

Sedative addiction

Sleeping medication addiction

Antidepressant addiction
Benzo Rehab in Chandler
Benzodiazepines are commonly prescribed to individuals that are living with anxiety, panic disorders, or seizures. Due to the highly addictive components of benzos, it can be easy for someone to fall into an addiction when they are attempting to manage difficult emotions or underlying traumas. An effective rehab program for benzo addiction will focus on supporting you to safely overcome your physical dependency on benzos through a slow tapering-off period while you undergo addiction treatment programs. A key component of your treatment program will be a dual diagnosis treatment program that will focus on treating your addiction while supporting you to gain the tools you need to manage your cooccurring disorder through natural, alternative methods to avoid using any prescription medications.
Fentanyl Rehab in Chandler
Fentanyl is a powerful opioid that is 100 times stronger than morphine. Due to the highly addictive nature of this drug, it creates a strong physical dependency within the substance abuser that requires the support of a medication-assisted treatment program that will allow you to slowly remove the harmful toxins of fentanyl with the support of specific addiction treatment medications. Your rehab program will focus on healing your body from the presence of fentanyl while providing you with evidence-based therapy methods to heal from your root causes of drug addiction.
Oxy Rehab in Chandler
Oxy is a prescription opioid often used to treat major pain conditions or support individuals with chronic pain disorders. Your addiction treatment program will focus on healing from your substance abuse while providing you with holistic therapy approaches that will support you in managing your pain without turning to substance abuse as a way to cope.
Morphine Rehab in Chandler
Morphine is an addictive opioid that can cause physical and emotional dependency among substance abusers. Your drug rehab program for morphine addiction will focus on releasing the negative influences of morphine often through a medication-assisted treatment program while also teaching you new methods of managing your co-occurring mental health disorders or chronic pain disorders through a dual diagnosis treatment program.
Meperidine Rehab in Chandler
Diphenoxylate is an opioid used to treat severe diarrhea that helps reduce muscle movement within the intestines. Increasing your use of this drug or abuse of diphenoxylate can create tolerance and physical dependency within substance abusers. During your drug rehab program, you will be guided by healthcare professionals in a safe detox process and thorough clinically driven treatment programs that support you in healing from your past and developing a new way of life in addiction recovery.
Diphenoxylate Rehab in Chandler
Diphenoxylate is an opioid medication that can cause a sense of euphoria in high doses leading to substance abuse or addiction. If users trying to quit the medication develop withdrawal symptoms, the medical detox and rehab program at The River Source can provide the appropriate, relevant therapy methods to ensure you achieve long-lasting success in addiction recovery. We are the leading choice for Chandler, Arizona residents searching for help with their drug addiction for the comprehensive treatment plans offered to each patient. We recognize that addiction is a personal disease that begins and impacts each patient differently. That is why our team will take the time to get to know you and your circumstances with prescription drug addiction to be able to offer you the appropriate levels of care within the Diphenoxylate Rehab program.
Sedative Rehab in Chandler
Sedatives are often prescribed for individuals that are living with a mental health disorder including depression, anxiety, or panic disorders. The allure of escaping from sedatives can become tempting for individuals that are attempting to manage challenging emotions or traumatic memories. To effectively address and heal from your sedative addiction, patients will be provided with evidence-based therapy methods, including dual diagnosis treatment, that will support them in simultaneously treating their addiction and mental health disorder.
Antidepressant Rehab in Chandler
Antidepressants can be a useful tool for individuals that are experiencing the difficult side effects of depression. However, it can be easy for individuals experiencing challenging emotions and side effects of depression to be tempted to misuse antidepressants to mitigate the symptoms of depression. When abused, antidepressants can become addictive and will require support from an addiction treatment program. Patients will be offered mental health support through a dual diagnosis program that will support them in learning methods to manage their depression without engaging in substance abuse.
30-Day Rehab
A 30-day rehab program is the minimum time you should participate in an inpatient rehab program. A short-term rehab will allow you to take a break from the environment that once fueled your addiction and begin the healing process of addiction treatment. Patients will begin to develop the coping skills and tools for relapse prevention to help them start on the right path toward a life in addiction recovery.
60-Day Rehab
For Chandler, Arizona residents looking for a middle ground between a short-term or long-term rehab program, a 60-day rehab program will allow you the time you need to engage in addiction treatment and begin to strengthen your skills in overcoming triggers and maintaining a life in sober living.
90-Day Rehab
90 days is the maximum amount of time that patients can participate in a residential treatment program. A long-term option is ideal for patients with a history of relapse or who need to engage in specialized treatment programs that focus on healing from their trauma and managing co-occurring disorders. We believe that having more time in rehab will allow you the extra time you need to gain the knowledge and confidence in your abilities to maintain long-term sobriety.
Top Rated RX Addiction Treatment in Chandler
Each patient entering our addiction treatment center has a unique history of substance abuse that requires an individualized approach to treatment. Our clinically driven treatment programs place a focus on healing from your root causes of addiction while equipping you with the tools and life skills to live a healthy, balanced life in addiction recovery. Our outcomes-driven program works with patients to identify their goals for addiction recovery so our team can provide you with the appropriate levels of care to successfully overcome your drug addiction.
Prescription Rehab in Chandler
Your rehab program will be designed to meet your individual needs for physical and mental health needs. Your treatment plan will incorporate a combination of evidence-based therapy methods that have been proven to have high success rates with patients. Addiction treatment methods you will be offered are: 
Cognitive behavioral therapy 

Dialectical behavioral therapy 

Dual diagnosis treatment 

12-step recovery programs 

Psychoeducational therapy and group processes 

Neurofeedback 

Naturopathic treatments – Comprehensive blood panel, IV therapy, or vitamin therapy 

Holistic treatments such as acupuncture therapy or massage therapy
Our Recovery Guarantee
Our team is committed to your recovery journey and supporting you in having long-term success in addiction recovery. Each patient that enters our treatment program will be eligible for our recovery guarantee. If you complete our full continuum of care and follow your specific treatment plan but find that you experience a relapse within a year of your program completion, you will be welcome to return to resume addiction treatment.
QUICK, CONFIDENTIAL INSURANCE VERIFICATION
CLICK BELOW TO FIND OUT IF YOU HAVE COVERAGE