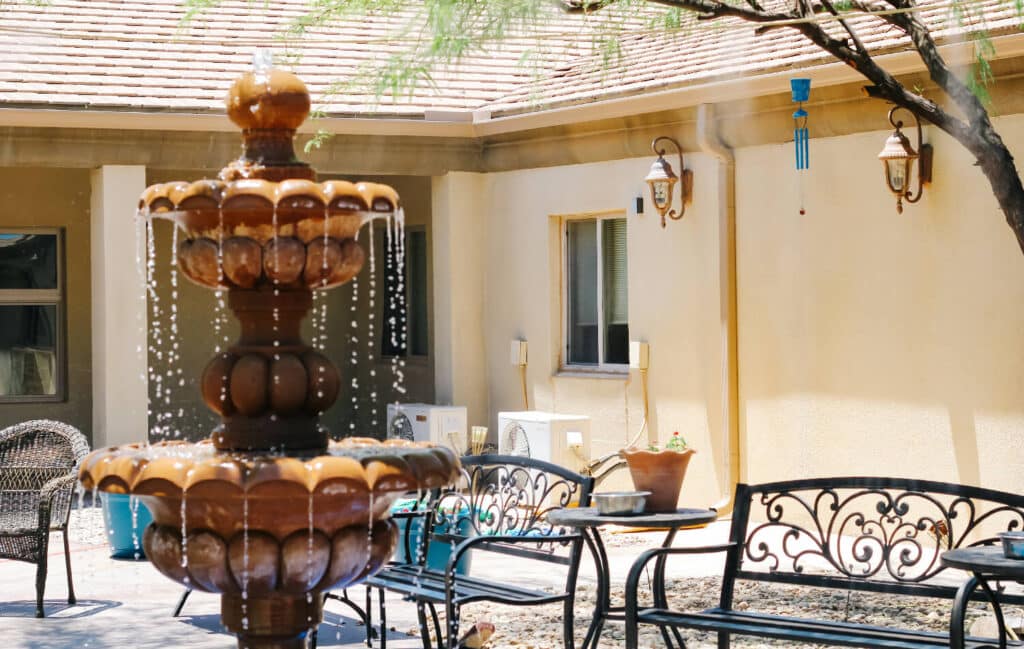 # 1 Drug Detox in Arizona
The River Source is a drug detox and rehab center with locations throughout Arizona. We are fully accredited through the Joint Commission, the gold standard for treatment centers. Our clinically-driven substance abuse programs have helped many find long-term recovery from their substance use disorders. Although our treatment centers are comfortably furnished and include several amenities to make you feel right at home, our focus is on delivering results based on genuine, effective, evidence-based therapy through our integrative approach. We personalize every treatment plan to meet each client's specific needs and case through a full continuum of care. The River is also in network with all major health insurance as well so that finances are never a barrier to getting adequate treatment.
YOU'RE NOT ALONE – WE CAN HELP
TAKE THE FIRST STEP AND APPLY FOR TREATMENT TODAY
Why Choose The River Source Arizona for Drug Detox?
When you choose The River Source for drug detox, you get much more than the conventional medical detox therapies other drug treatment centers offer. Our integrative approach not only uses traditional medication-assisted treatment and behavioral health therapies, but you also have access to a holistic approach and naturopathic medicines to heal your body. Through holistic therapies and naturopathic medicine, we treat the person as a whole and not just the withdrawal symptoms they are experiencing. Acupuncture, infrared sauna, vitamin IV therapy, and massage are all holistic therapies that address withdrawal symptoms naturally but also help to strengthen the body to detox more efficiently and quickly. Trying to detox on your own can not only be dangerous, but it also comes with very low success rates. Withdrawals and drug cravings can be severe, and many people relapse quickly to offset that discomfort. The River Source drug detox program can ensure you successfully detox in a temptation-free environment.
What Is Detox Like?
Drug and alcohol addiction can cause severe physical dependence, meaning you experience some very uncomfortable and sometimes even dangerous withdrawal symptoms when attempting to quit using. Medical detox at The River Source helps you go through the withdrawal process with ease, comfort, and safety. When you check into treatment, our medical staff complete a thorough evaluation where we get to learn about who you are, your addiction history, your circumstances, and any other factors that will allow us to create the most effective, personalized treatment plan. Once we have you settled in, you will be clinically supervised around the clock to ensure your body is reacting appropriately and use medication-assisted treatment when necessary to ease withdrawal symptoms. We also incorporate naturopathic treatments into our holistic detox as a way to maximize detox outcomes and start healing your body for drug rehab. The holistic approach includes addiction treatments like massage, vitamin therapy, and infrared sauna can help the body detox from drugs more efficiently. You expect to complete medical detox between 5 to 10 days.
Types of Drugs We Treat
The River Source has a full continuum of care along with best-in-class medically trained addiction staff, which allows us to treat a wide range of drug addictions and the severity of drug addictions. Our personalized treatment programs will also effectively treat each type of drug addiction since they all present their own set of challenges. Some of the types of drugs we treat in our medical detox program include:
Amphetamine addiction, including Adderall addiction

Cocaine addiction

Marijuana addiction

Psychedelic addictions

Alcohol addiction

Methamphetamine addiction

Opioid addiction, including fentanyl addiction

Heroin addiction

Prescription medications, including opioid painkillers

Benzodiazepine addiction

Methadone addiction
Meth Detox in Arizona
Methamphetamines, also known as the street name "meth" or "crystal meth," are highly addictive stimulants. Some people report their meth addiction started after just the first use. Methamphetamines can cause a strong physical dependence, and users will experience painful, debilitating withdrawal symptoms when attempting to quit. Medical detox may be necessary to successfully remove meth from the body and eliminate chances of relapse early on. Some symptoms of meth withdrawal include:
Fatigue

Agitation

Insomnia

Paranoia

Hallucination

Nausea

Tremor

Suicidal thoughts

Anxiety

Severe depression

Dehydration
Drug detox at The River Source can offer support and medical care during this difficult phase of recovery. Our medical staff will ensure your safety through 24/7 monitoring and administering any medications necessary to ease withdrawal symptoms.
Cocaine Detox in Arizona
Prolonged cocaine abuse can lead to addiction and dependence. The body feels withdrawal symptoms when attempting to quit using, which are not as intense as other drugs, but cravings during detox can still cause someone to relapse without a drug-free environment easily. The River Source in Arizona can ensure you successfully detox from cocaine through our medical detox program. Medically assisted cocaine detox provides around-the-clock monitoring and treatment for the uncomfortable symptoms associated with cocaine addiction recovery.
Symptoms of cocaine withdrawal can include:
Depression

Anxiety

Hostility

Paranoia

Suicidal thoughts or actions

Intense cocaine cravings

Vivid dreams or nightmares

Paranoia
Our integrative treatment program provides holistic treatments such as infrared sauce and vitamin IV therapy which can help ease withdrawal symptoms and even speed up the body's ability to purge toxins. Through naturopathic medicine, our aim is not just to get through the withdrawal process by easing withdrawal symptoms; we want you to come out stronger and healthier on the other side.
Benzo Detox in Arizona
Benzodiazepine addiction can happen quickly, and dependence can develop even when used as directed by a physician. Benzos are one of the addictive substances that can have dangerous and even fatal withdrawal symptoms when attempting to stop, and you should never attempt to stop benzos using cold turkey on your own. Through our medical detox at The River Source, our medical staff can help you safely detox from benzodiazepines. Withdrawals will usually manifest within one to four days of stopping use and include:
Anxiety

Panic attacks

Excessive sweating

Heart palpitations

Hand tremors

Muscular stiffness or discomfort

Hallucinations

Seizures

Psychosis

Increased risk of suicidal ideation
Oxy Detox in Arizona
Oxycodone is a potent opioid found in prescription pain medications. Users can easily develop tolerance and dependence over time, resulting in intense withdrawal symptoms when attempting to stop using. The River Source medical detox program can help oxycodone users achieve sobriety safely and successfully through our integrative treatment program. Our medical staff can administer medications to ease withdrawal symptoms, plus you will have access to our holistic treatments, including vitamin IV therapy and infrared sauna, which can help the body purge itself of oxycodone more efficiently. Withdrawal symptoms from Oxy include:
Diarrhea

Nausea and vomiting

Fatigue

Depression

Anxiety

Increased heart rate

Body aches and pain

Shaking

Mood swings

Irritability
Heroin Detox in Arizona
Heroin addiction can be difficult to beat. However, with our comprehensive treatment programs at The River Source, which start with drug detox, anyone can find recovery. Since heroin causes strong physical dependence, withdrawal symptoms can be intense and at times, serious, which include:
Muscle spasms

Abdominal pain

Nausea and vomiting

Depression

Agitation

Nervousness

Intense heroin cravings

Shaking
Medical detox at The River Source uses medication, therapy, and holistic treatments to ease symptoms and allow our clients to move through withdrawal safely and successfully. Heroin detox can last between 5 to 7 days. However, heavily dependent users may need 10 days of detox.
How Long Does Detox Last?
Detoxing from drugs varies from person to person and from substance to substance. In general, our clients at The River Source go through the detox phase of treatment in between 5 to 10 days. Some people may even experience mild, lingering withdrawal symptoms for weeks or months after using, called post-acute withdrawal syndrome or PAWS.
What Happens After Detox?
Drug detox is just the beginning of the recovery process. Detoxing from drugs addresses the physical addiction part. However, there are still emotional and psychological components to addiction that still need to be addressed. After drug detox, you can easily transition into one of our drug rehab programs at The River Source. Your staff for drug rehab in Arizona will assess your case and your needs to recommend the appropriate rehab course for you. There are several options for levels of care, including inpatient treatment, intensive outpatient program, partial hospitalization program, and outpatient treatment. We also include an Alumni Program so that you have a lifetime of support and recovery management tools.
Why Detox at The River Source?
Drug detox at The River Source offers the best chance to detox from all types of drug addictions successfully and comfortably. Our integrative treatment program combines conventional medical detox methods you will find in detox centers across the country with effective, holistic treatments. Because our treatment methods are founded in naturopathic medicine and holistic treatments, we aim to treat much more than just the withdrawal symptoms you are experiencing. Our treatment methods will help you start the healing process and treat the body, mind, and spirit. You can detox in comfort in our non-hospital setting at our peaceful residential facility.
Our Recovery Guarantee
Our 100% recovery guarantee allows you to come to treatment with us free of charge if you relapse within one year of successfully completing our continuum of the care plan. If you put in the work, we guarantee you will find a life free of drugs and addiction through our treatment programs.
At The River Source, we believe anyone can find freedom from addiction with the right treatment program and through hard work. If you are ready to get your life back, please do not let one more day pass by without calling us to start your admissions process.
QUICK, CONFIDENTIAL INSURANCE VERIFICATION
CLICK BELOW TO FIND OUT IF YOU HAVE COVERAGE