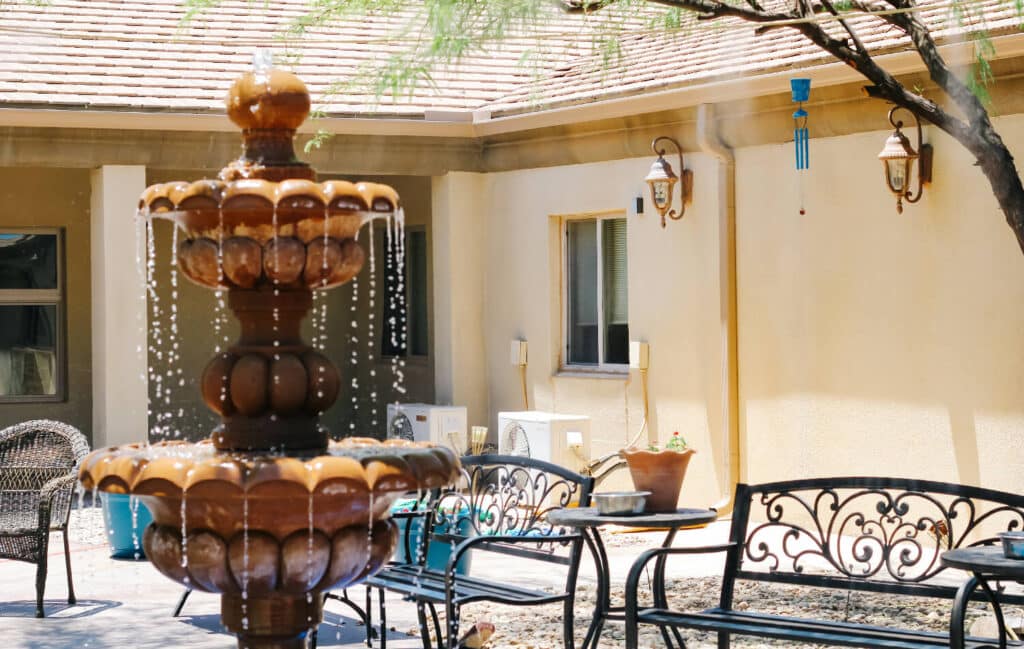 #1 Addiction Treatment Center in Gilbert for Alcohol, Prescription Drugs, & Drug Addiction
The River Source offers top-rated addiction treatment programs in Gilbert, AZ that can help anyone manage their drug and alcohol addiction no matter how severe. Our alcohol and drug abuse programs are composed of holistic, evidence-based treatments that aim to treat the body, mind, and spirit to achieve true healing. Our high success rate is partly due to our integrative treatment approach combining conventional addiction treatment methods with naturopathic therapies. The other part of our high success rate is our full continuum of care that takes clients from intensive treatment in medical detox and inpatient treatment through flexible programs including intensive outpatient treatment and aftercare programs for added support as they transition back to the real world.
YOU'RE NOT ALONE – WE CAN HELP
TAKE THE FIRST STEP AND APPLY FOR TREATMENT TODAY
Alcohol & Drug Detox & Rehab in Gilbert
The River Source is a drug rehab in Gilbert, AZ with specialized treatment plans and all levels of care, including medical detox, inpatient treatment, intensive outpatient treatment (IOP), Partial Hospitalization Program (PHP), Outpatient treatment, and alumni program. We are a Joint Commission accredited treatment facility and are in-network with all major health insurance companies. Treatment plans are tailored to each person to include evidence-based addiction treatment. Our integrative approach combines traditional addiction treatment methods with holistic treatments.
Why Choose the River Source in Gilbert for Addiction Treatment?
The River Source includes a full continuum of care to meet people anywhere they are in their recovery. We create personalized treatment plans that are clinically driven and outcomes based, which has contributed to our high recovery rates. Our team of highly skilled and compassionate clinicians work together to support clients in every way they can. We offer much more than just conventional treatment methods, our treatment programs go beyond by incorporating holistic therapies such as massage, yoga, vitamin IV therapy, and infrared sauna.
Gilbert Alcohol Detox
Alcohol addiction can cause severe withdrawal symptoms that may require a medical detox to ensure your safety. Alcohol detox at The River source includes 24/7 medical supervision from doctors and nurses who will monitor your vitals and administer medications to ease withdrawal and keep you safe from life-threatening withdrawal symptoms associated with Delirium Tremens. Naturopathic treatments including vitamin IV therapy and infrared sauna will improve your ability to go through withdrawal.
Gilbert Alcohol Rehab
After your Gilbert alcohol detox, alcohol rehab is recommended to address psychological and behavioral issues of alcohol addiction. We offer several levels of care to meet your alcohol severity including inpatient treatment, intensive outpatient treatment (IOP), partial hospitalization program (PHP), and outpatient treatment. Our clients who have been most successful in addiction recovery completed our full continuum of care where they tapered down from inpatient to outpatient care.
Gilbert Drug Detox
Medical detox at The River Source benefits all types of substance abuse and addiction severities. For some people drug detox may be necessary because they are at risk for dangerous or even lethal withdrawal symptoms, however even those with milder addiction greatly benefit from Gilbert drug detox center. Drug detox ensures you complete the withdrawal process when compared to at-home detox which usually results in early relapse.
Gilbert Drug Rehab
The River Source's drug rehab provides comprehensive care to ensure all aspects of a person's drug addiction are addressed. Treatment plans are tailored to each client for the most effective addiction treatment. Treatment programs will help you identify triggers and how to control them through coping skills and tools. Drug rehab includes several types of therapies that will adjust according to how you respond to treatment and what works best for you.
Gilbert Prescription Drug Detox
It is not uncommon for individuals to need help stopping prescription medication use. Although some prescriptions may cause addiction, some people have only developed physical dependence and need guidance and medical care to be able to stop using safely. Our medical detox team will provide 24/7 monitoring to ensure your vitals are healthy and can administer medications to ease withdrawals. Medical detox also provides ample emotional and psychological support during this difficult addiction treatment phase.
Gilbert Prescription Drug Rehab
For individuals who have developed an addiction to prescription medications, comprehensive treatment plans similar to those in drug rehab are necessary to achieve long-term abstinence. The River Source's dual diagnosis program is highly effective when treating prescription drug addiction as it can address co-occurring disorders that may have pushed you to seek out the prescription in the first place. Addiction treatment can include individual therapy, group therapy, and family therapy.
Gilbert Top Rated Addiction Treatment
The River Source is considered a top-rated drug and alcohol addiction treatment center in Gilbert for several reasons. We are accredited by the Joint Commission, the gold standard in drug rehab centers. By providing a full continuum of care plus a large variety of addiction treatments, we can treat several types of addiction successfully. We are clinically driven and focus on evidence-based addiction treatments that are outcome supported instead of luxury amenities. However, we do offer a non-hospital setting with comfortable living quarters and common areas so you can feel more at ease during your addiction recovery.
Alcohol & Drug Detox-Rehab for Residents of Gilbert
Residents of Gilbert, Tempe, and Mesa, AZ have access to top-rated drug and alcohol addiction treatment at The River Source. Our integrative treatment programs are built on providing conventional addiction recovery methods found in rehabs all across the US with a holistic approach. We aim to not only help our clients address their addiction but also want them to come out to the other end physically and mentally stronger through holistic therapies.
Our Treatment Specialties
We provide several treatment specialties at our rehab center in Gilbert. Inpatient residential treatment is gender segregated, allowing clients to feel more comfortable and providing a special opportunity to connect with others who share similar experiences. We also provide an integrative approach to addiction treatment in which we combine clinical treatment methods with naturopathic therapies, allowing us to treat all aspects of substance use disorders. The River Source's Lifetime Alumni Program also contributes to your long-term sobriety by keeping our past clients involved and active in their addiction recovery efforts.
Telehealth IOP
The River Source now offers telehealth intensive outpatient treatment programs (Virtual IOPs) which give clients access to top-quality addiction treatments from anywhere in Arizona. You have access to many of the same on-site treatments, such as group therapy, individual therapy, and 12step programs. We use HIPAA-compliant applications to ensure your privacy. Telehealth has eliminated many barriers to proper addiction treatment including those who are immunocompromised, those with small children or dependents at home, business professionals who travel a lot for work, for those in rural communities, and individuals with social phobias.
Naturopathic Therapies
At The River Source, providing truly holistic care means incorporating various treatment methods into our addiction treatment plans that address the body, mind, and spirit. Our naturopathic therapies boost self-healing through natural approaches. You can expect naturopathic therapies in your treatment plan including yoga, massage, vitamin IV and oral therapy, and amino acid therapy. Naturopathic therapies are a part of all levels of care.
IV & Oral Vitamin Therapy
Substance abuse can cause severe nutritional deficiencies, leading to several health effects such as lowered immune system and mental health issues. The body relies on several vitamins to function properly and heal itself. The River Source uses vitamin IV and oral therapy as part of our addiction therapies. Through vitamin therapy, we can restore magnesium, zinc, calcium, vitamin C, and vitamin B to increase energy, restore the body's function, and improve immune response. B-12 injections are also used to reduce withdrawal symptoms.
Amino Acid Therapy
Amino acids play an important role in our bodies, especially in brain function, and are dependent on nutrition. It is common to experience nutritional deficiencies affecting amino acid levels during addiction. Many individuals in recovery may feel depressed or anxious as their brain begins to regulate neurotransmitters on its own again. Replacing amino acids through IV treatment or orally can help the brain speed up this process, reducing fatigue and restoring mental health.
Massage Therapy
Our certified massage therapists at The River Source are trained in various modalities, including deep tissue massage. Massage therapy is beneficial in substance abuse treatment as a way to relieve withdrawal symptoms including pain, muscle soreness, and fatigue. It is also beneficial for releasing dopamine and serotonin naturally. Massage will help relieve stress and tension which is common during drug rehab.
Yoga & Meditative Therapy
Meditative practices are used more frequently in addiction treatment programs to relieve stress and teach healthier coping mechanisms. Yoga is a great way to get exercise while also providing meditative practices. It is beneficial in increasing muscle strength, detoxing the body, improving circulation, and relieving several drug withdrawal symptoms naturally. Meditation can aid in calming the nervous system, reducing stress, and enhancing inner peace.
Dry Infrared Sauna Therapy
Substance abuse and drug addiction can lead to a buildup of toxins in the body. Drug and alcohol detox aims to flush out these toxins. At The River Source, we enhance drug detox with an infrared sauna which can speed up the detox process by rapidly sweating out toxins. Our infrared sauna is a client favorite. It can help detox through a warming and calming effect while providing time and space to meditate and relax.
Individual Counseling
Individual therapy is a major component of addiction treatment. One-on-one counseling with certified therapies will allow you to address several emotional and behavioral aspects of your addiction. Cognitive behavioral therapy and dialectical behavioral therapy can be parts of individual therapy. These types of individual therapy aim to pinpoint negative behaviors and thought patterns connected to substance abuse and replace them with positive ones.
Group Therapy
Group therapy is supervised and guided by a skilled therapist. It is an opportunity to share experiences and emotions while providing mutual support and feedback surrounding addiction. It provides an opportunity to learn from peers who have gone through a similar experience. Group therapy is also important in addiction recovery to create long-lasting friendships that can be an integral part of your support network.
Family Education
Drug and alcohol addiction can affect everyone around you, and it is important for family members and other loved ones to be involved in your addiction recovery. Family therapy can help rebuild relationships that have been strained from substance abuse while helping everyone to improve their communication skills to effectively express their feelings and concerns. Family education can teach you and your loved ones how to better support your recovery efforts and break codependency and enabling behaviors.
12-Step Program
12-step programs like Alcoholics Anonymous and Narcotics Anonymous have been around for decades and have helped many find and maintain sobriety from substance abuse. The River Source incorporates 12-step principles into our rehab programs and encourages our graduates to continue with 12-step meetings. Support groups like these can provide accountability and help those in addiction recovery maintain active in their sobriety.
Co-Occurring Disorders / Dual Diagnosis
It is quite common for co-occurring disorders like depression anxiety and bipolar disorder to be present along with substance use disorders. Often, substance abuse is used to self-medicate negative emotions and symptoms, which only exacerbates them in the long run. Dual diagnosis uses mental health treatment to address co-occurring disorders simultaneously with substance abuse treatment to provide long-term sobriety.
Addiction Treatment for Pregnant Women
One of The River Source's specialized treatment programs is geared toward pregnant women struggling with alcohol and drug addiction. Sometimes, traditional treatment methods cannot be applied during pregnancy, and if not addressed correctly, the baby can experience dangerous withdrawal symptoms or develop drug addiction. Part of our specialized treatment program incorporates prenatal care while in addiction treatment and uses more homeopathic and holistic therapies which are safer for pregnancy.
Trauma Informed Care
We commonly see those with substance abuse issues have also dealt with trauma. Our clinicians and therapists are trauma-informed, which provides them with knowledge and training to help those in addiction treatments with traumatic pasts feel safer. Trauma-informed staff is sensitive to the fact that many addiction treatments can retrigger traumatic or painful memories and will do their best to avoid that.
Addiction Rehab for Native Americans
The River Source is sensitive to the fact that different populations may experience unique challenges which have caused the development of substance use disorders in higher numbers in those populations. Many Native Americans living on reservations may experience social isolation, poverty, and poor healthcare services, which are factors that contribute to substance abuse. Our specialized treatment program aimed at Native American clients provides specific care to address race and cultural challenges that may contribute to addiction.
Clinically Driven Treatment
There is no one-size-fits-all when it comes to addiction treatment. Every drug and alcohol addiction case is unique, and we provide personalized treatment plans to address those issues. We use evidence-based drug and alcohol rehab therapies such as dialectical behavioral therapy and dual diagnosis programming that have proven successful. We are a clinically driven treatment center, which means we adjust treatment plans according to your progress and your strengths and weaknesses. We use measurable results in treatment plans and in evolving our treatment programs.
Outcome-Based Rehab Programs
Our treatment programs are based on how we see successful outcomes in our clients. With over 20 years of experience treating drug and alcohol addiction, we have found what works best and continue molding our treatment methods on what gives us the best results. We also believe that each client is an expert in their own lives and what treatment methods they are most responsive to. Treatment plans at The River Source are adjusted according to feedback from clients and what they feel is most helpful to them.
We Use Evidence-Based Treatment With High Success Rates
There are new and cutting-edge addiction treatments and therapies coming out every day. Although we do incorporate some of those at The River Source, the bulk of your treatment program is based on measurable, evidence-based addiction recovery methods that have been proven to work. Evidence-based treatments include conventional addiction methods like dialectical behavior therapy and holistic therapies like naturopathic medicine.
Our Integrative Approach Plus Our Cost Effective & In Network Programs Are the Best Value For Treatment
The River Source uses an integrative approach of proven holistic methods and traditional addiction therapies seen in most drug rehabs across the US. Using an integrative approach allows us to address various aspects of your addiction to make the most of your time with us. By treating the person as a whole and healing the body, mind, and spirit, we can assure no part of our addiction is overseen or goes untreated.
Best In Class Medically Trained Addiction Staff
The River Source employs a multidisciplinary team of licensed and certified professionals who provide various therapies in their areas of expertise. Our medical team embodies the holistic approach that The River Source aims to embody in all parts of our treatment facility and programs. Our Director of Medical Services, Dr. Andrea Palmer, is a naturopathic doctor overseeing medical staff and ensuring a truly holistic approach to all addiction programs.
Premier In-Network Facility Offering Naturopathic Treatment Types
The River Source is a Joint Commission accredited treatment facility which is a testament to our superior quality of care. Accreditations and proper state licenses have allowed us to be in network with all major health insurance companies in the U.S. who can cover some or all your drug and alcohol rehab expenses.
Our Treatment Guarantee
We truly believe in our addiction treatment program and the ability for anyone to overcome their addiction with the right help. We offer a 100% recovery guarantee which allows you to return to treatment free of charge if you relapse within one year of completing our full continuum of care.
Recovery Friendly Attractions in Gilbert, Arizona
Part of reintegration into your day-to-day life after drug and alcohol rehab is having fun without using substances. Several activities can enhance your recovery and provide exercise, fun, and social situations. Here are some attractions near Gilbert Arizona that can keep you on your recovery journey:
Riparian Preserve at Water Ranch
Bird watching is a fun sober activity and at Riparian Preserve you can join the free Friends of Audubon Arizona Family Bird Walk every third Saturday from 8 am to 11 am. The preserve includes 200 species of spotted birds and picnic tables and bunnies.
2757 E Guadalupe Rd, Gilbert, AZ 85234
Freestone District Park
Exercise is a great, sober-friendly activity that can keep you active in your recovery and new healthy lifestyle. Freestone District Park includes volleyball, basketball, and tennis courts, as well as a skating area, three Ramadas, and picnic tables with BBQs. There is also a five-acre lake great for fishing.
1045 E Juniper Ave, Gilbert, AZ 85234
Gilberts Farmers Market
Fresh, organic produce and foods are an important part of nutritional therapy that can help improve your physical and mental health after addiction. You can enjoy food trucks, games, and handcrafted products.
222 N Ash St, Gilbert, AZ 85234
The Art House Gilbert
Creating art is a great way to reduce stress and can greatly assist your relapse prevention plan. The Art House Gilbert provides classes and events for artists in Downtown Gilbert, AZ.
36 N Gilbert Rd, Gilbert, AZ 85234
Gilbert Rotary Centennial Observatory
Located in Riparian Preserve at Gilbert's Water Ranch, you can enjoy learning and seeing the stars and planets through their 16-inch diameter telescope.
Gilbert Neighborhoods We Serve
The River Source serves residents of Gilbert, Arizona and surrounding areas, including:
Val Vista Lakes

Power Ranch

Seville

Ashland Ranch

The Islands

Finley Farms

Coronado Ranch

Lyon's Gate

Cooley Station

Agritopia

Santan Village

Adora Trails

Greenfield Lakes

Shamrock Estates

Page Commons

West Lake Estates

Layton Lakes

Chandler Heights
QUICK, CONFIDENTIAL INSURANCE VERIFICATION
CLICK BELOW TO FIND OUT IF YOU HAVE COVERAGE