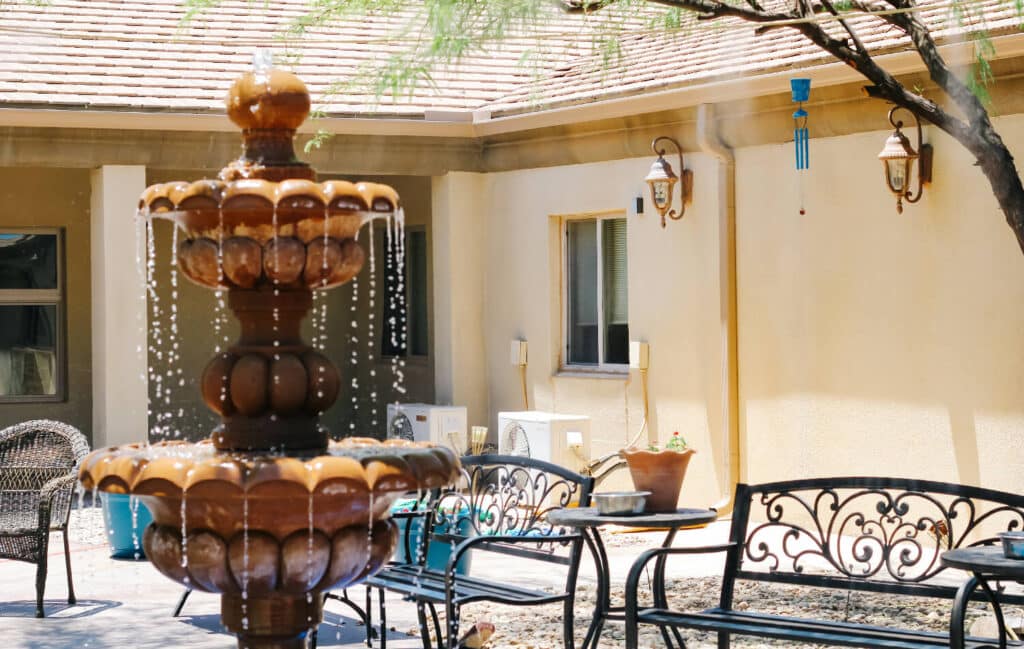 #1 Alcohol Detox Program in Gilbert
When attempting to stop drinking, your best chance for long-term sobriety begins with an alcohol detox program at a treatment center. The River Source's rehab center in Gilbert offers top-rated alcohol and drug detox programs to provide a great foundation for alcohol rehab. We are fully accredited by the Joint Commission, the gold standard in rehab centers, and offer a full continuum of care that goes beyond alcohol detox. Our facility is in a non-hospital setting, providing comfort for many with state-licensed doctors and nurses available 24/7. Every treatment plan is tailored to each client with our integrative approach, which uses a combination of conventional alcohol detox methods and naturopathic treatments. Our holistic treatments help heal the body, mind, and spirit which will ease the withdrawal process and strengthen your health so you can face the next phases of your addiction recovery journey head-on.
YOU'RE NOT ALONE – WE CAN HELP
TAKE THE FIRST STEP AND APPLY FOR TREATMENT TODAY
Why Choose The River Source Gilbert for Alcohol Detox?
Choosing The River Source gives you access to much more than the traditional treatment methods found in other rehab centers. We use holistic and naturopathic treatments such as vitamin IV therapy, massage, infrared sauna, yoga, and meditation to enhance all our addiction treatment methods. A holistic approach also means we treat you as a whole and not just as a product of your withdrawal symptoms. Alcohol detox is often necessary with severe alcohol addiction. However, even milder addictions will benefit from alcohol detox. Attempting detox alone often fails due to severe withdrawal symptoms and cravings that cause early relapse. With a sober, controlled environment and medication-assisted treatment available in a treatment facility, you can successfully detox from alcohol and drugs.
The River Source also offers a full continuum of care including residential inpatient treatment, intensive outpatient program (IOP), partial hospitalization program (PHP), outpatient treatment, and aftercare and alumni programs. Going through detox with us will allow for an easy transition into our alcohol rehab programs designed to treat addiction's behavioral, physical, and psychological aspects. Our Gilbert inpatient alcohol rehab center and addiction treatment programs have helped many overcome their alcohol addiction long-term.
Alcohol Detox in Gilbert for High Functioning Alcoholics
Alcohol use disorder does not always look as severe as you imagine. In actuality, most individuals with alcohol abuse issues continue going to work and having what seems a productive life. High-functioning alcoholics can often carry out their daily tasks including childcare, hygiene, paying bills, participating in social activities, and their work obligations. However, alcoholism is a progressive disease, and it is only a matter of time before their condition worsens and they start to lose control of everything. Getting help early on is key for successful long-term recovery.
Although their alcohol addiction is not as severe and may not exhibit dangerous withdrawal symptoms, an alcohol detox program may still be beneficial. Alcohol withdrawals can be very difficult and lonely to go through on your own. It is also likely to fail because of uncomfortable withdrawals and cravings that cause a relapse early on. The medical detox program at The River Source provides clients with the proper sober environment and medications that ease withdrawals that will help anyone stop drinking. They can then easily transition into one of our levels of care or complete our full continuum of care, including dual diagnosis treatment to treat co-occurring disorders.
Medically Supervised Alcohol Detox in Gilbert
Medically supervised alcohol detox means eliminating toxic and addictive substances from the body with the help of medical personnel. Long-term, heavy alcohol abuse can cause your body to develop a dependency on alcohol, which causes the body to go into withdrawal when the person attempts to stop drinking. Alcohol is one of the few substances that can cause life-threatening withdrawal symptoms, including seizures and delirium tremens. Medically supervised alcohol detox at The River Source can provide around-the-clock monitoring from doctors and nurses and medication-assisted treatment necessary to ensure your safety. Part of our medical detox program includes holistic therapies aimed at helping your body, mind, and spirit heal from the effects of alcohol addiction and allow your body to detox more easily.
What Is Detox Like?
Your alcohol detox program at The River Source starts with a full physical and psychological evaluation by our clinicians who will use that information to create a thorough detox plan. All our treatment plans are personalized to each client. Once you are checked into your room, our medical team will begin monitoring your vitals and ensure everything is going as planned. As symptoms begin to arise, they can administer medications such as benzodiazepines to avoid seizures, anti-nausea and anti-diarrhea medications, antipsychotics to help with hallucinations, and other FDA-approved medications to ease withdrawal and cravings. You will also receive individual therapy and group therapy, which can support you emotionally and psychologically. Naturopathic doctors will also recommend various holistic treatments, including infrared sauna, massage, oral or IV vitamin therapy, yoga, and meditation as part of your detox program.
How Long Does Detox Last?
Alcohol detox will last differently for each person. Most people can expect to detox for between 5 to 10 days. Several factors will affect the length of alcohol detox including the severity and longevity of alcohol addiction, as well as your overall health and any polysubstance use. Withdrawal symptoms typically arise within 6 to 12 hours after your last drink, including insomnia, anxiety, tremors, nausea, vomiting, diarrhea, and increased heart rate. 24 to 48 hours into detox, people will begin to experience hallucinations and seizures. Symptoms will peak two or three days in, and you can expect to start feeling better. As you start experiencing these symptoms, physicians can begin administering medications that will ease and even eliminate withdrawal symptoms completely. Occasionally, individuals will experience mild, lingering withdrawal symptoms for weeks or months later, but they can be managed with medication as well.
What Happens After Detox?
Detox is just the beginning of addiction recovery. Alcohol rehab is necessary to treat various aspects of addiction and teach new coping skills and tools to help you continue your sobriety out in the real world. The River Source offers all levels of care to fit any person's addiction and personal needs. Clients who have found the most long-term success in their recovery completed our full continuum of care. This step-down program takes you through an intensive and immersive inpatient residential treatment program through Gilbert outpatient alcohol rehab that support you as you transition back to daily life. You also have access to our lifetime Alumni program which provides much-needed motivation, support, and accountability to continue actively working on your sobriety.
Top Rated Alcohol Detox Treatment in Gilbert
The River Source is a top-rated alcohol and drug detox treatment center in Gilbert, Arizona. We are Joint Commission certified and are in-network with all major health insurance companies. Addiction treatment plans are personalized with a variety of evidence base, holistic treatments including cognitive behavioral therapy, dialectical behavioral therapy, dual diagnosis programming, 12-step programs, group therapy, family therapy, and medication-assisted treatment. Our high success rate is partly because of our holistic approach to treatment. We aim to look at the person as a whole and not just the alcohol addiction symptoms they present today to address and heal underlying root causes.
Gilbert Alcohol Detox
Alcohol detox in Gilbert, Arizona is the best option to help with the initial steps when stopping drinking. The River Source's non-clinical setting, compassionate staff, and effective addiction and alcohol detox treatments have helped many throughout Arizona get the needed help and maintain long-term sobriety. Safely detoxing with medically assisted care at The River Source will give you and your loved one's peace of mind you are well taken care of. Alcohol detox programs can lay the foundation for a successful alcohol addiction recovery.
Our Recovery Guarantee
Choosing The River Source for your alcohol detox needs may lead you to take advantage of our full continuum of care to ensure you maintain a lifetime of sobriety. Our full continuum of care will take you through several levels of care aimed at treating underlying causes of alcohol addiction, breaking negative behaviors, teaching new habits and coping skills, and healing the body, mind, and spirit. With decades of experience and an outcomes-driven approach, we have created an addiction treatment program that can help anyone overcome an alcohol or drug addiction. If you put in the work, you will achieve addiction recovery.
We want you to be as confident in yourself that you can achieve addiction recovery as we are. Our 100% recovery guarantee allows you to return to treatment within 1 year if you relapse after completing our full continuum of care. You can trust in the program, in your ability to beat addiction, and in the investment in your future.
If you would like to learn more about our recovery guarantee, and our alcohol and drug detox program, or would like to start the admissions process, please do not hesitate to contact us today.
QUICK, CONFIDENTIAL INSURANCE VERIFICATION
CLICK BELOW TO FIND OUT IF YOU HAVE COVERAGE