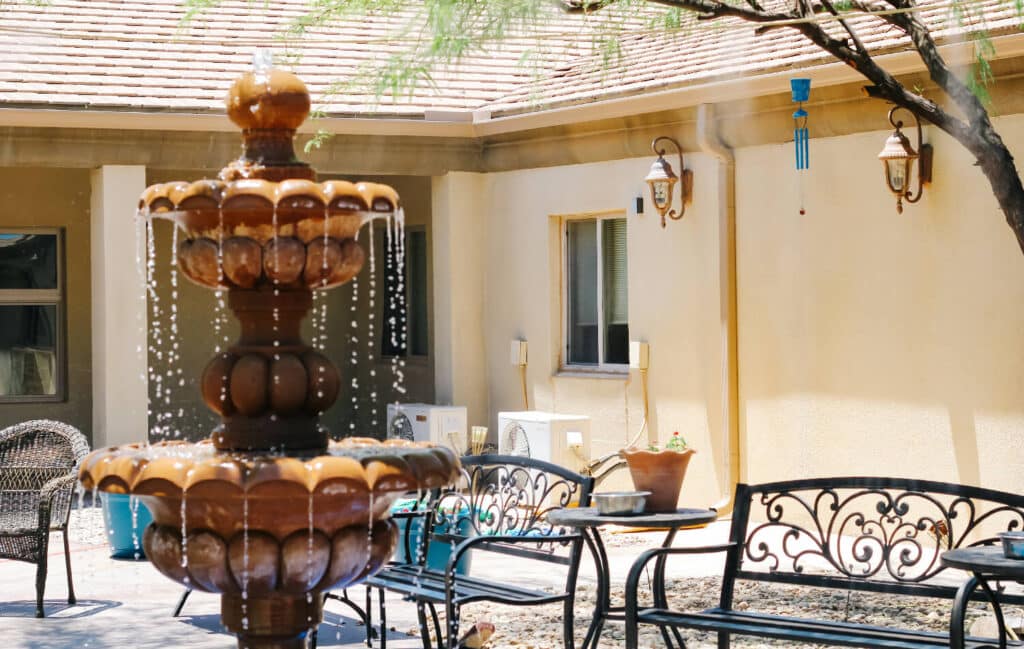 #1 Alcohol Rehab in Gilbert
There are varying levels of severity when it comes to alcohol use disorders. Alcohol addiction happens slowly and realizing early on that you need substance abuse treatment can greatly increase your chances of long-term recovery. Early intervention also requires less intensive treatment. The River Source is your answer when looking for the best alcohol and drug rehab center in Gilbert, Arizona. We offer comprehensive treatment programs and all levels of care to fit any person's addiction recovery needs. Our effective step-down program will take you through a full continuum of care which is the most effective addiction treatment program. By going through varying intensities in addiction treatment, you can address all aspects of your addiction and slowly reintegrate back into your day-to-day life with enough support from our rehab center. We also use an integrative, holistic treatment approach to treat the person as a whole, healing the body, mind, and spirit.
YOU'RE NOT ALONE – WE CAN HELP
TAKE THE FIRST STEP AND APPLY FOR TREATMENT TODAY
Why Choose The River Source Gilbert for Alcohol Rehab?
The River Source has a high rate of success in alcohol and drug addiction recovery. We attribute that to our full continuum of care and holistic approach. With over 20 years of experience, we have built a recovery program that works for all types of alcohol addiction and has helped many clients achieve long-term sobriety. Individualized treatment plans will heal each client's specific issues relating to their alcohol use disorder. Our full continuum of care includes alcohol detox, residential inpatient treatment, intensive outpatient program (IOP), partial hospitalization program (PHP), outpatient treatment, and aftercare and alumni programs. We use an outcomes-based addiction program that is designed to your specific addiction recovery goals and adjusted to your progress and response to treatment.
Alcohol Rehab in Gilbert for High Functioning Alcoholics
Society views alcoholics as someone show has hit rock bottom, cannot hold a job, and whose life is basically in shambles because of their drinking. However, most individuals with alcohol use disorder are productive and employed members of society. These people are referred to as high-functioning alcoholics and are actually in earlier stages of alcohol addiction. Even though they can keep up with the demands of their personal life and work, alcohol addiction is a progressive disease, and it is only a matter of time before everything starts to fall apart. The River Source has a full continuum of care and can meet anyone, anywhere they are in their addiction. Our alcohol rehabilitation program can provide less intense forms of treatment through outpatient treatment which can allow you to continue going to work or school while you recover. We use dual diagnosis programs for those with alcohol abuse disorder and co-occurring disorders to address both issues simultaneously.
Private Alcohol Treatment Program in Gilbert
There are several options available when it comes to alcohol addiction treatment. While there are state-run rehab centers, private rehabs offer more comfort and privacy. A private alcohol treatment program, also known as exclusive, celebrity, or executive rehab, are private alcohol and drug rehabilitation center with remote settings. They tend to offer more comfortable accommodations in a non-hospital setting with luxury amenities that can provide a feeling of home or a vacation resort. Private alcohol rehabilitation provides effective, evidence-based treatments and is often covered by health insurance. The River Source in Gilbert, Arizona is a private alcohol and drug rehab center with an integrative treatment approach. Our alcohol addiction treatment programs go beyond effective conventional treatment methods to include holistic and naturopathic therapies and treatments.
Inpatient Medically Supervised Alcohol Rehab in Gilbert
Alcohol addiction is one of the few substances that can have dangerous and life-threatening withdrawal symptoms when attempting to stop drinking. Those with severe alcohol use disorder are more likely to experience dangerous withdrawal symptoms like seizures, respiratory distress, and delirium tremens and require medically supervised alcohol rehabilitation.
The River Source provides 24/7 medical supervision from highly skilled doctors and nurses for our inpatient rehab clients, especially during alcohol detox. Withdrawal symptoms, including life-threatening ones, can be effectively managed through medication-assisted treatment and holistic therapies. Our medical staff will monitor your vitals around the clock and provide medication-assisted treatment to ease your alcohol withdrawals and ensure your safety. You also have access to holistic treatments such as vitamin IV therapy, massage therapy, and infrared sauna which can help the body detox more easily and ease some symptoms naturally.
How Long Is the Program in Gilbert?
Every person's alcohol use disorder is unique and depending on several factors, will determine how long their alcohol rehabilitation program will be. There is no exact timeline for how long alcohol rehab will be. Generally, more chronic or severe alcohol use disorders will require long-term addiction recovery. Most alcohol and drug addiction programs are available in 30 days, 60 days, or 90-day programs. However, it can be longer depending on the person. When starting alcohol addiction recovery, it is prudent to begin an alcohol detox. This treatment phase lasts between 3 to 10 days but will allow you to safely go through alcohol withdrawals and enter rehab with a clear mind.
Inpatient treatment usually lasts about 30 to 90 days or even longer. Our partial hospitalization program (PHP) and intensive outpatient treatment (IOP) is a great option for those with milder addictions or who cannot leave work, home, or school obligations for an extended period. Outpatient rehab can last from 1 to 3 months as well, however aftercare programs can go on for several months as you transition back into your day-to-day life. It is important to note that alcohol addiction is a chronic disorder and requires a lifetime of management and relapse prevention to maintain sobriety. Our alumni program can help you maintain active recovery efforts and provide accountability.
30-Day Alcohol Rehab in Gilbert
Short-term rehab, or alcohol rehabilitation that lasts 30 days or less, is a beneficial starting point for many. For those who are in the early stages of alcohol addiction, 30-day rehab may be the right fit. Short-term rehab programs tend to be intensive, trying to get as many addiction treatment sessions as possible in a short period of time. It provides an adequate environment away from drugs and alcohol and negative influences or triggers to help individuals refocus their minds on their addiction recovery. All our alcohol treatment programs at The River Source have access to many of the same addiction treatments including cognitive behavioral therapy, dialectical behavioral therapy, family therapy, group therapy, 12step programs, and holistic treatments. This is also a more affordable option or for those who cannot commit to a longer stay. It is important to continue with the full continuum of care once completing this phase.
60-Day Alcohol Rehab in Gilbert
Similar to a 30-day rehab, 60-day rehab allows more time to complete several addiction therapies aimed at breaking negative behavioral patterns and learning new coping skills. It also gives you more time in a stable, sober environment if needed. Just as with other inpatient programs, 60-day rehab should be followed up with outpatient programs and aftercare programs as part of our full continuum of care to help you through several phases of your recovery.
90-Day Alcohol Rehab in Gilbert
Severe alcohol addiction requires a minimum of 90 days in rehab to effectively recover from addiction. Long-term programs like these can provide enough addiction therapy and dual diagnosis treatment to heal co-occurring disorders, break bad habits, retrain the mind, and include several other services like life skills and vocational training to help clients successfully live independently without the use of drugs or alcohol. Long-term programs need continued care through alumni programs and aftercare programs to help you transition back to daily life.
Men's Inpatient Alcohol Rehab
The River Source provides separate housing for women and men, which helps clients be more successful through their recovery efforts. Men's inpatient rehab allows men to express their emotions and be more vulnerable with one another. It allows us to address unique psychological, biological, familial, and social aspects of addiction men face. Separate gender-based housing helps both sexes feel safer and with fewer distractions.
Women's Inpatient Alcohol Rehab
Our women's residential inpatient treatment facility offers a safe environment to focus and heal. Many women struggle with mental health issues brought on by domestic abuse or sexual trauma, which those of the opposite sex can retrigger. Inpatient rehab for women allows our clients to express their emotions and stories freely with others who understand their specific struggles. It also offers an opportunity to form better bonds with one another.
Our Recovery Guarantee
The Gilbert holistic rehab center has created treatment programs that can help anyone overcome their alcohol addiction as long as they put the work in. We offer a 100% Recovery Guarantee that allows you to come back free of charge if you relapse within one year of completing our full continuum of care. With this guarantee, you can trust your time and money invested in alcohol rehabilitation is well spent.
QUICK, CONFIDENTIAL INSURANCE VERIFICATION
CLICK BELOW TO FIND OUT IF YOU HAVE COVERAGE