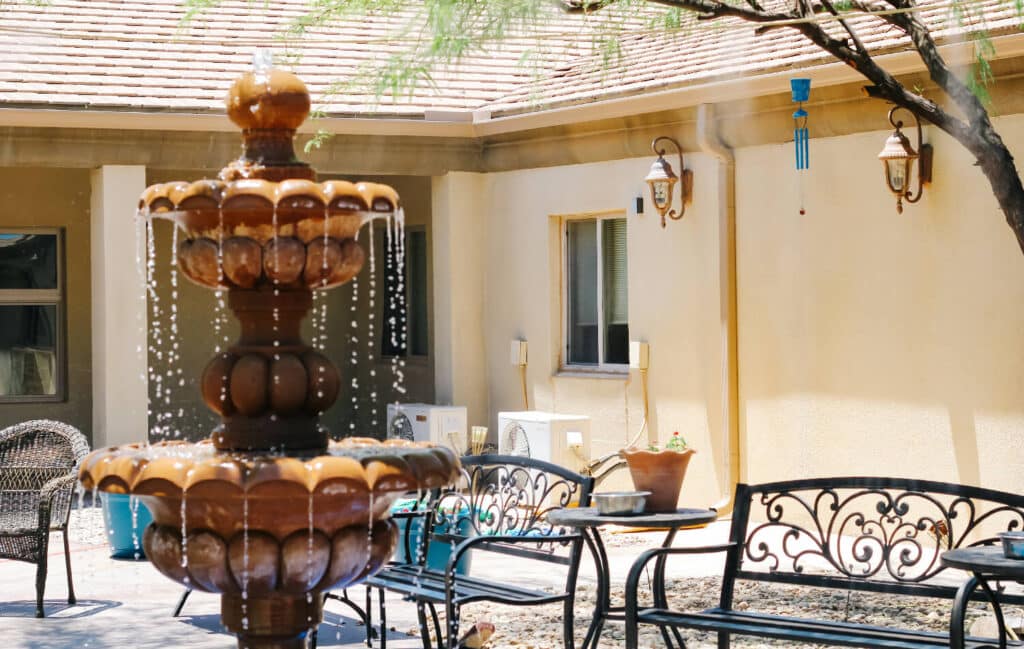 #1 Cocaine Detox-Rehab in Gilbert
Although physical dependence on cocaine differs from other substance addictions and withdrawal symptoms are not as severe, psychological and mental aspects of cocaine withdrawal can cause several complications when attempting to stop on your own. Cocaine addiction requires comprehensive behavioral health treatment programs to overcome long-term. The River Source in Gilbert Arizona provides holistic substance abuse treatment programs that will address the physical, psychological, and emotional aspects of addiction.
Your treatment program may begin with medical detox to help you overcome the physical aspects of cocaine addiction in a safe, monitored environment. You can then easily transition into one of our drug rehab programs including residential inpatient treatment, partial hospitalization program (PHP, intensive outpatient treatment (IOP), or outpatient treatment. We are a Joint Commission accredited treatment facility and in-network with all major insurance companies. Plus we offer a recovery guarantee that you can return to our treatment center at no extra cost if you relapse within one year of completing the full continuum of care.
YOU'RE NOT ALONE – WE CAN HELP
TAKE THE FIRST STEP AND APPLY FOR TREATMENT TODAY
Why Choose The River Source in Arizona for Cocaine Detox & Drug Rehab?
The River Source prides itself on having a higher success rate than the national average, which we attribute to an integrative treatment approach and a full continuum of care. We provide personalized treatment plans targeting the areas of your body, mind, and spirit that cocaine addiction has affected. The River Source in Gilbert, AZ has designed a step-down treatment model to take you through intensive addiction treatment to heal all aspects of your drug addiction and into flexible treatment programs that will help you readjust back into day-to-day life with enough support from clinicians and peers. Cocaine addiction can be difficult to overcome. However, when you put the work into our full continuum of care, addiction recovery is inevitable.
First Class Amenities
Although we do not like to call ourselves a luxury rehab, The River Source residential inpatient treatment accommodations provide a comfortable and nurturing environment. We focus on providing treatment programs to help you achieve long-term sobriety. However, we do understand that going through rehab in a non-hospital setting with supportive amenities is also useful for your addiction recovery.
Some residential amenities you can expect include a spacious bedroom with high-quality mattresses and fresh linens, private bathrooms, secure storage areas, washers and dryers, relaxing common areas with TVs, spacious outdoor areas, and freshly prepared meals onsite. We also provide you with exercise and recreational activities such as yoga and exercise classes, a sand volleyball court, a frisbee golf course, and a ¼-mile outdoor track. Nutritious, well-balanced meals are also prepared on-site by an in-house chef team to support your body in healing itself.
What Is Detox Like?
Upon admission at The River Source, you will receive a full physical and psychological evaluation to determine your drug detox needs. Once you are checked into your room, our team of doctors and nurses will monitor your vitals around the clock and administer medication-assisted treatment and other detox treatments to help ease cocaine withdrawals. Addiction counselors can also support you emotionally and mentally through drug and alcohol detox. Although cocaine withdrawals can come with symptoms like depression, anxiety, fatigue, paranoia, insomnia, and irritability, a medical detox program can provide you with medications to ease certain symptoms. Drug detox programs also provide the drug-free environment often needed to get through the most intense parts of cocaine cravings and prevent early relapse.
How Long Does Detox Last?
Cocaine withdrawals will start within 8 to 12 hours after last use and peak at about the 2nd or 3rd day, after which withdrawal symptoms will begin to fade. Most people complete cocaine detox between 5 to 10 days. The length and severity of withdrawal symptoms from cocaine addiction depend on several factors, including the length and severity of your addiction and your overall health. Sometimes, those with cocaine addiction can continue to have persistent withdrawal symptoms in the form of mental health issues such as anxiety or depression. These lingering withdrawal symptoms are referred to as post-acute withdrawal syndrome (PAWS) and can be managed through psychotherapy, medication-assisted treatment, and lifestyle changes like exercise and nutrition.
What Happens After Detox?
Cocaine detox is only the first step in the recovery process and only addresses the physical aspects of addiction. During medical detox, you will often begin behavioral health treatment that aims to address the emotional, psychological, and behavioral aspects of addiction which will help to uncover and treat underlying issues contributing to your addiction. Cocaine drug rehab after medical detox will help to continue working on these issues so you can achieve long-term recovery.
Our integrative approach at The River Source in Gilbert Arizona will incorporate traditional addiction treatment methods with holistic ones to treat the body, mind, and spirit. Some of the conventional treatment therapies we use include cognitive behavioral therapy, dialectical behavioral therapy, group therapy, family therapy, life skill training, vocational skill training, 12-step programming, and relapse prevention planning. Some of our naturopathic therapies include vitamin IV therapy, massage therapy, amino acid therapy, yoga and meditation, and a dry infrared sauna.
How Long Does Cocaine Rehab Last?
We provide all levels of care at The River Source and encourage all clients to complete a full continuum of care. Our top addiction treatment center and programs are available in several lengths, and which one is right for you depends on several factors including length and severing of addiction, motivation, and if there are any co-occurring disorders present. Our treatment programs partly rely on outcomes-based treatment and will adjust treatment plans, including length, to how you respond to treatment. Most individuals complete their treatment programs in either 30-day, 60-day, or 90-day programs, but these can all be extended as needed.
30-Day Cocaine Rehab in Gilbert
Our short-term rehab, or drug rehab lasting 30 days or less, is the best fit for those with milder cocaine addiction. Treatment programs can be made up of both inpatient and outpatient treatment. Residential inpatient treatment is a great way to commit to a drug-free environment where you can focus on your recovery efforts and ensure you do not relapse early on when you are most vulnerable. 30-day programs are intensive and a good fit for those who must keep continuously busy to stay engaged. Partial hospitalization programs are similar to inpatient treatment in the number of addiction therapies. However, you would be able to live at home. This option is a better fit for those who are highly motivated in their addiction recovery and live in a drug-free, supportive home or sober living facility. Addiction treatment should always be followed with outpatient treatment and aftercare programs to keep you active in recovery efforts and to help you transition back to day-to-day life with enough support.
60-Day Cocaine Rehab in Gilbert
60-day drug rehab programs are similar to short-term but provide more time to complete addiction therapies and to break negative behaviors and thought patterns associated with drug and alcohol addiction. This is a better option for those with milder addictions and also co-occurring disorders. Dual diagnosis treatments at The River Source can help address co-occurring disorders with substance abuse treatment to help with long-term recovery. A longer treatment program will also allow our clinicians to work with you further on coping skills and life skills which are essential parts of your relapse prevention plan.
90-Day Cocaine Rehab in Gilbert
For severe cocaine addictions, 90-day drug rehab is the minimum amount of time to recover successfully. The behavioral and psychological hold cocaine addiction can have on a person can be difficult to break, but it is possible with time, work, and the right program. The River Source's naturopathic treatment approach can help address all aspects of cocaine addiction and heal underlying issues, including trauma. Our dual diagnosis program can treat co-occurring disorders such as anxiety and depression which are often present with substance abuse. 90-day rehabs will also allow us enough time to work with you on your coping skills, vocational skills, and life skills training to help you successfully live independently without using drugs or alcohol.
The River Source's high success rate can be attributed to our personalized, holistic approach to drug addiction. Our rehab centers in Gilbert Arizona include the full continuum of care available at our other treatment centers, from medical detox, to inpatient treatment and outpatient programs. We are a Joint Commission accredited treatment facility and are in-network with most major insurance companies.
With our 100% Recovery Guarantee, you can trust The River Source's integrative treatment program will be worth the investment in yourself. Our treatment programs are designed to help anyone overcome drug and alcohol addiction; recovery is inevitable if you put the work in. We allow you to return to treatment if you relapse within one year of completing the full continuum of care. If you or your loved ones are struggling with cocaine addiction, please do not hesitate to call us and learn more about how holistic addiction treatment can give you the life you always envisioned.
QUICK, CONFIDENTIAL INSURANCE VERIFICATION
CLICK BELOW TO FIND OUT IF YOU HAVE COVERAGE