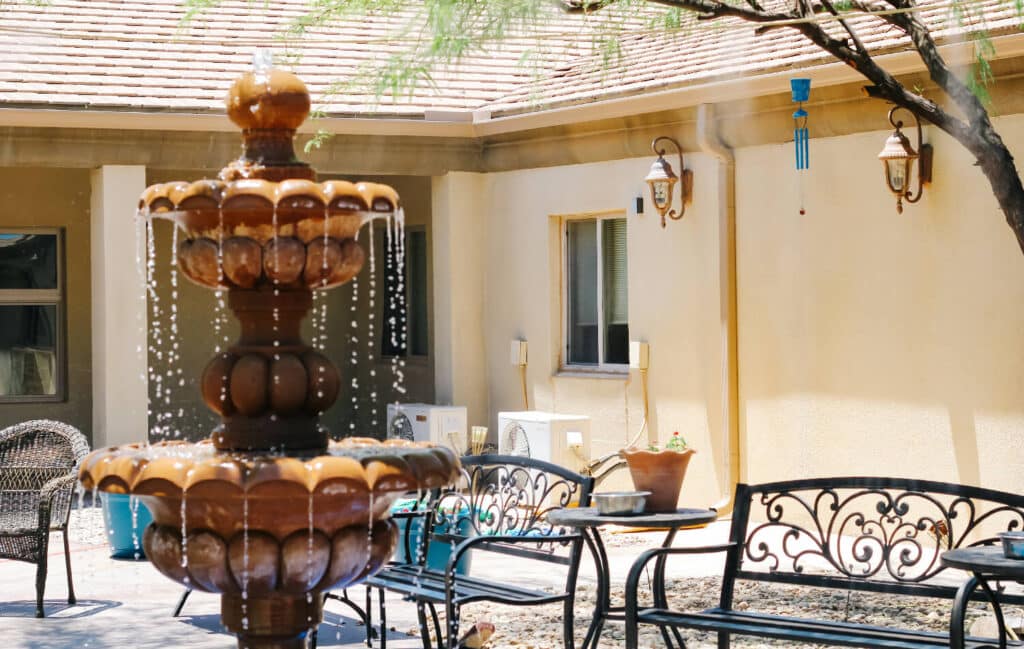 The River Source is a network of comprehensive rehab centers with locations throughout Arizona. Our treatment facility near Gilbert, Arizona provides all levels of care including residential inpatient treatment, intensive outpatient program (IOP), partial hospitalization program (PHP), and outpatient treatment. We offer the best drug and alcohol rehab programs through our clinically driven, evidence-based treatment with a holistic approach in Gilbert, AZ. Our naturopathic and integrative approach sets us apart from other rehab centers. Treatment plans are personalized to every client to address the effects of drug addiction on the body, mind, and spirit for true holistic healing. The River Source is a Joint Commission Accredited treatment facility and in-network with all major insurance companies. We also provide a recovery guarantee allowing you to return at no extra cost if you relapse within a year.
YOU'RE NOT ALONE – WE CAN HELP
TAKE THE FIRST STEP AND APPLY FOR TREATMENT TODAY
Types of Drug Addictions We Treat
At The River Source, we offer a full continuum of care that allows us to treat a wide range of addictions and meet anyone anywhere they are in their recovery. Our treatment programs include several levels of care including medical detox and inpatient and outpatient treatment. We provide access to various types of addiction therapy and highly skilled staff to treat addictions such as:
Alcohol addiction

Opioid addiction

Heroin addiction

Prescription drug addiction

Benzodiazepine addiction

Cocaine addiction

Marijuana addiction

Methadone addiction

Psychedelics addiction
Heroin Rehab in Gilbert
Heroin is a street drug that is highly addictive. Many individuals become addicted to heroin within a few uses, and it can quickly take over all aspects of their health and lives. Heroin addiction is often complex and requires a robust treatment program to overcome. The River Source's drug rehab programs can help anyone, no matter how severe their heroin addiction, when they complete our full continuum of care. Heroin withdrawal symptoms and cravings are intense and usually require a medical detox to successfully control. After completing drug detox, inpatient residential treatment is usually recommended for severe addictions like those with heroin, followed by outpatient treatment and aftercare programs.
Cocaine Rehab in Gilbert
Many cocaine users start off using it recreationally without realizing how quickly cocaine dependence can take hold of a person. Cocaine addiction can affect the person both psychologically and physically requiring comprehensive treatment programs to recover from. The River Source's full continuum of care drug rehab programs can help free you from cocaine addiction. Addiction treatment programs may start with drug detox to help you eliminate any outside influences or temptations while easing cravings and withdrawal symptoms which usually cause relapse early on. Following with drug rehab will help you eliminate behavioral and psychological aspects of your addiction through several evidence-based addiction treatments such as cognitive behavioral therapy, dual diagnosis treatment, group therapy, and family education.
Oxy Rehab in Gilbert
Prescription opioid painkillers, like oxycodone, can be just addictive as heroin and cause physical dependence quickly, even when taken as directed. Some people may be vulnerable to addiction due to several factors, including genetics, which is why some people become addicted to pain killers while others do not. Our addiction treatment programs at The River Source in Arizona will help uncover and treat the underlying causes of addiction through our holistic, integrative approach. Our clinicians aim to understand and treat you as a whole, and not just your addiction. Oxy rehab may consist of several levels of care, including medical detox, inpatient treatment, intensive outpatient treatment, partial hospitalization program, and aftercare programs.
Meth Rehab in Gilbert
The Southwestern U.S. has been a hotspot for the meth epidemic since the early 2000s. Methamphetamine addiction can happen within just one use and cause long-term health effects which can be life-threatening. Getting meth addiction treatment as soon as possible through our comprehensive treatment program at The River Source is key for long-term recovery. Starting with drug detox and continuing through all levels of care will help anyone achieve addiction recovery. Dual diagnosis programs are often necessary when treating addiction to methamphetamines because of their severe mental health effects, such as psychosis, anxiety disorders, and depressive disorders. Our treatment programs include family therapy which can help you repair relationships with loved ones who were affected by your drug addiction and help them understand how to better support you in your recovery efforts.
Benzo Rehab in Gilbert
Benzodiazepines are some of the most frequently prescribed anti-anxiety medications. Many people assume they are safe to use as they like because a doctor prescribes them. However, benzos can quickly alter brain chemistry and cause physical dependence. Others willingly abuse benzos by mixing them with alcohol or other depressants to enhance their effects. Benzo dependency causes extreme withdrawal symptoms when attempting to stop, including seizures. Our medical detox program at the River Source can help you safely and comfortably stop using benzodiazepines. Whether you have psychological or just physical addiction, our dual diagnosis program can help treat underlying anxiety disorders, which will help you control your symptoms without using medication.
Prescription Drug Rehab in Gilbert
Often, people assume that drug addiction only happens to those who use illicit drugs; however, many prescription medications can cause physical and psychological dependency. Prescription drugs like anti-anxiety medications, opioid painkillers, stimulants like Adderall, antidepressants, and sleep medications can all cause physical dependence which may require professional help. Our prescription drug rehab uses medical detox, behavioral therapy, holistic therapy, and other approaches to treat underlying causes of prescription use to help you stop using medications and heal your issues, so you do not need those medications anymore.
Top Rated Addiction Treatment in Gilbert
At The River Source, our priority when creating your personalized treatment is understanding you, your addiction, and your needs. When you enter drug and alcohol rehab near Gilbert, we will conduct a thorough evaluation of your substance abuse and medical history to create a treatment plan that will provide long-term addiction recovery. Treatment programs are composed of various holistic, evidence-based therapies aimed at treating the underlying causes of addiction. By using naturopathic medicine, we focus on treating you as a whole and not just the symptoms you are experiencing. Apart from traditional addiction treatment methods like cognitive behavioral therapy, dialectical behavioral therapy, and group therapy found in other rehab centers, we also integrate several holistic treatments including yoga, vitamin IV therapy, and massage to help your body heal from the effects of drug and alcohol addiction.
Gilbert Drug Rehab Success Rates
Drug rehab success is often measured in the number of people who relapse after treatment. However, drug addiction is just like any other disorder, and there will be times of relapse. The River Source is one of the most successful rehabs due to our integrative approach of using conventional treatment methods with holistic therapies. We also encourage our clients to stick to our full continuum of care program and to use our various aftercare and alumni services so they can maintain active in their sobriety efforts. The treatment success rate is related to the time and works you put into it during your drug rehab program and after.
Why Choose The River Source Gilbert for Addiction Treatment?
Choosing The River Source for your drug and alcohol addiction recovery gives you the best chance at long-term sobriety. Our holistic approach to addiction recovery will treat every aspect of your health that drug addiction has affected. Drug rehab is not a one-size-fits-all approach. Personalized treatment plans like ours are the key to addiction treatment programs that work. We also adjust your treatment plan based on how you progress and which addiction treatments you respond best to. The River Source in Gilbert AZ has designed a step-down treatment model that will take you through intensive treatment to break deep seeded behaviors and heal underlying issues through a more flexible plan to help you readjust your life to sobriety with enough support from our clinicians and resources.
Our higher success rates show that a personalized, holistic approach to addiction recovery works. You can trust that The River Source's integrative treatment approach will be a valuable investment in yourself. Our fully accredited, in-network treatment facility in Gilbert, Arizona has helped our clients achieve long-term recovery through our full continuum of care. You can access all your addiction treatment needs, from detox and Gilbert inpatient drug center to several outpatient treatment options and a lifetime alumni program. The River Source will walk the entire road of recovery with you and be the support you need when recovery becomes difficult.
Our Recovery Guarantee
At The River Source, we are so confident in your ability to overcome drug and alcohol addiction with the right rehab program, we offer a full recovery guarantee. All our treatment plans are unique and designed for your own personal case. Our guarantee allows you to return to The River Source for free if you relapse within one year of completing our full continuum of care. Our high success rate is built on years of experience that has allowed us to create a treatment program from beginning to end that works. If you put the work into your specially designed treatment program, your recovery will be inevitable.
QUICK, CONFIDENTIAL INSURANCE VERIFICATION
CLICK BELOW TO FIND OUT IF YOU HAVE COVERAGE