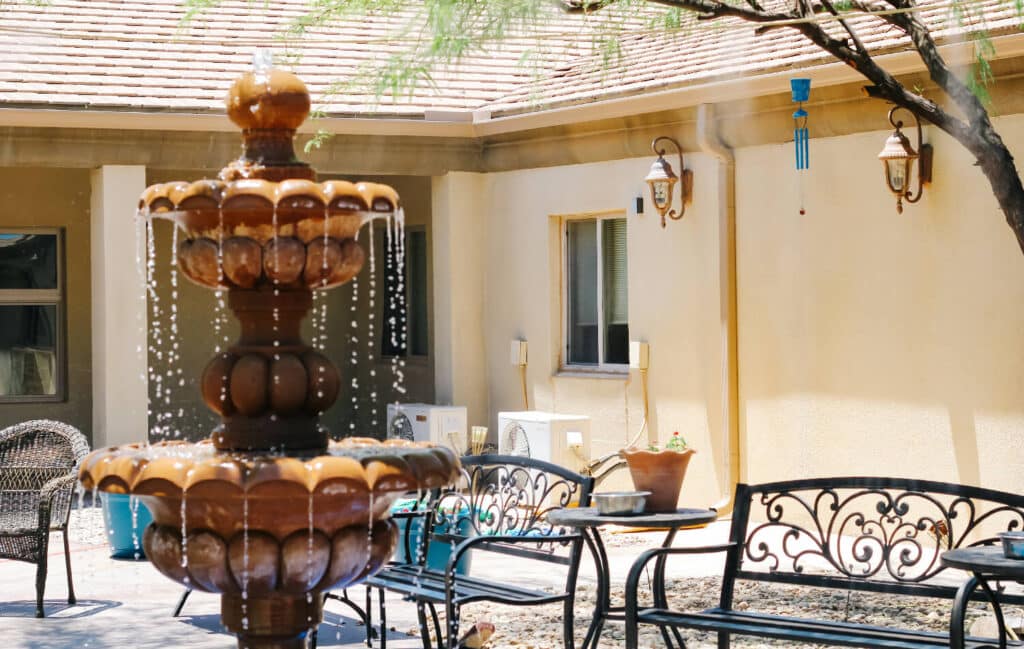 #1 Inpatient-Residential Alcohol Rehab in Gilbert
When you feel like your drinking has taken over your life and you can no longer control it it, it can feel overwhelming to look for help. With the amount of alcohol addiction treatment centers in Arizona promising cures for alcohol use disorder, you are right that it sounds too good to be true. When it comes to severe alcohol addiction, the best treatment programs offer comprehensive inpatient residential treatment with evidence-based treatments and require you to do the work.
The River Source in Gilbert Arizona is a top-rated rehab center with a holistic approach to treatment that will treat you as a whole and not just the alcohol addiction symptoms you exhibit. As a Joint Commission accredited treatment facility, you can trust that you will be receiving the best addiction treatment possible. Our clinically driven treatment programs will tailor your treatment plan to your personal and addiction needs. We provide all levels of care, allowing you to get the support you need through each stage of addiction recovery. The River Source is also in-network with all major insurance companies which may be able to pay for all or part of your addiction recovery treatment.
YOU'RE NOT ALONE – WE CAN HELP
TAKE THE FIRST STEP AND APPLY FOR TREATMENT TODAY
Why Choose The River Source Gilbert for Residential Alcohol Rehab?
The River Source does not offer you a miracle cure. We offer you a full continuum of care program designed to help you recover from alcohol addiction when you put in the work. Through our individualized treatment plans composed of evidence-based treatments and holistic therapies, we will help uncover the underlying issues of your alcohol use disorder and provide you with the right tools to continue your successful addiction recovery way after your recovery program has concluded.
Through our full continuum of care, you can go through intensive, medically supervised treatment in medical detox through an immersive experience in inpatient alcohol rehab, continue your treatment program as you transition back to day-to-day life in outpatient treatment, and slowly taper down through aftercare and alumni programs. We want every patient to succeed in long-term recovery and will give you the type of program to help you achieve that. When you complete our full continuum of care, you will qualify for our addiction recovery guarantee which allows you to return to addiction treatment free of charge if you relapse within one year of completing the program.
When you choose Gilbert prescription drug rehab center, you are choosing the best alcohol addiction treatment available in a non-hospital setting with enough comfort. We provide specialized treatment for certain groups including Native Americans and women specifically. We must get to know you and build a treatment plan based on the needs that will work for you.
How Long Is Rehab?
Every person's alcohol addiction recovery journey will be unique. Our treatment programs are designed to fit your needs and help you achieve long-term recovery. This will makes every patient's rehab length different. Our treatment programs will be long enough to fit all the addiction therapies and skill-building you need to succeed years after completing your addiction recovery program. Several factors will determine the length of your recovery program including the length of your alcohol addiction, the severity of alcohol abuse, and if you are dealing with any co-occurring disorders that require dual diagnosis treatment. The most common inpatient alcohol rehab lengths are 30 days, 60 days, and 90 days, which can always be extended if needed.
30-Day Inpatient Alcohol Rehab in Gilbert
Rehab that lasts 30 days or less, or short-term rehab, is designed to fit the needs of those with milder addictions. It provides the environment needed to separate yourself from triggers, stressors, people, and places that might get in the way of your addiction recovery. This fully immersive inpatient treatment program will have you staying at the treatment facility for the remainder of the treatment program. Your days will be highly structured around your addiction therapies and surrounded by supportive staff and peers. Short-term rehab will be intensive because we will try to fit as many addiction treatment therapies as possible into the 30 days. Following up short-term rehab with an extended outpatient alcohol inpatient rehab program is important to continue working on underlying issues and your relapse prevention strategies.
60-Day Inpatient Alcohol Rehab in Gilbert
60-day alcohol rehab is similar to a 30-day rehab but will allow you more time to complete addiction therapies in a controlled, alcohol-free environment. 60 days will provide more time to break behaviors contributing to your addiction and learn better-coping skills for dealing with your triggers. This program length is ideal for those suffering from milder addictions and co-occurring disorders and needing help from our dual diagnosis program. As with short-term rehab, it is important to continue treatment through intensive outpatient or partial hospitalization programs.
90-Day Inpatient Alcohol Rehab in Gilbert
90 days is the minimum amount of time needed to treat severe alcohol use disorder. Three months is what is needed at a minimum to break deep, set in behaviors, and replace them with healthy coping skills. Our long-term rehab at The River Source provides us with enough time to treat any co-occurring disorders and integrate teaching coping skills, life skills, and vocational skills so you can successfully leave independently upon completing your addiction treatment. Outpatient treatment should follow inpatient rehab as a way to help you transition back into the real world with enough support from clinicians and peers. Aftercare and alumni programs can also help you continue working on your sobriety long-term.
Alcohol Rehab for High-Functioning Alcoholics in Gilbert
High-functioning alcoholics are more common than you think and they require a specific type of treatment for their disorder. Even though you continue to take care of work, home, and school obligations but are struggling with controlling your drinking habits, addiction treatment is necessary. Alcohol use disorders only get worse with time. At The River Source, we personalize treatment plans for high-functioning alcoholics. Usually, their addiction is milder and requires less intensive forms of treatment or short-term rehab. Our programs will still include our holistic treatment approach and dual diagnosis treatment to address co-occurring disorders contributing to your alcoholism.
Alcohol Rehab in Gilbert
Alcohol rehab in Gilbert will consist of various types of addiction therapies and services tailored to address your unique alcohol use disorder needs. At The River Source, our integrative approach to addiction treatment will include traditional treatment methods like cognitive behavioral therapy, dialectical behavioral therapy, group therapy, and family therapy with holistic treatments like vitamin IV therapy, yoga, massage, and infrared sauna, which help your body, mind, and spirit heal from the effects of addiction.
Our treatment facility is in a non-hospital setting, and although we place more emphasis on providing effective substance abuse treatments, we still want to provide comfortable living spaces to ease your stress during addiction recovery. Your inpatient rehab program will also help address any other areas in your life you need help with such as vocation skill training and life skills training which will allow you to live successfully on your own. We also strongly emphasize relapse prevention planning to help you have the right tools to face your addiction triggers head-on but also have a plan for when life gets difficult.
Top-Rated Inpatient Alcohol Addiction Treatment Program in Gilbert
Our alcohol abuse treatment programs have a higher success rate than the national average and we attribute that to our comprehensive alcohol addiction treatment built around the full continuum of care with a naturopathic approach. With 20 years of experience, we have developed an outcomes-driven approach to treatment that will adjust treatment plans to how you respond to certain therapies.
Alcoholism Treatment in Gilbert
Treatment for alcohol use disorder at The River Source Gilbert will consist of comprehensive treatment plans to treat the physical, emotional, and behavioral aspects of alcohol addiction. Our integrative approach aims at treating the person at the body, mind, and spirit level to help them achieve long-term recovery success.
The River Source can give you the accredited professional help that you need to effectively treat the real causes of addiction and thereby open the door to long-term recovery. Support groups, relapse prevention strategies, and aftercare programs can achieve lasting sobriety with The River Source.
Our Recovery Guarantee
We have built our addiction treatment program which consists of a full continuum of care and a naturopathic approach around the success of our past patients. We are confident that our recovery programs in Gilbert, AZ will allow you to be successful as long as you put in the work. Our recovery guarantee allows you to return to our drug centers in Gilbert at no extra cost if you relapse within one year of completing our full continuum of care. Your lifetime recovery is inevitable when you go through the substance abuse program at The River Source.
QUICK, CONFIDENTIAL INSURANCE VERIFICATION
CLICK BELOW TO FIND OUT IF YOU HAVE COVERAGE