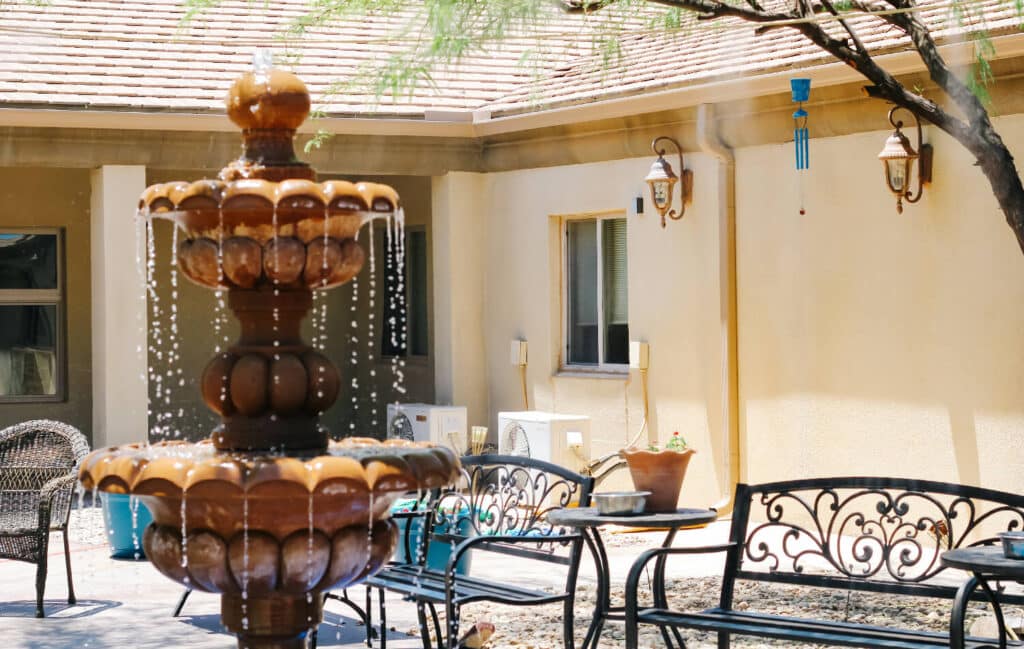 #1 Inpatient-Residential Drug Rehab in Gilbert
When it comes to severe or prolonged drug addiction, residential inpatient rehab from our addiction treatment center in Gilbert offers your best chance at long-term addiction recovery. Inpatient treatment provides the drug free environment away from stressors, triggers, and influences that can cause an early relapse when you are most vulnerable.
The River Source offers comprehensive residential inpatient treatment programs through its network of drug rehabs throughout Arizona, including Gilbert Arizona. We offer the best inpatient treatment for substance abuse through our clinically driven, evidence-based treatment with a holistic approach. The River Source offers a full continuum of care so you can continue through several levels of care after inpatient treatment to receive enough support as you transition back into day-to-day life. We are a Joint Commission accredited treatment facility and in-network with all major insurance companies.
YOU'RE NOT ALONE – WE CAN HELP
TAKE THE FIRST STEP AND APPLY FOR TREATMENT TODAY
Why Choose The River Source Gilbert for Residential Drug Rehab?
Inpatient treatment programs at The River Source will help you achieve long-term sobriety, no matter how severe your substance use disorders. Although we do not like to focus on luxury amenities but rather on providing the best drug addiction treatment, our residential treatment program does provide comfortable accommodations and common areas. Our holistic approach to drug and alcohol addiction will provide you with personalized treatment plans to treat the physical, psychological, and emotional impacts of drug abuse and addiction.
Our full continuum of care offers all levels of care, from medical detox to inpatient and outpatient treatment. Completing the full continuum of care will give you your best chance at addiction recovery and will qualify you for our recovery guarantee, which allows you to come back to The River Source free of charge if you relapse within one year of completing our program.
The River Source offers an integrative approach to drug and alcohol treatment by combining traditional treatment methods found in many rehab centers with naturopathic treatments aimed at helping the body heal itself. Our clinicians will create treatment plans aimed at helping each person overcome their drug addiction and have the tools to successfully manage their addiction recovery for a lifetime.
How Long Is Rehab?
We create personalized treatment plans at The River Source Gilbert to address each client's unique needs. Every person's journey through addiction recovery is unique, and their recovery plan length will reflect that. Residential treatment will vary in length depending on several factors including the length of addiction, the severity of addiction, and the presence of co-occurring disorders. The most common lengths in inpatient drug rehab are 30-day, 60-day, and 90-day programs. However, addiction treatment length can always be extended if needed.
30-Day Inpatient Drug Rehab in Gilbert
Short-term rehab, which lasts 30 days or less, provides an excellent opportunity to remove yourself from negative triggers, habits, and people who may be contributing to your substance abuse and addiction. It will also give you a break from everyday life to allow you to truly look inward and completely focus on your addiction recovery program. Short-term rehab is better suited for milder addictions and should always be followed up with an outpatient treatment program to allow for continued support as you transition back into day-to-day life.
60-Day Inpatient Drug Rehab in Gilbert
60-day inpatient treatment is similar to 30-day programs, except they allow more time to complete drug addiction therapies and break negative behaviors contributing to drug abuse. This program length can also help individuals work through various underlying causes of addiction and co-occurring disorders. Treatment plans may include teaching new coping skills, life skills, and vocational skills for successful independent living outside the rehab center. Just as with short-term rehab, inpatient treatment of this length should be followed up with outpatient treatment programs.
90-Day Inpatient Drug Rehab in Gilbert
With severe drug and alcohol addiction, a minimum of 90 days in a drug recovery center is required to effectively recover from the effects of addiction. Long-term treatment programs can provide individuals with enough addiction therapy and dual diagnosis treatment to break negative habits, retrain the mind, and heal co-occurring disorders. Our comprehensive recovery programs at The River Source will provide you with several types of therapy and training aimed at helping you successfully manage your addiction outside our treatment center.
Types of Drug Addictions We Treat
Our highly skilled clinicians combined with our full continuum of care, allow us to treat a wide range of drug addictions, no matter how mild or severe. We customize every treatment plan's intensity to fit each client's needs with enough addiction therapies to heal addiction's physical, emotional, and psychological effects. Inpatient treatment programs can begin with medical detox and continue on with outpatient treatment and aftercare programs for successful long-term recovery. Some addictions that we treat include:
Opioid addiction

Alcohol addiction

Prescription drug addiction

Marijuana addiction

Cocaine addiction

Methadone addiction

Heroin addiction

Benzodiazepine addiction

Psychedelics addiction
Inpatient Heroin Rehab in Gilbert
Heroin addiction can completely take over a person both physically and psychologically. Inpatient treatment can provide the solid foundation in a drug-free environment necessary to overcome heroin addiction. The River Source's inpatient alcohol and drug recovery program provides enough intensive care and around-the-clock support to break the psychological grip of heroin. The drug's intense withdrawal symptoms and cravings may be necessary to begin inpatient heroin rehab with medical detox.
Inpatient Cocaine Rehab in Gilbert
Cocaine addiction often requires comprehensive addiction recovery programs to recover from the behavioral and physical effects of addiction. Medical detox is often necessary when attempting to stop cocaine use because it provides a safe environment away from triggers, temptations, and people who could cause an early relapse. Inpatient rehab can help address behavioral and psychological aspects of addiction through therapies like cognitive behavioral therapy, dual diagnosis treatment, group therapy, and family therapy.
Inpatient Oxy Rehab in Gilbert
Oxycodone can easily cause anyone to become addicted, even when taken as directed. Inpatient rehab for oxy addiction at The River Source will include medical detox to provide intense withdrawal symptoms and craving relief. Our holistic approach allows us to treat each client as a whole, and not just their drug addiction treatment.
Inpatient Meth Rehab in Gilbert
Addiction to methamphetamines can happen even after just one use and lead to long-term health effects. Meth addiction can be severe, but through our full continuum of care at The River Source, any person can recover from drug and alcohol addiction. Dual diagnosis is a common part of meth rehab due to the severe mental health effects such as anxiety disorders, depressive disorders, and psychosis meth use can have on a person.
Inpatient Benzo Rehab in Gilbert
Benzodiazepines are effective anti-anxiety medications but can also easily lead to drug abuse and addiction. It is critical to never stop benzodiazepine use on your own due to severe withdrawal symptoms, including associated seizures. Those who misuse benzos often mix them with alcohol, which may require polysubstance drug rehab. Dual diagnosis treatment can help treat underlying anxiety disorders associated with benzo use.
Inpatient Prescription Drug Rehab in Gilbert
Several prescription medications can cause physical dependence and addiction. Our treatment programs are designed to treat any level of physical or psychological dependence. Whether you just need help stopping the use of medication safely or have a full addiction to medication, our treatment programs will be tailored to your needs.
Men's Inpatient Drug Rehab
The River Source provides separate residential treatment housing for men and women. Separate housing can make patients more successful in recovery by providing a sense of security and reducing distractions. Inpatient drug rehab for men can allow them to express their feelings more freely and be more vulnerable with peers. It also allows them to touch on more sensitive subjects that they may not otherwise feel comfortable with when women are around.
Women's Inpatient Drug Rehab
Residential treatment for women can provide a safe, healing environment and help foster sisterhood among residents. Many women struggle with mental health issues brought on by sexual or domestic abuse. Trauma from these experiences can be retriggered around the opposite sex.
Top-Rated Inpatient Drug Rehab Program With Results
Our recovery program at The River Source shows to have higher success rates than the national average. We attribute these above-average success rates to our unique addiction treatment program made up of naturopathic therapies and following the full continuum of care. We also tailor our treatment plans to each client and adjust their treatment plan according to how they respond to certain therapies.
Our Recovery Guarantee
We truly believe that you can overcome drug addiction with the help of treatment programs at The River Source. If you put in the work, addiction recovery is inevitable. We guarantee success by letting you return to treatment for free if you relapse within one year of completing the full continuum of care.
If you would like to learn more about our inpatient drug rehab at The River Source Gilbert, please contact us today.
QUICK, CONFIDENTIAL INSURANCE VERIFICATION
CLICK BELOW TO FIND OUT IF YOU HAVE COVERAGE