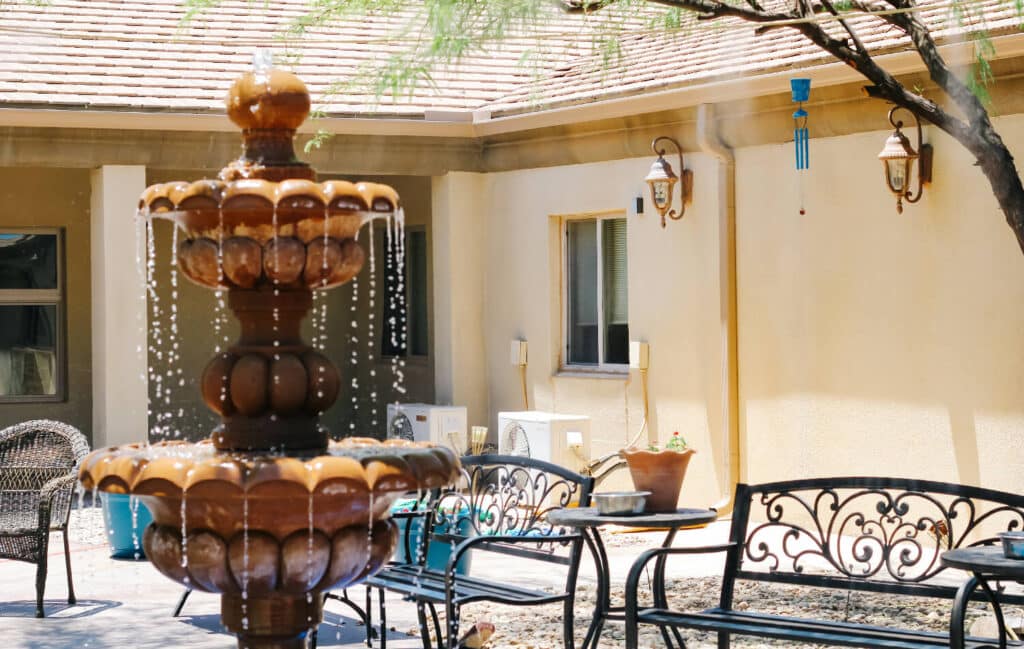 Meth addiction can quickly take over a person's life and well-being. Stopping meth abuse on your own can be highly difficult because meth withdrawal can be dangerous, stressful, and exhausting. While meth withdrawal symptoms are not fatal, they can result in life-threatening complications. Medically supervised drug detox at The River Source in Gilbert AZ can help you safely and successfully overcome your initial physical meth addiction. Our medical detox program provides 24/7 medical supervision and medication-assisted treatment which can lower the risk of relapse when detoxing under our highly skilled medical staff's guidance. Holistic treatments such as massage and infrared sauna at our best rehab in Gilbert can help your body self-heal and go through the withdrawal process more easily than with medication-assisted treatment alone. Residential inpatient detox at The River Source will provide comfortable living arrangements with compassionate staff and ease the transition into rehab treatment where you can continue the recovery process for a chance of long-term sobriety.
YOU'RE NOT ALONE – WE CAN HELP
TAKE THE FIRST STEP AND APPLY FOR TREATMENT TODAY
Why Choose The River Source Gilbert for Meth Rehab?
The growing meth addiction problem across the US has caused a wave of severe mental illness and a worsening homelessness problem. There has never been a greater need for effective, evidence-based addiction treatment centers than now. Meth addiction can wreak havoc on a person's emotional, mental, and physical health, but with comprehensive, holistic rehab treatment, anyone can overcome even the most severe substance abuse problem.
The River Source's naturopathic treatment approach goes beyond traditional treatment methods found at other rehab centers to provide addiction treatments that aim to heal the body, mind, and spirit. Our treatment programs are personalized for each patient to address every unique aspect of drug addiction.
Our full continuum of care will take you through several levels of care. Going through several levels of care in addiction treatment is often key for successful long-term recovery because it takes you from intensive drug detox and residential inpatient treatment through continued support as you transition back into day-to-day life with outpatient treatment and aftercare programs. Our treatment programs are designed to help you overcome the physical and psychological hold of meth addiction and provide you with enough tools and guidance to live a successful, independent life free of drugs and alcohol.
First Class Amenities
While our main priority at The River Source is providing effective, clinically driven addiction treatment and not on luxury amenities, that does not mean your stay will be uncomfortable. We still provide a non-hospital setting with cozy amenities where you can focus on your recovery in a nurturing environment. Our residential inpatient program can include private or semi-private rooms, fresh linens on a high-quality mattress, washers and dryers, spacious outdoor areas, freshly prepared meals, daily smoking areas, and daily electronics (per scheduled). You will also have access to nutritional support and access to physical activities to heal your physical health as you go through inpatient recovery.
Meth Withdrawal
Every person's experience with meth withdrawal will be different. Withdrawal symptoms can include acute and post-acute symptoms ranging from mild to severe. The severity and duration of meth withdrawal will depend on several factors including route of administration, drug purity, length of meth use, history of meth use, dosage, and even co-occurring disorder.
Acute meth withdrawal symptoms can include:
Anxiety

Irritability

Fatigue

Dehydration

Chills

Weight gain

Insomnia followed by sleeping too much, or hypersomnia

Inability to think clearly

Intense drug cravings

Low mood that can progress into clinical depression and suicidal thoughts or tendencies

Anhedonia, or inability to feel pleasure
Post-acute withdrawal symptoms from methamphetamine abuse can include:
Psychosis

Depression

Mood swings

Inability to experience pleasure

Drug cravings

Increased appetite

Fatigue and excessive sleepiness

Suicidal thoughts and ideations
Withdrawal cravings can be intense and often lead to drug relapse when attempting to drug detox on your own. Even though withdrawal symptoms are extremely uncomfortable, they are not life-threatening. However, the risk of suicidal tendencies can lead to a person hurting themselves, so extreme dehydration can also lead to medical complications. Going through medical detox will provide a drug-free environment with around-the-clock supervision and medications to ease withdrawal symptoms helping you go through the withdrawal process more easily, comfortably, and successfully.
What Is Meth Detox Like?
Medical detox at The River Source will provide you with around-the-clock medical care from a team of doctors, nurses, and counselors who can administer medication-assisted treatment and emotional support during the hardest recovery phase. Upon admission, you will receive a thorough physical and psychological evaluation so clinicians can create a specialized detox treatment plan. You will also have access to vitamin IV therapy, massage, infrared sauna, and various other holistic therapies that will help your body and mind be strong so you can recover from meth detox more easily.
How Long Does Detox Last?
Drug detox length for methamphetamines will depend on the same factors that affect symptom severity. Withdrawal symptoms will start within 24 hours after last use and last between a couple of days to weeks. Research has shown the worst part of drug detox is within the first 24 hours, followed by withdrawal symptoms gradually declining.
Acute withdrawal will last 7 to 10 days with drug cravings being the most common symptoms. However, some people can experience withdrawal within 2 weeks after drug use. Post-acute withdrawals are generally more mild and last an additional 2 to 3 weeks. Drug detox will last as long as your symptoms are present and you need continued care, however as symptoms start to dissipate, you will begin behavioral health therapy and other addiction therapies that will address psychological addiction.
What Happens After Detox?
Drug and alcohol detox is only the first step in the recovery process. While meth detox addresses physical addiction, it does not treat the root cause of addiction which is key for long-term recovery. Once you have completed drug detox, you will enter one of our drug and alcohol rehab programs at The River Source Gilbert.
We offer several levels of care including inpatient treatment programs, partial hospitalization programs, intensive outpatient treatments, outpatient treatments, and aftercare programs. Depending on the severity of your addiction will determine which intensive level you will start with. However, we do usually recommend that clients complete the full continuum of care, which can vary in length, for the best chance at long-term recovery and qualify for our 100% recovery guarantee.
30-Day Meth Rehab in Gilbert
Short-term drug rehab, which lasts 30 days or less, is better suited for those dealing with milder forms of substance abuse and addiction. It is an intensive treatment program that will pack in medical detox and several addiction treatments within those 30 days. 30-day drug rehab can be completed as a combination of residential inpatient treatment and outpatient programs. Residential inpatient treatment provides an ideal drug and alcohol-free environment to focus on your recovery and prevent relapse early on when cravings are most intense. During drug and alcohol rehab you can expect several types of addiction treatments aimed at helping overcome several aspects of drug addiction including cognitive behavioral therapy, group therapy, individual counseling, family programming, medication-assisted treatment, 12-step programming, holistic treatments, nutritional and physical exercise counseling, and relapse prevention planning.
60-Day Meth Rehab in Gilbert
60-day rehab provides the same addiction treatments and levels of care as 30-day rehab, but with more time at the treatment facility to complete therapies and break negative habits and thought patterns. This length of program at The River Source allows us to spend more time with you healing various issues of drug and alcohol addiction including co-occurring disorders with dual diagnosis treatment. Aftercare programs like our alumni program can give you continued support as your transition back into day-to-day life.
90-Day Meth Rehab in Gilbert
The River Source's 90-day treatment program is the minimum amount of time needed to resolve several factors relating to drug and alcohol addiction. Meth addiction can be hard to break, and the mental and physical health consequences usually require a longer recovery time. 90 Day drug rehab programs can provide enough time and a number of addiction treatments, including dual diagnosis treatment, to heal the various psychological effects of meth abuse. Long-term rehab also allows for enough time to include skills training, vocational training, and other relapse prevention strategies.
Meth Detox & Rehab Success Rates
The River Source prides itself in having higher drug rehab success rates than the national average. We contribute our patient's success to a combination of holistic addiction treatment and our full continuum of care program. As a Joint Commission-certified treatment facility, we uphold the highest standards in addiction treatment and rehab center amenities. Our patients are provided with effective, evidence-based treatments that aim to address them as a whole, not just the addiction, in a comfortable and welcoming treatment facility.
Meth Detox in Gilbert
If you or a loved one is struggling with crystal meth addiction, getting adequate meth detox treatment is key for a solid foundation in addiction recovery. The River Source can help you overcome withdrawal symptoms comfortably and successfully and help you easily transition into our Joint Commission-accredited drug and alcohol rehab program. Our Recovery Guarantee allows you to return to our rehab center for free if you relapse within one year of completing our full continuum of care. Please give us a call today if you are interested in any of our programs.
QUICK, CONFIDENTIAL INSURANCE VERIFICATION
CLICK BELOW TO FIND OUT IF YOU HAVE COVERAGE