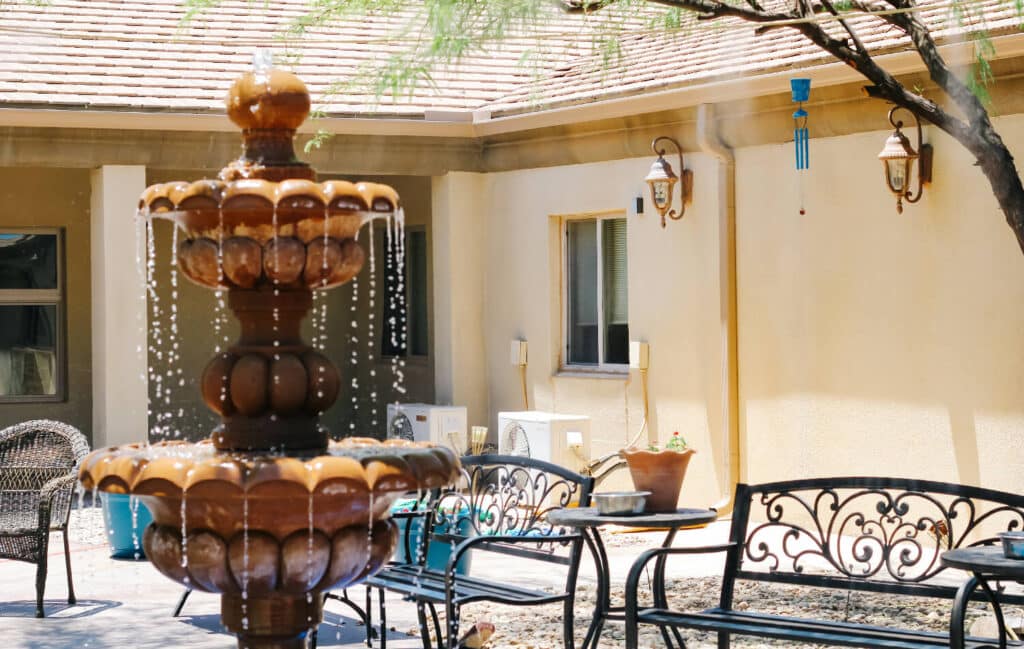 Top-Rated Outpatient Alcohol & Drug Rehab Center in Gilbert | Telehealth
Outpatient drug rehab provides a lot of flexibility, making it quite an attractive option for many people. It allows you to live at home, can let you continue going to work or school, and is less costly. It is important to look at the pros and cons of starting off with outpatient treatment. Inpatient treatment programs can offer more intensive care needed to treat severe addictions and a safe, sober environment to focus on your recovery. However, if your addiction is milder and you have a supportive home life or are looking for a step down from inpatient rehab outpatient treatment may be the best option for you.
The River Source is an inpatient and outpatient drug addiction facility in Gilbert Arizona. We provide an individualized treatment plan for each client with a naturopathic approach to treat all areas of addiction. Our treatment center in Gilbert is Joint Commission certified, and we offer a highly successful addiction treatment program through our full continuum of care. Our outpatient treatment program offers several levels of care including an intensive outpatient program (IOP), partial hospitalization program, and virtual rehab or telehealth rehab.
We do also offer all levels of care, and our clinicians can help you determine which treatment program is best for you. We know that outpatient programs have several perks, however here at The River Source our only aim is to get you long-term addiction recovery, so if we recommend more intensive treatment to start off with like medical detox or inpatient rehab, it is only because our experience has provided us insight into what is best for you.
All our levels of care include several of the same additional therapies including dual diagnosis treatment, cognitive behavioral therapy, group therapy, family therapy, life skills training, and relapse prevention planning. We also offer holistic treatments that can be purchased a la carte if you like, such as vitamin IV therapy, massage, and infrared sauna sessions.
YOU'RE NOT ALONE – WE CAN HELP
TAKE THE FIRST STEP AND APPLY FOR TREATMENT TODAY
Alcohol & Drug Rehab That Allows You to Still Go to Work & School
Most individuals with substance use disorders continue to hold jobs or even be highly successful in their careers. They usually put off getting addiction treatment because they do not want to take an extended leave from work to go to drug rehab. Or have already spent a month or two in inpatient treatment and need to get back to work. One of the biggest benefits of outpatient treatment is to provide enough flexibility to allow patients to continue going to work or school while in drug rehab.
Our treatment programs at The River Source will allow you to live at home and travel to our treatment center in Gilbert Arizona several days a week for treatment. Outpatient treatment is flexible enough that you can schedule your addiction therapies outside of school or work hours, such as on the weekend, in the evening, or early morning. You also have an option for telehealth or a virtual intensive outpatient program, allowing you to access your addiction treatments from anywhere. It also eliminates travel time and therapies can be staggered throughout the day, such as on your lunch break. Outpatient rehab will allow you to get the addiction treatment you need without needing to uproot your entire life.
What to Expect During Outpatient Rehab
Upon admission to the rehab center in Gilbert, our expert clinicians will thoroughly evaluate your medical and addiction history and your personal needs. We will create an individualized treatment plan consisting of several evidence-based therapies to uncover and treat underlying issues related to your substance abuse.
You will continue living at home or at a sober living facility and travel to The River Source treatment facility in Gilbert several days a week for an allotted amount of time. Your treatment plan may start off with more weekly hours of treatment and be tapered down as you progress through the recovery program. Most of your treatment programs will focus on individual therapy and group therapy. You can also expect some holistic treatments, relapse prevention, and coping skills training as part of your treatment plan.
Benefits of Outpatient Drug & Alcohol Rehab
Unlike residential inpatient drug rehab, you will not have to live at the facility in The River Source's outpatient addiction treatment program. You can continue living at home or in a sober living facility while you attend treatment. When outpatient programs are a good fit, they can be just as effective as inpatient drug rehab. Some of the benefits of outpatient drug rehab include:
Lowered Costs. Without the need for room and board plus fewer addiction therapies, a week will help to significantly lower the cost. Your insurance plan may not cover room and board.
Continued Support from Loved Ones. As you continue living at home, your biggest supports (i.e., your loved ones) will continue being there throughout treatment. Inpatient treatment will often have you cut all contact with the outside world for the most part so you can focus on your recovery.
Continue Going to Work or School or Take Care of Dependents. Flexible treatment plans allow you to continue going to work or school plus living at home allows you to take care of loved ones, including pets.
Actively Apply What You Learn in Drug Rehab. Outpatient rehab will allow you to face triggers and stressors as you learn coping skills and tools. You will also have continued support from your counselors and peers.
What Does a Day in Outpatient Addiction Treatment Look Like?
Every person's drug and alcohol rehab program will look different as we create individualized treatment plans. However, we can give you a general sense of what to your day will look like. Going to work or school, you will go about your day as you normally would. If that is the day you have an addiction treatment schedule, you will go to the rehab facility or log online to your secure portal for an hour or a few hours of addiction treatment. Some addiction therapies you can expect include individual therapy or counseling, group therapy, relapse prevention skills, and a variety of holistic treatments. Your therapist may give you homework to complete during the time you are away from the treatment facility.
How Long Does Outpatient Rehab in Arizona With The River Source?
Addiction treatment programs in outpatient rehab at The River Source vary in length. How long your treatment program will depend on several factors including addiction severity and longevity if cooccurring disorders are present and how you progress through addiction treatment. It also depends on the levels of care. A partial hospitalization program (PHP) can last about a month, while an intensive outpatient program (IOP) can last anywhere from 60 days to 120 days or even more if needed.
At The River Source, we recommend a minimum of 90 days of the program for certain addictions because research has shown that is the minimum amount of time needed to overcome addiction successfully in the long run. Our treatment programs are most successful when patients go through the full continuum of care, starting with alcohol or drug detox, continuing through a period of inpatient treatment, then a partial hospitalization program, then intensive outpatient treatment, and continued with aftercare programs and our lifetime alumni program. These levels of care can all be down within the 90 to 120-day programs.
Telehealth IOP Serving Gilbert
Part of our intensive outpatient program is offering telehealth services. Patients can access their individual therapy and group therapy sessions through a secured, HIPAA-compliant online portal. Virtual rehab is accessible from anywhere. We encourage on-site drug testing to keep you motivated and accountable. Our telehealth IOP services have allowed us to extend our excellent rehab program to places with minimal rehab options and for those who are immunocompromised or have social anxiety. Telehealth IOP services do also have an increased retention rate and most people finish their entire program.
Why Choose The River Source for Outpatient Alcohol & Drug Rehab?
The River Source offers addiction treatment centers throughout Arizona, including Gilbert AZ. With 20 years of experience, Gilbert inpatient alcohol rehab center have developed treatment programs that work based on our experience in what shows the highest success rates. Individualized treatment plans like at our drug rehab have shown to have been best results in long-term recovery. A combination of naturopathic medicine and a full continuum of care has provided us with higher success rates than the national average.
Our Recovery Guarantee
We believe our cocaine rehab in Gilbert and treatment programs are so effective that recovery is inevitable if you put in the work. We have provided a recovery guarantee that allows you to return to The River Source for free if you commit and complete the full continuum of care and relapse within one year.
If you are ready to start the road to recovery, there is no better day than today to start. Please contact us today so we can answer any questions you may have or get you started on the admissions process.
QUICK, CONFIDENTIAL INSURANCE VERIFICATION
CLICK BELOW TO FIND OUT IF YOU HAVE COVERAGE