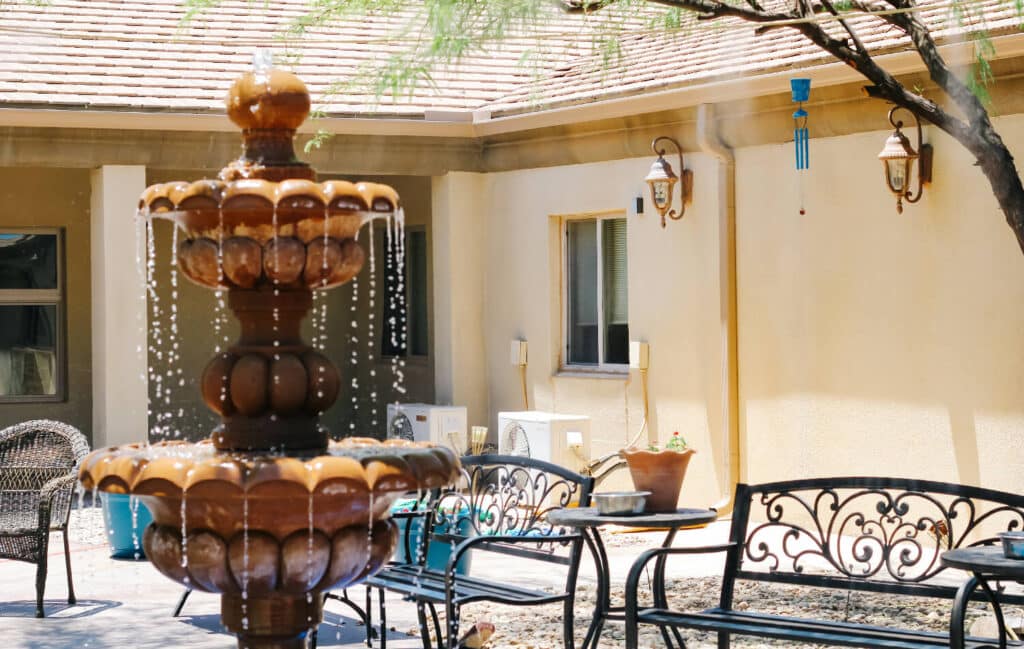 #1 Prescription Drug Rehab & Detox in Gilbert
Prescription drug dependence or addiction can happen to anyone, even when used as directed by a physician. Addiction to prescription medications causes similar responses to the brain and body as illicit drugs, which requires comprehensive treatment plans to overcome. The River Source has over 20 years of experience in drug and alcohol use disorder treatment, including RX drug addiction. Our personalized treatment plans can help anyone, no matter what stage of drug addiction they are in. We use an integrative addiction treatment approach to achieve high success rates.
YOU'RE NOT ALONE – WE CAN HELP
TAKE THE FIRST STEP AND APPLY FOR TREATMENT TODAY
Why Choose The River Source Gilbert for RX Drug Rehab?
The River Source provides Gilbert residents with effective, evidence-based addiction treatments through individualized programs. We go beyond conventional treatment methods to provide an integrative approach with naturopathic medicine to treat the body, mind, and spirit. Holistic treatments include yoga, meditation, massage, vitamin IV therapy, and infrared sauna and can be a part of all levels of care. Our full continuum of care has provided us with high success rates.
We are a Joint Commission accredited drug and alcohol rehab program with top-rate care in Gilbert Arizona. Our high success and satisfaction rates are a testament to our treatment programs work. We aim to provide specialized care by getting to the root cause of addiction and providing ample addiction treatment methods to heal the underlying causes. At The River Source, you get much more than just conventional treatment methods found in other rehabs. You receive a holistic approach aimed at treating you as a whole, not just your addiction, so you can truly heal in body, mind, and spirit.
Inpatient Residential RX Addiction Program in Gilbert
The River Source's inpatient residential treatment program is gender segregated, allowing our clients to feel safe and able to make deeper connections with their peers. Our inpatient residential treatment program is the most intensive form of treatment and provides the healing space necessary to truly recover, especially in the beginning when you are most vulnerable to relapse. Our treatment facility provides comfortable and cozy living quarters and common areas. Although our treatment facility is in a non-hospital setting and more comfortable than other drug rehabs, we do not focus on luxury amenities but on the addiction treatments themselves. With our inpatient treatment program, you can truly immerse yourself into recovery away from outside distractions and influences. It can start you off with a strong foundation for a lifetime of sobriety.
Types of RX Drug Addictions We Treat
Several factors can contribute to the development of a prescription drug use disorder. Different medications present their own set of challenges and require specific treatment techniques. Our rehab center in Gilbert is well equipped with knowledgeable personnel and treatment methods to address all types of prescription drug addictions, including:
Stimulants such as Ritalin, Dexedrine, and Adderall

Sleeping aids including Lunesta and Ambien

Anti-anxiety medications like benzodiazepines and barbiturates

Opioid painkillers

Antidepressants including Lexapro, Prozac, and Zoloft
Benzo Rehab in Gilbert
Benzodiazepines are prescribed anti-anxiety medications with high abuse and dependence potential. Users can become dependent within just a few weeks of use which causes severe and dangerous withdrawal symptoms when attempting to stop. Medical detox is recommended as the first step in recovery, and dual diagnosis treatment can successfully treat anxiety disorders, so you no longer need medications. If benzodiazepines have been misused, comprehensive drug rehab programs can aid in long-term recovery.
Fentanyl Rehab in Gilbert
Fentanyl is a highly potent and addictive prescription opioid, which is also being manufactured and sold illicitly and is the cause of the rise in opioid overdose deaths. As a prescription, it is used to treat severe pain after surgery or for cancer. Like other opioids, fentanyl addiction is complex and requires robust treatment plans to overcome addiction long-term. Medical detox and inpatient residential treatment are good starting points for fentanyl treatment programs.
Oxy Rehab in Gilbert
Oxycodone is a commonly prescribed opioid painkiller that also causes dependence and misuse. Our medically assisted drug detox program can help you taper off oxycodone use and provide other medications for relapse prevention. Treatment plans are individualized, and the intensity of treatment will depend on the length and severity of oxycodone addiction. The River Source advocates for holistic treatments inside and outside of treatment. We will help our clients find more natural ways to treat pain such as yoga, massage, and acupuncture.
Morphine Rehab in Gilbert
Many opioid addicts have attributed their substance use disorder to prescription opioid painkillers, like morphine. They can cause euphoric effects, and morphine addiction is very difficult to overcome. However, our clinicians at The River Source use our full continuum of care starting with intensive treatments including medical detox and inpatient treatment, to create a treatment program for you that will help you achieve long-term sobriety.
Meperidine Rehab in Gilbert
Meperidine is another opioid pain medication that causes dependence within a few weeks of use. Opioid withdrawal and cravings are extremely uncomfortable and often require a medical detox to successfully eliminate the physical side of addiction. Our drug rehab program provides the behavioral health therapy needed for long-term abstinence.
Diphenoxylate Rehab in Gilbert
Diphenoxylate is a prescription opioid and anti-diarrheal medication with a high potential for abuse even when used as directed. Medical detox can help you successfully stop using. However, comprehensive treatment plans that include individual therapy, learning new coping skills, and lifestyle changes are necessary for long-term sobriety. Holistic treatments at The River Source can help the body return to normal functioning after diphenoxylate addiction.
Sedative Rehab in Gilbert
Sedative prescriptions effectively treat anxiety disorders, depression, and sleep disorders. However, they are also habit-forming. Some sedatives like Xanax can cause dangerous withdrawals and require medically assisted detox. Dual diagnosis programs can successfully treat underlying causes of sedative addiction that may have led to your addiction.
Antidepressant Rehab in Gilbert
Although antidepressants are not easily abused, they do cause physical dependence and withdrawal symptoms when attempting to stop use. Many people have difficulty coming off antidepressants on their own, but our treatment programs at The River Source Gilbert provide support and guidance to taper off successfully. Dual diagnosis programs can help you heal from depression and find non-medication methods to manage it.
30-Day Rehab
Short-term rehab, or 30-day rehab, can provide a sober environment and time away from outside influences to help you kickstart your addiction recovery. This is a good option for those with milder prescription drug addictions or who cannot afford long-term rehab programs. Short-term rehab includes several addiction treatments found in longer programs including drug and alcohol detox, cognitive behavioral therapy, 12-step programming, holistic treatments, group therapy, and family therapy. These programs tend to be quite intensive because they are fitting in many addiction treatments in a short period of time. You should always continue with outpatient treatment and aftercare programs.
60-Day Rehab
A 60-day program is similar to a 30-day program, but it allows more time to complete your addiction treatments in a drug and alcohol-free environment. A longer program can also help those with co-occurring disorders work properly through mental health disorders and trauma with a counselor. 60 Day inpatient treatment should be part of a full continuum of care and followed up with outpatient treatment and aftercare programs.
90-Day Rehab
90-day rehab programs are the minimum amount needed to treat severe prescription drug addiction. The River Source provides clients in this program with strong treatment plans that address all issues surrounding their addiction and include relapse prevention planning. Long-term rehab provides ample time to break deep-rooted behaviors, traumas, and addiction-related mental health issues.
Top Rated RX Addiction Treatment in Gilbert
The River Source's integrative treatment program ranks them among Gilbert's top-rated RX addiction treatment centers. We have achieved a higher success rate than the national average by using integrative treatment methods along with our full continuum of care. By treating the person as a whole through holistic and individualized care, we can address and heal the root of each addiction.
Prescription Rehab in Gilbert
The River Source Gilbert rehab centers provide all levels of care. No matter how severe or what type of addiction someone faces, we have a treatment program that can help them. We offer inpatient residential treatment, intensive outpatient program (IOP), partial hospitalization program (PHP), outpatient treatment, and alumni programs to meet anyone, anywhere in their recovery journey.
Our Recovery Guarantee
We are so confident in your overcoming addiction through our detox center in Gilbert and comprehensive treatment programs that we offer a 100% recovery guarantee. If you relapse within one year of completing the full continuum of care, you can come back to us free of charge. When you put in the work, your recovery is inevitable. The River Source is passionate about its clients achieving recovery and encourages each one to continue their work through our Alumni program.
If you would like more information about our prescription drug recovery program or would like to start the admission process, please contact us today!
QUICK, CONFIDENTIAL INSURANCE VERIFICATION
CLICK BELOW TO FIND OUT IF YOU HAVE COVERAGE