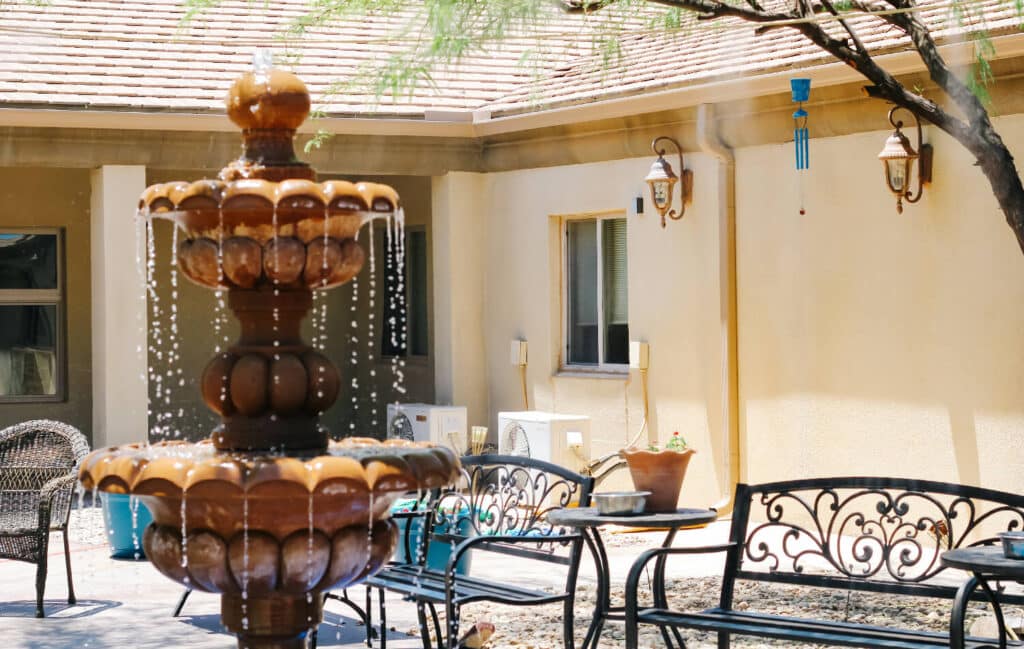 #1 Heroin Detox-Rehab in Arizona
The abuse of heroin, an opioid, has devastating effects on a person's life and those around them. The highly addictive nature of the drug makes quitting alone very difficult. People often turn to heroin after no longer being able to obtain prescription opioid pain relievers after forming a drug dependence. The River Source is the No. 1 heroin detox and AZ rehab center, with a wide range of traditional and holistic treatments which allow us to create personalized addiction treatment plans, helping to improve success rates. We provide specialized programs for heroin and opioid addiction, giving a real chance at long-term recovery from addiction. The cycle of drug addiction can be broken through clinically-driven treatment at an accredited rehab center such as The River Source in Arizona. Start your recovery with our heroin medical detox program, strengthen your recovery, and treat the root causes of your addiction with our comprehensive drug addiction treatment programs to achieve lasting recovery.
YOU'RE NOT ALONE – WE CAN HELP
TAKE THE FIRST STEP AND APPLY FOR TREATMENT TODAY
Why Choose The River Source Arizona for Heroin Detox & Drug Rehab?
The River Source is the best place to get help for heroin or opioid addiction in Arizona. Our success rates come from our focus on long-term treatment instead of a quick fix, allowing for the significant positive changes that therapy and treatment can bring to take hold. We are a fully accredited alcohol and drug rehab center and follow the best-known methods of treating substance use disorder.
We feel strongly about the effectiveness of our personalized treatment plans for heroin and drug addiction; we have created a unique 120-day Reclaim Your Life program that comes with a guarantee. If you complete the full 120-day program, adhere to the relapse prevention advice given, and continue to actively manage your addiction post-rehab as your plan suggests and still relapse in the first year after rehab graduation, then you can return to our rehab free of charge.
Addiction is a long-term mental health issue, and the road to recovery may be long sometimes, but with our professional heroin rehab services and detox program, you can reclaim your life and achieve a lifetime of recovery. Our integrative approach combines naturopathic holistic treatment with traditional therapy and treatment and creates the most well-rounded treatment plan available.
First Class Amenities
Ensuring our patients remain comfortable throughout their detox and rehab experience is a top priority for us. We provide all our guests with comfortable beds, common areas for watching TV, fresh linens, well-kept private bathrooms, and spacious outdoor areas for physical activities.
What Is Detox Like?
Heroin detox alone can be extremely difficult; not only are you intensely craving opioids, but you also have severe flu-like symptoms that you know can be removed if you use heroin again. Your body needs time to return to its normal functioning state again and restore chemical balances in the brain. Heroin dependence has caused a new balance in the brain, and the withdrawal symptoms that you experience are the response to your body trying to find a new natural balance again.
Common withdrawal symptoms of heroin detox include the following:
Tearing
Cold sweats
Extreme sweating
Muscle and bone pain
Diarrhea
Vomiting
Stomach cramps
Fever
Insomnia
Cramps in the limbs
Tremors in the legs and arms
Depression
Nervousness and anxiety
Agitation
In our medical detox program for heroin in Arizona, you can expect to have your withdrawal symptoms managed by medications and your recovery improved by supplements and minerals as part of our holistic approach to treatment. While you'll still have heroin withdrawal symptoms, it will be much easier to deal with in our detox program, where your comfort is important to us.
How Long Does Detox Last?
The process of heroin detox or opioid detox is one that takes roughly five to 10 days to complete with the possibility of post-acute withdrawal syndrome (PAWS), which can be caused by persistent effects of long-term heroin abuse where your brain isn't making the right amount of reward-based chemicals. If PAWS occurs, you'll likely be given medications on a longer-term basis to help you manage your recovery.
Heroin withdrawals can start within just a few hours of the last drug use, so your detox program will start immediately. The peak is expected to happen around the second or third day of detox, after which you will progressively feel better with each that passes.
What Happens After Detox?
While heroin detoxification is a very crucial first step in drug addiction recovery, it does little to treat the causes of substance use disorder. After detox, it's imperative that you continue your recovery progress so you can create the foundation for sustainable recovery and prevent relapse in your future.
After detox as part of a comprehensive treatment plan at The River Source, you will undergo extensive behavioral therapy, including evidence-based models such as cognitive-behavioral therapy, to uncover and treat the causes of your addiction, which may lie in problematic thinking and behavior or trauma, among other areas. Behavioral therapy that includes individual and group counseling will become the key to overcoming and healing from your addiction.
We also involve the family through our family counseling, where issues within the family unit can be worked on and resolved while also strengthening the family bond, helping not only support the addicted person in recovery but also improve everyone's lives.
At The River Source, we provide a comprehensive range of holistic and naturopathic treatments that include acupuncture therapy, blood paneling, massage therapy, IV nutrient therapy, enhanced supplement packages, B-vitamin booster shots, and many more treatments that are designed to treat the whole patient and not just their addiction.
Through our integrative approach to treatment which combines holistic, naturopathic treatments with traditional therapies and treatments, you will have the help that you need to overcome your addiction and heal from the underlying causes that led you to this point. After rehab, your support will continue with our aftercare programs that aim to keep you engaged with the active management of substance use disorder, helping you to maintain your sobriety in the long term.
How Long Does Heroin Rehab Last?
Our 120 days to Reclaim Your Life program provides you with the best way to overcome your addiction and prevent relapse with a unique guarantee, as described above. Our individual inpatient and outpatient treatment programs for heroin addiction include 30, 60, and 90-day heroin addiction treatment programs in Arizona.
Research by the National Institute on Drug Abuse has found that at least 90 days are needed for substance use disorder treatment to have a lasting effect. At The River Source, we believe in our 120-day Reclaim Your Life program and its effectiveness in helping people with addiction to find lasting recovery in the fight against the chronic relapsing mental health disorder known as opioid use disorder.
30-Day Heroin Rehab in Arizona
One of the shortest heroin rehab programs that we offer is our 30-day heroin treatment program in Arizona. It offers you a month of intensive treatment and usually includes a medical detox program and all of our naturopathic and traditional therapies. After completing your 30-day inpatient or outpatient rehab program, you can expect to either continue with another treatment setting and program or continue with aftercare services.
60-Day Heroin Rehab in Arizona
Our 60-day heroin rehab program is available as an outpatient or residential rehab program, providing you with two months of consecutive therapy and addiction treatment to help you overcome addiction's biological, developmental, and environmental causes. Combined with other programs, our 60-day rehab for heroin in Arizona offers you comprehensive treatments that will build the path to long-term sobriety.
90-Day Heroin Rehab in Arizona
One of the longest single programs that we offer at our addiction treatment center in Arizona is our 90-day heroin rehab. The three months of intensive outpatient or inpatient rehab treatment gives you the support, guidance, and treatment needed to overcome the cycle of drug addiction. It can be combined with other programs and followed by aftercare programs to assist in sobriety maintenance.
With our 120 days to Reclaim Your Life program, you get the best of all treatment settings and the full effectiveness of our treatment programs. Of our rehab programs, our Reclaim Your Life program is the best way to treat substance use disorder.
Take the time to contact The River Source today to discuss your treatment for and detox from heroin. We can help you to build the foundation that will lead you to long-term recovery and healing from the causes of your addiction. Call us today to find out more or to start your Arizona addiction treatment plan for substance abuse and addiction.
QUICK, CONFIDENTIAL INSURANCE VERIFICATION
CLICK BELOW TO FIND OUT IF YOU HAVE COVERAGE