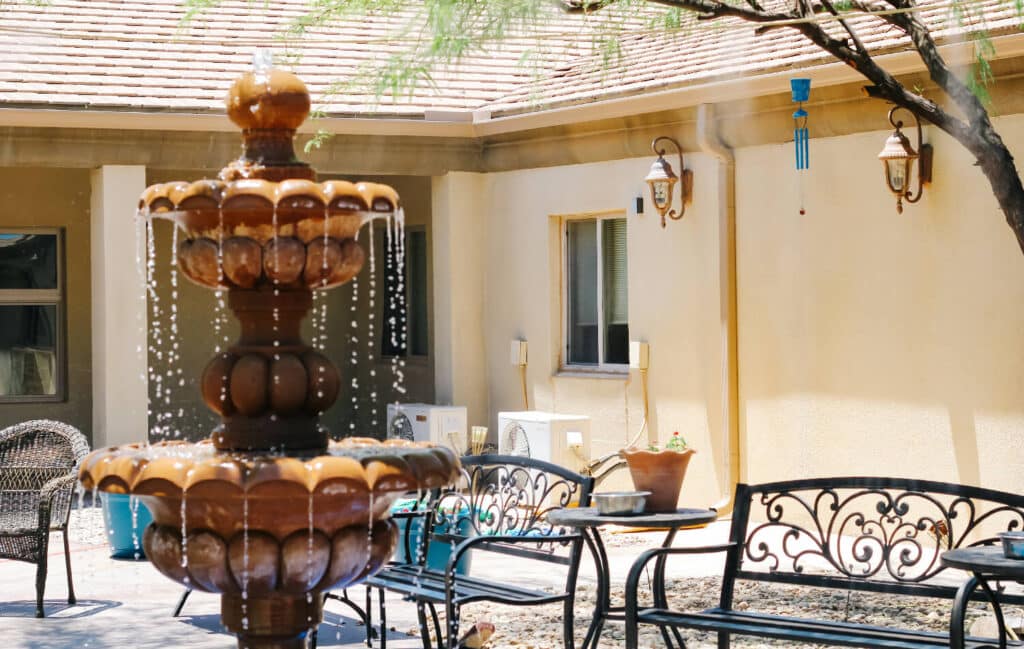 #1 Inpatient-Residential Alcohol Rehab in Arizona
If you're looking for a way to overcome your alcohol use disorder (alcohol addiction) but fear how difficult it may be or that treatment won't work, then The River Source can help. Our comprehensive, clinically-driven residential alcohol rehab program in Arizona is designed to be an effective long-term way to help people overcome alcohol abuse and addiction. The River Source is the #1 top-rated residential alcohol rehab program in Arizona in part due to our success rates with people suffering from severe alcohol addiction. We provide a full continuum of care that incorporates various important levels of care, including a robust inpatient rehab program. Let The River Source guide you to sustainable recovery from alcohol use disorder through our personalized treatment plans and comprehensive range of therapies and treatments with a clinically-driven approach.
YOU'RE NOT ALONE – WE CAN HELP
TAKE THE FIRST STEP AND APPLY FOR TREATMENT TODAY
Why Choose The River Source Arizona for Residential Alcohol Rehab?
The River Source is a leading drug and alcohol addiction treatment center located in Arizona. We are Joint Commission accredited, and our professional alcohol use disorder treatments adhere to the Principles of Effective Treatment as described by the National Institute on Drug Abuse (NIDA).
At The River Source, we combine holistic and traditional treatments such as our naturopathic treatment combined with our clinically-driven, evidence-based behavioral therapies. We approach alcohol use disorder treatment in a comprehensive way because it is through a long-term treatment focus that sustained alcohol addiction recovery can be achieved. Therefore, we provide ample long-term, personalized treatment programs for alcohol and drug addiction that can help you achieve long-term recovery through continuous support and guidance.
We personalize treatment programs and help you with a full continuum of care, including alcohol detox, residential rehab, partial hospitalization program (PHP), intensive outpatient program (IOP), general outpatient program (GOP), and a wealth of aftercare programs once you graduate from rehab. The River Source is a place of healing and abundant support where you will be able to embark on your personal recovery journey.
Our drug rehab is cost-effective and is a premier in-network treatment center where our success rates are unmatched. We offer an integrative approach that combines holistic treatments such as naturopathic treatment with clinically-driven therapies and treatments that together can help you with lifetime recovery.
How Long Is Rehab?
The process of alcohol addiction recovery is a long-term process. It requires several months to effectively get under control and into a position where you can successfully actively manage your addiction. NIDA suggests that at least 90 days are needed to allow treatment and therapy to be effective. At The River Source, we will provide you with ample outpatient and residential alcohol rehab programs followed by aftercare programs to give you the time you need to achieve lasting sobriety.
30-Day Inpatient Alcohol Rehab in Arizona
In our 30-day alcohol rehab recovery center in Arizona, you will have access to all of our holistic and clinically-driven therapies and treatments. In the month-long alcohol rehab program, you'll live at the facility while you undergo your daily treatment programs personalized to your needs. Our 30-day alcohol inpatient rehab can be combined with other outpatient programs and aftercare services to create a continuum of care.
60-Day Inpatient Alcohol Rehab in Arizona
A 60-day rehab program at The River Source in Arizona will give you more time in our intensive residential rehab program for alcohol abuse and addiction, where you will receive behavioral therapy as individual therapy and group therapy. You will also receive our holistic care, which includes treatments such as our naturopathic treatment. The two-month-long rehab program can be combined with our other treatment settings and aftercare programs to create an ideal comprehensive alcohol addiction treatment program.
90-Day Inpatient Alcohol Rehab in Arizona
One of the longest single inpatient rehab programs that we offer at The River Source is our 90-day alcohol rehab program in Arizona. It gives you three whole months of intensive residential treatment where you can focus entirely on your healing and recovery without outside distractions or triggers. The 90-day inpatient alcohol rehab program will help you create the foundation for long-term recovery to break the cycle of addiction and build the foundation for sustainable recovery.
As with our 30- and 60-day programs, our 90-day residential alcohol rehab program can be combined with other treatment settings such as outpatient rehab and aftercare programs to provide you with a comprehensive treatment plan that will guide you to long-term sobriety.
Alcohol Rehab for High-Functioning Alcoholics in Arizona
High-functioning alcoholism can be just as impactful on your mental and physical health. While a high-functioning alcohol-addicted person may not outwardly exhibit the classic signs of substance abuse, the long-term effects of alcohol abuse will still occur. Sooner or later, it becomes clear that there is a problem, and it may take those around the person longer to notice because the person abusing alcohol may be effectively hiding the negative effects and how much they drink.
The River Source has excellent alcohol use disorder programs that can provide a confidential and effective way to treat the true causes of alcohol abuse so that long-term recovery can be achieved. Stop the problems associated with alcohol addiction from slowly but surely taking over your life by getting professional help at our alcohol rehab for high-functioning alcoholics in Arizona.
Alcohol Rehab in Arizona
Alcohol use disorder has serious mental and physical health consequences. Many areas of your life, such as your work, personal relationships, family relationships, finances, and other important areas, can be negatively impacted by alcohol abuse. The longer the abuse carries on, the more issues that you will face. Getting professional alcohol use disorder treatment can help you to turn your situation around and heal from the underlying causes of addiction.
At The River Source, you will be able to take advantage of our medical detox program, individual therapy, group therapy, and holistic treatments such as our naturopathic treatment. We focus on providing long-term care for alcohol addiction so that a new way of life can emerge and sustainable recovery can be achieved.
Whether you are looking for treatment for addiction for the first time or are looking for a long-term treatment solution for your alcohol use disorder after relapsing, The River Source has a comprehensive long-term treatment plan that will work for you.
Top-Rated Inpatient Alcohol Addiction Treatment Program in Arizona
Our top-rated inpatient alcohol addiction treatment program in Arizona is the ideal place to find alcohol use disorder treatment that will work for you. You don't have to deal with your addiction alone; The River Source can be your guide and support as you heal from the causes of your addiction and find ways to be happy and fulfilled in your life without the need for alcohol or other drugs.
We offer a wide range of therapies and treatments that treat the mind, body, and spirit. Our Integrative approach combines the best-known methods of treating addiction through behavioral therapies such as cognitive-behavioral therapy and dialectical behavioral therapy with holistic treatments such as our naturopathic treatments.
With The River Source, you will have a path to your long-term recovery planned out for you to follow, starting with medical detox and inpatient rehab and transitioning into outpatient treatment and aftercare programs such as our lifelong alumni program.
Alcoholism Treatment in Arizona
Our alcoholism treatment in Arizona is an ideal way to get to the heart of your alcohol abuse issue. Common causes of alcohol use disorder often stem from a person's biology, development, and environment. We explore these areas in individual behavioral therapy so that you can heal and overcome these common addiction causes.
Alcohol addiction often co-occurs with other mental health disorders such as bipolar disorder, anxiety disorders, post-traumatic stress disorder (PTSD), clinical depression, and other mental health disorders. Often, a person will use alcohol to self-medicate in order to find relief from their symptoms, but eventually, their untreated symptoms are still there and are joined by addiction symptoms. To treat co-occurring mental health disorders, we offer dual diagnosis treatment that treats the causes of addiction together with the untreated mental health disorders that may be present.
The River Source can give you the accredited professional help that you need to effectively treat the real causes of addiction and thereby open the door to long-term recovery. Together with support groups, relapse prevention strategies, and aftercare programs, you can achieve lasting sobriety with The River Source.
Our Recovery Guarantee
We are so confident in our therapies and treatments for drug and alcohol addiction that we offer a unique Recovery Guarantee. In short, if you go through our 150 Days to Reclaim Your Life comprehensive treatment program that includes inpatient rehab, outpatient rehab, and aftercare programs and both complete the program and actively maintain your sobriety as we advise, then if you relapse within your first year after graduation, then you can return to The River Source for more treatment free of charge.
Get in touch with our Arizona prescription drug rehab center today so that you can reclaim your life from drug or alcohol use disorder. Call us now for more information or to start your recovery journey.
QUICK, CONFIDENTIAL INSURANCE VERIFICATION
CLICK BELOW TO FIND OUT IF YOU HAVE COVERAGE