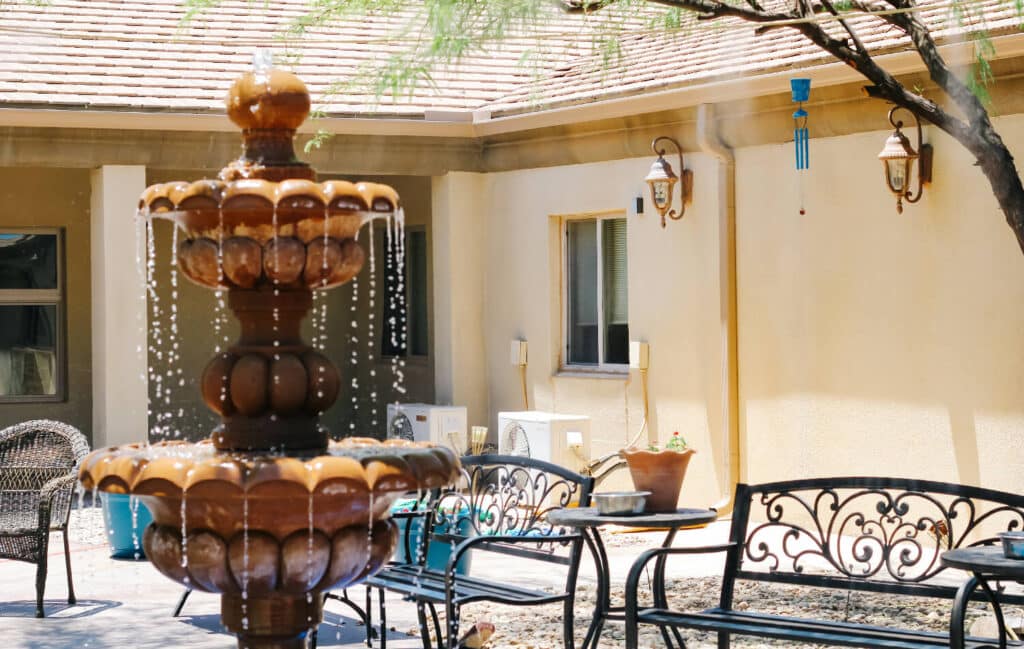 #1 Inpatient-Residential Drug Rehab in Arizona
If you've been battling drug addiction and when you try to stop, your withdrawal symptoms become too much to bear, or you relapse again after just a few days or weeks, then you may need inpatient drug rehab to give you the best chance at overcoming substance use disorder. At The River Source, we offer a comprehensive drug addiction treatment plan in Arizona where you can receive professional addiction treatment that includes medical detox, residential rehab, partial hospitalization program (PHP), intensive outpatient program (IOP), and a general outpatient program (GOP). The River Source also offers robust aftercare programs to help you sustain your recovery after rehab. We are Arizona's #1 residential drug rehab program. Contact us now to start your recovery journey and long-term treatment success.
YOU'RE NOT ALONE – WE CAN HELP
TAKE THE FIRST STEP AND APPLY FOR TREATMENT TODAY
Why Choose The River Source Arizona for Residential Drug Rehab?
The River Source is an accredited addiction treatment in Arizona. We achieve our success in addiction treatment through our evidence-based, clinically-driven approach to recovery that combines the many levels of care for drug abuse and addiction into a comprehensive treatment plan with holistic elements.
Our drug rehab is cost-effective and is a premier in-network treatment center where our success rates are unmatched. We offer an integrative approach that combines holistic treatments such as naturopathic treatment with clinically-driven therapies and treatments that together can help you with lifetime recovery.
How Long Is Rehab?
Effective drug abuse and addiction treatment is not a short-term process but rather one that requires ample time in recovery to truly overcome and heal from the causes of your substance abuse. The National Institute on Drug Abuse suggests a minimum of 3 months be dedicated to rehab and aftercare programs to ensure the effectiveness of treatment. At The River Source, we offer robust options, including our 30-, 60-, and 90-day inpatient drug rehab program in Arizona.
Both inpatient and outpatient rehab programs can be combined to allow you to spend ample time and receive transitional care as you progress through the various elements of your recovery.
30-Day Inpatient Drug Rehab in Arizona
Our 30-day inpatient drug rehab in Arizona is one of our shortest programs for drug addiction. It will give you a chance to receive treatments such as dual diagnosis treatment, behavioral therapy, naturopathic treatment, and other holistic treatment programs that will help you to build the foundation of a drug-free life.
60-Day Inpatient Drug Rehab in Arizona
A step up from our one-month program is our 60-day drug rehab. This residential rehab program gives you more time in our clinically-driven treatment programs and holistic approach that treats not only your addiction but helps you in other important areas of your life. Your two-month program can be followed by outpatient rehab programs such as IOP, GOP, and PHP to help you with a continuum of care to achieve long-term recovery.
90-Day Inpatient Drug Rehab in Arizona
One of our longest single programs is our 90-day inpatient drug rehab available in our Arizona treatment center. It gives you three months of intensive treatment in a residential setting where you can dedicate all of your time and effort to your recovery process. You will help by compassionate healthcare professionals and receive personalized addiction treatment that has an exceptional success rate. The more time spent in intensive treatment for substance use disorder, the better the long-term results become.
Types of Drug Addictions We Treat
At The River Source in Arizona, we treat a wide variety of drug addictions. Addictive substances such as meth, cocaine, heroin, fentanyl, and prescription medications can quickly form an addiction in a person that abuses them, but in our accredited treatment facility, you will get the specialized help needed to overcome the cycle of drug abuse.
Inpatient Heroin Rehab in Arizona
We offer inpatient heroin rehab in Arizona designed to treat opioid addiction through a combination of programs, including medical detox, behavioral therapy such as cognitive-behavioral therapy, and holistic treatments.
Inpatient Cocaine Rehab in Arizona
If you are addicted to cocaine, then our cocaine rehab in Arizona is your best option. In the inpatient setting, you will get help for every step of your recovery process from cocaine addiction, helping you to build a healthy and sustainable life foundation so that you can thrive after overcoming addiction.
Inpatient Oxy Rehab in Arizona
Oxycontin is an opioid that can be misused and lead to severe addiction. The River Source offers an Oxy rehab program in Arizona that will help you to overcome the causes of your addiction which may lie in your biology, development, or environment. We will also help you safely deal with your withdrawal symptoms and provide you with ample aftercare support to help you maintain your sobriety after rehab.
Inpatient Meth Rehab in Arizona
Methamphetamine abuse and addiction can become a far-reaching problem in your life. To get the best professional help possible, our inpatient meth rehab in Arizona can provide you with a personalized treatment plan that focuses on long-term treatment and therefore sees outstanding success rates. Our comprehensive meth rehab program can help you to find sustainable recovery.
Inpatient Benzo Rehab in Arizona
Benzodiazepines are controlled substances that have medical uses, especially in the treatment and management of addiction, but they can also be abused and require a particular treatment plan to help overcome. Our residential benzo rehab can help you if you or someone you care about is addicted to benzos.
Inpatient Prescription Drug Rehab in Arizona
The misuse of prescription drugs such as Adderall, Oxycodone, Ritalin, and many others can quickly lead to addiction. The addictive properties can create a physical dependence until you feel that you can no longer cope without misusing more RX drugs. Our residential prescription drug rehab in Arizona is the ideal place to get the professional help that will not only help you to overcome the causes of your addiction but to thrive in your life.
Men's Inpatient Drug Rehab
A rehab center in the residential setting that focuses on treating men by separating the sexes can be a very effective way to treat addiction. It removes potential distractions and helps you feel more surrounded by your peers – other men with similar life experiences that led them to substance abuse. Our men's inpatient drug rehab is an ideal place to get professional addiction treatment in a setting that allows you to focus fully on your recovery process.
Women's Inpatient Drug Rehab
Women that suffer from substance abuse may also be victims of sexual abuse and violence. A healing environment where they are surrounded by other women who may have gone through similar experiences to truly get the most out of treatment. Whether there has been trauma in the past or you're just looking for a way to focus all of your effort and time on your recovery from addiction, our women's inpatient drug rehab program in Arizona can help you.
Top-Rated Inpatient Drug Rehab Program With Results
The River Source is a Joint Commission accredited drug and alcohol rehab center that operates out of Arizona. Our integrative approach that combines conventional treatments with naturopathic treatments helps to improve recovery results and help you not only overcome your addiction but to thrive in recovery.
We are a top-rated inpatient drug and alcohol rehab that uses evidence-based treatments, and our comprehensive treatment programs are outcome-driven, meaning that we don't just treat your addiction, but we create a treatment plan that will lead you to sustainable recovery from alcohol and drug addiction.
The River Source is in-network with many major health insurance providers. We offer cost-effective treatment solutions that provide you with comprehensive in-budget treatments while not reducing the quality of treatment. Our premier in-network inpatient facility for alcohol and drug addiction can help you to achieve lasting success in your recovery.
Our Recovery Guarantee
At The River Source, we have a unique Recovery Guarantee. We believe in our clinically-driven treatments and their effectiveness, and therefore, we offer a guarantee that if you have spent at least 150 days in our programs which includes a full continuum of care from inpatient and outpatient rehab to aftercare programs, and adhere to the treatments and advice to maintain your sobriety, then you can return to rehab at for free if you relapse within the first year after your graduation.
Reach out to The River Source today to get access to the best residential rehab programs in Arizona. We can help you to achieve lasting, sustained recovery from drug addiction.
QUICK, CONFIDENTIAL INSURANCE VERIFICATION
CLICK BELOW TO FIND OUT IF YOU HAVE COVERAGE