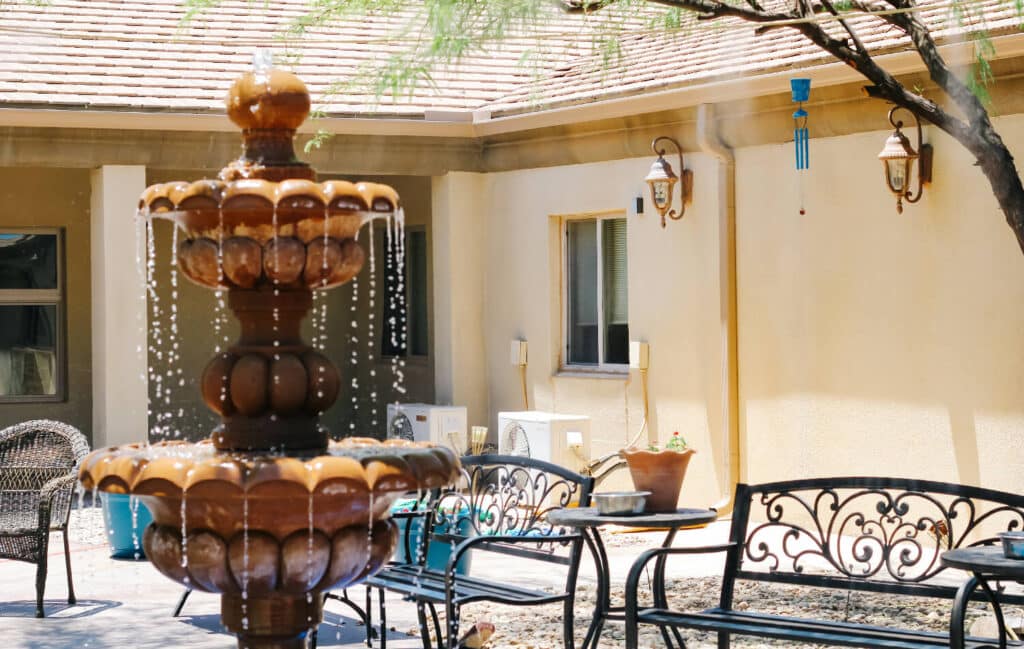 The River Source provides Mesa, Arizona residents with an alcohol rehab program that incorporates a whole-person integrated approach to healing. While industry-standard rehab centers will focus on healing from alcohol addiction through traditional methods, River Source believes that an effective addiction treatment program will focus on all areas of your life that alcohol addiction has impacted including physically, emotionally, mentally, and spiritually. Our Joint Commission accredited team is specifically trained in addiction treatment methods that incorporate traditional evidence-based therapy methods along with holistic, naturopathic treatment methods. Your addiction treatment program will support you in healing from the underlying emotions and traumas that have influenced your addictive behaviors while establishing new coping skills and tools for relapse prevention that will ensure you are able to maintain a life in addiction recovery no matter what challenges or triggers may present themselves. River Source offers a clinically driven treatment program that is focused on you achieving your goals for addiction recovery and having long-lasting success in addiction recovery.
YOU'RE NOT ALONE – WE CAN HELP
TAKE THE FIRST STEP AND APPLY FOR TREATMENT TODAY
Why Choose The River Source Mesa for Alcohol Rehab
The River Source is the top choice for Mesa residents that are looking for a comprehensive treatment approach that is individualized to their specific needs and goals for addiction recovery. Our heroin rehab in Mesa is based on the mission and values that each person living with a substance use disorder has their own unique history and circumstances that have contributed to their alcohol addiction. That is why there cannot be a one size fits all approach to healing. Addiction treatment should be centered around your individual circumstances and personal reasons that have influenced your alcohol abuse and addiction. Our diverse team of medical professionals and addiction therapists will get to know you and your history with substance abuse along with your overarching goals for sober living. After completing initial admission paperwork and assessments patients will be provided with an individualized treatment program that is designed to support them in reaching their self-identified goals and healing from the past emotions and traumas that have contributed to their alcohol addiction. 
Mesa residents will be provided with a full continuum of care that will support them no matter where they are in their addiction recovery process. Mesa residents attending our treatment facility will be supported through an alcohol detox program, inpatient residential treatment, outpatient treatment including partial hospitalization program or intensive outpatient program, aftercare treatment plan, and lifetime alumni support. For you to heal from your alcohol addiction and establish a new foundation in sober living and addiction recovery, it is important that you remain connected with your addiction recovery process for a long period of time which is why patients are supported long after you complete an alcohol or holistic rehab in Mesa. Our team is committed to your success and will be alongside you every step of the way as you continue to find your way in life free of alcohol abuse. 
Alcohol Rehab in Mesa For High Functioning Alcoholics
There is often an image or perception of an alcoholic that depicts someone that has experienced loss and hardship due to their drinking behaviors. While this can be the case for somewhere individuals who become unemployed, have difficulties maintaining school commitments, or experience financial hardships due to their drinking, this is not always the case for some individuals. A high-functioning alcoholic is someone that is able to maintain their responsibilities and lifestyle while still engaging in alcohol abuse. Although they may not have endured significant loss from their alcohol abuse, there are still negative consequences that can occur from prolonged drinking. The River Source offers Mesa residents an alcohol rehab program that will support them in identifying what has been fueling their alcohol abuse and support them in developing the tools for managing life's stressors without turning to alcohol as a form of self-medication. Alcohol rehab will provide you with healthy, holistic coping skills that will focus on keeping you in a life of sober living. 
Private Alcohol Treatment Program in Mesa
Your healing journey in addiction treatment is a personal journey and you want to know that your recovery process is protected within the recovery center. Our premier in-network facility will provide you with a safe, supportive space to confront your alcohol addiction head-on without having to worry about overcrowding with our patients. Through our robust, long-term treatment program, patients remain in our treatment programs for an extended period of time meaning that our treatment center won't act as a revolving door. Patients will be provided with one on one support with our low number of patients to staff that will ensure you get the personalized treatment plans that you need to successfully heal from alcohol addiction.
Inpatient Medically Supervised Alcohol Rehab in Mesa
Alcohol addiction can create significant physical dependencies among alcohol abusers. When you are ready to start your alcohol treatment programs, it is important that you are provided with the in-depth supervision and care you need to safely and comfortably overcome your alcohol addiction. Throughout your inpatient rehab program, you will be monitored by our in-house health care professionals and naturopathic doctors that will monitor your progress within alcohol rehab to ensure that you are safely moving through any presenting withdrawal symptoms and addressing your underlying emotions and traumas with the utmost levels of care.
Your days in alcohol rehab will consist of individual therapy sessions and group therapy processes that will focus on exploring what has been the driving force for your alcohol abuse. Each day will have a regular routine that incorporates traditional evidence-based therapy sessions, naturopathic healing treatments that will target healing physically, emotionally, and mentally, nutritional therapy, physical exercise, and opportunities to engage with other patients through social and recreational activities. Patients are able to connect with other patients to gain positive support from each other which will help foster a lifestyle in addiction recovery. 
How Long Is The Program in Mesa?
Your alcohol treatment program will be centered around your individual needs for healing and personal growth. Patients will have the option of choosing between a 30, 60, or 90-day rehab program depending on the levels of care that they require. If you decide to participate in a short-term rehab stay of either 30 or 60 days and decide that you would like more time to engage in addiction treatment, you are able to extend your time in inpatient rehab by 30-day increments. 
30-Day Alcohol Rehab in Mesa
A 30-day rehab program enables Mesa residents to have the time they need to take a break from your day to day lifestyle that was fueling their alcohol addiction to focus on the healing process of alcohol treatment. 30 days allows you enough time to start to initiate a new change in your life that will help you lay down a new foundation and lifestyle routine that will promote success in addiction recovery. Throughout your 30-day rehab program, patients will be able to engage in your individualized treatment program that will focus on addressing your root causes of alcohol addiction. 
60-Day Alcohol Rehab in Mesa
Mesa residents that are seeking an alcohol addiction treatment program that is in between a short-term and long-term rehab stay will often choose to stay for 60 days. Patients within a 60-day rehab program will be able to engage in a comprehensive treatment program that focuses on healing from previous traumas and underlying emotions that have influenced their addictive behaviors while developing the tools for relapse prevention.
90-Day Alcohol Rehab in Mesa
A 90-day rehab program is recommended for those Mesa residents that are able to commit to a long-term rehab program. 90 days provide ample time for patients to engage in a thorough treatment plan that incorporates specialized treatment approaches such as trauma therapy, family therapy, or dual diagnosis treatment. As you heal from your past alcohol addiction and corresponding triggers and traumas, you will be able to solidify your new coping skills and tools for relapse prevention that will enable you to remain on the road to recovery with long-term success.
Men's Inpatient Alcohol Rehab
Addiction treatment programs may provide patients opportunities to heal within group settings with the same sex. A men's inpatient rehab program allows for a safe space for men to become open and honest about the impacts of alcohol addiction including the societal stigmas and expectations that are placed upon men throughout American culture. Men are able to develop long-lasting friendships with other male patients who become part of each other's support systems that hold each other accountable to their goals of remaining in addiction recovery. 
Women's Inpatient Alcohol Rehab
Similar to men's inpatient alcohol rehab, women who are able to heal together within alcohol treatment programs will become empowered to heal together as a collective group as they relate to one another's struggles and experiences throughout their alcohol addiction. Women are able to feel safe and secure to become vulnerable and open to healing from past traumas as there may be some women who have experienced abuse often at the hands of a man. Women in an inpatient alcohol rehab program will be able to share the emotions, experiences, and expectations that are placed upon them and heal and empower each other to find a new way of life in addiction recovery. 
Our Recovery Guarantee
Our team is committed to your success in addiction treatment. We know the hard work that you are putting into your life-changing journey of alcohol treatment and we want to make sure that you find success in addiction recovery.  Each patient will be given our recovery guarantee and any patient that has completed our full continuum of care including your aftercare treatment plan and experiences a relapse within the first year will be invited to come back to our treatment center for addiction treatment programs again.