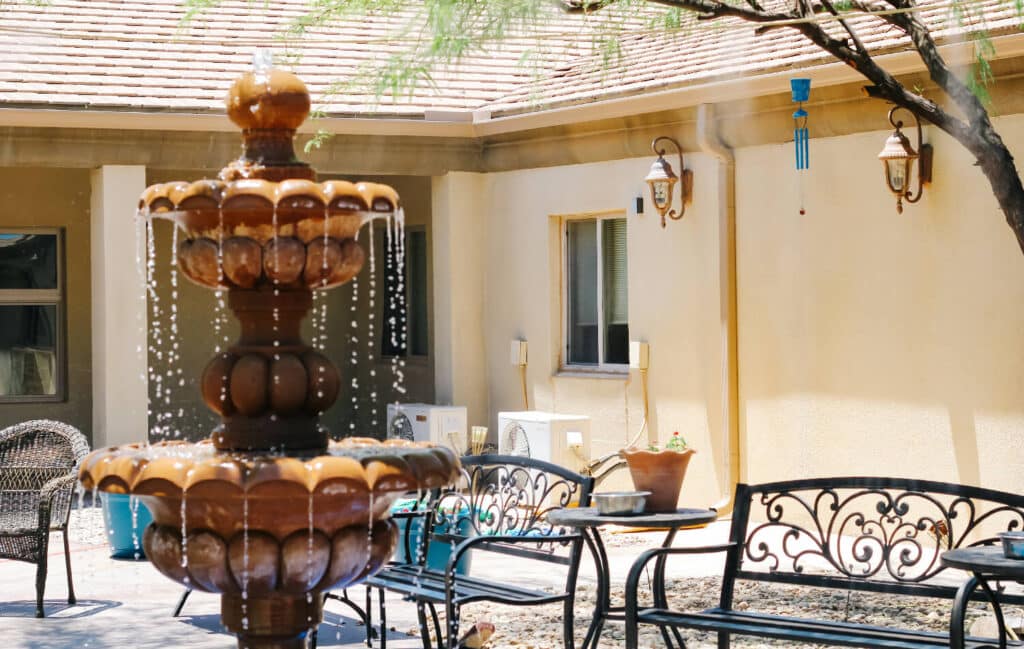 Why Choose The River Source Mesa for Cocaine Detox & Drug Rehab
The River Source is proud to offer multiple treatment approaches with built-in flexibility for those struggling with substance use disorder. Our evidence-based addiction therapy programs include traditional behavioral health methodologies like dialectical behavior therapy, along with alternative, naturopathic, and holistic approaches that complement the clinical solutions for addiction recovery. The River Source cocaine detox program utilizes the most effective treatment modalities in order to greatly reduce the severity of withdrawal symptoms and enhance the healing process. We believe that promoting greater comfort and relaxation for clients during this stage of their recovery journey sets a beneficial tone for the transition into the next stages of treatment. 
YOU'RE NOT ALONE – WE CAN HELP
TAKE THE FIRST STEP AND APPLY FOR TREATMENT TODAY
First Class Amenities
Patients who enter addiction treatment at The River Source recovery center receive first-class treatment in every way. While our drug and alcohol treatment centers are the definitions of modern, comfortable, and relaxing, we shy away from the "luxury" label that often detracts from the process of recovery. We provide our clients with proven resources and treatments in a safe and comfortable environment conducive to healing. 
Our facilities are outfitted with supportive amenities such as: 
spacious bedrooms with high-quality mattresses and fresh linens

clean private bathrooms

relaxing common areas

large and peaceful outdoor areas

daily chef-prepared meals. 
Additionally, we employ expert and compassionate staff who are medically trained addiction specialists. They apply their experience and capability towards assisting with the administration of our Key Treatments and Therapies. These include Dry Sauna Detox, Vitamin IV Therapy, Massage Therapy, Neurofeedback, and other elements of medical detox and community therapy. 
What Is Detox Like?
Not everyone goes through detox, but for those who do, it is the first stage of their recovery journey. Detox is the process of your body processing the chemicals and toxins from the addictive substances used and returning to a balanced chemical and hormonal state. During this process, withdrawal symptoms are triggered, which contribute to the discomfort and difficulty related to discontinuing drug and alcohol use. 
Detox is different for everyone, depending on their history of drug abuse or alcohol addiction and other factors of their overall health. Some individuals experience very severe and possibly life-threatening symptoms that make it dangerous to go through detox at home. Medically assisted detox is the safest way to discontinue drug or alcohol use and allows for the use of medications that facilitate the detox process and make the transition to the next levels of care in substance abuse treatment as seamless as possible. The highest rate of relapse typically occurs during this period of drug and alcohol withdrawal, which is another benefit of going through medical detox at a recovery center like The River Source.  
Detox begins with a thorough medical assessment to determine your current state of health and how much of the withdrawal process your body can handle. Throughout all detox processes, medical professionals and trained caretakers will monitor your condition around the clock. 
Most patients only need medications administered to lessen the severity of symptoms like nausea, body aches, and anxiety. For detox from substances that create a physical dependency like alcohol and opioids, there are FDA-approved medications that can reduce withdrawal symptoms and help ease the detox process. 
The first 48-72 hours of detox are considered the most difficult, but once the most intense symptoms subside, patients experience an overall improvement in how they feel physically, mentally, and emotionally. 
How Long Does Detox Last?
The length of time an individual spends in detox depends on what substance they are detoxing from, and not everyone experiences a detox period, even if they still need to enroll in residential inpatient care. 
For example, an alcohol detox process only surfaces in individuals who have a long history of severe alcohol abuse and addiction. On the other hand, even a short period of heroin will result in a period of opioid detox lasting 7-10 days on average and up to 14 days for long-time users. 
In regards to detox from cocaine, the detox process addresses the physiological symptoms of cocaine withdrawal associated with habitual use, intense cravings, and altered thinking from long-term use. Since cocaine stays in the body for a short period of time, the actual detox is brief and lasts more than a few days only if there was a recent binge period. 
However, just because this substance does not create a physical dependency the way opioid addiction does, it is not recommended to go through cocaine detox at home. Recovery for the cocaine addict involves the highest rate of relapse because the cravings and psychological withdrawal symptoms are very strong.   
What Happens After Detox?
After medical detox, the most common recommendation is to begin treatment with a residential rehab program where you can receive around-the-clock care and immersive therapy to move the process of recovery along as efficiently as possible. Inpatient care also supports a distraction, trigger, and temptation-free environment where clients can heal and focus on recovering from addiction. 
The risk of relapse for individuals who are allowed to return to their previous environments, even after completing detox, is much higher than for those who enroll in inpatient treatment programs. Substance use disorder is a combination of physical addiction and mental health conditions. Without addressing both parts, long-term recovery is not an expected outcome.
How Long Does Cocaine Rehab Last?
Recovery from substance use disorder is a years-long process, and many individuals consider it a lifetime effort. This doesn't mean that it's always as difficult as when you begin. Soon, recovery will be your way of life — as easy as waking up and going to sleep — but being in recovery does mean you are making an active effort to abstain from using drugs or alcohol. 
For those in recovery, rehab typically refers to the first period of discontinuing substance abuse and entering detox, using medication-assisted treatment, and attending regular therapy and support groups in either an inpatient program, an outpatient program, or a combination of the two. 
Every individual's recovery journey is unique. Some already have underlying mental health disorders that necessitate multiple therapeutic approaches to resolve while other former substance abusers develop mental health conditions as a result of substance abuse and trauma experienced as a drug addict. This all contributes to how long their stay in rehab lasts. Most inpatient facilities offer 30, 60, and 90-day programs. 
30-Day Cocaine Rehab in Mesa
This is the most typical length of stay in an inpatient facility. Thirty days is typically the number of times adults with school, work, or personal responsibilities are able to remain in full-time treatment. Many people are successful in recovery after completing a 30-day program with a transition to outpatient treatment. Outpatient care allows them to implement the skills they learned in treatment into their day-to-day lives and begin creating a healthy addiction-free lifestyle while still accessing significant support, therapy, and accountability. 
60-Day Cocaine Rehab in Mesa
Longer stays in residential treatment, such as in a 60-day program, allow for more time to dive deeper into the therapy and other resources available at inpatient facilities. It's not uncommon for the entire first week of inpatient care to be an adjustment period to a new environment, along with detoxing from addictive substances. 
With a 60-day program, this adjustment period can be intentional so that when therapy does begin, each session is effective and revealing in order to help them unpack underlying causes that lead to the use of drugs or alcohol as a coping skill. Longer programs can also create a more significant "break" period from the people or situations that facilitated their drug use, making it easier to begin a healthier life once they leave residential treatment. 
90-Day Cocaine Rehab in Mesa
Ninety-day programs continue to build on what 30 and 60-day programs have to offer. Those who participate in this length of treatment are often preparing to begin a completely new life, versus returning to the circumstances they came from. In a 90-day program, it's likely that they will participate in workshops that help them develop the skills they will need to be successful adults outside of treatment. This can range from basic life skills like maintaining a home and cooking, to job skills and responsible financial habits. 
Individuals who participate in this treatment option are often able to transition into life outside of residential care without entering an outpatient program. Instead, they may be connected with a sober living home or a mentor and support groups to offer them accountability outside of their treatment facility. 
The River Source offers a 120-day "Reclaim Your Life" program that encompasses detox, inpatient care, and outpatient treatment. We are so confident that patients of ours who complete this 120-day program will have such a low risk of relapse, we offer free treatment to anyone who does experience relapse within one year of completing Reclaim. This program is created on the back of a study performed by the National Institute on Drug Abuse that found a direct correlation between the length of time spent in an evidence-based treatment program and the lowest possible relapse rate. 
It is our mission at the River Source to break the cycle of addiction and provide you with the tools, resources, and empowerment you need to Reclaim Your Life. We encourage those struggling with addiction or who are concerned for the health of their loved ones to reach out to our team of compassionate professionals who are ready to answer any questions you may have about insurance coverage, treatment programs, and our admissions process.
Our Recovery Guarantee
If relapse occurs within 1-year after the completion of our Recovery Guarantee Program, The River Source invites clients to return for no additional charge.