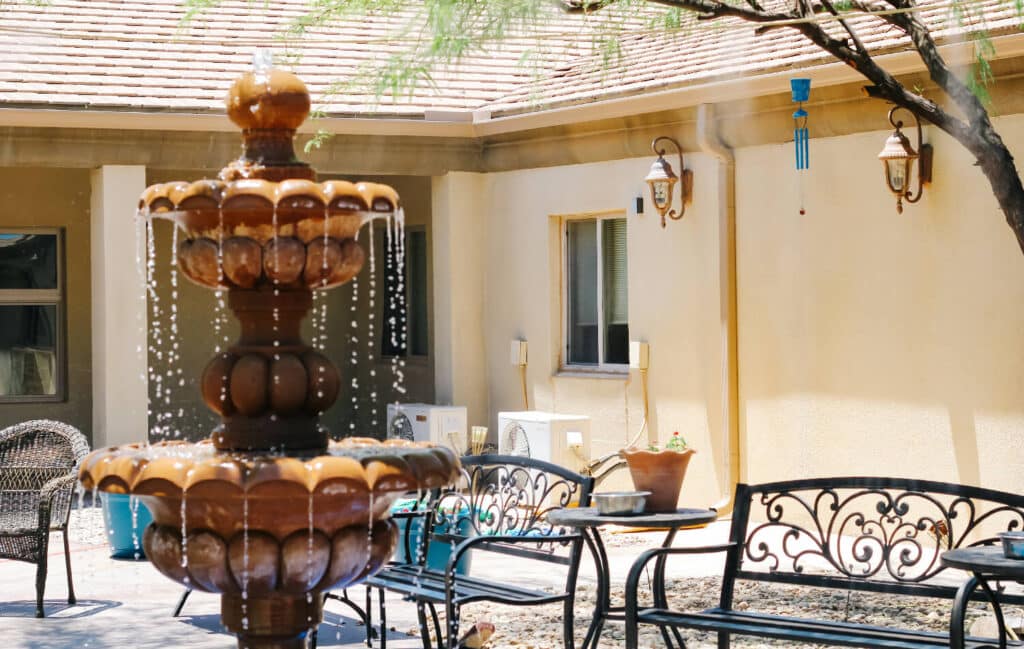 When you are living with active drug addiction, it can feel as though you are alone in your battle with substance abuse. With many individuals feeling isolated from loved ones and experiencing negative consequences from substance abuse, the thought of seeking help through addiction treatment is present but finding a treatment center that best suits your needs is essential. The River Source treatment center offers Mesa, Arizona residents an integrative approach to healing and drug detox that will foster healing, overcoming physical dependence on drugs and alcohol, and establishing a new way of life in addiction recovery. Drug addiction can have significant impacts on a person's physical and mental health that require a comprehensive approach to addiction treatment including conventional treatment methods evidence-based therapy approaches along with our in-depth holistic treatment styles that will support you in healing from your substance use disorders through naturopathic treatments. Your addiction treatment program will be centered around your specific needs for addiction recovery through an individualized treatment plan. Our team is dedicated to your success in healing from drug addiction by providing you with the personalized approach and care that you need to safely address your root causes of substance abuse and relieve you of the physical dependence developed on drugs and alcohol through a medical detox program. 
YOU'RE NOT ALONE – WE CAN HELP
TAKE THE FIRST STEP AND APPLY FOR TREATMENT TODAY
Why Choose The River Source Mesa for Residetial Drug Detox
Mesa residents choose The River Source as the leading choice for a substance abuse treatment program for the clinically driven approach to healing that is centered around your motivation for healing and change. We strongly believe that there is no cookie cutter format for addiction treatment as each individual person that addiction touches their life will experience a variety of negative side effects and underlying reasons that have influenced their addictive behaviors. That is why our team will take the time to get to know you and your individual circumstances with drug addiction to develop a treatment plan that is geared towards your self-identified goals and hopes for addiction treatment and the healing process. A drug detox program is the first step in your continuum of care that will support you in healing from the physical, emotional, and mental addiction that has developed to drugs and alcohol. Overcoming the physical dependence on drugs within a drug detox requires an integrative approach to healing with a combination of traditional evidence-based therapy methods and holistic treatment. Our team of healthcare professionals and naturopathic doctors will incorporate medical treatments and interventions along with naturopathic medicines that will help to restore and replenish your body to optimal functioning levels. Your drug detox program will be sure to maintain feelings of comfort and uphold your physical and mental health safety to ensure you can easily transition into a life of addiction recovery.
What Is Detox Like?
Drug detox is the first step in the continuum of care offered within our treatment center. Before you are able to address the underlying causes of your drug addiction, it is important that you free your body and mind of the harmful toxins and influences that substance abuse can have. When you first arrive at the recovery center, you will meet with our health care professionals and naturopathic doctors that will complete initial intake paperwork and assessments that will support our team in identifying your needs for medical treatment and interventions depending on the severity of your drug addiction. Once our team has established a personalized treatment plan, you will be invited to reside within our recovery center to undergo a medical detox program. As you go through your drug detox program, you will be monitored by medical professionals as you experience any withdrawal symptoms while being provided with evidence-based therapy methods including medication-assisted treatment. Our medical team is on-site 24/7 to provide you with homeopathic remedies and withdrawal management support to ensure that you remain comfortable and safe. Patients will be offered a comfortable, safe environment that is a nonhospital setting that will make them feel at ease as they begin the initial process of addiction recovery. 
Types of Drug Addictions We Treat
Drug addiction can take many forms whether you engage in prescription drug abuse, opioid addiction, or stimulant addiction including a meth or cocaine addiction. The team at The River Source has specifically trained in evidence-based therapy methods that are individualized to each person to meet your unique circumstances and needs. No matter what your drug of choice is, our team will provide you with a comprehensive treatment plan that will target your personal needs for healing and personal growth. 
Meth Detox in Mesa
Meth addiction can have significant impacts on a person's physical health including symptoms of tooth decay or dental problems, changes in heart functioning, changes in sleep patterns, and mental health side effects of drug-induced psychosis, paranoia, or hallucinations. Medical detox will provide patients with a balance of physical health treatments from on-site nurses and physicians with access to therapeutic support to overcome any presenting symptoms. 
Cocaine Detox in Mesa 
Cocaine addiction primarily impacts a person's psychological health, A cocaine detox will focus on treating the psychological dependency that has occurred with the support of evidence-based therapy methods. Drug detox for cocaine abusers will focus on regulating their emotions and supporting restoring healthy daily living routines that foster sober living.
Benzo Detox in Mesa 
Benzodiazepine abuse often starts with using benzos as a method to treat ongoing mental health concerns such as anxiety disorder, panic disorders, or treating seizures. When an individual stops taking benzos cold turkey there is the possibility for individuals to experience the onset of worsening symptoms of these co-occurring disorders. A benzo detox will focus on a slow tapering-off method that will ensure you safely remove the influences of benzos without any serious implications.
Oxy Detox in Mesa
Similar to heroin addiction, oxy is an opioid addiction that can present serious withdrawal symptoms and side effects that should be monitored within a drug detox program. Withdrawal symptoms can range from mild symptoms of headaches or flu-like symptoms to severe withdrawal symptoms of seizures, severe muscle and body aches, and respiratory depression. A medical detox program will include intensive medical and homeopathic treatments that will maintain your safety and comfort throughout your drug detox program.
Heroin Detox in Mesa
Heroin addiction is known to have significant side effects on a person's physical health and mental health functioning. The longer you engage in heroin or opioid abuse, the more your body becomes physically reliant on these substances to function throughout each day. Heroin withdrawal is known to have serious implications and withdrawal symptoms that can cause significant side effects and symptoms that should be treated within a medical detox program. Oftentimes, individuals in heroin detox will be provided the option of participating in medication-assisted treatment that will offer FDA-approved medication to alleviate the severity of withdrawal symptoms and reduce any strong cravings for heroin. Medication-assisted treatment programs will often last throughout drug detox and drug rehab programs as withdrawal symptoms can occur for weeks and sometimes months after quitting drugs. 
How Long Does Detox Last?
Each person that is living with a substance use disorder will have their own unique circumstances with drug addiction that will vary in levels of severity. Depending on your history of substance abuse, your time in detox will vary. Most patients will be in drug detox for a period of 5-10 days or until they have successfully overcome any presenting withdrawal symptoms and release the physical dependencies developed to drugs and alcohol. 
What Happens After Detox?
After completing a drug detox program, the next step in our continuum of care is to enter into a drug rehab program. Mesa residents will have the option of attending an inpatient rehab program or outpatient treatment including an intensive outpatient program or partial hospitalization program. No matter which forms of addiction treatment you choose, you will be supported through a personalized treatment plan that will incorporate therapy methods of:
Cognitive Behavioral Therapy 

Dialectical Behavioral Therapy 

Dual Diagnosis Treatment 

Medication Assisted Treatment

12 Step Programs 

Life Skills Development 

Family Therapy

Relapse Prevention Development 

Trauma Therapy 
The goal of addiction treatment and drug rehab in Mesa is to support patients in identifying and healing from the underlying emotions and traumas that have influenced their addictive behaviors. As you heal from the past, you will be able to develop coping skills and tools to manage future triggers and remain on the road to recovery. 
Why Detox at River Source
The River Source provides Mesa residents with a unique drug detox program that focuses on healing from drug addiction within their bodies, mind, and spirit. Our intensive naturopathic detox programs incorporate healing methods of naturopathic medicine, IV nutrient therapy, an enhanced detox supplement package, and massage therapy that will support you in naturally healing from the impacts of drug addiction while restoring your body and health from the implications that drug abuse had within your body.
Our Recovery Guarantee
Your success in addiction recovery is our top priority. Our team is dedicated to supporting you in achieving your goals for sober living and addiction recovery. You have put in the hard work to engage in a drug detox program and continue with the full continuum of care that is offered within our treatment center. That is why we offer a recovery guarantee for patients that complete our continuum of care and follow your aftercare treatment program. If you experience a relapse within a year after completing your addiction treatment program, you will be invited back to our recovery center to re-engage in addiction treatment processes to ensure you receive the support you need to strengthen your skills for relapse prevention and have long-lasting success in addiction recovery.