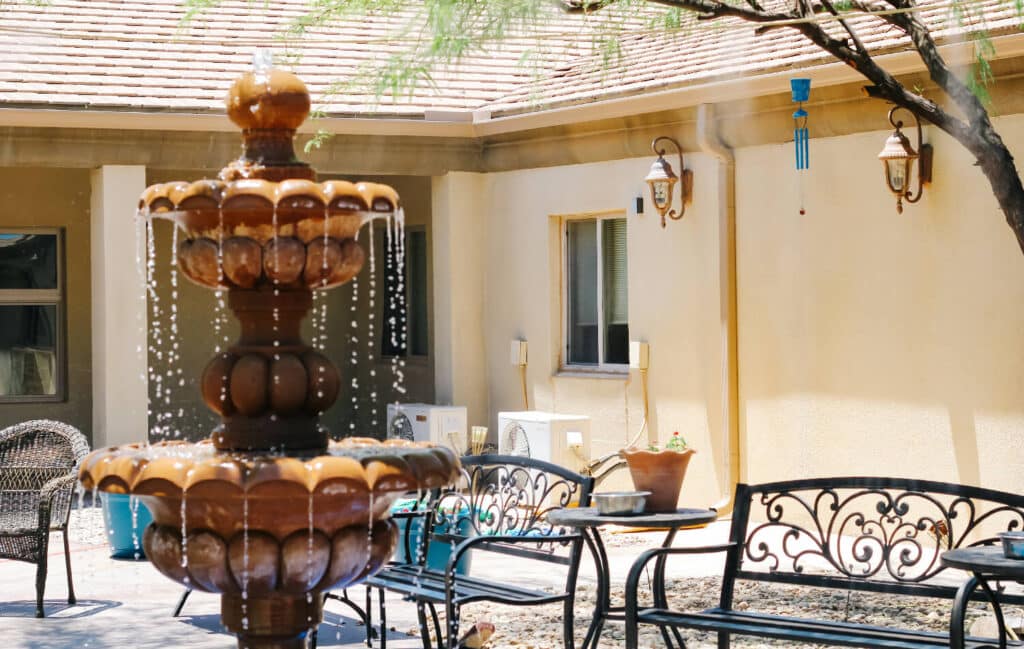 River Source offers Mesa, Arizona residents with an exceptional drug rehab program that exceeds the industry standard for treatment approaches. Throughout our continuum of care, patients are able to address and heal from the physical, emotional, and mental addiction that has developed to drugs and alcohol. Patients are provided with a comprehensive, individualized treatment plan that is based on evidence-based therapy methods paired with holistic treatments that will support them in healing from the root causes of their drug addiction while developing the coping skills and strategies to maintain a life in addiction recovery. Our team will support you every step of the way as you go through your life-changing journey of addiction treatment. Patients can choose from any type of treatment with our continuum of care including drug detox, inpatient rehab, outpatient rehab of either partial hospitalization program or intensive outpatient rehab, after care programming, and lifetime alumni program. Healing from your substance use disorders requires a commitment to your goals for addiction recovery throughout your life and our in-depth approach to healing will support you in achieving your newfound way of life in sober living. 
YOU'RE NOT ALONE – WE CAN HELP
TAKE THE FIRST STEP AND APPLY FOR TREATMENT TODAY
Why Choose The River Source Mesa for Drug Rehab
The River Source is the leading choice for Mesa residents that are ready to begin the healing journey of substance abuse treatment programs. No one person that is living with a substance use disorder has the same story as substance abuse. Drug and alcohol addiction is often rooted in underlying emotions and traumas that are unique to you. That is why we believe that addiction treatment cannot be a one size fits all approach. In order to effectively heal from substance abuse, it is important that your treatment program is centered around your individual needs for healing and therapy that will foster personal growth, healing from trauma, and developing the life skills and tools for relapse prevention. 
The River Source believes that addiction treatment programs should be centered around approaches that are clinically driven. This means that your treatment program is going to incorporate evidence-based therapy methods that have proven results. Our diverse team of addiction therapists, and health care professionals including naturopathic doctors, are Joint Commission accredited and trained in leading addiction treatment methods and approaches that will support you in exploring the underlying causes and emotions that are associated with addictive behaviors. Our team will work with you to establish a new foundation in life that is centered around sober living, health, and balance that will continuously foster life in addiction recovery. 
Types of Drug Addictions We Treat
Drug addiction is a unique disease that impacts each person differently that lives with substance use disorders. Addiction is often a progressive disorder where individuals will start with more commonly used substances such as marijuanna or alcohol abuse and will often continue to progress into more severe addictive behaviors and harsher substances that are known to be highly addictive including meth, heroin, cocaine, or prescription drugs. At The River Source, we are committed to providing our patients with addiction treatment programs that will support them in safely overcoming their drug dependence and addiction through a natural, holistic method along with evidence-based therapy approaches that have proven to have high success rates for addiction recovery.
Heroin Rehab
Heroin addiction is known to create a significant physical dependency on the substance abuser. Due to the serious implications and side effects that can occur during a heroin detox or opioid detox, many individuals will participate in a long-term medication-assisted treatment plan. During this phase of your treatment plan, you will be supported in safely overcoming your physical addiction to heroin through a slow tapering-off period that will be mindful of the withdrawal symptoms that you are experiencing to ensure you remain comfortable and safe. The period of withdrawal symptoms from heroin are known to last for weeks and sometimes months which is why your heroin rehab will provide patients with the tools for relapse prevention, managing triggers, emotional regulation, and coping skills that will ensure you remain on the road to recovery. 
Cocaine Rehab in Mesa
Cocaine addiction is one that primarily causes a psychological addiction that impacts a person's emotional and mental health. Compared to other drugs, cocaine produces less physical dependencies but has an increased psychological dependence that can be challenging to overcome on your own. To effectively heal from cocaine addiction in Costa Mesa, it is important that your treatment programs will consist of a comprehensive format of addiction treatment including the following forms of evidence-based therapy methods: 
Cognitive behavioral therapy 

Dialectical behavioral therapy 

Dual diagnosis treatment that will focus on healing from the root causes of your drug addiction while providing methods to treat any presenting mental health conditions through naturopathic treatment methods 

12 step programs 

Life skills and relapse prevention method development
Oxy Rehab in Mesa
Oxycodone abuse is on the rise in America and similar to heroin abuse or other opioid addiction, oxy addiction can have damaging effects on a person's physical health and mental health conditions. An oxy addiction often develops after someone is prescribed oxy to treat an ongoing physical health condition that creates severe pain or discomfort. Oxy detox and rehab will focus on alleviating the physical dependence on oxy while exploring the root causes of your substance abuse. Patients will be supported in learning alternative methods to pain relief that will move away from drugs and alcohol as a means of self-medicating and develop holistic practices to successfully treat any presenting symptoms of pain. 
Meth Rehab in Mesa
Meth addiction is known to have serious medical concerns resulting from abusing meth regularly. Individuals that are abusing meth are known to experience side effects such as nutritional deficiencies, dental health concerns, heart abnormalities or concerns, and drug-induced psychosis. A meth rehab program will support patients in addressing these concerns with the ongoing support of health care professionals and addiction therapists that will support you in successfully overcoming your meth addiction. 
Benzo Rehab in Mesa
Benzodiazepines are commonly prescribed for conditions such as depression, anxiety disorder, panic disorders, and seizures. When a person begins to abuse benzodiazepines, there can be an increased risk of experiencing exacerbated symptoms of these conditions especially if the benzo abuse is stopped cold turkey. A benzo rehab will incorporate a medication-assisted treatment program for those patients with a severe benzo addiction and will also incorporate a slow tapering-off period from benzos to ensure that you remain safe and healthy within your physical and mental health. Patients will develop the tools for managing their co-occurring disorders through holistic treatments that will help them stabilize their symptoms of these disorders without the use of drugs and alcohol. 
Prescription Drug Rehab in Mesa
Prescription drugs come in many forms that have the potential of becoming addictive to their users. Prescription drug rehab will support patients in safely removing the harmful toxins of prescription drugs without the negative consequences of prescription drug withdrawal symptoms. Patients will be provided with options to participate in medication-assisted treatment for severe dependencies to opioid addiction or benzodiazepines addiction as well as dual diagnosis treatment that will support them in healing from their addictive behaviors while developing the tools to manage any presenting co-occurring disorders. 
Top Rated Addiction Treatment in Mesa
The River Source is the leading choice for Mesa residents that are ready to address and heal from their drug addiction for the integrative approach to healing and addiction recovery. Through our comprehensive whole-person integrated approach to healing, you will be able to heal from the effects of drug addiction physically, emotionally, mentally, and spiritually. OUr team understands the nature of drug addiction and that it has progressed over an extended period of time. This means that your addiction treatment program should reflect the same which is why we offer a robust, long-term recovery process that will support you in having success in your journey towards addiction recovery. 
Mesa Drug Rehab Success Rates
River Source addiction treatment centers offer patients a truly unique approach to addiction treatment that will ensure you successfully heal from the underlying causes of drug addiction and develop a new foundation in sober living. Our treatment center has proven to have high success rates with 82% of individuals who complete addiction treatment within our treatment facility remaining sober 1 year after completing addiction treatment.
Why Choose The The River Source Mesa for Addiction Treatment
The River Source offers a robust treatment program that supports you in every phase of your addiction recovery. While other industry standard addiction treatment programs will focus on your time within the center and finalize your recovery process there. We believe that for long-lasting success you need to have ongoing support that will help you strengthen your coping skills and abilities to manage triggers throughout your journey in sober living. When you choose to heal from addiction within our treatment center, you are choosing to be a part of The River Source family that will be with you every step of the way as you discover your new way of life in addiction recovery. 
Our Recovery Guarantee
Your success in addiction treatment is essential for us which is why we have created our recovery guarantee. For patients that complete our full continuum of care, follow your aftercare treatment plan, and experience a relapse within 1 year after graduation, you are welcome to come back to our Mesa inpatient drug center to engage in addiction treatment programs again.