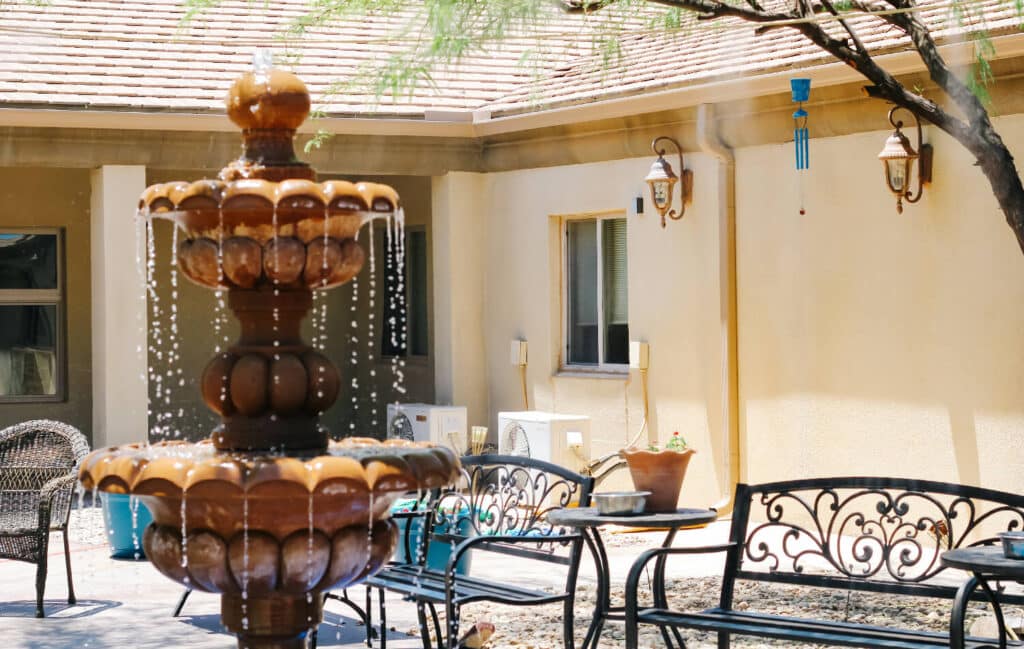 Why Choose the River Source Mesa for Heroin Detox & Drug Rehab
During heroin detox in our inpatient treatment facility in Mesa City, Arizona you will live inside our alcohol and drug rehab center and be provided with an integrated care program that combines treatments for your physical, mental, spiritual, social, behavioral, and psychological health. After drug detox, you can move into your inpatient rehabilitation in the same facility. Inpatient rehab at The River Source is a comfortable and safe place you can stay as you get the therapy, treatments, and rehabilitation programs you need, with luxury amenities and naturopathic therapies available at your fingertips. After your inpatient rehab program, you can move into one of our tailored outpatient programs.
YOU'RE NOT ALONE – WE CAN HELP
TAKE THE FIRST STEP AND APPLY FOR TREATMENT TODAY
#1 Heroin Detox-Rehab in Mesa
Heroin is a drug that is extremely addictive, and because heroin use is normalized in many settings including clubs and house parties, you may not realize you have a substance abuse disorder until it is serious enough to require professional addiction treatments.
The River Source is the top-rated heroin addiction treatment center in the Mesa Mesa area because we provide inpatient medical detox and rehabilitation programs in our Mesa City, Arizona facility, followed by outpatient treatments in one of our two outpatient drug and alcohol rehab centers in Phoenix, Arizona, and Gilbert, Arizona. Our Joint Commission-accredited team provides top-tier medical care, naturopathic treatments, and evidence-based therapies in a holistic approach to healing that does so much more for you than a simple detox program would. You will heal the underlying causes of your addiction, regain your strength and health, get mental health issues under control, and better your overall wellness as you overcome your heroin addiction in a customized substance abuse treatment program.  
When you decide to look for addiction treatment options, it is important to find a treatment facility that has programs that will work for you.  A lot of people begin treatment programs, but because they have not found one that truly fits their needs, they stop receiving treatment soon after they start. At The River Source, we offer many different types of treatment in order to create the treatment plan that is right for each of our clients. 
At The River Source, we offer alcohol and drug detox, inpatient rehab, and outpatient treatment among our levels of care.  If you or someone you know is struggling with substance use disorders, call us today.
First Class Amenities
When you come to the River Source, you will have all treatments provided within a comfortable environment with a cozy interior, outdoor spaces, and semi-private bedrooms that have full bathrooms and an on-site washer and dryer. During detox, you will have your own TV in your room, and once you move into inpatient rehab, there are TV rooms to enjoy. Other amenities offered are:
Fitness equipment

A sand volleyball court

A basketball court

A ¼-mile track

Frisbee golf

Yoga

Exercise classes

Games and group recreational activities

Art therapy groups for self-expression and healing

Delicious, nutritional, well-balanced meals
As a top rehab center, we also have additional holistic treatments available for purchase throughout your stay in inpatient drug rehab, including:
A comprehensive blood panel analysis

Massage therapy

Acupuncture

IV nutrient therapy

B-vitamin boosters

An enhanced supplement package
What Is Detox Like?
Your heroin detox treatment plan at The River Source will be a safe treatment plan that is customized to your unique needs, biology, and the drug(s) you are detoxing from.
Our staff is there 24 hours a day to ensure you are safe and comfortable, and we provide prescription medications alongside holistic treatments to help you through detox symptoms like:
Nausea, vomiting, and flu-like symptoms

Muscle and joint pain and cramping

Shaking and nervousness

Agitation

Depression

Muscle spasms

Strong cravings
During detox, we will work with you to build a foundation that will last you a lifetime in recovery, with:
Treatments provided by highly experienced and educated professionals, doctors, and therapists

FDA-approved prescription medications and effective medical care

Dual diagnosis care for co-occurring conditions like mental illness or PTSD

Holistic treatments to strengthen the body

Therapy and counseling as you detox to help you through this difficult time without suffering or fear

Family involvement, family education, family therapy, and family visitations

Peer support
In heroin detox programs, you may need medication-assisted treatment, as it is a very difficult substance to quit, and requires a long-term tapering-off program that includes prescription medications provided on a set schedule by medical professionals.
How Long Does Detox Last?
Because we use various treatment approaches and a holistic approach for your customized inpatient drug detox plan, every person is provided with a unique program, lasting anywhere from one to ten days. Your individual treatment types will vary based on variables like:
Your overall level of addiction

Whether you are experiencing withdrawal symptoms

Which substance(s) you were using before coming to the drug rehab center

How long and how much you were using

Your physical and mental health at the time of treatment
What Happens After Detox?
After you complete your time in our drug and alcohol detox center, you will move into your inpatient treatment program for residential treatment, then you will move back home or into a sober living home as you begin your partial hospitalization program, followed by an intensive outpatient rehab program, with the final step being a 6-month-long outpatient treatment program, all while continuing your medication-assisted treatments. These levels of care for Mesa, Arizona residents include treatments like:
Group therapy, individual therapy, and family therapy

12-step principles

Cognitive behavioral therapy and dialectical behavioral therapy

Naturopathic services and holistic treatments

Psychoeducational groups

Neurofeedback

Psychiatric services and dual diagnosis programs

Long-term continuing care planning and relapse prevention strategies
All care is provided in a cost-effective, comprehensive program that offers affordable private pay rates and financial help for those who qualify, for an effective program that offers a guarantee of success for up to one year after drug and alcohol addiction treatment.
How Long Does Heroin Rehab Last?
Like detox, your rehabilitation timeline will depend on which of our inpatient and outpatient treatment programs and services you access. The entire continuum of care has been created to take 150 days from detox through inpatient and outpatient programs. In your custom rehab program, you will likely spend the following amounts of time in each level of care:
Detox: 5 to 10 days
In detox, you will stay inside the rehab facility as your body adjusts to brain chemistry changes and the lack of heroin in your system, and our team will be there 24 hours a day to ensure you do not suffer from pain, discomfort, distress, restlessness, psychiatric effects, or drug cravings.
Inpatient rehab: 1 to 3 months
When you are in inpatient rehab, you will live in the treatment facility, staying within the rehab center's walls for 30 to 90 days, depending on your unique needs and the treatment programs you are utilizing while in our care. Those in a dual diagnosis program and those with physical health issues may wish to stay longer than those with a mild addiction.
Partial hospitalization program (PHP): 1 month
The PHP is an addiction treatment program for drug or alcohol users, providing all-day care as you live at home or in a sober facility. You come to 20 sessions filled with recovery programs over one month, Monday through Friday, from 9:00 am to 3:30 pm.
Intensive outpatient program (IOP)
The IOP is an outpatient addiction rehab program that offers flexible scheduling, family involvement, therapy, life skills, relapse prevention, and aftercare planning. You come in for 24 sessions of integrated rehabilitation programs over two months, on Mondays, Wednesdays, and Thursdays, in the morning or in the evening.
Outpatient rehab and aftercare: 6 months
At The River Source, our general outpatient program (GOP) provides long-term aftercare planning and follow-up sessions, with one weekly process group and one individual counseling session per week. This is an option only available to those who have completed their entire drug addiction treatment program and are capable of maintaining sobriety on their own.
Alumni program
When you have gone through all levels of care for drugs and alcohol addiction, you are invited to join our life-long alumni program. We have an active alumni community that provides fellowship, regular meetings, a hotline, weekly or monthly H&I opportunities, and fun events with food and educational material. Once admitted, you can join our private Facebook group and be added to our monthly newsletter to stay up to date with the goings-on throughout Mesa, and keep in touch with like-minded peers.
30-Day Heroin Rehab in Mesa
30 days in a rehab center in Mesa is considered short-term rehab. This is the minimum amount of time that is usually recommended to patients after drug and alcohol detox, because 30 days is enough time for you to make big changes to your thought processes, behaviors, and routines, gain new healthy habits, and stay inside a completely sober recovery center for an entire month, away from the temptations of the outside world.
60-Day Heroin Rehab in Mesa
People with a co-occurring disorder with their addiction like mental illness, PTSD, or a physical health issue caused by drug use are often recommended to stay inside the healing center for a longer stretch of time. 60 days is a good amount of time for people who are starting new medications and those who are in medication-assisted treatment programs for opioid, benzodiazepine, or alcohol rehab, as it provides extra support and a longer length of time for you to try new therapies and benefit from holistic treatments.
90-Day Heroin Rehab in Mesa
If you have relapsed in the past, are resistant to treatment, or have a severe addiction issue, you may need to stay in an inpatient drug rehab center for the full 90-day long-term treatment plan. The longer you spend in treatment for substance abuse and mental health issues after leaving the detox center, the less likely you will be to relapse.
At our top addiction treatment center in Mesa, our guarantee is that if you complete your 150 days of treatment, finish the entire continuum of care, and suffer a relapse within one year from your last day of treatment, you may return at no additional cost.
If you or your loved ones are struggling with substance use disorders and you want to know more, please call us today at 866-294-9331. We can answer your questions, provide insurance verification, and give you all the information you need about our luxury rehabs and all we can offer you as you head down your road to recovery.
Our Recovery Guarantee
If relapse occurs within 1-year after the completion of our Recovery Guarantee Program, The River Source invites clients to return for no additional charge.