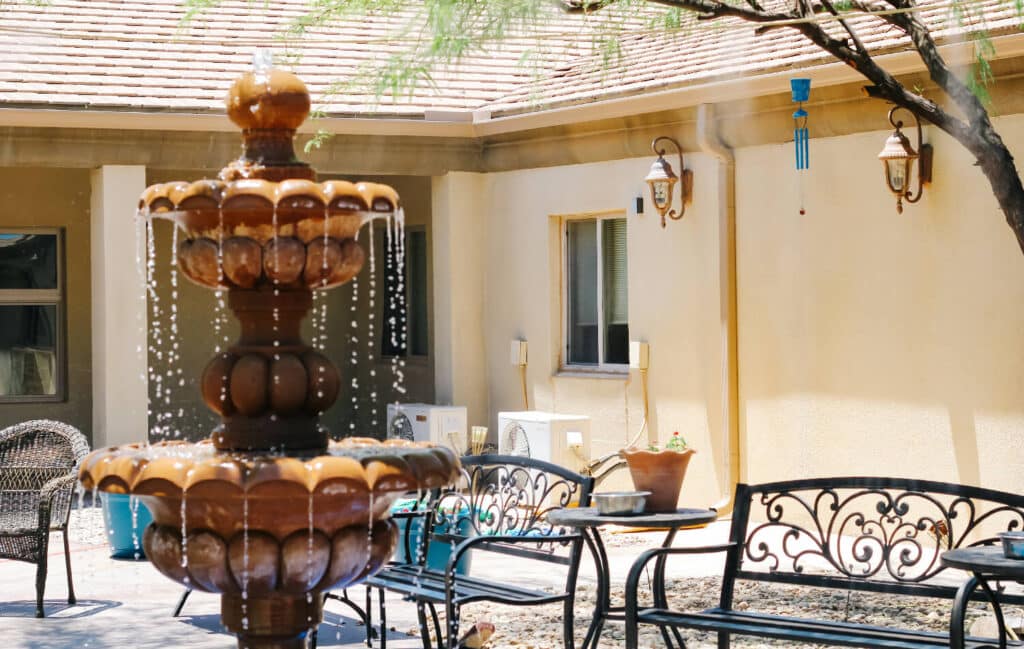 Why Choose The River Source Arizona for Alcohol Rehab
Top-notch treatment centers like The River Source are constantly improving, modifying, and adding to the inpatient and outpatient programs we offer to our clients. We know that everyone we work with has had a different experience with drugs and alcohol and that's why we have programs to help people with everything from crystal meth addiction to issues with prescription pain medications. Our medical detox program for alcohol addiction was developed with the knowledge that no matter how common alcohol treatment may be, each person we help has walked a different road to get to us. That means how they will successfully begin addiction recovery will be unique to them, too. The highly trained staff at our detox center is ready to help.  If you or one of your loved ones has been struggling with alcohol abuse or addiction, we can create a detox and rehab plan for you. Alcohol rehab and detox go hand in hand and our exceptional team members will go over all of our processes with you. 
YOU'RE NOT ALONE – WE CAN HELP
TAKE THE FIRST STEP AND APPLY FOR TREATMENT TODAY
How Long Is Rehab?
Residential treatment is one of the best forms of relapse prevention when someone is first beginning their recovery journey. A recovery plan is meant to last as long as necessary in order for an individual to be comfortable living their life without regular alcohol rehab or drug rehab therapy sessions. At The River Source we try not to focus on any one of our levels of care, but develop an overall continuum of care that will help a person over the long run. That all being said, we do have 30, 60, or 90-day alcohol treatment programs. These residential inpatient programs can be modified if necessary to fit an individual client's scheduling needs. Our inpatient treatment programs can help substance abusers break away from a cycle of using and drinking, trying to quit, relapsing, and using and drinking again.
30-Day Alcohol Rehab in Mesa
Our treatment centers in the Mesa Mesa area are dedicated to providing the best possible service for you or one of your loved ones so that you can move forward without substance abuse being a factor in your life. One way to do that is by taking part in a 30-day substance abuse treatment program. During a 30-day program, clients can take part in various types of treatment that we offer. Substance abuse and mental health treatment mean different things to each individual patient that we work with at The River Source. That's why when you seek treatment with us, we do an in-depth analysis of exactly what you experienced while using or drinking and create a customized treatment plan just for you.
60-Day Alcohol Rehab in Mesa
No matter whether you are taking part in one of our inpatient or outpatient programs, our rehabilitation centers are welcoming and well-appointed, so that you can relax and feel at home, especially during residential care. A rehab program is only going to benefit someone if they feel safe, secure, and comfortable in their surroundings. Our rehabilitation facilities have amenities like a fully-staffed kitchen and outdoor recreation areas and activities including a basketball court, sand volleyball court, a quarter-mile outdoor track, frisbee golf, yoga, hiking, and exercise equipment. Items like these are important, especially during longer inpatient plans of 60 and 90 days, so that patients can relax and take their minds off of everything as well as reflect on the therapies that they are receiving and the progress they are making.
90-Day Alcohol Rehab in Mesa
30, 60, and 90-day programs at our inpatient recovery center all have certain things in common. Our drug and alcohol treatment care plans all include individual therapy and group counseling sessions. No matter whether someone is with us for alcohol rehab or crystal meth addiction treatment, we make sure they have various forms of care during their stay with us. We do this because people who are being treated for alcohol and drug problems often open up in different environments. Some have no issue sharing in a group setting and others need one on one time with their therapist to talk about certain thoughts, feelings, or experiences. By combining the types of treatment each of our patients receives, we give them a chance to move forward in a way they are most comfortable with, while also taking advantage of other people's paths in group therapy.
Alcohol Rehab For High Functioning Alcoholics in Mesa
According to published government statistics, about 20% of people with alcohol addiction are considered high-functioning alcoholics. When someone is high functioning, it can be very hard to convince them that they need alcohol and drug rehab. This is because they display behaviors, or in some cases don't display behaviors, that the general public, including their own loved ones, feel are stereotypical of someone struggling with alcoholism. They take care of their responsibilities, including going to work without issue, paying their bills, and socializing with friends. They don't get into trouble, financial, legal, or otherwise, and rarely appear drunk or under the influence. In some cases, they really don't realize they have an issue with alcohol at all. It can be tough to talk to them about anything regarding alcohol treatment centers, but it is important, as even unknowingly, they are affecting their long-term health.
Alcohol Rehab in Mesa
We have a phased approach that we use with our clients during inpatient care for drug abuse or any type of alcohol use disorder. If someone is struggling with drug addiction or alcoholism, these phases can begin immediately or directly aftercare at our detox center. Drugs and alcohol impact someone in many ways, and we want to help them heal their mind, body, and spirit while they are working with us. Here is an example of the phases a client will go through during residential inpatient care at The River Source: 
Phase 1:
Consultations with licensed Medical and Clinical staff

Vitamin IV Therapy

Amino Acids

Yoga & Meditation

Tapers & Intervention Meds

Dry Infrared Sauna

Oral Vitamins and Supplements

Massage Therapy
Phase 2: 
Individual Counseling

Group Therapy

Family Therapy

12-Step Integration

Cognitive & Dialectical

Dual-Diagnosis

Psycho-Educational Groups

Neurofeedback
Phase 3:
Aftercare Planning

Relapse Prevention

Personal Growth

Family Participation

Ongoing Counseling

Life Skills

Sponsorship

Alumni Group
Top Rated Inpatient Alcohol Addiction Treatment Program In Mesa
From helping you work through withdrawal symptoms at our detox center to coordinating support for you as part of our alumni program with Alcoholics Anonymous or Narcotics Anonymous, the exceptional people at The River Source will be there for you during every step of your addiction recovery journey. If you're looking for rehab in Mesa, Arizona, or the surrounding areas, please contact us and let us show you how we can help.
Alcoholism Treatment in Mesa
Our rehab centers in the Mesa, Arizona area offer inpatient and outpatient treatment options. These include specialized programs in both settings, like intensive outpatient and partial hospitalization plans, as well as programs specifically for pregnant women and Native Americans. Our inpatient and outpatient programs are all very flexible and designed to conform to the individual needs of each patient. This includes dual diagnosis treatment options for anyone who has a co-occurring disorder.
Why Choose The River Source in Mesa for Residential Alcohol Treatment
At The River Source, we have a large variety of detox, behavioral therapy, and holistic treatment approaches so that we can help as many people as possible reach their goal of living sober and drug-free. Call us today to find out more about our comprehensive treatment programs. We're here to help.
Our Recovery Guarantee
At The River Source, we consider ourselves to be one of the best treatment resources available, especially for people in the Mesa Mesa area, due to our continued diligence with each of our patients, beginning with the day we first meet them. This continues through our alumni program, as we consider anyone who has ever been treated by us to be part of our family. That's why we offer the following guarantee: If relapse occurs within 1 year after the successful completion of our full continuum of care, The River Source invites clients to return for no additional charge.
If you or one of your loved ones is struggling with alcohol or any other substance, please give our Mesa prescription drug rehab center a call today.