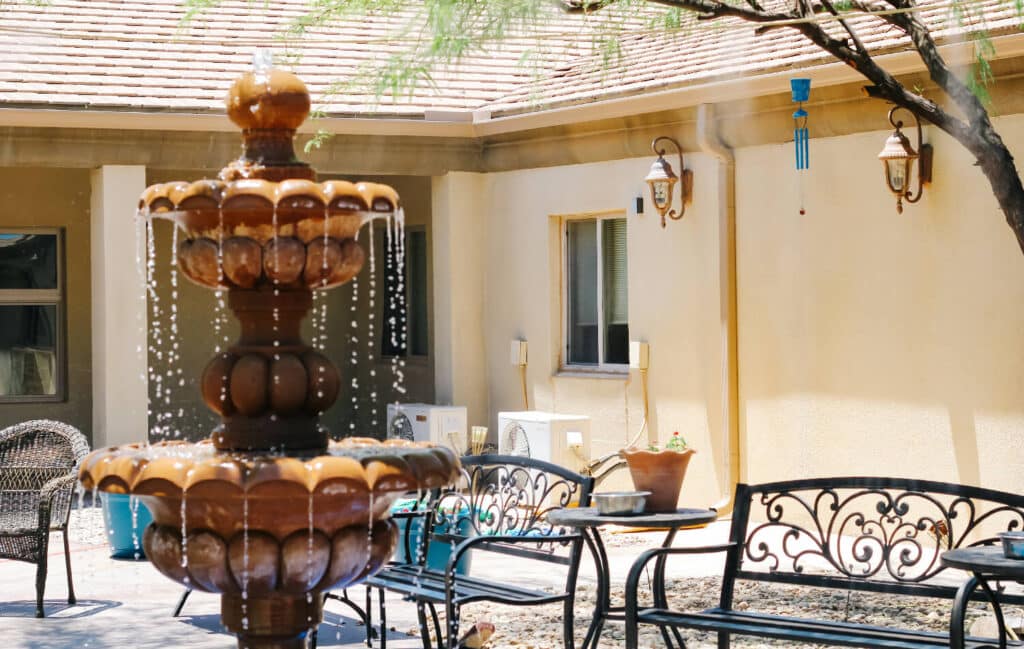 Deciding to look for addiction rehab options means you have identified that you have a drug or alcohol problem and want to make a change. This might seem like a simple step, but it is a necessary one on anyone's road to addiction recovery. Drugs and alcohol can affect a person's career, financial stability, relationships, and general health. Finding abuse programs that work for you can mean the difference between starting a happier, healthier lifestyle and continuing to let drugs and alcohol have negative impacts on your life. If you would like to hear about all of the addiction, abuse, and mental health programs we have available, call us today.
YOU'RE NOT ALONE – WE CAN HELP
TAKE THE FIRST STEP AND APPLY FOR TREATMENT TODAY
Why Choose The The River Source in Mesa for Residential Drug Rehab
Finding an addiction resource that fits your needs is the next step after admitting you have a problem. It can sometimes be tough finding the exact addiction treatment program that will work best for you, but at The River Source, our alcohol and drug counseling staff will work with you from day one to ensure you are getting the care you need to be successful in recovery. Alcohol abuse and drug abuse affect millions of people across the country but not nearly enough get the treatment they need. If you are struggling with alcohol addiction or drug addiction, contact us today and let us show you what 20 years of helping clients achieve long-term recovery through evidence-based substance abuse treatment and rehabilitation programs can do for you. 
How Long Is Rehab?
Drug and alcohol treatment at The River Source is customized for each individual client. Every person that begins drug and alcohol rehab has walked a different road during their time abusing substances and will need their own individual path to be successful in recovery. This means that there is no set length to anyone's specific drug and other rehab care. However, we do have inpatient programs that are slated to last 30, 60, and 90 days. These can also be modified to fit the exact needs of individual drug treatment and alcohol treatment clients. 
30-Day Inpatient Drug Rehab in Mesa
30-day inpatient addiction treatment in Mesa has been the gold standard for decades when it comes to alcohol and drug rehab. So much so that there are hundreds of references in pop culture, including music, TV, and movies, that refer to 28 or 30-day stays in drug rehabs. A 30-day stay with us at The River Source for alcohol rehab or drug rehab can be the first step, or one along the way, toward successful addiction recovery. A 30-day plan at our inpatient drug rehab center allows patients to step aside from their day-to-day life and reset in a supportive, drug and alcohol-free environment.
60-Day Inpatient Drug Rehab in Mesa
Inpatient rehab that lasts 60 days lets clients and therapists delve deeper into the issues that caused a person to start substance misuse and how they can avoid those issues in the future. There are genetic factors involved in substance abuse and mental health disorders, but outside influences can be identified and coping mechanisms can be developed so that issues can be avoided in the future. 60-day treatment programs can also help someone get other parts of their life back on track, including healthy eating, exercise, and developing routines that will help them in sobriety going forward. 
90-Day Inpatient Drug Rehab in Mesa
Inpatient substance abuse treatment that lasts 90 days or longer is a good choice for people who have struggled with drugs and alcohol for some time and may have tried other treatment centers and treatment programs in the past, with mixed success. 90-day inpatient rehab can give a patient time to not only take part in typical residential treatment protocols but to explore option types of treatment, too. This can include our naturopathic therapies during detox and along the various steps of your journey to recovery.
Types of Drug Addictions We Treat
Substance abusers come from all walks of life and every day different drugs gain and lose popularity, meaning we are always adding to and modifying the types of treatment we offer. We provide rehabilitation programs for many different types of drugs, from legal substances like alcohol and prescription medications to illicit street drugs like crystal meth and crack cocaine. We offer drug detox and alcohol detox programs, too, in addition to all of our other levels of care. 
Inpatient Heroin Rehab in Mesa
Having medical detox, outpatient rehab, and inpatient rehab options for all of our clients makes The River Source one of the best places to begin your recovery. Additionally, we have very specific programs for different types of substances. Heroin is a highly addictive, dangerous substance that has been consistently on the rise in the United States since 2007 and has contributed to the ongoing opioid epidemic. If you or one of your loved ones is struggling with heroin addiction, please get in contact with us right away.
Inpatient Cocaine Rehab in Mesa
Cocaine, including crack cocaine, is another very dangerous street drug that has been used for decades. Powder cocaine is commonly referred to as coke, powder, snow, blow, yeyo, while crack cocaine is commonly called "rock". The practice of combining cocaine with heroin is called "speedballing". At the River Source we have specialized treatment programs for people struggling with either form of cocaine, and also understand that the drug is often used in tandem with other substances, including alcohol.
Inpatient Oxy Rehab in Mesa
OxyContin, Percocet, Vicodin, Demerol, Dilaudid, Duragesic, and other prescription opioids are frequently prescribed for pain, either after an accident or surgery, or to manage chronic pain issues someone experiences. Rehab centers across the country have had to increase and modify their programs in order to address the issue of prescription opioid abuse and addiction.
Inpatient Meth Rehab in Mesa
Abuse and addiction to Methamphetamines, including crystal meth, is a widespread problem, with around 24.7 million people using amphetamine-type stimulants worldwide. Crystal meth is often made in labs that can be almost anywhere, including suburban residential neighborhoods. At The River Source, we provide meth abuse treatment as well as detox services.
Men's Inpatient Drug Rehab
Substance use disorders affect men and women in different ways. Rehabilitation programs that address specific issues with drugs and alcohol for men and women can more easily get to the root of the reason why substance abuse issues have impacted a person's life. Men are more likely to use illicit drugs and are less likely to seek treatment. Our counselors consult directly with each patient to make sure they get the specific treatment they need, and this often differs by gender. 
Inpatient Prescription Drug Rehab in Mesa
There are many types of prescription drugs, including opioids, Benzos, and others as part of our residential inpatient treatment programs. If you are struggling with any type of substance and would like to know if we have treatment resources available to help, please contact us right away.
Inpatient Benzo Rehab in Mesa
Benzodiazepines, or Benzos, are a category of drugs that are often abused due to the ease with which they can be acquired. Benzos are prescribed to millions of people, including popular name brands like Xanax and Valium. Reports indicate that 12.6% of Americans have used Benzodiazepines. If you or one of your loved ones has been using Benzos as prescribed, or abusing them and have developed a tolerance, please call us today.
Women's Inpatient Drug Rehab
Women are just as likely to begin addicted to a substance, even though they are less likely to abuse hard drugs. Women also are impacted by physical and mental abuse in conjunction with being in an environment where alcohol and drug use is prevalent. Women often take advantage of sober living home opportunities in order to remove themselves from these types of situations. 
Top Rated Inpatient Alcohol Rehab Program With Results
Beginning with the management of withdrawal symptoms as part of our medical detox program, clients who join us at our rehab facility are supported through every stage of their recovery. This includes our alumni program and aftercare support where we organize Alcoholics Anonymous and Narcotics Anonymous meetings for our clients. A recovery plan is only good when it's something you can stay committed to and that's why we custom tailor all of the treatment plans at our recovery center to the individual patient. 
Why Choose The River Source Mesa for Alcoholism Treatment
Simply put, you should choose The River Source for your rehab program because we go above and beyond for each and every one of our clients. No matter whether you take part in one or many of our levels of care as part of your addiction recovery, we are there for you.
Our Recovery Guarantee
Our guarantee is another reason why you should choose The River Source for your residential treatment and relapse prevention needs. If relapse occurs within 1 year after the successful completion of our full continuum of care, The River Source invites clients to return for no additional charge. Call us today to find out more about what we can do for you.