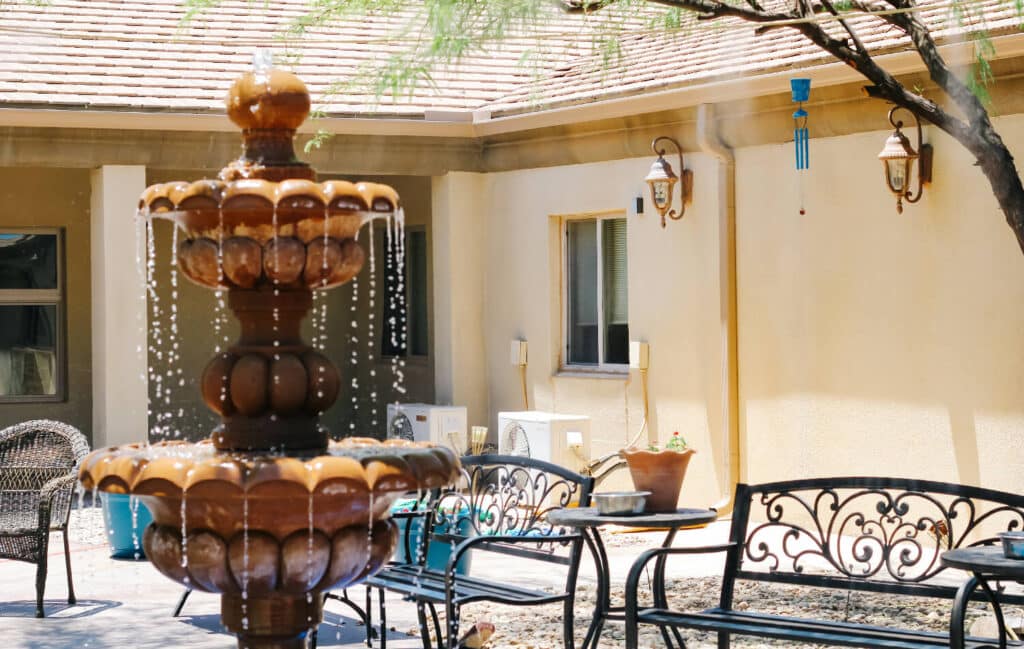 The River Source is the best rehab in Mesa for detox and rehabilitation from methamphetamine (crystal meth). We are accredited by the Joint Commission and have a high success rate in helping our patients overcome addiction. We use an integrative approach to treatment, combining several treatment programs like medications, holistic treatments, naturopathic care, evidence-based therapy, behavioral therapy, and other care for a whole-patient approach to healing. We do not see you as a drug addict, you are a complex individual who deserves only the best drug treatment in the top rehab in Mesa. In our inpatient rehab facility in Mesa City, Arizona, we offer detox and inpatient rehab. In our two outpatient rehabilitation centers in Gilbert, Arizona, and Phoenix, Arizona, we provide robust outpatient programs that are customized to best suit your needs.
YOU'RE NOT ALONE – WE CAN HELP
TAKE THE FIRST STEP AND APPLY FOR TREATMENT TODAY
Why Choose The River Source Mesa for Meth Rehab
Choosing The River Source as your drug and alcohol rehab will guarantee you safe, effective 24-hour medical care and evidence-based treatments in a highly effective program. We guarantee success in your substance abuse treatment for up to one year after you leave the recovery center.
We provide financial help for those who qualify and have affordable rates overall, so anybody who needs it can access a safe medical detox center, inpatient drug rehab, and outpatient addiction treatments.
Detoxing includes prescription medications and holistic therapies that will keep you safe and comfortable as the toxins leave your body, and rehabilitation is individualized and includes life coaching, counseling sessions, and long-term continuing care planning for life after drug and alcohol rehab. In our addiction treatment centers you will also have access to:
Educated and credentialed experts providing effective medical care, therapy, and other addiction treatments

FDA-approved prescription medications

Holistic treatments

Mental health care and dual diagnosis programs

Behavioral therapy

Art therapy

Physical fitness

Therapy and counseling

Group therapy and peer support
First Class Amenities
Meth addiction can have serious long-term effects on the body and the mind, like:
Extreme weight loss due to malnutrition

Dental, lung, and heart problems

Sores and track marks in the skin

Poor sleep

Anxiety, mood swings, and feelings of aggression

Temporary or recurring bouts of psychosis

Memory loss and cognitive issues
These types of problems can be distressing and uncomfortable, so at The River Source treatment facility, we have several first-class amenities available to ensure you are comfortable and feel safe and cared for as you overcome your addiction to this harsh substance.
Amenities offered in our addiction recovery treatment centers include:
Comfortable semi-private bedrooms

Full bathrooms

Delicious nutritional food

On-site laundry facilities

Open spaces and TV rooms to hang out in

Basketball, sand volleyball, and frisbee golf

Fitness equipment and a ¼-mile track

Yoga and exercise classes

Art therapy

Outside group meetings like 12-step meetings

Smoking and vaping areas

Cell phone use is allowed after day 8 of treatment
Holistic packages are available for purchase throughout your stay in our rehab centers in Mesa, including:
Massage therapy

Acupuncture treatments

Blood panel analysis

IV nutrient therapy

B-vitamin boosters

Enhanced supplement package
Meth Withdrawal
Meth withdrawal symptoms can be difficult to deal with, which is why our meth detox program involves prescription medications and full-time medical care, therapy, and mental health care. Common meth withdrawal symptoms include:
Extreme dehydration

Feeling fatigued, weak, and lethargic

Increased appetite

Dry mouth

Tremors and jitteriness

Muscle pain

Apathy and depression (may include suicidal thoughts)

Paranoia

Hallucinations

Delusions

Psychosis
These symptoms can be harsh, especially in older patients, but they usually only last a few days. We will get you through this difficult time as painlessly and quickly as possible so you can move on from drug detox to the next phase of treatment.
What Is Meth Detox Like?
When you come to The River Detox center for meth detox, you will move into a cozy room that will have a maximum of one roommate. It has a full bathroom and a walk-in closet for your belongings. You will live here for the duration of your detox, and then move into our alcohol and drug rehab center when you are physically and mentally stable enough to do so.
Along with doctor's care, 24-hour supervision, and prescription medications to keep you comfortable and safe from the ravages of addiction, we also offer holistic treatments that may include vitamin IV therapy, amino acid therapy, oral vitamin therapy, infrared sauna treatments, meditation, yoga, and deep tissue massage to help your body purge the toxins from your system and help you feel relaxed and well during this difficult phase of treatment. If needed, we also provide medication-assisted treatment plans for those with opioid addictions, alcohol addictions, benzodiazepine addictions, etc. We aim to ensure our patients feel safe and comfortable, helping them focus and get ready to move on into inpatient rehab with a clear head and a healthy body.
How Long Does Detox Last?
Detox is different for everybody, but meth detox is generally much quicker than alcohol detox or detox from other drugs, usually only lasting a few days. Most people will be in their detox programs for a minimum of one, and a maximum of ten days total, with care, customized to each person's individual needs.
What Happens After Detox?
After detox, you will move on into our continuum of care, which is as follows:
30 to 90 days of inpatient rehab, living inside the residential treatment center

1 month in the partial hospitalization program, Monday to Friday for full days of outpatient programs

2 months in the intensive outpatient program, Monday, Wednesday, and Thursday in the mornings or afternoons

6 months in the general outpatient treatment program, which is a customized outpatient rehab plan designed to suit your schedule as you transition back into normal life
Throughout this program you will have treatments like:
12-step principles

Individual treatment, group therapy, and family therapy with loved ones

Education and counseling

Cognitive behavioral therapy

Dialectical behavioral therapy

Trauma-informed care

Dual diagnosis

Psychoeducational groups

Neurofeedback

Psychiatric services

Evidence-based treatments

Naturopathic services

Continuing long-term addiction treatment and continuing care coordination
30-Day Meth Rehab in Mesa
30 days spent in inpatient drug rehab is plenty of time for people who have mild addictions and who are not suffering from difficult withdrawal symptoms. When you stay in inpatient treatment, you will learn new ways to see the world and gain healthy habits as you heal your body, take back control over your mental health, and create core changes that will alter the way you think and feel. One full month of inpatient drug rehab for meth, followed by our integrated outpatient treatments at The River Source will give you the social support, health care, and help you need to overcome your addiction.
60-Day Meth Rehab in Mesa
Spending 60 days inside The River Source rehab facility will allow you plenty of time to try out new treatment approaches and find methods that work for your individual needs. You will have two full months away from triggers, drug dealers, temptations to use meth, and the stress of daily life so you can recenter yourself and focus on healing your body, mind, and spirit. 60 or more days in inpatient drug and alcohol treatment is often recommended for those who have co-occurring mental health disorders, those in a medication-assisted treatment program, and those experiencing prolonged withdrawal symptoms.
90-Day Meth Rehab in Mesa
90 days in a rehab program after drug and alcohol detox is known as long-term rehab. This is the best option for anybody who feels overwhelmed by the prospect of living a sober life after detoxing, anybody who is resistant to treatment, or anybody who has a history of relapsing. You do not have to leave your rehab program after 90 days if you are not ready, there is always the option for a longer stay if you want to stay, as long as there is room.
Meth Detox & Rehab Success Rates
Meth detox and rehab are not easy, and even when some people try their hardest, they end up relapsing once they leave the treatment center. The best way to ensure you do not turn back to drug use after your addiction treatment program is to complete the entire continuum of care, from detox through inpatient treatment and outpatient programs.
At The River Detox, we guarantee that if you stay in your treatment program for the full 150 days of integrated treatment and suffer a relapse within one year after completing all levels of care, you may return to the program at no additional charge.
Meth Detox in Mesa
At The River Source Mesa drug treatment, we encourage involvement from loved ones in each person's drug and alcohol treatment plan, with family education, therapy, visitations, and video calls. We are accredited by the Joint Commission and will have evidence-based recovery programs combined with holistic care for a well-rounded approach to healing. After you complete your program at our best rehab in Mesa, you have access to a life-long alumni services program. We are in-network with most major insurance companies. Call us now at 866-294-9331 for more information and to get started on your recovery journey now.
Our Recovery Guarantee
If relapse occurs within 1-year after the completion of our Recovery Guarantee Program, The River Source invites clients to return for no additional charge.