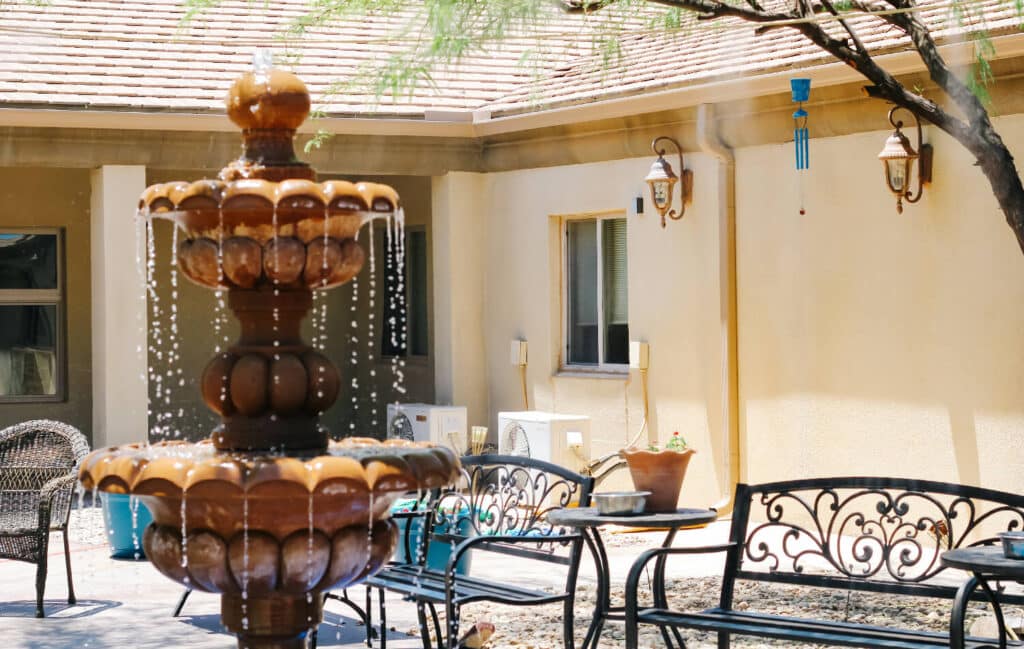 The popular image of going to rehab for substance abuse or alcohol addiction involves month-long stays in a hospital-like facility, awkward group therapy sessions, and living in pajamas and slippers. While you might feel awkward the first time you share in a group setting, the only consistency across substance use disorder rehabilitation programs is the goal of long-term recovery for all participants. Rehab comes in many shapes and sizes, with different variations of therapies used and levels of participation as well. This is to match the contrasting needs of those in addiction recovery in order for them to be successful in their efforts. When you choose the right rehab for your lifestyle, ideology, budget, and other recovery needs, you are more likely to stay in recovery and the chances of relapse decrease significantly. The type of alcohol and drug rehab that many individuals struggling with substance abuse are less familiar with is called Outpatient Treatment. This is different from the more commonly known form of rehab, inpatient or residential treatment, in that it does not include the extended time commitment of staying on-location at a rehab facility full-time for 30, 60, or 90 days. In an outpatient program, you access all the same evidence-based therapy, medication-assisted treatment, and other addiction resources and support that are available during inpatient rehab, but you are able to leave the treatment center, live in your own home, and hold your own hours outside of treatment times. This level of alcohol or drug addiction rehab is typically the step you graduate to after completing an inpatient program, but it is also an option available to those who need to maintain responsibilities while still receiving treatment. When your behavioral therapy sessions, appointments to receive medication, and support group times are scheduled can be formed around work or school schedules, or leave parts of the day open where you need to be available to care for a dependent such as an elderly parent or child.
YOU'RE NOT ALONE – WE CAN HELP
TAKE THE FIRST STEP AND APPLY FOR TREATMENT TODAY
Benefits of Outpatient Drug & Alcohol Rehab
If possible, it's usually recommended that those just starting treatment for drug abuse or alcohol addiction enter an inpatient program. The structure of residential care and lack of access to addictive substances is sometimes what recovering addicts need to abstain from using illicit drugs or drinking alcohol, and they would be unable to stay away if left to their own accountability in their own homes. However, there are several situations where an extended stay in a residential recovery center would actually worsen the circumstances of someone's substance use disorder. 
For these individuals, there are many benefits to attending outpatient drug and alcohol rehab:
Schedule Flexibility:

are able to continue going to work, school, or be available to maintain other important responsibilities. The alternative of entering inpatient care would create hardship by putting their job at risk, setting them back in their education (particularly in cases where classes are already paid for), or jeopardizing the well-being of their dependents. 
Cost:

Because an outpatient treatment center does not house, feed, or provide other amenities to patients, the cost of an outpatient program is significantly less than inpatient programs, and is eligible for more insurance coverages. If attending residential treatment would create significant financial hardship for someone in recovery, the stress of the inability to pay for rehab has the potential to trigger a relapse.
Less Adjustment:

Inpatient care does not accurately represent the world you will need to practice recovery in. The outside world has distractions, triggers, complicated social and family dynamics, financial responsibilities, and access to addictive substances. Many individuals who leave rehabilitation centers experience a period of adjustment to their new way of life. When treatment for substance abuse begins in outpatient treatment, you immediately begin to practice the life skill of avoiding drug and alcohol use while encountering those triggers and stressors. You also already have incorporated holding down a job and attending therapy and support groups, another aspect that residential patients have to adjust to. 

More Resources:

The resources available to residential patients are confined within the capabilities of the recovery center they are staying at. In an outpatient program, you have more options for therapists, demographic-specific support groups, life skill workshops, and alternative therapeutic options that could really speak to you like equine therapy. 
The most important part of recovery is finding a program that works for you. Starting out in outpatient rehab is not for everyone, but there are many who are extremely successful and achieve long-term sobriety without an extended stay at an inpatient treatment facility.    
What To Expect During Outpatient Rehab
The first step of the outpatient process is to work with a counselor to create a treatment plan and schedule it around your life and needs. Outpatient treatment plans include structured counseling and mentorship, evidence-based therapy, and possibly holistic treatments or life skills workshops to support your transition to everyday life in recovery on a flexible basis. 
Depending on the program type you enroll in, all of your treatment might happen in one block of time, like 4-6 hours each weekday and 2-3 on the weekends, or it can be split into morning and evening blocks of 2-3 hours to allow a period available for work or school. Your program will include a certain number of hours of completion or sessions attended within a set amount of time in order for you to progress and graduate from the program. 
You may check in daily or weekly with your counselor who is there to support you and hold you accountable. Due to the personal freedom outpatient treatment allows, communication needs to be a priority. Missing therapy or check-ins without notice will raise concerns about your recovery being at risk, but with consistent communication, your counselor will be able to accommodate changes in your program if your work schedule changes or if you wish to attend plans with family that fall within treatment times. 
What Does a Day In Outpatient Addiction Treatment Look Like?
The beauty of outpatient treatment is that it can be customized to every individual lifestyle. Your day will begin in your own home, where you are free to follow a routine that makes the most sense for you. A large part of recovery is structure and routine. The philosophy is that practicing good and intentional healthy habits leaves less room for temptation to seek out drugs or alcohol. 
In therapy and workshops, recovering substance abusers are taught about the importance of beginning their day with positive intentions. Mornings set the tone for how you are going to respond to triggers or other forms of negativity. Creating a routine that includes healthy meals, exercise, meditation, or joyful hobbies is taught during treatment. 
From there, you might go right to a therapy session, support group, or check in with a counselor. In other cases, you complete a shift at work or go to class first in the day. Your counselor will work with you to plan what feels right and fits best with your life in recovery. 
How Long is Outpatient Rehab in Mesa With The River Source?
There are a few sub-categories of outpatient rehab that are useful to be familiar with. They are defined by their time commitment and sometimes by the specific treatments available. The River Source offers two outpatient program options:
Partial Hospitalization Program (PHP): This program consists of 30 days of treatment, or 20 sessions in total, with an average of six and a half hours of program treatment every Monday through Friday. 
During the River Source PHP, we recommend that clients reside in a structured living facility. The soft launch into society by being outside of a residential rehab center, but still among like-minded recovery-focused individuals can provide you with strength and support that makes your recovery journey smoother. If you are interested in pursuing this path, our staff can assist you with finding a sober living community near you.
Intensive Outpatient Program: (IOP): This program takes place over the course of 60 days for a total of 24 sessions. Instead of six and a half hours every weekday, IOP offers either daytime or nighttime sessions lasting an average of three hours each on Mondays, Wednesdays, and Fridays. Sessions can consist of essential therapies, educational workshops, and support groups with the goal of reinforcing the basic principles of recovery while you build your life back up using what you learn in treatment. Recovery will still be at the forefront of your mind, but you will also be successfully integrating yourself back into mainstream society. 
Telehealth IOP (Intensive Outpatient Program) Serving Mesa
The recent global pandemic raised awareness regarding the need for accessible services when contact and mobility are limited. In light of this, the River Source now offers outpatient therapies in our Intensive Outpatient Program via telehealth, with all programming services also available in online therapy. This can also assist in situations outside of social distancing, so schedule restrictions and access to transportation no longer stand in the way of critical therapies and recovery progress. 
Why Choose The River Source For Outpatient Alcohol & Drug Rehab
We are a fully accredited drug and alcohol rehab center in Mesa with a 20-year history of helping our clients overcome substance use disorder and achieve long-term recovery without relapse. Our programs are developed using evidence-based treatments and research-backed methods for understanding and treating addiction as a disease, along with the mental health conditions that exist alongside the struggle of alcohol and drug abuse.  
The care we offer is customized to each individual and addresses physical, mental, emotional, and spiritual healing. We will be with you through every level of care and offer support and guidance no matter where you are in your recovery journey. Our outpatient programs have a targeted goal of helping our clients reclaim and re-enter their lives with strength, courage, and conviction to spend every day free from the burden of addiction and debilitating menta
Our Recovery Guarantee
We have full faith and confidence in our full continuum of care practices, we created the River Source Reclaim Program. This recovery guarantee states that if you complete 120 days in a River Source program, and still experience relapse within one year, we invite you to return for additional treatment at no charge.  
Our addiction center in Mesa has 100% Recovery Guarantee, which is a cornerstone of our practice, and we refuse to uphold any lower standard of success when our clients' lives are at stake.