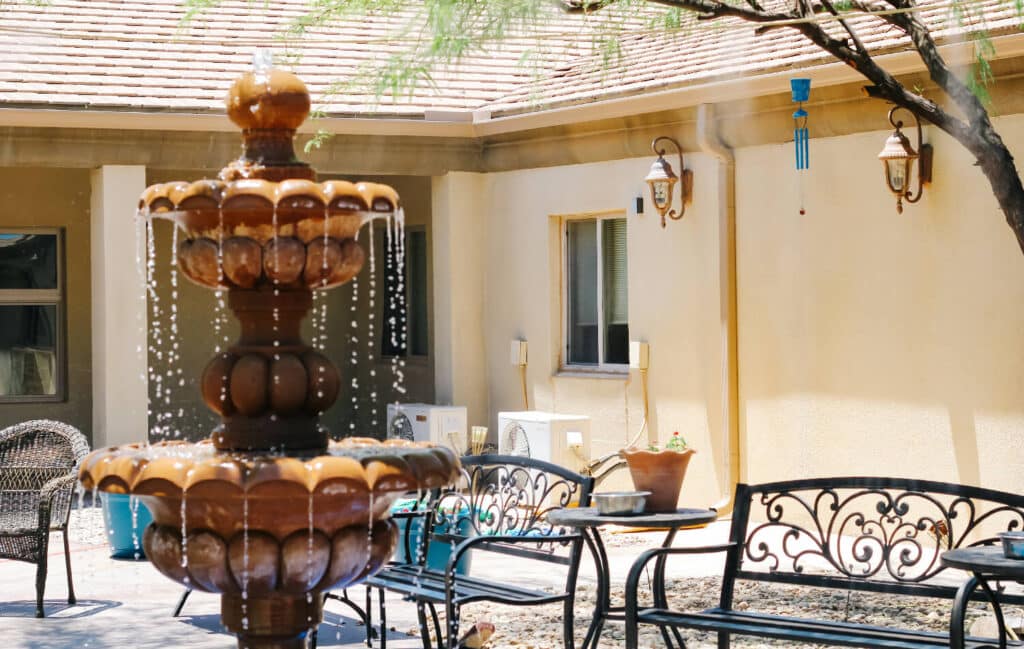 Methamphetamine abuse led to several negatively impactful elements in people's lives, from their mental and physical well-being, addiction, relationship issues, financial troubles, and more. While meth is a highly addictive substance that can quickly cause severe drug dependence, treatment is effective and can help you to overcome your substance use disorder. The River Source is the #1 meth detox and rehab treatment center in Arizona with comprehensive treatments that not only treat the causes of addiction but also the person, helping them improve their quality of life. Our meth detox program will start your recovery from substance use disorder the right way by helping you to manage your withdrawal symptoms and giving you a drug-free environment to detox in. With meth detox being the first step in the process, The River Source can provide you with ample treatments and therapy and enough time in recovery for it to be impactful. Our goal is not only to help you through your detoxification process but also to help you sustain your recovery in the long term. Meth addiction can devastate your life, but we offer effective, outcome-driven treatment models that can help you with a lifetime of recovery.
YOU'RE NOT ALONE – WE CAN HELP
TAKE THE FIRST STEP AND APPLY FOR TREATMENT TODAY
Why Choose The River Source Arizona for Meth Rehab?
The River Source is a Joint Commission accredited meth rehab center located in Arizona and is a premier in-network facility capable of effectively treating withdrawal symptoms during meth detox and providing you with comprehensive, personalized addiction treatment to help you attain long-term goals of sobriety.
One thing that makes The River Source unique is our "reclaim your life" program. After 120 days in our comprehensive treatment program for drug addiction, completing it and sticking to your aftercare programs, and actively maintaining your sobriety, if you relapse within the first year, then you can return to our rehab for free. This is a testament to our commitment to your sobriety and how much we believe in our holistic treatment programs.
Your meth detox process will be the start of your recovery journey, helping you overcome your physical reliance on meth, but it is only the start. Treatment and therapy to help you to heal from the causes of your addiction are as important as our holistic treatments that aim to improve your life and help you to maintain your sobriety after rehab.
First Class Amenities
At The River Source, we provide a clinically-driven treatment plan that will be personalized to your needs, helping you to heal from the causes of your addiction and finding ways to effectively maintain your sobriety and prevent relapse. The integrative approach to treating substance use disorder and our first-class amenities offer the ideal type of treatment and environment. We offer spacious, comfortable bedrooms, a peaceful courtyard, and relaxing common areas (TV, movies, etc.) designed to help support and guide you after finishing your treatment during the day.
Meth Withdrawal
One of the main effects of meth addiction is the physical reliance that is built over time. Your body becomes reliant on meth to maintain the new altered balance that has been created, and when meth is removed from that equation, your body goes into withdrawal. Withdrawal symptoms result from this imbalance, and until your body returns to a normal functioning state, you'll experience these withdrawal symptoms.
Some of the withdrawal symptoms that you may experience during your meth detox include the following:
Headaches
Fatigue
Anxiety
Depression
Insomnia
Dehydration
Muscle cramps
Psychosis
Intense cravings
Sleeping problems
Suicidal ideation
While not every person will experience all of the common meth withdrawal symptoms, you can expect several during your detox. However, with the use of FDA-approved medications to manage symptoms, you can expect the symptoms you experience to not be overwhelming. We monitor your detox process to ensure that you get the supplements, minerals, and the right combination of medications to manage your withdrawal symptoms.
What Is Meth Detox Like?
In our meth detox program in Arizona, we provide you with the medical care you need to safely and comfortably make it through detox. You'll receive round-the-clock care in our inpatient detox program and access to medications approved by the FDA to treat meth withdrawal symptoms.
You'll start detox immediately because it is the most pressing matter when you first start your meth addiction recovery. After an assessment of your needs and health, you'll be given medication to manage withdrawal symptoms and various minerals and supplements to help you heal. You'll be continually assessed to ensure the medications and supplements are doing their job so that you can have a manageable, comfortable detox.
How Long Does Detox Last?
The withdrawal process from meth is one that can vary based on the severity of the dependence, other drug dependencies, and your health. Generally speaking, you can expect your meth detox to last roughly 5 to 10 days, with the first symptoms starting potentially within hours of your last drug use. The peak of your symptoms is expected around the second to the third day of your detox process.
What Happens After Detox?
While drug detox is very important and greatly benefited by a medical detox, the detox only treats the physical reliance on meth and not the causes of the addiction itself. After the 5 to 10-day detox, furthering your recovery through our comprehensive addiction treatment programs is crucial to be able to sustain your abstinence.
The causes of drug addiction lie in a person's development, biology, and environment, with biology accounting for roughly half of a person's addiction risk factors. For example, a person may be suffering from a co-occurring mental health disorder such as anxiety disorder and use drugs as a way to self-medicate. If the causes of the addiction aren't treated, and professional treatment for their anxiety disorder is not given, then the symptoms of their mental health disorder will likely lead them to abuse drugs again just to find relief.
30-Day Meth Rehab in Arizona
One of the shortest rehab programs that we offer is our 30-day meth rehab program in Arizona. It has all of the therapies and treatments needed to overcome your addiction, including a medical detox program for your meth withdrawal symptoms. The month-long rehab can be completed in an inpatient or outpatient setting and provides an ideal way to overcome addiction when combined with other treatment settings and aftercare programs. Addiction treatment is a long-term condition that takes a minimum of three months.
60-Day Meth Rehab in Arizona
In our 60-day meth rehab program in Arizona, either in the residential rehab or outpatient rehab setting, you will have two consecutive months of therapy and treatment, including a meth detox program, behavioral therapy, naturopathic treatment, and a range of holistic treatment programs available to you. You will be treated through both an individual therapy setting and group therapy – each offering benefits to your recovery.
90-Day Meth Rehab in Arizona
In our three-month-long meth rehab program in Arizona, we provide you with ample time in intensive treatment to allow for the effectiveness of treatment to help you overcome your addiction. The 90-day meth rehab program that we offer is available as both inpatient and outpatient rehab options and can be combined with other treatment program settings to create a more comprehensive treatment approach.
At The River Source, we strongly believe in our comprehensive 120-day programs. A combination of inpatient rehab and outpatient rehab programs followed by aftercare services provides a continuum of care that will help you to maintain your sobriety long after graduating from your recovery program.
Meth Detox & Rehab Success Rates
Our high success rates, thanks to our reclaim your life program, and integrative approach, create the ideal treatment solution for a person suffering from substance use disorder. Our premier in-network treatment facility offers you world-class treatment at a cost-effective rate. We are in-network with most major health insurance providers, which can drastically reduce the cost of rehab, making it more affordable and giving you access to the best possible treatments for meth addiction.
We strive for comfort together with the effectiveness of treatment. To that end, you can expect TVs in detox rooms, residential room TVs to help you to relax during treatment, fitness equipment to help you get the exercise you need, and many games and recreational activities to do during your free time.
Meth Detox in Arizona
Whether you are looking for help for a loved one or are looking for meth addiction treatment for yourself in Arizona, reach out to the best rehab in Arizona to take advantage of our high treatment success rates and comprehensive meth addiction treatment plans that are personalized to each person.
QUICK, CONFIDENTIAL INSURANCE VERIFICATION
CLICK BELOW TO FIND OUT IF YOU HAVE COVERAGE