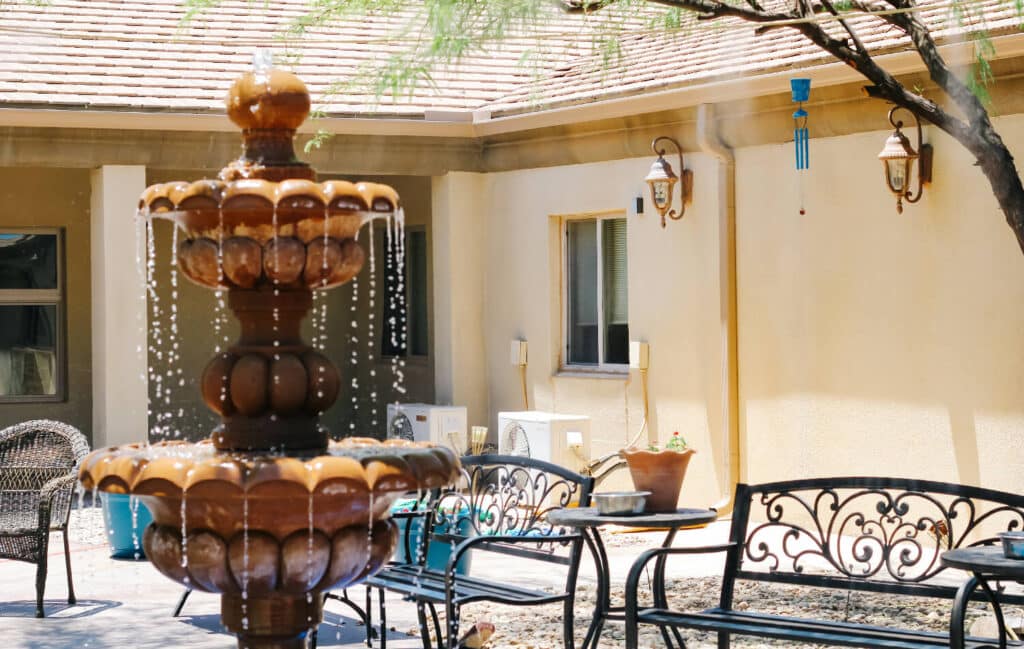 #1 Addiction Treatment Center in Phoenix for Alcohol, Prescription Drugs, & Drug Addiction
The River Source in Phoenix, Arizona is a top-rated drug and alcohol addiction treatment facility. Our comprehensive treatment programs give our clients the best chance at long-term addiction recovery. With nearly two decades of experience, we have created a treatment program that is highly effective and can help anyone, no matter how severe their drug or alcohol addiction is. As a Joint Commission-accredited treatment facility, you can trust that you will be receiving the gold standard of care.
YOU'RE NOT ALONE – WE CAN HELP
TAKE THE FIRST STEP AND APPLY FOR TREATMENT TODAY
Alcohol & Drug Detox & Rehab in Phoenix
Our full continuum of care at The River Source in Phoenix, Arizona provides all levels of care, from drug and alcohol detox, through residential inpatient treatment and outpatient treatment, to our lifetime alumni program. The full continuum of care is designed to support our patients at every stage in their recovery journey and help them achieve long-term recovery from drug and alcohol addiction. Although our main focus is on providing effective evidence-based addiction treatment, that does not mean we overlook your comfort during your stay with us. Our Phoenix alcohol detox and drug rehab center is furnished with comfortable residential accommodations plus a welcoming environment that will help foster your healing.
Why Choose the River Source in Phoenix for Addiction Treatment?
Here at The River Source, we are proud of the fact that we have a higher success rate than the national average. We attribute this to our unique integrative addiction treatment program consisting of personalized treatment plans and the full continuum of care. As an integrative drug and alcohol rehab facility, we combine conventional addiction treatment methods found in the top rehabs around the country with our naturopathic approach which supports the body, mind, and spirit's healing process.
Phoenix Alcohol Detox
When alcohol addiction is severe and requires a professional alcohol detox program, The River Source's medical detox program can help you go through alcohol withdrawal symptoms safely and comfortably. Our medical detox program includes around-the-clock supervision from our medical doctors and nurses who will monitor your vitals and administer FDA-approved medications. You will also have access to holistic treatments including vitamin IV therapy and an infrared sauna which will help strengthen your body and ease alcohol withdrawals naturally.
Phoenix Alcohol Rehab
Alcohol use disorder requires treatment programs addressing the psychological and behavioral effects. Our alcohol rehab at The River Source includes a personalized treatment curated by our clinicians upon your admission and after a thorough physical and psychological evaluation. Your treatment plan will consist of several types of therapies and services aimed at helping heal the underlying causes of your unique alcohol addiction. We provide both inpatient and outpatient treatment to meet your needs.
Phoenix Drug Detox
If you have attempted to stop using drugs on your own in the past, you are aware of how difficult it can be on your own. The River Source's medical detox program can help you successfully complete the withdrawal process and eliminate the risk of early relapse. You can go through the withdrawal process more comfortably and easily through medication-assisted treatment, residential inpatient treatment, and emotional support from clinicians. Medical detox can reduce and even eliminate severe withdrawal symptoms and cravings.
Phoenix Drug Rehab
After completing drug detox with us or at home, it is important to continue with a drug rehab program. At The River Source, we provide comprehensive treatment programs that will address every aspect of a person's addiction and its underlying issues, down to the smallest detail. Our treatment plans are individualized for each client and comprise several types of addiction treatment. We will help identify relapse triggers and teach you healthy coping skills and tools so you can control them on your own.
Phoenix Prescription Drug Detox
Prescription medications can cause physical dependence easily, and many will not be aware until they attempt to stop using them, resulting in withdrawal symptoms. Our prescription drug detox program can help you stop using addictive medications like opioids and benzodiazepines safely and more easily. Our medical team will monitor your vitals around the clock and administer medications to ease withdrawal symptoms and cravings.
Phoenix Prescription Drug Rehab
When a person develops an addiction to prescription medications, they often require a robust treatment program that will address their addiction's psychological and behavioral aspects. Our dual diagnosis program at The River Source will address underlying co-existing disorders such as anxiety and depression through more natural methods that can help you stop using prescription medications.
Phoenix Top Rated Addiction Treatment
Our Phoenix drug detox center is a top-rated drug and alcohol addiction treatment center. Our integrative drug rehab program provides our clients with conventional treatment methods found in the best rehabs around the country and holistic therapies to heal the body, mind, and spirit. As a Joint Commission-accredited treatment facility, you can rest assured that you will be receiving the best addiction treatment methods in a quality rehab center.
Alcohol & Drug Detox-Rehab for Residents of Phoenix
Phoenix, Arizona residents can access effective, quality addiction treatment through The River Source. We offer specialized programs including dual diagnosis treatment, drug rehab for pregnant women, and addiction treatment for Native Americans which help address specific issues needed for long-term recovery. Our inpatient rehab and detox programs take place in a non-hospital setting with comfortable living quarters and common areas to help you feel more at ease during recovery.
Our Treatment Specialties
Our rehab center at The River Source in Phoenix provides a unique integrative treatment approach that combines traditional treatment methods with naturopathic therapies. Many of our clients have found long-term successful recovery from drug and alcohol addiction partly due to the wide variety of addiction treatments available which allow us to provide highly specialized treatment plans. You can expect treatment therapies to include dual diagnosis treatment, 12-step programming, life-skills training, and naturopathic therapies like infrared sauna and vitamin IV therapy.
Telehealth IOP
The River Source now offers a virtual intensive outpatient treatment program (Virtual IOPs) which has eliminated many barriers for those who cannot get addiction treatment in person, such as those who are immunocompromised, have social anxiety or agoraphobia, or live in rural areas with little transportation. You can access many of the same addiction treatments on-site, including individual therapy, group therapy, and 12-step programming.
Naturopathic Therapies
Our integrative approach will incorporate various naturopathic and holistic treatment approaches into your addiction treatment plans to help heal the body, mind, and spirit. Naturopathic treatments aim to boost the body's self-healing capabilities to heal the effects of drug and alcohol addiction. They are part of all levels of care and can include vitamin IV and oral therapy, amino acid therapy, yoga, and massage.
IV & Oral Vitamin Therapy
Long-term substance abuse can cause severe nutritional deficiencies, leading to negative health effects like mental health issues and lowered immune system. We replenish many of these nutrients through IV and oral supplements so the body can begin to function properly more quickly. Vitamin therapy will include restoring vitamin C, vitamin B, Calcium, zinc, and magnesium levels to increase energy, restore the body's function and improve the immune system.
Amino Acid Therapy
Nutritional deficiencies caused by substance abuse can affect amino acid levels as well. At The River Source, we will restore amino acids through IV treatment or orally which can help the brain regulate neurotransmitters and reduce feelings of depression and anxiety many feel while in addiction recovery. Other benefits of amino acid therapy include reducing fatigue and helping with sleep issues.
Massage Therapy
While in recovery, individuals may experience withdrawal symptoms such as muscle pain, fatigue, anxiety, and depression. Massage therapy can help reduce various aches and pain experienced during detox and addiction treatment while also helping to release dopamine and serotonin naturally, which can relieve mental health issues and stress. Our certified massage therapists are trained in various modalities, including deep-tissue massage.
Yoga & Meditative Therapy
Our naturopathic approach uses meditation to help our clients destress and learn healthier coping mechanisms. Meditation is increasingly integral to substance abuse treatment and relapse prevention planning to calm the nervous system, reduce stress, and enhance inner peace. Yoga incorporates meditation and exercise, which can help build muscle strength, detox the body, improve circulation, and naturally relieve drug and alcohol withdrawal symptoms.
Dry Infrared Sauna Therapy
At The River Source, we use a combination of dry sauna and other holistic rehab therapies to help the body flush out toxins that have built up from long-term substance abuse. This therapy is a favorite of clients because it provides a comfortable detox and a place to relax and meditate. An infrared sauna also helps improve cardiovascular function and overall wellness with no side effects.
Individual Counseling
Much of your alcohol and drug rehab treatments will be made up of individual counseling. You will meet with a therapist for one-on-one sessions where you can discuss several aspects of your life that have led to your addiction. Individual counseling can include several types of therapy including cognitive behavioral therapy, dialectical behavioral therapy, and emotive response therapy. These sessions will help to pinpoint negative thought patterns and behaviors and replace them with positive ones.
Group Therapy
Group therapy will also be a major component of your addiction treatment program which provides several benefits including reducing loneliness while in treatment, building a support network, and creating long-lasting friendships. Groups will be supervised and led by a skilled therapist or counselor. You can learn from peers who have gone through similar experiences and provide one another with feedback.
Family Education
Continued addiction recovery after The River Source relies on several aspects, including a good support network. Family education can help fix relationships affected by your drug and alcohol addiction while also helping loved ones learn how to better support you. Family therapy and education can help improve your and your family's ability to communicate to express concerns and feelings more effectively. It can also help break codependent or enabling behaviors.
12-Step Program
Many individuals in recovery have found and maintained sobriety through 12-step programs like Narcotics Anonymous and Alcoholics Anonymous. We incorporate 12-step principles into all our levels of care and encourage continuing to use them after graduating from your program. The River Source can help connect you with 12-step programs in Arizona which can provide accountability and keep you active in your recovery.
Co-Occurring Disorders/Dual Diagnosis
Co-occurring disorders like bipolar disorder, anxiety disorders, and depressive disorders are common along with substance abuse. Often those with mental health disorders will use substance abuse to self-medicate negative emotions. Also, substance abuse can worsen mental health disorders and worsen pre-existing ones. Long-term addiction recovery depends on treating these disorders simultaneously during your substance abuse treatment through dual diagnosis treatment. At The River Source, we use several forms of behavioral health therapy, medication-assisted treatment, and holistic treatments to address co-occurring disorders.
Addiction Treatment for Pregnant Women
The River Source provides several types of specialized treatment programs to meet the needs of unique groups. Our addiction treatment program for pregnant women will use holistic and homeopathic treatments to address withdrawals and addiction which is safer for the mother and baby. Traditional treatment methods, such as certain medication-assisted treatments, are not an option for pregnant women. However, if not addressed, the baby can experience dangerous withdrawal symptoms or the development of drug or alcohol addiction.
Trauma Informed Care
Individuals who have dealt with traumatic experiences will often use substance abuse as a way to escape painful memories and feelings, which often leads to drug or alcohol addiction. Because trauma is so common in substance abuse treatment, our clinicians at The River Source are specially trained to be more sensitive about how recovery programs can retrigger trauma. They will use their trainer to provide a safe environment and never push you to do something you do not want.
Addiction Rehab for Native Americans
Native American populations unfortunately face substance use disorders at higher rates than other populations. They may have experienced poverty, poor healthcare services, and social isolation, contributing to substance abuse issues. Effective addiction treatment for these populations needs to address specific race and cultural challenges contributing to substance use. The River Source is sensitive to these needs and provides a specialized treatment program to address all issues contributing to addiction in Native American populations.
Clinically Driven Treatment
As a clinically driven treatment center, The River Source uses evidence-based treatment to provide personalized treatment plans for each client. We adjust your treatment plans according to how you progress and as our clinicians observe your strengths and weaknesses. We use measurable results in treatment plans to evolve your treatment program.
Outcome-Based Rehab Programs
With over 20 years of experience treating drug and alcohol addiction at The River Source, we have developed treatment methods that work best through our patient's successes and failures. Each client is an expert in their own life and what treatment modalities they are most responsive to. The River Source adjusts treatment plans according to client feedback and what they feel is most helpful to them.
We Use Evidence-Based Treatment With High Success Rates
The River Source has a higher success rate than the national average which we credit to our unique treatment program which uses an integrative approach, personalized treatment plans, and a full continuum of care. Our treatment methods use measurable, evidence-based addiction therapies that have been proven to work such as dialectical behavioral therapy and 12-step programs, along with holistic therapies.
Our Integrative Approach Plus Our Cost Effective & In Network Programs Are the Best Value For Treatment
Our integrative approach combines proven holistic methods with conventional addiction treatment therapies. Integrative treatment methods can address various aspects of your addiction simultaneously to give you the best value. The River Source is also in-network with most major insurance companies and will work with those without health insurance to ensure money is not an obstacle to effective addiction treatment.
Best In Class Medically Trained Addiction Staff
Our multidisciplinary team of licensed and certified professionals can provide our clients with a wide range of addiction treatments. Our medical team at The River Source embodies a holistic approach to all areas of our treatment facility and programs. Dr. Andrea Palmer is a naturopathic doctor and Director of Medical Services who oversees medical staff and ensures a holistic approach to our recovery programs.
Premier In-Network Facility Offering Naturopathic Treatment Types
The River Source offers addiction treatment that goes beyond the industry standard. We are a Joint Commission-accredited treatment facility and in-network with all major health insurance companies. While we offer conventional treatment methods, we also incorporate naturopathic therapies to address the body, mind, and spirit and help you attain true healing for long-term addiction recovery.
Our Treatment Guarantee
We are committed to your success and know that our full continuum of care is your best chance of achieving long-term recovery. We would like to encourage every single client to complete the full continuum of care by offering a 100% recovery guarantee which allows you to come back to the treatment at no extra cost if you relapse within one year of completing the full continuum of care.
Recovery-Friendly Attractions in Phoenix, Arizona
When adjusting to day-to-day life after drug and alcohol rehab, part of your recovery process is finding new, fun things that will not jeopardize your sobriety. There are several fun activities that can double as part of your relapse prevention planning to help you cope with stress and mental health issues more easily. Here are some attractions near Phoenix Arizona to keep you on the right track of addiction recovery.
Papago Park
Not far from downtown Phoenix, this 1,500-acre iconic park is filled with hiking and biking trails, picnic areas, and lagoons. You can also enjoy a round of golf at Papago Golf Course.
625 N Galvin Pkwy, Phoenix, AZ 85008
Phoenix Zoo
Animal interactions can be very therapeutic for mental health disorders and substance abuse. The Phoenix Zoo has 125 acres of animal exhibits and a petting zoo experience, providing a day of outdoor walking.
455 N Galvin Pkwy, Phoenix, AZ 85008
Desert Botanical Gardens
Located in Papago Park, this 140-acre botanical garden is the perfect place to get in touch with nature and get some exercise. It may even inspire your green thumb and a new hobby to get you busy in your addiction recovery.
1201 N Galvin Pkwy, Phoenix, AZ 85008
Phoenix Art Museum
Art and art therapy are wonderful ways to explore your feelings and emotions which can help you better articulate them in your addiction therapies. The Phoenix Art Museum is Southwest's largest art museum with visual arts and educational programs.
1625 N Central Ave, Phoenix, AZ 85004
Arizona State University Downtown Phoenix Campus
After drug and alcohol rehab, you are probably filled with a new vision for your future, and maybe a new career is on your mind. You can get undergraduate degrees in art, education, health and wellness, and much more.
411 N Central Ave, Phoenix, AZ 85004
Footprint Center
Host to the Phoenix Suns and Phoenix Mercury, you can catch all the excitement of NBA and WNBA games or a concert.
201 E Jefferson St, Phoenix, AZ 85004
Grand Canyon University
Many who finish drug and alcohol rehab want to give up and decide to get a degree in addiction and recovery. Grand Canyon University has such a program and several resources for students in recovery.
Phoenix Neighborhoods We Serve
The River Source serves the residents of Phoenix, Arizona and its surrounding areas, including:
Downtown Phoenix

Desert Ridge

Camelback East Village

Arcadia

Central Phoenix

Chandler

Downtown Phoenix

Glendale

Roosevelt Row

Surprise

Alhambra

Paradise Valley Village

Encanto Village & Midtown

Old Town Scottsdale

North Mountain Village

South

Arcadia Lite

Laveen Village

Guadalupe

Tempe

Scottsdale

Paradise Valley

Glendale
QUICK, CONFIDENTIAL INSURANCE VERIFICATION
CLICK BELOW TO FIND OUT IF YOU HAVE COVERAGE