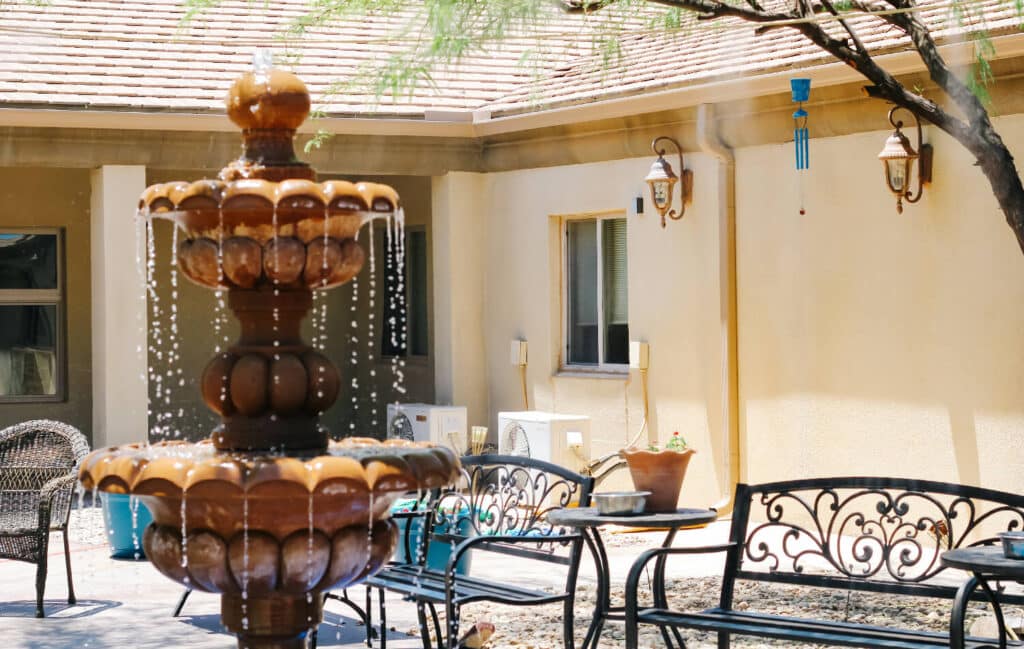 #1 Alcohol Detox Program in Phoenix
For those who have been struggling with alcohol addiction for an extended period of time or have a severe addiction, being able to stop drinking takes much more than just willpower. Withdrawal symptoms associated with alcohol addiction can be severe and even dangerous. However, a top-rated alcohol detox program, like at The River Source Phoenix, can provide you with the help needed to stop drinking successfully in a safe and supportive environment.
The River Source, with treatment centers throughout Arizona, is the best choice for Phoenix residents who need help with an alcohol use disorder. As a Joint Commission-accredited treatment facility, you can trust you will get the highest quality in effective addiction treatment. Our Phoenix outpatient alcohol rehab center goes beyond medical detox with a full continuum of care of inpatient and outpatient treatment programs aimed at treating the underlying causes of addiction. We offer many of the same evidence-based conventional treatment methods found in the best rehab centers throughout the country. However, we also include naturopathic treatment methods that help support your recovery efforts for your best chance at long-term recovery.
YOU'RE NOT ALONE – WE CAN HELP
TAKE THE FIRST STEP AND APPLY FOR TREATMENT TODAY
Why Choose The River Source Phoenix for Alcohol Detox?
The River Source has a higher success rate than the national average, and we attribute that to your unique integrative treatment program, personalized treatment plans, and encouraging a full continuum of care to all our clients. You get much more than just the standard treatments aimed at treating the underlying causes of addiction. Holistic treatments aim to treat each client as a whole to heal the body, mind, and spirit, strengthening their ability to live a drug and alcohol-free life.
Our full continuum of care starts with the alcohol detox program which will lay a solid foundation for your addiction recovery and help you rid your body of all toxic substances so you can enter alcohol rehab with a clear mind and body. Choosing medical detox instead of detoxing on your own not only ensures your safety but also ensures your success. An alcohol-free environment and medication-assisted treatment can help you complete the withdrawal process from drugs and alcohol. Once you have completed alcohol detox, you can easily transition into one of our alcohol rehab programs which will help address the root cause of your addiction and heal all areas of your health that alcohol addiction has impacted.
Alcohol Detox in Phoenix for High-Functioning Alcoholics
The majority of alcoholics are actually seemingly successful people who continue having a job or even excelling in their career, have families, and what appears like a normal life. However, addiction is a progressive disease that will start to affect all those areas of their lives if they do not get help soon. Most importantly, high-functioning alcoholics are not at risk for dangerous or life-threatening alcohol withdrawal symptoms but could still benefit from a medical detox program.
Often, those who attempt to stop drinking on their own end in failure. Cravings and temptations can prove too much for many, as well as uncomfortable withdrawal symptoms. An alcohol detox program at The River Source will be tailored to your needs and can provide the alcohol-free environment necessary to stop drinking successfully. It can allow you to fully clear your head and make the right decisions for yourself, such as entering the appropriate alcohol rehab program. Completing alcohol detox at The River Source in Phoenix, Arizona can also provide an easy transition into one of our alcohol rehab programs necessary to break negative behaviors and thought patterns contributing to your addiction.
Medically Supervised Alcohol Detox in Phoenix
Our alcohol detox program in Phoenix, Arizona is medically supervised. You will be monitored around the clock by a highly skilled medical team made up of doctors and nurses who can administer medications as needed or act in the case of a medical emergency. Alcohol withdrawal known as delirium tremens, can turn deadly without fast medical intervention because of the risk of seizures. You also get access to around-the-clock psychological care to provide emotional support during addiction recovery's toughest part.
What Is Alcohol Detox Like?
Many people stereotype drug and alcohol rehab centers as clinical, depressing facilities filled with others who do not want to be there. Although our focus is on providing effective addiction treatment, we also aim to provide a cozy, welcoming environment with some of the many comforts of home. Our addiction treatment center is in a non-hospital setting, and we strive to provide an atmosphere that fosters motivation and hope for your addiction treatment and your future.
Upon admission, our compassionate clinicians will conduct a thorough physical and psychological evaluation to determine your alcohol detox needs. This not only helps us create a personalized treatment plan for you, but it also helps us truly get to know you and understand you so we can support you in the best way possible. You will then be given a tour of the facility and taken to your room, where medical staff will monitor your vitals around the clock. As withdrawal symptoms start to appear, you will be given medications to ease discomfort, prevent complications, and ease cravings. You can expect FDA-approved medications used for the treatment of alcohol withdrawals as well as benzodiazepines to prevent seizures and IV fluids to prevent dangerous dehydration levels. As an integrative addiction treatment program, you can also expect several naturopathic treatment approaches such as vitamin therapy, infrared sauna, meditation, yoga, exercise, and nutrition counseling.
How Long Does Detox Last?
Alcohol detox will vary in length depending on several factors including the length of alcohol addiction, the severity of addiction if there was polysubstance abuse and overall physical and mental health. Most people will complete alcohol withdrawal in detox treatment between 5 to 10 days. Usually, withdrawal symptoms will start within 6 to 12 hours after your last drink which includes tremors, anxiety, insomnia, vomiting, diarrhea, and increased heart rate. Symptoms will peak at around two to three days after, after which you will begin to feel better. Some individuals experience lingering mild symptoms for weeks or months later. At The River Source, we can help you manage post-acute withdrawal syndrome (PAWS) through holistic methods, medications, and behavioral health therapy.
What Happens After Detox?
Alcohol detox will only address physical dependence. It is necessary to continue on to an addiction treatment program that will address underlying issues and heal traumas or other co-occurring disorders that have contributed to your addiction. The River Source provides clients with the opportunity to enter one of our rehab programs, although we highly recommend committing to the full continuum of care for your best chance at long-term recovery. Alcohol rehab will include several types of individual therapy, group therapy, family therapy, medication-assisted treatment, coping skills management, life skills training, holistic treatments, and much more to help address underlying issues plus provide you with the skills and tools to live a successful, independent alcohol-free life. Our alcohol rehab programs include:
Residential inpatient treatment – intensive treatment program necessary for severe alcohol addiction which allows you to live at the treatment facility away from outside influences or distractions.
Partial Hospitalization Program (PHP) – same intensity in addiction treatments as inpatient treatment, but you can live at home surrounded by supportive loved ones.
Intensive Outpatient Program (IOP) – outpatient alcohol rehab that allows you to continue going to school or work because addiction treatments can be scheduled around your obligations
Outpatient Treatment – a step down from other programs that allows you to continue getting addiction treatment as you transition back to the real world
Aftercare Programs – continued support and your personal plan for staying active in your addiction recovery efforts.
Alumni Program – a lifetime program that provides monthly meetings or meetups where alumni can support one another and continue staying accountable.
Top Rated Alcohol Detox Treatment in Phoenix
When it comes to detoxing from alcohol addiction, you want the best medical care available to ensure you or your loved ones' safety. The River Source employs top-tier medical professionals who are available around the clock and will monitor your vitals to ensure your detox is going as planned. Our high success rates are partly due to our full continuum of care, which starts with a medical detox program.
Phoenix Alcohol Detox
Alcohol detox at The River Source in Phoenix, AZ can help you stop drinking once and for all. If you have attempted to stop drinking in the past, you know how difficult it can be to do so on your own. Going through our medical detox program will ensure you have the environment, the medications, and the tools necessary to successfully complete alcohol detox and move on to alcohol rehab with a clear body and mind.
Our Recovery Guarantee
We really want to emphasize how much the full continuum of care can make a difference in your long-term recovery. For those still hesitant to commit the time and effort to a longer rehab program, we would like a 100% recovery guarantee. When you complete the full continuum of care, we allow you to return to treatment at no extra cost if you relapse within one year of completing the program. Alcohol detox at The River Source can help you stop drinking, but our full continuum of care can help you stop drinking for a lifetime.
If you are ready to take the first steps in your recovery journey, please call us today and learn how you can start the admissions process into our Phoenix inpatient alcohol rehab today.
QUICK, CONFIDENTIAL INSURANCE VERIFICATION
CLICK BELOW TO FIND OUT IF YOU HAVE COVERAGE