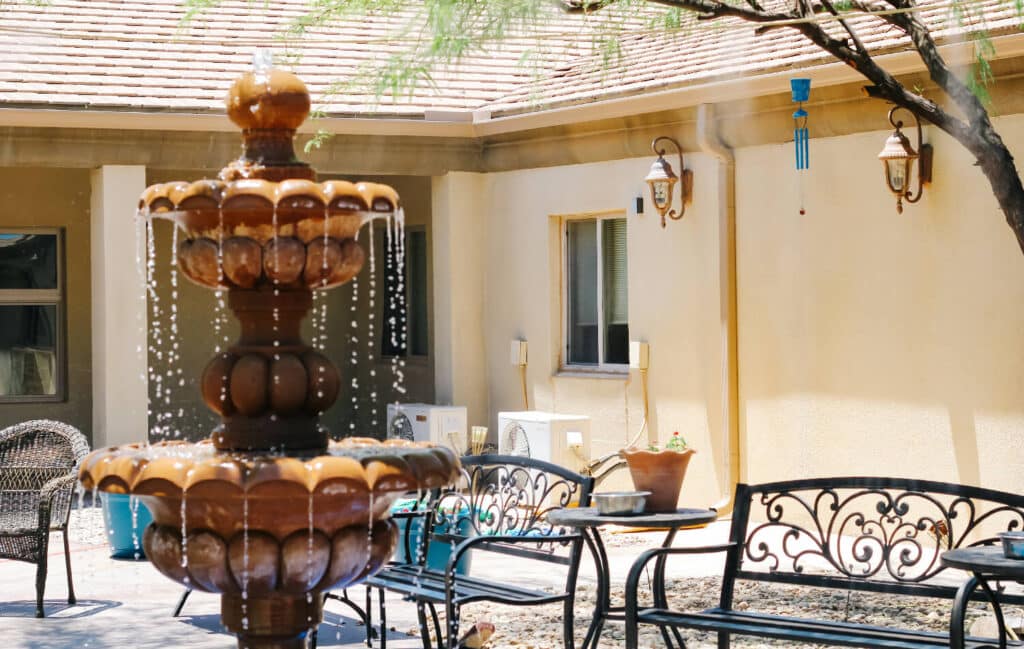 #1 Cocaine Detox-Rehab in Phoenix
Cocaine addiction has unique physical and psychological dependence facets compared to other substances. The River Source in Phoenix Arizona unique holistic addiction treatment can help anyone recover long-term from cocaine abuse, which all starts with our top-rated medical detox program. Attempting to stop cocaine abuse on your own is often met with early relapse due to its addiction's behavioral and psychological aspects. Our medical detox program allows you to easily go through withdrawals and cravings in a controlled and monitored environment. Committing to an inpatient program will provide you the best chance of successfully completing the withdrawal process and entering rehab with a clear body and mind. Cocaine detox at The River Source in Phoenix will provide around-the-clock medical care and medication-assisted treatment to ease withdrawal symptoms. You will also have access to several holistic therapies that will support conventional detox methods and help your body's ability to self-heal. We are a Joint Commission-accredited treatment center and in-network with all major insurance companies. Our recovery guarantee allows you to return to treatment for free if you relapse within one year of completing our full continuum of care.
YOU'RE NOT ALONE – WE CAN HELP
TAKE THE FIRST STEP AND APPLY FOR TREATMENT TODAY
Why Choose The River Source in Phoenix for Cocaine Detox & Drug Rehab?
The River Source offers a full continuum of care, allowing you to complete your full rehab program with the same highly skilled staff who have known you from day one of your recovery efforts. Our high success rates are in part to our truly holistic program which will treat you as a whole and not just the addiction symptoms you present. Our personalized treatment plans are also one of the keys to our high success rate. Treatment programs at The River Source will include the same conventional addiction therapies such as individual therapy, 12-step programming, and medication-assisted treatment found in the best rehab centers across the country but also provide you with holistic treatments that will heal your body, mind, and spirit. We truly want you to succeed and will be there to support you when you need it, but overall we want to give you the tools and skills needed to live a successful, independent, cocaine-free life. You will also have access to a lifetime alumni program which will help you keep active in your recovery efforts and provide you with a supportive community.
First Class Amenities
Our number one priority is helping you achieve long-term sobriety through effective, evidence-based treatment programs with highly skilled clinicians. Part of our efforts in ensuring we reduce the stress of a recovery program and increase patient retention is providing a comfortable and nurturing rehab facility environment. The River Source provides a non-hospital setting with supportive amenities. We have areas to allow you private time to reflect and work on your recovery alone when needed, as well as fun common areas where you can connect with your peers and break from addiction treatment's hard work.
Going to drug and alcohol rehab can cause feelings of anxiety about what to expect. You should know that at The River Source, you will have several residential amenities and not that cold, sterile environment you often see in rehabs, movies, and TV shows. Some residential amenities you can expect include spacious bedrooms with fresh linens and high-quality mattresses, private bathrooms, secure storage areas, spacious outdoor areas, freshly prepared meals onsite, and relaxing common areas with flat-screen TVs. We also provide recreational and physical activity amenities that will foster mental, spiritual, and physical health such as a volleyball and basketball court, a frisbee golf course, ¼ mile outdoor track, and yoga and exercise classes. Our onsite kitchen staff will prepare nutritious, well-balanced meals that heal your mental and physical health.
What Is Detox Like?
Withdrawal and cravings from cocaine abuse can be quite uncomfortable and at times frightening. Cocaine withdrawals can include symptoms like depression, paranoia, anxiety, fatigue, insomnia, and irritability. Our medical detox program at The River Source will help you go through the withdrawal process much more comfortably through 24/7 medical care and medication-assisted treatment. Our counselors will help you through physical and emotional difficulties through individual therapy. Upon admission, our clinicians will conduct a thorough evaluation to create a personalized treatment plan. You will then be given a tour of the facility and go through your treatment plan, so you know what exactly to expect. Our trauma-informed staff will also ensure you are part of your addiction program and will communicate with you honestly and openly to prevent retriggering medical care trauma you may have experienced.
How Long Does Detox Last?
Each person's experience with cocaine detox will be different depending on several factors, including co-occurring disorders, overall health, length of addiction, and severity of the addiction. Most people will generally experience withdrawal symptoms within 8 to 12 hours after the last use and peak two or three days after. You can expect to complete cocaine detox in between 5 to 10 days. Occasionally, individuals can have post-acute withdrawal syndrome (PAWS) which involves mild, lingering withdrawal symptoms for weeks or months later. PAWS can be managed with behavioral therapy, medication-assisted treatment, and holistic therapies.
What Happens After Detox?
Although you will feel much better after completing cocaine detox and as if you are cured, medical detox is only the first step in addiction treatment. Substance use disorders are characterized by physical and psychological compulsions which make your ability to resist using drugs or alcohol almost nonexistent. However, you can retrain your brain and learn how to resist compulsions through behavioral health therapy and other addiction treatments. Individual and group therapy can also help uncover and treat underlying issues such as mental health disorders and trauma that may be contributing to your addiction. At The River Source, our holistic approach will also use naturopathic therapies to address the physical, psychological, and emotional effects of cocaine abuse to help you heal and decrease negative symptoms which would lead to a relapse.
The River Source offers a full continuum of care, offering several treatment program intensities. Our levels of care include residential inpatient treatment, a partial hospitalization program (PHP), an intensive outpatient program (IOP), outpatient treatment, an aftercare program, and a lifetime alumni program. We will tailor your treatment program to your personal and addiction needs, and although you can start cocaine rehab with a level of care, we encourage you to complete the full continuum. A step-down system will allow you to heal the underlying causes of addiction and allow you to slowly transition back to the real world with enough support.
Our comprehensive treatment programs offer several types of conventional and holistic therapies to create the best addiction treatment program for you. Some therapies you can expect include cognitive behavioral therapy, vocational skills training, life skills training, relapse prevention, group therapy, family education, 12-step programs, and medication-assisted treatment, as well as naturopathic therapies like yoga, meditation, vitamin IV therapy, exercise and nutritional therapy, and dry infrared sauna
How Long Does Cocaine Rehab Last?
Cocaine rehab will last various lengths depending on the individual's needs. Your treatment program may consist of several levels of care each phase lasting different lengths. How long your rehab program will last will depend on several factors, including the severity of cocaine addiction, length of addiction, overall health, and the presence of co-occurring disorders. Rehab program lengths are usually 30-day, 60-day, or 90-day lengths.
30-Day Cocaine Rehab in Phoenix
Our 30-day program or short-term program at The River Source in Phoenix is best suited for mild cocaine addictions. This intensive program will fit in many therapies and treatments in one month or less which can provide you with a great jump start to managing your recovery long-term. Short-term programs can consist of several levels of care. Aftercare programs are important to help you fully transition back to day-to-day life.
60-Day Cocaine Rehab in Phoenix
60-day programs are similar to 30-day programs but allow more time to complete addiction treatments and break behavioral patterns contributing to your cocaine addiction. This program length is suitable for mild cocaine addictions with co-occurring disorders. The extra time in rehab will allow you to participate in our dual diagnosis program to treat co-occurring disorders and allow our clinicians to work further on your coping skills and relapse prevention plan.
90-Day Cocaine Rehab in Phoenix
Severe cocaine addiction requires a minimum 90-day program, although it can be extended if needed. The behavioral and psychological hold of cocaine addiction can be deep-rooted, and you may need several months of treatment to learn how to manage your addiction on your own. Our integrative treatment approach will also provide you with several holistic therapies that can help your body heal from the effects of addiction, such as nutritional deficiencies and mental health effects.
If you or your loved one is struggling with cocaine addiction, please contact our top addiction treatment center in Phoenix today and start the road to recovery.
QUICK, CONFIDENTIAL INSURANCE VERIFICATION
CLICK BELOW TO FIND OUT IF YOU HAVE COVERAGE