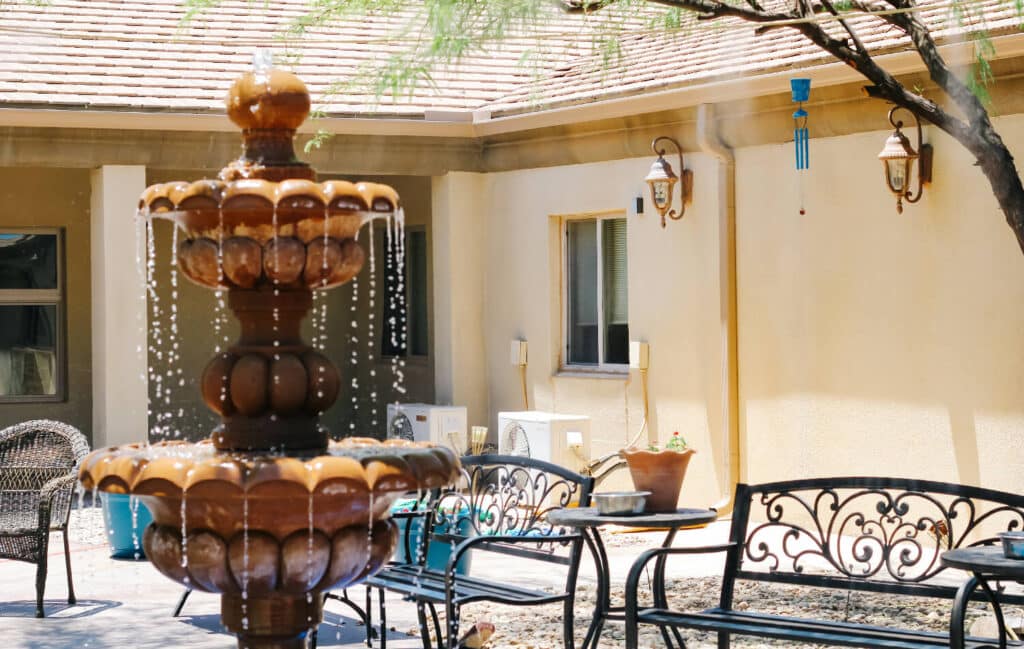 # 1 Drug Detox in Phoenix
The River Source offers top-rated, medically supervised drug detox to the Phoenix area. The Joint Commission accredits our treatment facility, the gold standard in drug and alcohol rehab. Medical detox at The River Source provides around-the-clock medical care with highly skilled doctors, nurses, and therapists who can help anyone overcome drug use regardless of their addiction. Although medical detox is not always necessary, it can provide a solid foundation needed for long-term addiction recovery before entering drug rehab in Phoenix. Not only do we provide FDA-approved medications for withdrawal symptoms and cravings, but our integrative treatment approach also includes holistic treatment methods, which will help strengthen your body, mind, and spirit and ease the withdrawal process as well. Our main goal is to provide effective, evidence-based drug detox treatments aimed at helping to break the addiction cycle. However, we still strive to create a comfortable and welcoming non-hospital environment furnished with several amenities designed to support your recovery efforts.
YOU'RE NOT ALONE – WE CAN HELP
TAKE THE FIRST STEP AND APPLY FOR TREATMENT TODAY
Why Choose The River Source Phoenix for Drug Detox?
The River Source's unique integrative approach provides holistic therapies that will reinforce conventional treatment methods that are found in top-rated drug detox and rehab centers. Through holistic and naturopathic treatment therapies, we treat the person as a whole, not just their detox symptoms, which can help strengthen the body, mind, and spirit to face drug rehab head-on. Some drug and alcohol dependence can lead to dangerous withdrawal symptoms or consequences due to withdrawals, including seizures, severe dehydration that can lead to renal failure, extreme agitation, or even accidentally choking on vomit. Our doctors and nurses will monitor your vitals 24/7 to ensure your safety and administer medications to ease withdrawal and IV fluids.
Attempting to go through withdrawals on your own is not only dangerous, but it also has low success rates. Intense withdrawal symptoms and cravings often cause early relapse. Our drug detox program provides the environment, physiological support, and medication-assisted treatment necessary to complete the withdrawal process and enter drug rehab with a clear mind and body. Once you have completed the drug detox, you can easily transfer into one of our drug rehab programs. We offer a full continuum of care to address any drug addiction severity, including residential inpatient treatment, partial hospitalization program (PHP), and intensive outpatient program (IOP).
What Is Detox Like?
Upon admission to our medical detox program in Phoenix Arizona, a team of clinicians will conduct a thorough evaluation to determine your best course of drug detox treatment. Withdrawal symptoms can range from mild discomfort to severe and life-threatening symptoms including respiratory distress, seizures, and suicidal tendencies. At The River Source, our compassionate medical staff will monitor your vitals around the clock and administer medications as your withdrawals and cravings arise.
Our medical detox program is in a non-hospital setting with comfortable private or semi-private rooms. We also provide you with freshly made, nutritious meals and outdoor spaces where you can relax while you go through the toughest part of addiction recovery treatment. You can expect to start some forms of individual and group therapy to help you go through withdrawal's emotional and psychological issues. Your drug and alcohol detox plan may also include naturopathic treatments, such as vitamin IV therapy, infrared sauna, meditation, and yoga which can help naturally ease your withdrawal symptoms. These types of therapies are especially helpful for our pregnant clients who cannot take some withdrawal medications.
Types of Drugs We Treat
The River Source in Phoenix Arizona is well equipped with highly skilled clinicians and various treatment methods, including medication-assisted therapy, to address all types of substance withdrawals. Different types of drugs will present their own set of challenges and require specific withdrawal treatment approaches. Some of the substances we can treat in our drug detox program include:
Alcohol

Amphetamines

Benzodiazepine

Cocaine

Heroin

Marijuana and cannabis

Methadone

Methamphetamine

Opioid painkillers

Prescription medications, including sleeping pills and stimulants

Psychedelics
Meth Detox in Phoenix
Methamphetamines, also known as meth or crystal meth, is a highly addictive illicit substance that can quickly cause physical and psychological dependence. Intense cravings and withdrawal symptoms such as agitation, severe depression, and suicidal thoughts, can not only make stopping meth abuse on your own difficult, but it can be also dangerous. Our drug detox program will provide clients with the necessary psychiatric care and medications to ensure safety, including IV fluids to offset dangerous dehydration issues associated with meth withdrawal.
Cocaine Detox in Phoenix
The River Source is well-equipped to handle both cocaine and crack cocaine withdrawal. Withdrawal symptoms from cocaine more often present users with psychological or emotional issues rather than severe physical symptoms. However, that does not mean it is any easier to detox from cocaine. A medical detox program will provide a drug-free environment to get through the most intense cravings, and medications will also help ease cocaine withdrawal, including hypertension, drowsiness, cravings, and anxiety.
Benzo Detox in Phoenix
Benzodiazepines are easily prescribed and just as easily form a physical dependence. Withdrawal symptoms from benzo use can be quite severe and may even cause seizures, which is why you should never stop using the medication without the help of a medical detox program or talking to your doctor. Rebound anxiety makes detox doubly challenging. However, medical detox can provide medications and psychological counseling to help ease anxiety and depression symptoms.
Oxy Detox in Phoenix
Oxycodone can be difficult to stop using on your own due to severe cravings and painful withdrawal symptoms. The River Source's drug detox program can help anyone overcome even the most severe oxycodone addiction. Our medication-assisted treatment programs provide clients with FDA-approved medications used in the treatment of opioid withdrawals including Naltrexone, buprenorphine, and methadone. You can successfully stop your prescription medication use through oxy detox and learn natural ways to address pain.
Heroin Detox in Phoenix
Heroin addiction is one of the most difficult forms of substance abuse to overcome. Most individuals who attempt to stop heroin use on their own are unsuccessful. The River Source's heroin detox program will provide you with medications to ease intense cravings and withdrawals so you can successfully rid your body of physical dependence. We greatly encourage anyone dealing with heroin addiction to follow through with our full continuum of care for their best chance at long-term recovery.
How Long Does Detox Last?
Every person will experience withdrawal and drug detox differently, including how long it takes them to complete the detox. Most of our clients complete the detox process between 5 to 10 days. Several factors will influence how long it takes a person to detox, including the length of addiction, the severity of addiction, overall health, the type of substance(s) used, and the presence of co-occurring disorders. Most substances will cause withdrawal symptoms to appear within hours of the last dose and peak two to three days later. Occasionally, some people will experience mild, lingering withdrawal symptoms that may last for weeks or months.
What Happens After Detox?
Drug and alcohol detox is only the first step in addiction recovery and only addresses physical addiction. Substance use disorders are complex and affect several areas of a person's health, which requires comprehensive treatment methods to achieve long-term sobriety. After drug detox, it is vital to continue into a drug rehab program to address the psychological and behavioral aspects of drug and alcohol addiction. The River Source provides robust drug addiction rehab programs that are tailored to each person to meet their addiction and personal needs.
We provide several options for drug rehab which will vary in intensity, including:
Residential inpatient treatment

Partial hospitalization program (PHP)

Intensive Outpatient treatment (IOP)

Outpatient programs
All our levels of care include many of the same addiction therapies that aim to heal the underlying causes of addiction while teaching several life and coping skills that will help you navigate the world without using drugs and alcohol. Holistic addiction treatments will address the body, mind, and spirit to treat all areas of your life that addiction has affected.
Why Detox at The River Source?
Detox programs at The River Source can help you complete the withdrawal process successfully, compared to attempting it alone. Our medical detox programs are designed to help you through drug withdrawal safely and comfortably and set a strong foundation for your recovery. Our integrative approach will not only reduce withdrawal symptoms and cravings through FDA-approved medications, but our naturopathic therapies will also strengthen your body, mind, and spirit which have been affected by drug addiction.
Our Recovery Guarantee
At The River Source, we credit our high success rate to our integrative approach and our full continuum of care. We want to encourage all our clients to complete the full continuum of care which will be personalized to each person, to help them have the greatest chance at achieving long-term recovery. You can secure our recovery efforts through our 100% recovery guarantee, allowing you to return to treatment at no charge if you relapse within one year of completing the full continuum of care.
If you would like more information about our detox program or any other program, please do not hesitate to contact us. Our intake specialists are ready to answer your questions or guide you through the admissions process.
QUICK, CONFIDENTIAL INSURANCE VERIFICATION
CLICK BELOW TO FIND OUT IF YOU HAVE COVERAGE