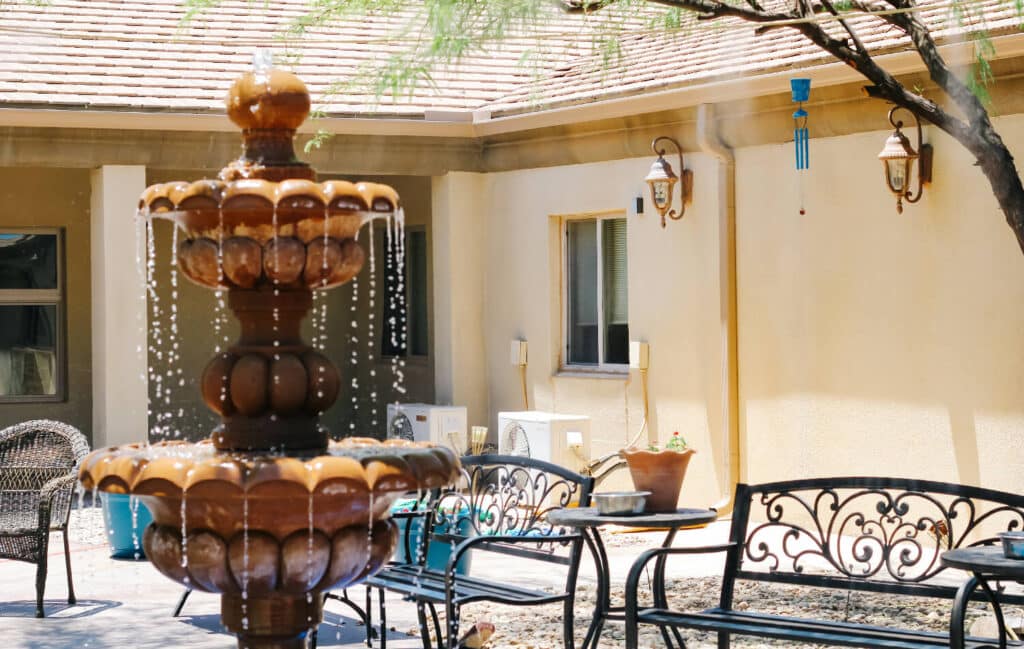 #1 Heroin Detox-Rehab in Phoenix
Attempting to stop heroin use is one of the most difficult substance addictions to manage on your own. Withdrawal and cravings associated with stopping heroin use are severely uncomfortable. The River Source medical detox program can provide you with the support, medication-assisted treatment, and environment necessary to successfully complete the withdrawal process. Our top-rated addiction treatment center is accredited by the Joint Commission, and we are in network with all major health insurance companies. Our medical detox program uses a combination of FDA-approved medication-assisted treatment and holistic therapies to ease withdrawal. Our highly skilled medical staff will be available to monitor your vitals around the clock and administer these medications as necessary. After drug detox, you can easily transition into a heroin rehab program which will treat underlying causes and teach you the coping skills and tools necessary to manage your addiction successfully on your own. Our treatment center in Phoenix Arizona offers all levels of care and a step-down program to meet you anywhere in your recovery journey. Heroin and opioid addiction rehab include residential inpatient treatment, a partial hospitalization program (PHP), intensive outpatient treatment (IOP), outpatient treatment, an aftercare program, and a lifetime alumni program.
YOU'RE NOT ALONE – WE CAN HELP
TAKE THE FIRST STEP AND APPLY FOR TREATMENT TODAY
Why Choose The River Source Phoenix for Heroin Detox & Drug Rehab?
The River Source in Phoenix, Arizona takes an integrative approach that combines traditional treatment methods used throughout the best drug rehabs in the country with naturopathic therapies to enhance the body's self-healing mechanisms. Our full continuum of care allows you to transition through several phases of your recovery program in the same facility and with the same highly skilled clinicians who know your unique case from day one. We encourage all patients to follow through with the full continuum of care as a step-down approach from intensive treatment through supportive outpatient care has increased long-term sobriety. We are a Joint Commission-accredited treatment center and in-network with most major health insurance companies.
Our main goal is to help you achieve long-term addiction recovery through healing underlying causes of substance abuse and teaching you the skills and tools necessary to manage your heroin addiction for a lifetime. We credit our personalized treatment plans and holistic approach to our high success rate. Treatment programs will include clinically driven addiction therapies such as cognitive behavioral therapy, emotive response therapy, 12-step programming, family education, and group therapy along with holistic treatments such as infrared sauna, meditation, and yoga to help heal your body, mind, and spirit.
First Class Amenities
At The River Source, every part of our treatment program and rehab facility is meant to foster your recovery. Providing a safe and comfortable environment is beneficial for easing recovery treatment stress and increasing patient retention rates. You can expect large semi-private rooms with private bathrooms and comfortable beds with fresh linens. Common areas include spacious outdoor areas and relaxed common areas with TVs and fun recreational activities. Our onsite kitchen staff creates freshly made nutritious and balanced meals to help your body heal from the effects of heroin abuse.
Part of our holistic approach is promoting physical and exercise wellness as part of your recovery and as a tool for relapse prevention. Onsite amenities offered to help you keep active include fitness equipment, a basketball court, a sand volleyball court, frisbee golf, ¼ mile track, exercise classes, and yoga classes. You can also expect access to games, group recreational activities, and art therapy groups.
What Is Detox Like?
Heroin detox on your own can be intense, painful, and dangerous. While withdrawal symptoms from opioid and heroin addiction are not life-threatening, they can still lead to medical emergencies including suicidal tendencies, accidental overdose, extreme dehydration, and accidental vomit aspiration. The River Source's Phoenix medical detox program includes around-the-clock medical supervision and cares to ensure your safety as you detox. Medication-assisted treatment includes FDA-approved medications such as Buprenorphine used for easing heroin withdrawal symptoms and cravings. Our medical team will perform an initial intake upon admission to create a specialized treatment plan and administer medications as your withdrawal symptoms begin. Your detox rooms will provide privacy and comfort in a non-hospital setting. You will also meet with a therapist and peer groups to help you through the psychological and emotional difficulties associated with heroin withdrawal.
Attempting to detox from heroin on your own runs a high risk of relapsing early on or causing an accidental overdose. Our detox programs can provide you with the control space, support, and medications necessary to successfully complete the heroin withdrawal process. You can also easily transition into one of our heroin rehab programs with a clear body and mind.
How Long Does Detox Last?
Each person's experience with heroin detox will be different. Depending on several factors including overall health, length of addiction, the severity of addiction, and polysubstance abuse will determine how long your body will take to detox. The River Source holistic treatments, like infrared sauna and vitamin IV therapy, can help your body detox harmful substances more easily and quickly. In general, you can expect heroin withdrawal symptoms to start within a few hours of your last done and peak at around 2 to 3 days in. Most people complete detox within 10 days, however occasionally mild, lingering withdrawal symptoms may be present for weeks or months later. Medication-assisted treatment, lifestyle changes, and holistic treatments can help manage post-acute withdrawal syndrome (PAWS).
What Happens After Detox?
After heroin detox, you will most likely feel like yourself again and feel like you have beat your addiction. However, heroin addiction is a complex, chronic disorder that requires a comprehensive drug rehab plan to overcome successfully and gain the tools to manage your disorder. Heroin detox at The River Source will include several types of therapies and a personalized treatment plan to uncover and treat the root cause of your addiction.
We offer several levels of care to meet your personal and addiction needs. However, we do encourage you to complete the full continuum of care. This step-down system will allow you to begin the healing process in a controlled, inpatient treatment program away from temptation and outside influences. You can truly focus on your recovery, reducing the chances of an early relapse when you are most vulnerable. You will then continue through several levels of outpatient treatment including a partial hospitalization program (PHP) and intensive outpatient program (IOP) to help you transition back to day-to-day life. All levels of care will include many of the same addiction treatments such as individual therapy, behavioral therapy, group therapy, family education, 12 step program, an infrared sauna, vitamin therapy, exercise and nutritional counseling, massage, and meditation. Our focus is on helping you heal your body, mind, and spirit and also help you gain the necessary tools and skills for managing heroin addiction long-term. We want to support you and can always lean on and encourage you to take advantage of our lifetime alumni program to keep active in your recovery efforts.
How Long Does Heroin Rehab Last?
Heroin rehab length will vary from person to person. Factors such as the duration of your addiction, the severity of heroin abuse, and the presence of co-occurring disorders will lengthen your rehab program. Treatment programs at The River Source are personalized and will be adjusted as you progress. In general, most people complete their addiction treatment programs in 30-day, 60-day, or 90-day programs. Heroin addiction tends to be severe and usually requires longer-term rehab programs.
30-Day Heroin Rehab in Phoenix
Short-term rehab, or rehab lasting 30 days, is usually recommended for milder addictions. It allows enough time to remove yourself from outside influences and temptations while building healthy behaviors, routines, and habits. Short-term rehab will pack in several addiction therapies in a close amount of time and can be made up of several levels of care. Outpatient and aftercare programs are critical for continued success after short-term rehab.
60-Day Heroin Rehab in Phoenix
Our 60-day rehab program in Phoenix, Arizona provides more time to address co-occurring disorders and break negative thought patterns and behaviors. Dual diagnosis treatment at The River Source can help address any co-occurring disorders simultaneously with substance abuse treatment which is necessary for successful long-term recovery. The 60-day treatment program also allows clinicians to help you build better coping skills and life skills.
90-Day Heroin Rehab in Phoenix
Severe heroin addiction requires a minimum of 90 days of stay in rehab to break deep-rooted behaviors, co-occurring disorders, and underlying causes. Our long-term rehab allows our clinicians to help you learn coping skills, life skills, and vocational training which you may have missed out on due to long-term heroin addiction. We highly encourage those with severe addictions to complete the full continuum of care for their best chance at long-term recovery. You will also qualify for our 100% recovery guarantee, which allows you to return to treatment at no extra charge if you relapse within one year of completing the full continuum of care.
If you or your loved one is struggling with heroin or opioid addiction, the time to get help is now. Please give AZ rehab center a call today and learn how you can start the admissions process.
QUICK, CONFIDENTIAL INSURANCE VERIFICATION
CLICK BELOW TO FIND OUT IF YOU HAVE COVERAGE