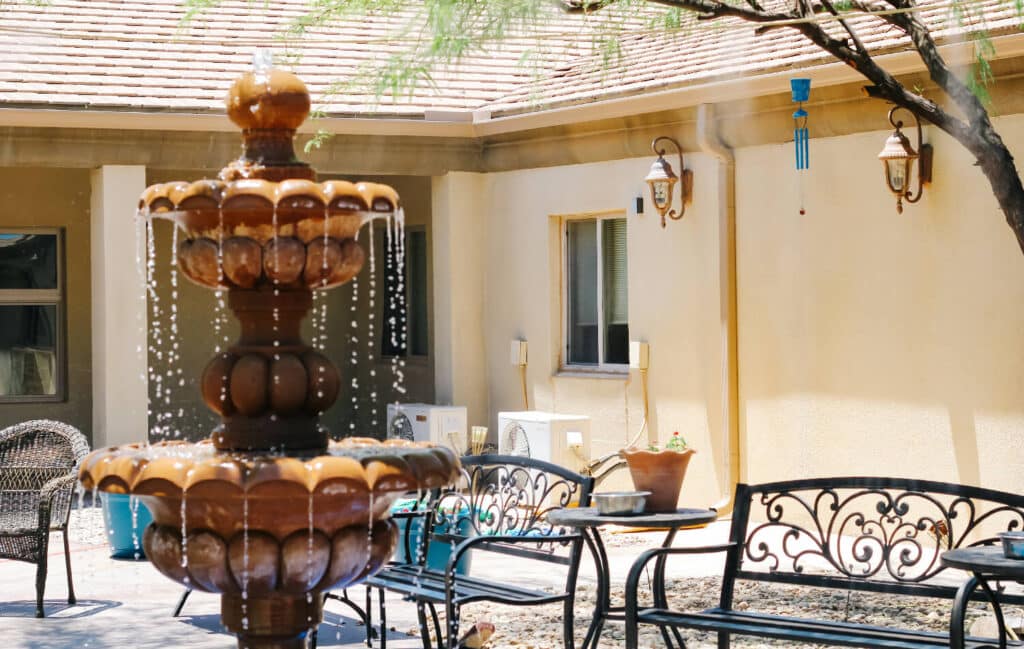 #1 Inpatient-Residential Drug Rehab in Phoenix
Residential inpatient rehab offers the most intensive form of treatment which is greatly beneficial for any level of addiction but is usually required for long-term or severe drug or alcohol addictions. The River Source in Phoenix offers comprehensive inpatient treatment programs that will provide you with the type of environment needed to fully immerse yourself in your drug addiction treatment without any outside distractions, triggers, or temptations. Our high success rate is a testament to the high quality and effective evidence-based addiction treatment program we offer. We offer a full continuum of care allowing us to meet anyone anywhere in their recovery journey. However, we have found that our clients with the most success have completed the full continuum.
YOU'RE NOT ALONE – WE CAN HELP
TAKE THE FIRST STEP AND APPLY FOR TREATMENT TODAY
Why Choose The River Source Phoenix for Residential Drug Rehab?
The River Source offers a unique integrative treatment approach that combines traditional addiction treatment methods with holistic and naturopathic therapies. We aim to treat each patient as a whole, not just their addiction. Holistic addiction treatment in Phoenix will help heal the body, mind, and spirit to achieve long-term recovery.
Unlike some luxury rehab centers that provide a resort-like experience, we focus on providing the best addiction treatment therapies with highly skilled clinical staff. This does not mean you will be staying in a sterile, hospital-like setting though. We still provide a comfortable environment with amenities that will support your addiction recovery efforts which can ease the stress and discomfort many faces during treatment.
We have a higher success rate than the national average for drug rehabs. We attribute this to our unique combination of integrative addiction treatment, personalized treatment plans, and our full continuum of care. Our patients with the greatest success will complete the full continuum of care which takes them from an immersive inpatient program where they can truly heal the root cause of addiction through flexible outpatient programs that will support them as they transition back to day-to-day life.
How Long Is Rehab?
Personalized treatment plans at The River Source will address each individual's unique issues with addiction to provide them with the best chance at long-term addiction recovery. Our treatment programs are available at different lengths to provide every client with the right amount of treatment. In general, factors such as long-term addiction, severe addiction, and co-occurring disorders will lengthen a person's rehab program. The most common rehab program lengths for inpatient rehab are 30-day, 60-day, and 90-day programs or longer. Recovery programs can also be broken up into several levels of care including inpatient and outpatient programs.
30-Day Inpatient Drug Rehab in Phoenix
30-day or short-term rehab is the most common inpatient treatment length. It provides a great opportunity to separate yourself from negative habits, places, people, and triggers that have been contributing to your substance abuse. 30-day is an intensive treatment program that will fit in various recovery therapies in a short time and is best suited for milder addictions. Inpatient treatment should always be followed up with outpatient programs to help you adjust back to day-to-day life and continue working on your recovery efforts.
60-Day Inpatient Drug Rehab in Phoenix
60-day rehabilitation programs are a great balance between short and long-term rehab programs. They are more affordable but still provide individuals with enough time to break habits and treat co-occurring disorders through dual diagnosis treatment. They also allow more time to begin working on coping skills and a robust relapse prevention plan to help you live a successful, independent life without using drugs or alcohol.
90-Day Inpatient Drug Rehab in Phoenix
Severe addiction requires at least a 90-day stay in inpatient addiction treatment. Short-term rehabs will spend almost the first half focused on drug detox and will not provide enough behavioral health therapies to break long-standing behaviors contributing to your addiction. 90-day programs will help you master coping skills and provide enough time away from stressors and temptations of life to help you through the early stages of recovery when you are most vulnerable to relapse.
Types of Drug Addictions We Treat
Residential inpatient addiction treatment at The River Source can help anyone overcome drug and alcohol addiction, no matter how severe. Our treatment programs are tailored to each person, and our highly skilled, diverse addiction clinicians can treat a wide variety of addictions, including:
Alcohol addiction

Benzodiazepine and barbiturate addiction

Cocaine and crack cocaine addiction

Heroin and prescription opioid addiction

Marijuana addiction

Methadone addiction

Prescription drug addiction

Psychedelics addiction

Inpatient Heroin Rehab in Phoenix
Inpatient Heroin Rehab in Phoenix
Heroin causes severe psychological and physical addiction which can be difficult to overcome. An inpatient treatment program provides the controlled environment and intensive treatment needed to overcome heroin addiction successfully. The River Source will provide you with effective, holistic, evidence-based treatment to break deep-rooted addictive behaviors and co-occurring disorders. Starting inpatient treatment with medical heroin detox can help ease intense withdrawal symptoms and cravings as you come off heroin.
Inpatient Cocaine Rehab in Phoenix
Cocaine addiction is a complex disease that requires comprehensive treatment programs to overcome successfully. Medical detox may be necessary to help avoid an early relapse when stopping cocaine use through a controlled environment and medications to ease withdrawals. Inpatient cocaine rehab will allow you to live in a drug-free environment where you can focus on your recovery and receive addiction treatments like cognitive behavioral therapy, group therapy, family therapy, and dual diagnosis treatment.
Inpatient Oxy Rehab in Phoenix
Oxycodone and other prescription opioids have caused many to develop a substance use disorder. Oxycodone can be just as addictive as heroin and requires comprehensive treatment plans to achieve long-term recovery. Inpatient oxy rehab will provide you with enough addiction treatments, coping skills learning, relapse prevention planning, and holistic therapies to heal your underlying issues and triggers.
Inpatient Meth Rehab in Phoenix
Methamphetamine addiction can wreak havoc on physical, spiritual, and mental health. Addiction to meth tends to be severe and requires long-term inpatient treatment programs to help with co-occurring disorders, including anxiety, depression, and psychosis resulting from methamphetamine abuse. Our Dual diagnosis program at The River Source can help address the psychological effects of meth addiction, and holistic therapies like vitamin IV and oral therapy can help the body heal itself more quickly.
Inpatient Benzo Rehab in Phoenix
Benzodiazepines are highly addictive and often are abused by those without anxiety disorders to get high. Our addiction treatment plans are personalized and can help anyone, no matter how their addiction started. Medical detox can help you gradually stop benzodiazepine use to avoid dangerous withdrawal symptoms like seizures. Inpatient dual diagnosis treatment is also helpful for treating underlying anxiety disorders. You can leave our treatment facility with better tools and a mindset for controlling your anxiety without using medications.
Inpatient Prescription Drug Rehab in Phoenix
Every prescription medication has its own set of challenges. Our trained and certified clinicians at The River Source can tackle any type of prescription drug addiction and underlying issues that lead to your physical dependence or addiction. Our programs can address prescription addiction's physical, psychological, and behavioral aspects to help each client achieve long-term recovery.
Men's Inpatient Drug Rehab
Men present their own, unique challenges when it comes to drug and alcohol addiction. For the most part, men are brought up to hide their emotions and may feel embarrassed to fully understand or express their feelings. Being around only men can help them see their choice to get recovery help as a strength rather than a weakness. Inpatient men rehab also allows them to fully express themselves and discuss certain topics which can be difficult to do around the opposite sex.
Women's Inpatient Drug Rehab
Inpatient drug rehab only for women can help facilitate a safer residential setting for those who have dealt with physical and sexual abuse from men. It can also help women thrive with the support and connection made with other women in recovery. Women can also feel more comfortable talking about their issues in these types of settings and better understand one another when it comes to family and children issues surrounding their addiction.
Top-Rated Inpatient Drug Rehab Program With Results
Phoenix, Arizona residents can access top-rated inpatient drug rehab at The River Source. Our treatment facilities are accredited by the Joint Commission and are in-network with most insurance companies. Our comprehensive inpatient treatment programs have helped many overcome their addiction and get through their most vulnerable stage of recovery when they are at higher risk for relapse.
Our Recovery Guarantee
We truly believe in how much more effective completing the full continuum of care at The River Source can be in long-term recovery that we want to encourage all patients to participate in the program, from mild to severe addictions. To encourage you further, we have included a 100% recovery guarantee which will allow you to come back to treatment if you relapse within one year of completing the full continuum of care at no extra charge.
If you or a loved one is struggling with addiction, please call us today and learn more about our addiction treatment programs.
QUICK, CONFIDENTIAL INSURANCE VERIFICATION
CLICK BELOW TO FIND OUT IF YOU HAVE COVERAGE